On Saturday, Adam Coon (130 kg, Cliff Keen WC) caught fire on the third day of Greco-Roman at the 2018 World Championships and used the flames to earn a spot in the finals. This distinction is important — with Coon's semifinal win over Kim Min-Seok (KOR), he guarantees at least a silver medal for the United States, the first medal of any kind for America since 2015 (Andy Bisek). In addition, Coon is the first US finalist in nine seasons — the last guy to do it being all time great Dremiel Byers, who took second in 2009. And should Coon prevail over 2016 Olympic bronze medalist Sergey Semenov (RUS) on Sunday, he will become the first American World Champion since Joe Warren (2006).
A lot of "first since…" kind of talk.
But unlike the opponents Coon faced (and pinned) on Saturday, Semenov poses severe threats all over the place. Forget about the credentials, of which there are many. It's the living, breathing athlete on the mat Coon will be competing against. They don't wrestle resumes in this sport.
Semenov is a very athletic big man who can move like a middleweight. "Can" — doesn't mean he always does. But if we're talking about cliché plodders who are satisfied to waltz around the tarp exchanging half-hearted tie-ups, that's not this guy. When par terre was removed from the rule-set following the Rio Olympics, Semenov didn't need too much adaptation. He was already a heavyweight who wanted to score on the feet. Even when he couldn't find a takedown or a workable sequence, his activity level remained constant, and that got him his fair share of passivity points.
Semenov Primer
In the interest of expediency — as well as the avoidance of dissecting an athlete's entire career — here are some recent, relevant snapshots of Semenov to provide an idea of who he is and what his general skill-set entails. This, in conjunction with the fact we are ignoring Coon's previous meeting with Semenov four years ago at the Junior Worlds. A lot has changed since then.
Semenov was sufficiently challenged in the 2017 U23 World final by three-time Junior World Champion Zviadi Pataridze (GEO), primarily because Pataridze took a chance early with a headlock and received points for a correct throw. But immediately following that headlock, Semenov was already recovering and scored on a step-out (plus an additional caution point). He is always competing, always looking to get opponents back in an instant.
Another example from that match occurred later. Pataridze briefly off-balanced Semenov coming off of a collar-tie; Semenov regained stability, off-balanced Pataridze near the edge in return, and then pounced on him like a madman. The result was a step-out point for Semenov and an injury time-out for Pataridze, who was a little wobbly. A caution on the Georgian in the second period gave Semenov two more in what wound up being a 5-3 decision that was not as close as the scoreboard indicated. Because for as tough and successful as Pataridze is and was, Semenov outhustled him the majority of the contest.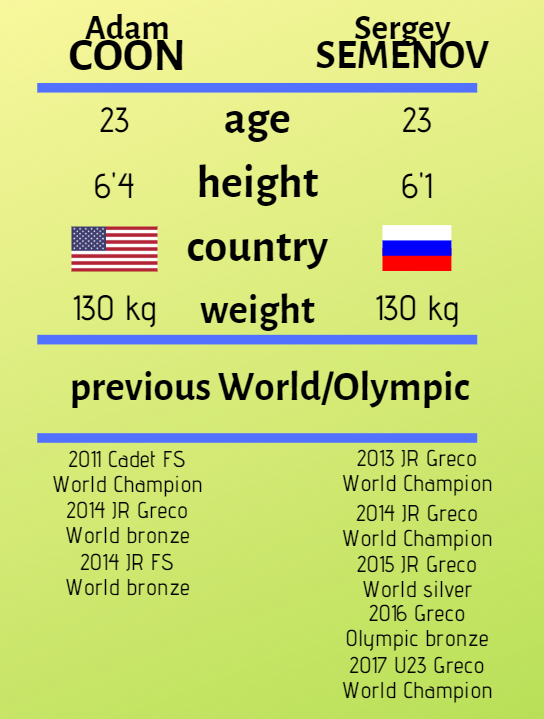 On Saturday, Semenov blitzed Oleksandr Chernetskyy (BLR) via 10-1 tech, just blew his doors off. In the next round was 2017 World bronze Oscar Pino Hinds (CUB, world no. 4), Semenov defended the first par terre when Pino Hinds' inexplicably lost his lock. The Cuban worked to regain it but that ship had sailed. Semenov was then the beneficiary of a negative wrestling caution, giving him two. Standing up-wise, there wasn't much to look at. Pino Hinds is a mammoth heavyweight, coming in just about at Coon's height of 6'4, though he appears even bigger than that. Semenov got away with burrowing his head here and there. Nothing to write home about, but it happened.
How this match ended is what's the most important. In the second period, Semenov began bullying in on his taller foe and raced him towards the line. In the process, Semenov gathered a bodylock — that he arched and walloped back in a hurry. Pino Hinds was dead to rights and Semenov had scored an uber-startling fall over an a competitor who at that point of the tournament was deemed by many to potentially win the whole thing.
Semenov may or may not have "earned" his semifinal victory over 2010 World Champion/multi-time World medalist Heiki Nabi (EST). Two passivity points, no turns. That was it. The reason why you're okay with it is due to the fact that Semenov never stopped plowing forward. Even up 1-0 in the second, a phase in the bout where it is assumed the other guy will get his passive try no matter what (despite what the rules state), Semenov insisted on repeatedly going after Nabi throughout most of the frame as if it were he who was down by a mere point. The final score was only 2-0 and Semenov clung to position in the latter stages, but you have to acknowledge hard work when you see it.
Where Coon fits in
You can rest assured the secret is out on Coon and how he engineered his march to Sunday's final. On the surface, there wasn't a lot to Coon's methodology — get to the over/under's and then make opponents regret the engagement.
It's not that simple, of course. Coon may have lacked any and all pretense, but he was doing more than just wrapping his long arms around opponents' backs. Coon's over/under hold is a problem, even for Semenov, because of implications separate from the prospect of getting dropped. He exhibits raw power in the position, which matters significantly at heavyweight. For the lighter guys, an over/under usually wields a host of scoring possibilities. Throw-by's, duck-under's, and arm throws are as common, if not more so these days, than actual bodylocks for elite light Greco athletes at an event like this one.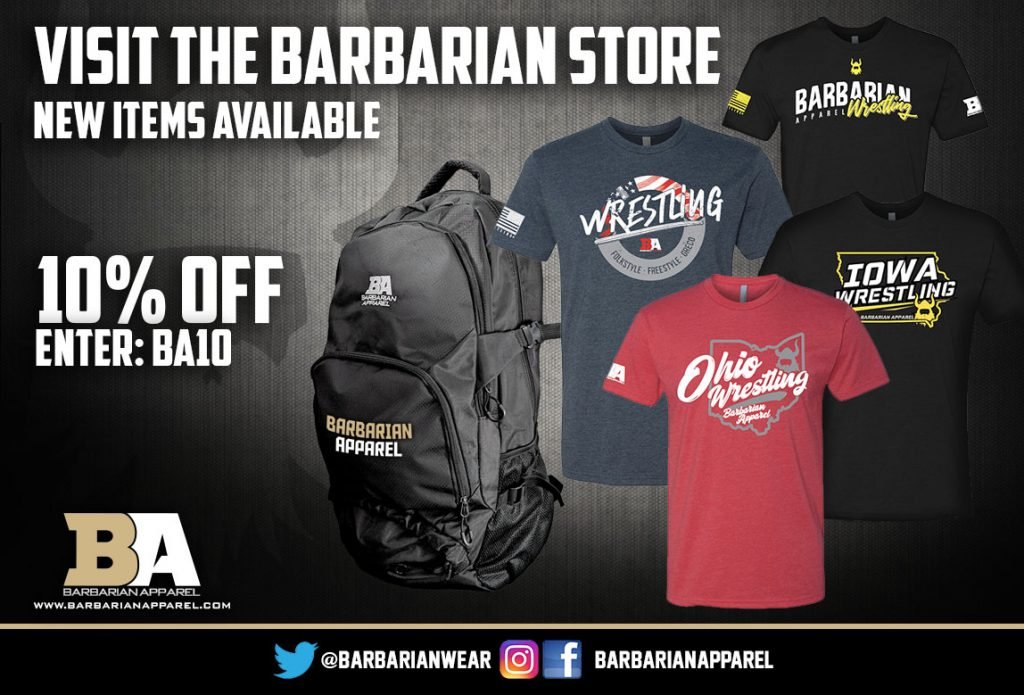 The heavier you go on the scale, the more an over/under becomes a "walking" position. There are still throws. But these are huge men wrapping other huge men. A throw of any sort is not even close to a given. Coon's opponents, especially Kim in the semis, could not reconcile the position long because they were being walked backwards, and thus, in danger of stepping out.
So what was Kim's choice?
Kim did flash a pair of arm spin attempts. Coon was a little close to going over on the first but recovered quickly. But after the second one that Coon survived, Kim was basically toast. Every time Coon got to his lock on the feet, Kim was on his heels — and likely worried and frustrated. Playing back in too tight wasn't a palatable option, but he also couldn't just keep doing the moonwalk all match long, either.
When Coon found the over/under in the second period, you saw him demonstrate a high degree of resolve. He adjusted his grip, his cinch around the body; he twisted, he torqued, he walked. Coon walked Kim down the way a boxer does when he knows a knockout is possible.
Coon's over/under isn't the only path to victory against Semenov but it's clearly the best route. Semenov and the Russian coaches have likely familiarized themselves quite well with Coon's wreck-house of a day and understand the task at hand. Semenov won't bail from the tie-ups or be unafraid to enter Coon's lion's den of a hold. That all said, after today you couldn't say either athlete has the edge on their feet. Both wrestlers had success from the over/under position, Coon more often, of course. It is also unlikely that Semenov's skills on the feet which appear so special to fellow foreigners won't do much to impress Coon. The former collegiate star has seen plenty of duck-under's and collar-ties in his lifetime, one would gather.
Par terre is the x-factor. Coon was turned by Popp on Saturday, a gutwrench following a reversal. Coon also did not turn his opponent in the one real chance he got, which was against Lingshe Meng (CHN) in the round-of-16. Semenov, naturally, is excellent from top. He goes to lift, he goes collapse gut, straight gut, whatever works. He is solid on defense, certainly, as well, but not entirely immune to rolling over, even if part of that is due to the caliber of competition he regularly faces each season.
US fans need not see Coon versus Semenov as a situation where the decorated Russian has more ways to win than the American. Semenov indeed has more classical Greco-Roman knowledge, skill, and experience, but so did everyone else Coon banged heads with Saturday. What counts more than skill is being able to execute go-to's. At the highest reaches of the sport, a level to which Coon has now ascended, wrestlers require reliable, confidence-inducing positions and techniques in order to emerge triumphant. If you gleaned anything from Coon's performance thus far, it is that.
The finals of the 2018 Greco-Roman World Championships begin Sunday morning at 3:30pm in Budapest, Hungary (9:30am EST) and can be viewed live in the US on Trackwrestling.
2018 World Championships
130 kg FINAL
Adam Coon (USA) vs. Sergey Semenov (RUS)
COON/SEMENOV 2018 WORLD RESULTS PRE-FINAL
Adam Coon (Cliff Keen WC/USA)
WIN Rafal Krajewski (POL) via fall
WIN Lingshe Meng (CHN) via fall
WIN Eduard Popp (GER) via fall
WIN Kim Min-Seok (KOR) via fall
Sergey Semenov (RUS)
WIN Oleksandr Chernetskyy (BLR) 10-1, TF
WIN Oscar Pino Hinds (CUB) via fall
WIN Heiki Nabi (EST) 2-0
CLICK HERE TO DONATE TO THE USA GRECO-ROMAN PROGRAM
Listen to "5PM20: Spenser Mango's Germany report while Jesse Thielke & Dennis Hall battle on Wisconsin trivia" on Spreaker.
SUBSCRIBE TO THE FIVE POINT MOVE PODCAST
iTunes | Stitcher | Spreaker | Google Play Music | RSS
Comments
comments