In a match that took place two months later than originally planned, Ben Provisor (NYAC, 5PM #3 at 77 kg) overcame '18 Junior World Team representative Tyler Dow (Wisconsin RTC) by going to the most potent weapon in his arsenal: a gutwrench.
Underground 3 presented by the Wisconsin Regional Training Center began at 7:00pm CT and aired live on Rokfin.
Despite the disparity in experience, Dow wasn't entering his showdown with Provisor without some tools of his own. The Wisconsinite is well-known for his prolific underhooks, and the thought going into the contest was that might be enough to stem the tide, at least in the early going. To be sure, Dow did readily employ that reliable righty underhook in an effort to begin navigating towards worthwhile ties. The only x-factor involved with this tactic was perhaps Provisor's own approach. Rather than playback into a moderately-busy pummel, "Big Ben" waded for his own tie-ups while sticking to shorter movements.
Just when it seemed as though the rhythm was well-established, Provisor let loose on one of his meaty off-balances. Dow's footing was immediately compromised, which kicked off the beginning of the end. Provisor pounced into a front headlock before swooping behind for his gutwrench. A few rotations later, with a re-grip mixed in, it was over.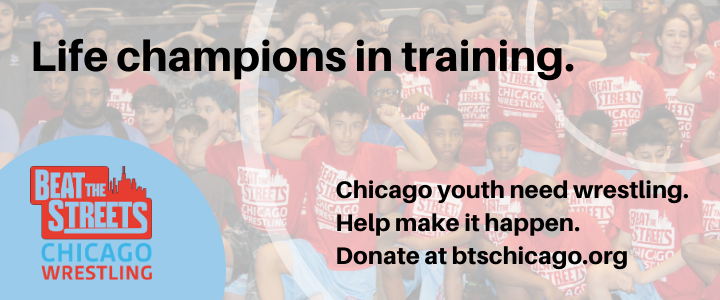 Following the bout, Provisor was pleased with his effort and shared how he saw the match unfolding in real-time.
"Honestly, I just wanted to get in a wrestling position, because the last time (at Underground 1) against Fritz (Schierl), I just sort of pummeled him. This time, I was letting Dow into his underhooks and letting him come in because I knew he was sort of open stylistically," explained Provisor. "And if you don't know that I am going to hit an off-balance from my left side, then you've never watched me wrestle. He pushed in and got his underhook in on his right side, my left. I felt it, tossed him. Then I threatened a front head. Most guys in Greco, as soon as you threaten with a front head, they will bail.
"I didn't really want that quick of a match, but then I hit my first low-gut rather easily. I kept my right arm deep and hit another one. He adjusted pretty well, so I went up to the mid-gut and gutted him out. Guys at 170, man, no one is going to stop me when I'm on top."
A key component for Provisor can be traced back to where he had recently been. Just prior to returning to Wisconsin for tonight's card, he was in attendance for the first week of Winter Camp with US Seniors at Legends of Gold in South Dakota. Although odd to say, it was a change of pace. In Pennsylvania, Provisor struggles to find adequate partners and has had to piece together sporadic opportunities to practice with similarly-skilled contemporaries. That he sauntered into Underground 3 on the heels of the type of training he needs and prefers helped set the tone for how he was able to attack Dow.
"I was definitely more prepared," Provisor admitted. "I got to wrestle full-time Greco for the first time since the pandemic hit and it definitely felt much better. My technique was coming a lot easier. It took a little while, it took a few days of camp, but being able to wrestle Greco full-time is nice and I probably have to get out of PA in order to have some good coaches and good partners in that aspect. There is not a lot of Greco in PA."
Now that January is ebbing towards its conclusion, Provisor's focus has no choice but to narrow further. He knows everything is going to begin reaching a different speed. So, he plans on taking advantage of his next opportunity, which will be a trip to Italy. After that, it will be full steam ahead towards what he is expecting to be another run at the Olympic Games.
"I'm going to the ranking tournament in March (Matteo Pellicone, ITA). It's time to make 77 kilos for the first time and go wrestle the best guys in the world. Then go get ready to crush everybody at 77 kilos in the US because everyone knows I'm going to do that," declared Provisor. "I'm 2-0 at the Olympic Trials and I'm planning on being 3-0, especially since I live 15 minutes from where we are going to compete. And then it is to be the best in the world. Have to go qualify the weight. That is going to be a big task. But right now, I'm more excited than I've ever been to continue growing and getting in better shape while making 170 and being the best."
Provisor, 30, has managed to remain active throughout the course of the pandemic. Along with attending a couple of training camps availed to Seniors since the summer, he also appeared on two other streaming cards prior to this evening. His initial foray arrived in late August against RaVaughn Perkins (77 kg, NYAC, 5PM #4) on Chael Sonnen's Wrestling Underground (UFC Fight Pass); and then in November, Provisor battled fellow Stevens Pointer Fritz Schierl (TMWC/Ohio RTC) as part of Underground 1. Provisor is thus far unbeaten in these events with two technical falls.
Underground 3
January 20 — WI
83 kg: Ben Provisor (NYAC) def. Tyler Dow (Wisconsin RTC) 8-0, TF

Listen to "5PM43: Christmas Time with Millersville's Kerry Regner" on Spreaker.
SUBSCRIBE TO THE FIVE POINT MOVE PODCAST
iTunes | Stitcher | Spreaker | Google Play Music
Comments
comments