The three United States Greco-Roman athletes who were called upon to battle it out Sunday morning all won their first matches and had appeared to seize the kind of momentum that can make a difference at a World Championships event. But in the proceeding round, all three came up short, and in different, frustrating ways.
Day 2 of the 2019 World Championships began at 11:00am from Nur-Sultan, Kazakhstan and aired live in the US on Trackwrestling.


Ellis Coleman (67 kg, Army/WCAP), Joe Rau (87 kg, TMWC/Chicago RTC), and G'Angelo Hancock (97 kg, Sunkist) were well-prepared, confident, and capable of engineering memorable runs through the tournament. Which this year, could have potentially meant qualification for the 2020 Tokyo Olympics, since a top-six finish in each weight class at this Worlds cements a nation's spot in the sport's ultimate event.
But it didn't happen for the American trio as the country now looks ahead to Max Nowry's (55 kg, Army/WCAP) bronze-medal match later on today; and latches onto the hope that the three wrestlers who enter action tomorrow have better days at the office.
Coleman
Coleman, he was the picture of steely dominance in his first bout, and demonstrated the type of rare wrestling athleticism that has been his calling card over the course of his career. It was even evident in his second match on Sunday, despite the result of his opponent's exasperating strategy.
Coleman didn't just have any old opponent first-round, he was doing battle with returning bronze and the #4 seed, Meirzan Shermakhanbet (KAZ). With the hometown crowd behind him, Shermakhanbet was working with some energy. But so was Coleman, who eagerly hand-checked his way into the fight only to get warned for fingers shortly thereafter. Once they reached static in tight, Shermakhanbet locked around Coleman for a potential bodylock. As they jousted towards the edge, Coleman whipped a headlock that scored four. If the maneuver had landed inbounds, it might have resulted in a quick fall.
But that's okay. More was coming.
Later in the frame, Shermakhanbet was able to grasp a similar hold around Coleman's body. But when he went to arch, Coleman pounced forward and came away with two points. Shermakhanbet recovered and rolled, exposing Coleman — but then the American reversed and had Shermakhanbet on his back — firmly. It looked like a pin might be called. It wasn't. But Coleman now enjoyed an 8-2 lead he carried into the break.
A minuted into the second period, Coleman was entangled in an over/under. Shermakhanbet had to made a decision. He tried to free an arm, and Coleman easily shucked and covered for a takedown to end the match — while also earning a victory over one of the bracket's strongest competitors.
Deyvid Dimitrov (BUL) is a strong competitor, too. They all are at this level. Still, Coleman coming off of a big win against Shermakhanbet suggested that Dimitrov would not pose the same kind of threat. That hypothesis was unfortunately proved wrong early in the first, as Dimitrov scored four on an arm throw. Coleman had tried to yank free, but there was no choice in the matter. They reset, Coleman was constantly darting towards the body. Again, Dimitrov went for the arm. This time, Coleman cartwheeled over at the line and reversed position to cover — but they didn't call that. Instead, Dimitrov was awarded a step-out point and Coleman was in trouble down 5-0.
The pattern was practically identical in the second period, except passivity had yet to be called. Coleman was clearly more active, and Dimitrov's offense was limited to arm spin attempts that were more of a mechanism to appear active. Because, even if the technique is missed and ruled a slip — which happened several times — it betrays an optic of urgency. Coleman hopped over two more such attempts and worked to open up scoring lanes, but Dimitrov wasn't having it. The tempo slowed, the officials did not intervene or stimulate action, and Coleman fell 5-0.
Denmark's Fredrik Bjerrehuus decisioned Dimitrov 6-0 in the quarterfinals. Dimitrov's loss prior to the final round ends Coleman's 2019 World Championships appearance without an opportunity for a bronze medal through the repechage round tomorrow.
Rau
The key for Rau in his first World tournament match in five years was to feel good early and gain confidence. And that's how it shook out for the Chicago native against 2019 Asian Championships silver Kumar Sunil (IND) in the round-of-32. Rau didn't waste much time; he urgently prowled in the ties and knocked Sunil off the line for a step-out. After a reset, Rau was at it again, scoring another step-out and beginning to frustrate Sunil. They kept at it for much of the period — Sunil trying to find a way to ease the pressure; and Rau popping and clawing from underhooks. A clearing opened up just before the break when Rau hit a strong duck-under and came around back to immediately convert a gutwrench. The result was a four-point sequence that put him in command the rest of the way, ultimately prevailing 6-0.
In the round-of-16, 2016 University World runner-up Mikalai Stadub (BLR) presented a suitable test for Rau, who pressed forward from the outset. Rau intently weaved his way inside, working off of underhooks and brief two-on-one opportunities until the officials checked in with a passivity call on Stadub. From top, Rau seemed to have a good run on a right-side gutwrench — and Stadub grunted and grimaced in effort to defend. It looked close, but no points. Back on the feet and Rau kept coming. There weren't any openings but he was keeping Stadub honest.
The second period wasn't as kind to Rau. Stadub received his passivity/par terre and did not let it go to waste. He first gutted Rau for two; and then Rau almost successfully floated the lock; but Stadub recovered and netted four more turns. In a hurry, the Belarusian had rung up eight points from par terre for a 9-1 technical fall victory.
Stadub was defeated by 2015 World Champion/'16 Olympic silver Zhan Belenyuk (UKR) in the quarterfinals to eliminate Rau from potential contention for bronze.
Hancock
Hancock made an impression on Nikolai Krysov (UKR) at first contact. He burrowed inside and assumed positional dominance, forcing Krysov to play back inside. Passivity entered into the equation, and Hancock converted a gutwrench for an early 3-0 advantage. The action resumed with Hancock going through his Rolodex of tie-ups, and before long, shuffled Krysov out of bounds. Up 4-0 with seconds remaining in the period, Hancock looked like he was about to score another step-out, but opted instead for a booming bodylock. However, time had expired and the sequence wasn't counted.
The pace firmly resided in Hancock's favor through much of the second, and Krysov was becoming more and more frustrated. Nearly each exchange saw him trying to come in with his head. Hancock hardly paid any attention, he was intent on finding the body. There was no further scoring — and just as the match had reached its conclusion — Krysov boiled over and went for a cheap shot. He was immediately penalized for a two-point caution, which did little other than balloon the final score from 4-0 to 6-0, and Hancock had moved into the round-of-16 where a former World Champion awaited.
Melonin Noumonvi (FRA) has hit a sort of resurgence this season with a string of solid performances, and is still plenty capable of taking out high-profile opposition. But just shy of his 37th birthday, he seemed like a good matchup for Hancock, and it turned out that way for most of the contest. Hancock, indeed, was quicker and sharper as he scanned with short drags and invited the hand-fight. And it was he who received the first passive/par terre chance, although Noumonvi defended well from bottom.
Hancock resumed working in the second stanza, but it was likely going to take another score, especially since the American benefited from a passive call in the previous period. As expected, the calls flipped and Noumonvi got his point along with a chance from top. He locked for a turn, but Hancock stayed pasted to the tarp. Noumonvi did hold criteria, which meant Hancock needed to find a point somehow, some way. He did so. Following an exchange, Hancock bullied Noumonvi out of bounds for a 2-1 lead — and with not a lot of time for Noumonvi to come back.
And then everything changed.
With under a minute to go, Noumonvi level-changed and wrapped around Hancock. In one motion, he elevated his hold and arched Hancock over for a resounding five. For as emphatic of a score as it was, Hancock wasn't out of the running just yet. Few, if any, upper-weights can pile up points the way he can. But Noumonvi, the seasoned pro, tightened up just enough and coasted to the finish line with the 6-2 decision.
Noumonvi was defeated by 2016 Junior World champ/'18 U23 World bronze Georgi Melia (GEO) in the quarterfinals, ending Hancock's bid for a second chance in the repechage round.
Day 2's semifinals are scheduled to begin at 6:00pm local time with the finals/bronze medal round starting at 8:00pm (all times +10 hours ET). US fans can watch live on Trackwrestling.com (subscription required).
Notes:
There has been a lot of notable action at 67 kilograms, where earlier today three-time World Champion Frank Staebler (GER) was torched by '15 World/'16 Olympic champ Ismael Borrero Molina (CUB) — who now meets '18 U23 World Champion and surging prospect Mohamed Elsayed (EGY) in the semifinals. On the top side of the bracket, returning champ Artem Surkov of Russia faces off with Bjerrehuus, who qualifies Denmark at 67 for 2020.
Rustam Assakalov (UZB), silver medalist in '15, has defied the odds and the skeptics by advancing to the semifinals. He is slated to face off with two-time bronze Viktor Lorincz (HUN).
Nations who have qualified their weights for Tokyo thus far are as follows: 67 kg — Russia, Denmark, Egypt, Cuba;  87 kg — Ukraine, Germany, Hungary, Uzbekistan; 97 kg — Russia, Serbia, Georgia, Armenia. Wrestlers in these three weights who advance to either the finals or their respective bronze medal matches successfully qualify Olympic weight classes.
2019 WORLD CHAMPIONSHIPS
September 14-17 — Nur-Sultan, Kazakhstan
TEAM USA DAY 2 RESULTS
67 kg: Ellis Coleman (Army/WCAP)
WON Meirzan Shermakhanbet (KAZ) 10-2, TF
LOSS Deyvid Dimitrov (BUL) 5-0
87 kg: Joe Rau (TMWC/Chicago RTC)
WON Kumar Sunil (IND) 6-0
LOSS Mikalai Stadub (BLR) 9-1, TF
97 kg: G'Angelo Hancock (Sunkist)
WON Nikolai Krysov (UKR) 6-0
LOSS Melonin Noumonvi (FRA) 6-2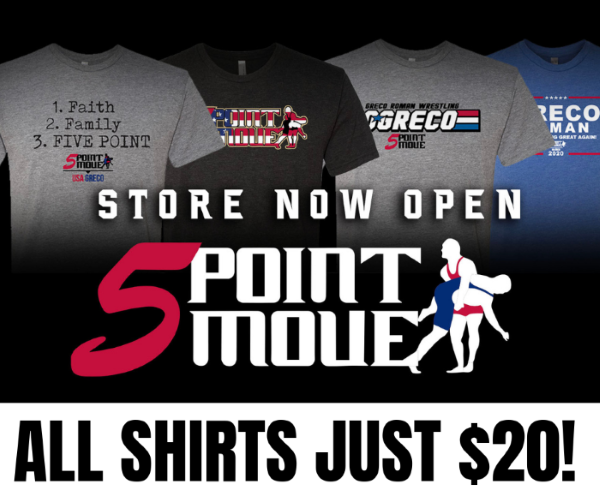 Listen to "5PM28: G'Angelo Hancock, Joe Rau and Max Nowry" on Spreaker.
SUBSCRIBE TO THE FIVE POINT MOVE PODCAST
iTunes | Stitcher | Spreaker | Google Play Music | RSS
Notice
: Trying to get property 'term_id' of non-object in
/home/fivepointwp/webapps/fivepointwp/wp-content/themes/flex-mag/functions.php
on line
999