Five Point Move's official United States Greco-Roman rankings are determined based on several key factors, including points via placement at tournaments/events, recent performance results, "relevant head-to-head" records, and Olympic or World Team Trials qualification (depending on the year).
For the introductory edition of the 5PM Greco-Roman rankings, the 2016-17 Senior season serves as the starting point. Points earned according to our values system are observed beginning in this time period. The chart below demonstrates how these values are assigned relative to various event types.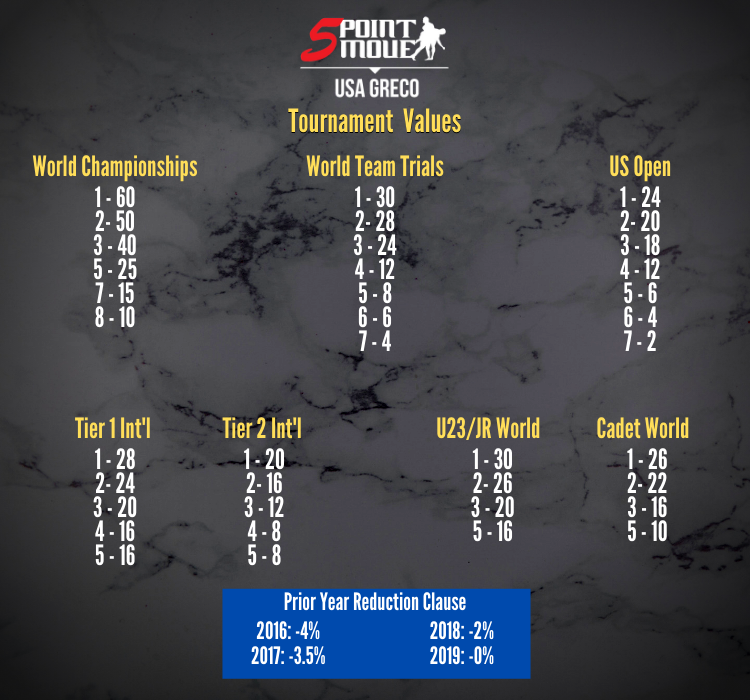 When it comes to United States Senior Trials tournament, a delineation is present that must be realized, specifically pertaining to third-place/National Team spots. The procedures dictating how the annual National Team is formed differ from year to year.
An example would be 2017. That season's World Team Trials took place in April and there were matches to decide third place. Winners of these bouts were then placed on the National Team for the proceeding year. However, in '18, the US went to a multi-phase system that saw US Open champions receive automatic byes to the World Team Trials best-of-three finals. All other eligible athletes competed in what is known as the Challenge or "mini" tournament, where the victors moved on to their respective best-of-three final rounds against the US Open champ in that weight category. In lieu of a traditional third/fourth-place contest, the '18 Trials held matches for "true second". These bouts were determined based on the results of the Challenge Tournament. If a wrestler lost to an eventual finalist and managed to earn third-place honors, they received the opportunity to compete for a National Team spot only if the athlete to whom they lost won the Trials finals. These are referred to as "true second" matches.
The US used another multi-phase system in '19, with US Open champs once again receiving byes — but to the Final X Series, which acted as the World Team Trials finals. In between was the Challenge Tournament held in Raleigh, North Carolina where, again, "true second" bouts were arranged when applicable.
Multi-phase procedures directly affect how points are assigned in our rankings.
Winners of third-place matches from the 2017 Trials received points for third place.
Winners of "true second" matches from both the '18 and '19 Trials Challenge Tournaments received points for third place.
Losers of third-place matches in '17, and/or "true second" bouts in both '18 and '19, received points for fourth place.
Because the '17 Trials held matches for places third through seventh, those results were observed and points were assigned to athletes associated with their placements.
US Open champions from '18 and '19 who also prevailed in either the Trials finals or Final X Series are credited with winning the World Team Trials and were allotted the appropriate amount of points for doing so — even though they did not compete in a Trials Challenge tournament. It is our view that the points reflect one earning the right to represent the United States.
Points associated with tournament/event placings.
Demonstrated viability in Senior competition.
Recent performance results.
"Relevant head-to-head" records.
2020ne Olympic Trials qualifiers.
Rankings reset following 2020ne US Olympic Trials.
Subjectivity's Role
The points system, which is designed to impart a fuller picture of an athlete's body of work, is the first qualifying factor for ranking position. Conceivably, athletes can be ranked without any points; but the manner in which wrestlers train, travel, compete, and develop makes such an occurrence unlikely. Activity, consistency, and demonstrable results not only matter, they are also evident among the vast majority of US Seniors.
Points are the root of rankings, especially among "top" athletes, and they are also evaluated as a tool to decipher criteria. If athletes holding similar credentials are tied head-to-head, the one who has more points is ranked higher.
In some cases, there is a need for subjectivity. When points/results/overall achievement are not enough to accurately rank an athlete, intangibles must be considered. Everything from how an athlete had (or has) been performing recently, to the strengths of their wins head-to-head (and losses), as well as viability displayed against foreign competition, are all measured and discussed between members of 5PM's Athlete of the Year Committee when arranging ranking order.
The Goal
Five Point Move wishes to serve the American athletes and the greater wrestling community by offering Greco-Roman rankings which take into account each and every meaningful facet of high-level competition. Points and numbers play a large role in how rankings are determined, but in-depth knowledge of the sport and those involved is paramount to this endeavor, as well. Ultimately, 5PM's Greco-Roman rankings are for educational, referential, and even entertainment purposes. This is just one more way that we can grow the sport, so let's do it together.
SUBSCRIBE TO THE FIVE POINT MOVE PODCAST
iTunes | Stitcher | Spreaker | Google Play Music