Fresh off of coaching four athletes at the 2019 World Championships is Army/WCAP coach Spenser Mango and he's here to break down each performance.
WCAP's star of Nur-Sultan was Max Nowry, who placed fifth at 55 kilograms, falling only to eventual silver medalist Khorlan Zhakansha (KAZ) and last year's World champ, Eldaniz Azizli (AZE). Overall, Nowry went 2-2 in the tournament, with both wins coming by way of tech fall. Ryan Mango (63 kg), who like Nowry was also a first-timer, got off to a hot start himself by defeating Julinho Be Correia dju (POR)11-0, but was defeated by '18 World bronze Rahman Bilici (TUR) in the proceeding round.
Ildar Hafizov (60 kg) beat back a very tough Etienne Kinsinger (GER) to crack open his sixth World-level appearance before being ousted by another returning bronze medalist, Lenur Temirov (UKR). And last but not least, Ellis Coleman (67 kg) put in a standout effort that was unfortunately halted due to porous officiating. In his first bout, Coleman ran over '18 bronze (detect a pattern?) and #4 seed Meirzan Shermakhanbet (KAZ), seemingly setting himself up for a run through the bracket. Unfortunately, that all came to an end in the next match, as Coleman was on the wrong end of a few bad calls against Bulgaria's Deyvid Dimitrov.


Coach Mango speaks to the above results sharing his perspective on what happened and why. The conversation then shifts to the upcoming CISM World Championships next month in Wuhan City, China, which will see participation from Hafizov, Coleman, Toby Erickson (130 kg), and Marine standout Daniel Miller (97 kg). A few notes on the beginning of the 2019-20 season are involved, as well, making this report a great way to get pumped up for the rest of the fall.
5PM: Let's start with Nowry. He has had a spotlight following him since 55's return, didn't get into the tournament last year but made it happen this year. Although Kazakhstan didn't end with a medal, it was still a whale of a performance for him. The match with Germany (Fabian Schmitt) seemed like a fitting opening, as well. What is your general overview of Nowry's showing last week?
Coach Spenser Mango: I think Max wrestled well. He was right there, he could have been in the semifinals of the World tournament, and then he wound up losing in the third-place bout to the reigning World Champion. But I think Max wrestled really well. He definitely proved that he can hang with the best guys in the World at that weight and that he belongs there. I'm just excited for the future for him. He will have to go up to 60 (kilograms) this year, but after that he's going back down to 55 for another crack at the Worlds.
5PM: Nowry's World showing reminds me of the US Open. He was a little banged up in that tournament and later mentioned that you had essentially told him to grit it out. How it is important to be able to ignore feeling dinged up because when the World Championships arrive, he might not feel 100% there, either, and he'll still have to perform. With that in mind, did you like how he approach the Worlds?
SM: Oh, yeah. His leg was bothering him. I knew, though he actually didn't say anything. I saw him with a pad on there. So I asked our trainer, Rod Rodriguez, what was going on. He said, "Oh, his leg is bothering him." Then Max split his chin open warming up with Ryan on the morning of competition. So, yeah, he was banged up. But when you watch him work, he'll never complain about anything. He just puts his head down and works hard.
5PM: Against Kinsinger, Ildar did what he does so well, getting a takedown on the feet and immediately converting to follow-up points. Temirov is obviously a very tough opponent, but Ildar at least looked like he was right there with him. In your mind, how did that match get away?
SM: We got on top and were in prime position to win the match and then we tried to force a gutwrench. It's just match tactics. We have to realize that we're winning the match, and go lift there instead. We lift him up, take him to the boundary, and throw him. One thing we don't do is force a gutwrench and get stepped over.
5PM: This was a bigger deal than usual for Ildar. He had looked great throughout the season and his family was in attendance. I imagine he was really disappointed. What was the conversation like afterwards?
Coach Spenser Mango: Yeah, he was disappointed. We just talked about being confident and pulling the trigger. In that first match versus Germany, he got a takedown and went for a throw. He looked great. In his second match, there were a couple of positions where I felt like he could have attempted a score, but he was just a little timid, a little reserved. I think that's the difference. Ildar is at his best when he is just letting it fly and not thinking so much about the outcome of his moves, but instead, just going for it.
5PM: You always want to see a strong first match out of the gate and Ryan gave you that. Against Bilici in the next round, he countered the lift and stepped up to the body like we've seen him do about a thousand times. But in the second period, and with the second shot on those double overhooks, Bilici is the one who capitalized with his under's and that sequence kind of changed the momentum. You knew Bilici before this tournament, and Ryan was certainly giving Bilici all he could handle. I take it this one didn't go down so smoothly for either of you. How high was the disappointment level considering it was a bout that seemed within his grasp?
SM: As Ryan's brother, I was disappointed just because I know the results don't show how extremely talented he really is. Going into the tournament, we knew Bilici was a great wrestler. Ryan had a nice first-round match-up where he was able to kind of get the butterflies out, and then he wrestled a great four-and-half-minutes with Bilici. But in those last two minutes, stuff started to go downhill really fast. I think he just couldn't find his way out of a hole. Those are things we need to work on going into this Olympic Year, overcoming those obstacles in-match against World class competition.
5PM: And then there was Ellis, who had perhaps the most heartbreaking result. First he starts off by decimating Shermakhanbet, the one guy no one would want to face early in this tournament. A masterful headlock opens the bout and Ellis was a step ahead the rest of the way. In the next round was a poorly-officiated match against Dimitrov. What must have been a soaring level of confidence was followed by a crushing, nonsensical loss. What was the feeling like after that big win, and then conversely, after the bout with Bulgaria?
SM: Oh, you're pumped. You knocked off the #4 seed in the first-round. In theory, he should be the toughest guy you face until the semifinals. But wrestling is wrestling; everyone is tough at the World tournament, otherwise they wouldn't be there. Ellis went out against the Bulgarian and got caught in an arm spin — and man, I don't know. I'm not one to blame reffing, but I felt bad for Ellis in that match. Yes, he did give up the throw. But after that, he did some really good things and should have received points that wound up not being scored. He was all over him and never got a chance on top. Dimitrov kept bailing out on arm spins, and Ellis was cartwheeling, countering him, and getting behind. But they kept ruling them slips. There is nothing you can do about that except don't give up a throw in the first period. You have to take it out of the ref's hands.
I really wanted Ellis to come home with his first medal. After that first round, we were definitely riding a high, but then disappointment soon followed. But Ellis is going to keep his head up. We're going to get that weight qualified and look for good things in Tokyo.
5PM: Two part question: who is confirmed for the Military World Games? And, what does the training plan look like for the guys who just finished competing in Kazakhstan?
SM: For Greco, from WCAP we will have Ildar, Ellis, and Toby Erickson, with Daniel Miller from the Marines. In freestyle, we will have Max Nowry, Jamel Johnson from the Marines, and Jacob Mitchell. As for what training will look like, this week those guys have been on their own. We'll bring them in on Friday, they'll get their run in, get the trip out of their systems, and have them enter the weekend with a little workout. Next week is when we will start to get back at it. We'll have camp here before the CISM's and the two Marines will come out with Coach (Jason) Loukides. We will get some workouts in. I mean, everyone is already in shape. Right now, we're just trying to peak again (laughs), just one month later. It is always difficult trying to have an athlete peak twice in two months, but I have faith in these guys that they will get it done and I expect good things.
5PM: Upheaval is now on the way with the Olympic year and the weight classes being reduced by almost half. Virtually 90% of the Ninja Squad will be at 60 kilograms. They knew this was coming. Your team is very good at dealing with this, there's a ton of experience dating back years and years with athletes in the same weight. That being said, does it feel at all different this time around given the bond between the Ninja Squad guys and the perception that now accompanies their careers?
SM: I don't think there will be any difference in the room. These guys are in the room everyday getting after it and going hard on each other, and I think that's what makes these guys so successful. If you're having a bad day, you are going to get beat up. They don't take it easy on you, they're not trying to find a partner that'll allow for an easy practice. Everyday, these guys are going hard, beating each other up, and trying to make each other better. Before, they had a few different weight classes — 55, 60, 63, and 67. Now it'll just be 60 and 67. But that isn't going to change anything in the room. They are still going to get after it, still try to beat each other up. And when the Trials arrive, whoever comes out on top, everyone in the room will have had something to do with it. They will have all contributed to the person who makes that Team. Whether they make it or not, they will have played a part in it. I don't think it's going to be weird at all for them.
5PM: You have been a part of this dance a lot of times, when a World tournament ends prior to an Olympic Year and then it becomes all systems go leading up to the Trials. There will be a December Open this year and qualifying after that. From the outside of the wrestling room walls, it feels like these Olympic Years just fly by. How do you manage the training plans, schedules, weight classes, and desires of Olympic hopeful athletes during what is sure to be one of the most important seasons of their careers, and for some, maybe their last?
Coach Spenser Mango: Honestly, I always have a training plan in my head, how I think it should look, how I think the energy and excitement in the room should be, but it really comes down to how the guys perform and how their bodies respond. Some days, we might have something a little heavier planned but then guys come in and are dragging a little bit, so you kind of have to pull it back. But really, it's just paying attention to the athletes. Seeing what their demeanor is like, what their energy levels are, and tapering the plan accordingly. And then if you think you need to take it up a notch, you can do that. But I am completely against having something set in stone and sticking to it no matter what. You have to adjust to the different variables and take it from there.
Follow Army/WCAP on Twitter, Facebook, and Instagram for updates on results and competitive schedules.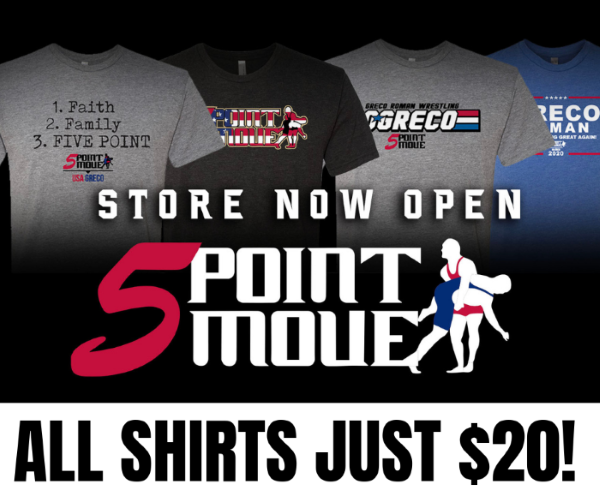 Listen to "5PM28: G'Angelo Hancock, Joe Rau and Max Nowry" on Spreaker.
SUBSCRIBE TO THE FIVE POINT MOVE PODCAST
iTunes | Stitcher | Spreaker | Google Play Music | RSS
Notice
: Trying to get property 'term_id' of non-object in
/home/fivepointwp/webapps/fivepointwp/wp-content/themes/flex-mag/functions.php
on line
999