Two members of Army/WCAP's "Ninja Squad" and 2019 World Teammates, Max Nowry (55 kg, world no. 5) and Ildar Hafizov (60 kg), shared some of their insights from training camp in Georgia.
For Nowry, it hasn't been the easiest trip thus far. Less than a week after arriving in-country, the 29-year-old began suffering with flu-like symptoms. He wasn't entirely alone — '18 World Teamer Dalton Roberts (60 kg, NYAC/OTS) alluded to experiencing some of the same viral indicators. Still, Nowry was able to get on the mat just enough to report back with a concise overview of his time away. On a side note, Nowry will be competing at 55 kilograms this weekend, not 60.


Hafizov dodged the illness throughout the trip, an especially good thing since this camp was something he had been looking forward to for a while. However — unlike Nowry, Roberts, and a high number of other US Seniors — the recent Military World bronze is not competing this Saturday at the Haparanda Cup. Instead, he is set to return home at some point tomorrow. As such, we look forward to a full discussion with Hafizov sooner rather than later.
Max Nowry — 55 kg, Army/WCAP
5PM: I asked Ildar a similar question: you've had a very busy bunch of months here between Worlds, the Military World Games, and New York. How are you holding up physically?
Max Nowry: Physically, I was holding up pretty well throughout the year. This year has been extremely hectic between competitions, training camps at the OTC (Olympic Training Center), and training in Illinois at the RTC. There have been a couple dings here and there, but we've been able to deal with them between events.
5PM: How does the timing of this particular training camp work to your advantage, even with recognizing the items on the back end of this overseas trip?
Nowry: The timing of this camp seemed really well, especially with a tournament in another country right after and then the US Open in December. But once we got here, the camp was a lot different than what we expected in terms of mat time.
5PM: How did 60 kilos feel at the Bill Farrell Memorial?
Nowry: 60 felt fine at New York. It was a last minute decision to decide to compete, but I'm glad that I did and was able to get three matches in there.
5PM: What have you enjoyed the most so far when wrestling with the Georgians and have you been able to get mat time with (Nugzari) Tsurtsumia?
Nowry: Tsurtsumia isn't here, so that sucks. But there's a handful of lighter-weight guys. I was only able to get two mat practices with them and then have been sick the rest of the camp.
Ildar Hafizov — 60 kg, Army/WCAP
5PM: You, Ryan (Mango), and Max have had a lot of activity the past few months, especially you and Max with the Military Worlds. How do you feel physically?
Ildar Hafizov: Physically I feel good. A little bit tired from traveling and changing time zones, but overall, all good.
5PM: You really desired the chance to train with international partners prior to Astana. Do you at least like the fact you're getting in a camp like this early in the season?
Hafizov: I was excited to come and wrestle with guys who can give me a different look in par terre and on the feet. So, it is always a good experience to wrestle with different partners.
5PM: Since you no longer are competing in Sweden, can you use this training camp as a way to get competitive work in and set the tone for the season?
Hafizov: I will definitely use every opportunity to wrestle. It is a good time to reset and start the new season.
5PM: How have the par terre drills and live wrestling been structured so far?
Hafizov:  Par terre still need some work and adjustments. These guys are training hard, and they know how to score in par terre.  But so far, training was good.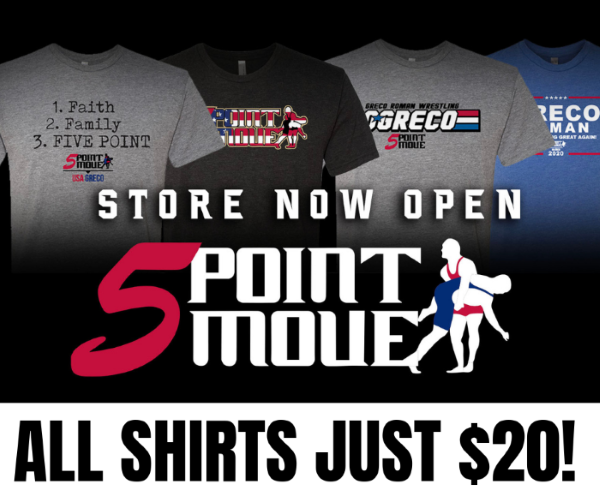 Listen to "5PM30: Jon Anderson returns at the Bill Farrell and Dennis Hall's always fiery position on U.S. Greco-Roman" on Spreaker.
SUBSCRIBE TO THE FIVE POINT MOVE PODCAST
iTunes | Stitcher | Spreaker | Google Play Music | RSS
Notice
: Trying to get property 'term_id' of non-object in
/home/fivepointwp/webapps/fivepointwp/wp-content/themes/flex-mag/functions.php
on line
999