Greco's debut at the Final X Series couldn't have been more successful. While only one of the five match-ups from Saturday required three bouts, they all — for the most part — delivered the kind of suspenseful action and exciting techniques which represent the very best of what the style has to offer.
Of course, there is also the little matter of World Team selection in a qualifying year. With three Olympic weight classes having been locked down inside of the Rutgers Athletic Center this past weekend, and with three more still to go in Lincoln, that is where much of the focus will soon be placed. As terrific as Final X: Rutgers was (and it was), nothing is more important for the US program right now than qualification for Tokyo.


Final X: Rutgers Notes
The greatness on display at 77 kilograms
With his series victory over Kamal Bey (Sunkist, world no. 5), Patrick Smith (Minnesota Storm) claimed his second Trials victory in three years. That's the surface information. If you dig a little deeper, Smith's ledger is even more impressive.
Smith made appearances in four straight best-of-three Senior Trials series beginning in 2014. In the first two, he fell to living legend and two-time World bronze Harry Lester. At the Rio Olympic Trials in Iowa City, Smith won the first round against RaVaughn Perkins (72 kg, NYAC, world no. 14) but came up short in the next two. 2017 was Smith's breakthrough. He won the Open (held in December of '16) and then marched through the bracket at the Trials to earn his first World Team spot.
But it's hard to just ignore that first year of 2014. Smith not only advanced to the Senior Trials finals, he won at University and eventually finished with a silver at that age group's World Championships.
There is also this fact: Smith has now competed in five Trials finals across three weight classes  — 71/72 kilograms ('14, '15, and '17); 66 kilos ('16), and 77 (this year).
How about one more? Given the extra step in '19 that is the result of the Final X Series, Smith, like all other Challenge Tournament winners from Raleigh, has had to win two best-of-three series to cement his place in the World bracket.
Smith's run this season, which started with three medals in a row overseas this past fall, included three entertaining, hard-fought wins over Mason Manville (NLWC), the first of which came at the Schultz finals in January.
When considering the Dave Schultz Memorial, his final against Bey in Vegas, the win in Raleigh, and the result from Saturday night, Smith has put a cap on the most standout domestic season of his career thus far, which is really saying something.
For his part, Bey is dealing with a little blowback thanks to his now-infamous "Ferrari" analogy, which would have made for superb bulletin board material if Smith hadn't taken it in stride so easily. But he doesn't deserve it. Aside from becoming one of the country's top competitors over the past three seasons in addition to earning a Junior World title, Bey has attracted droves of new fans and injected another element of excitement into the sport. He asks for attention and then delivers, time and time again. To say that is a rare quality would be a massive understatement.
On top of everything else, Bey, still just 21, has been consistent and effective across every domestic (or pseudo-domestic) opportunity.
Dating back to his first Senior gold from the Bill Farrell Memorial in November of '16, Bey has appeared in every single tournament final held inside of the United States. You can't call them all domestic events, since the Farrell and Schultz are labeled "international". But three US Open titles and appearances in three straight Trials finals is certainly worthy of recognition.
Counting Bey's series opposite Smith at Rutgers and beginning with that Farrell gold from November 2016, Bey's US record (at Senior) is 30-4, with 20 tech falls and three pins among his victories. That's insane.
And then there is Coleman
By virtue of winning his series against Jamel Johnson (67 kg, Marines) on Saturday, Ellis Coleman (67 kg, Army/WCAP, world no. 14) wrapped up his third straight spot on a US World Team, and his fifth Senior-level Team altogether (2012 Olympics, '13 Worlds).
Coleman has taken complete ownership of 66/67 kilograms this quad, winning the past three Opens and Trials. He has been tested on occasion domestically during this latest run, mainly by Alex Sancho (Army/WCAP), but has remained on top due in large part to his continual improvement in several key areas, especially par terre top, where he has become positively dominant.
What bears reiterating once again, is that despite his longstanding status as an elite athlete, Coleman has endured plenty of struggles throughout his career pertaining to health. There have been surgeries and several forced hiatuses for recovery resulting in disappointing performances. But in March of 2017, Coleman rediscovered himself while in Denmark for Thor Masters, where he went 4-0 and defeated '14 World bronze Edgaras Venckaitis (LTU) before bowing out due to a minor injury. Following that trip to Scandinavia, Coleman has suffered a mere two defeats domestically, both to Sancho ('17 and '18 Trial finals), and has dispatched everyone else.
Nowry & Rau Both Had to Wait
Six months before winning his University World title in 2012, Max Nowry (55 kg, Army/WCAP) advanced to the finals of the Olympic Trials, falling to the incomparable Spenser Mango, who is now his coach. As has been well-documented, Nowry, who is one of three 2019 World Team members from Illinois (so far), was then shuffled into the new weight class of 59 kilograms, which changed his career. Although he remained competitive, it wasn't the same and frustration took over. But when 55 kilos returned last year, things started looking up. Nowry won the Open over Sam Hazewinkel and seemed primed to summit the mountain for the very first time. Two months later, Hazewinkel showed up to the Trials, blitzed the mini tournament, and then shocked Nowry in two straight.
That's a lot of disappointment to overcome, but Nowry did it, even on the heels of two hip procedures prior to his slate of activity this season. How good has he been in 2019? Well, for starters, he has won every match. Nowry stomped through the Armed Forces, won his second Pan Ams title, his second consecutive Open, and then on Saturday got past a very game Brady Koontz (TMWC/Ohio RTC) in two straight, putting an exclamation point on the proceedings with a five in the second period of Match 2. It's a lesson in perseverance: Nowry had to wait six years between appearances in a Trials final, and ten years from the start of his full-time career to win one.
Joe Rau's (87 kg, TMWC/Chicago RTC) wait hasn't been as long — but it has been equally frustrating. Rau began his Senior apprenticeship in 2013, and the next year won both the University and Senior Trials over his counterpart from Saturday, Ben Provisor (NYAC/NLWC). In 2016, Rau had jumped up to 98 kilos, won the Olympic Trials, and wrecked his knee. He was back in '17, hurt his knee again, and was swept by Provisor in those Trials.
Last year rang in quite the cruel and odd way to end a season: days prior to the '18 Trials in Tulsa, Rau suffered a broken jaw at the hands of a former teammate following a warm-up game in the practice room. He had lost to Provisor in a classic at the April Open and it was assumed that any combination of he, Provisor, and Patrick Martinez (NYAC) would contend for the World Team spot at 87 kilograms.
With that chance taken away, Rau did the next best thing: he healed up and ran head-first into competition. Rau spent most of the summer training and a substantial amount of time overseas. And he never slowed down. By the fall, he had amassed more Greco competition time than the previous two years combined. The byproduct of his devotion first revealed itself in April when he edged both Provisor and Martinez to win the Nationals — and then again, of course, on Saturday against Provisor with the stakes at their highest.
The same can be said for STEF
It only seems like John Stefanowicz (82 kg, Marines) has surged to the forefront in an eyeblink, but that is definitively not the case.
Stefanowicz, 27, first joined the All-Marine Team way back in 2011. He was starting to establish himself in spaces, a little at University, a little at Senior. He placed fifth at the Open in '14 and qualified for the Daytona Trials, which represented the last time anyone saw him compete for over two years. Years. A Marine assignment (intel) temporarily took him away from the sport until he returned for the '16 December Nationals, an event for which he didn't train (but still placed fifth).
The aforementioned eyeblink effect set in shortly thereafter. In March of '17, he wound up fifth at the Hungarian Grand Prix following a memorably close defeat to Zurabi Datunashvili (GEO). A month later, there he was in the Trials final doing battle with Cheney Haight (NYAC). It was a two-match series loss — but it also set a precedent. With his career gaining stability, and more importantly, traction, Stefanowicz was able to focus on his craft in what is a constantly emerging Marine wrestling room.
The next season brought with it consistency, but not a step up on the domestic circuit. Stefanowicz won Armed Forces gold and performed admirably at the '18 Open before an injury during his semifinal bout with Barrett Stanghill (87 kg, Minnesota Storm/OTS) resulted in a loss and untimely exit from the tournament. At the Trials that June, Haight got him again in the challenge tournament final, though Stefanowicz did receive National Team honors for the second year in a row.
This year, he started off by medaling in Sweden and putting some more time in overseas, which has become something of a staple for the Marine program. Big wins over recent Euros winner Rajbek Bisultanov (DEN, world no. 6) and multi-time National Teamer Jon Anderson (87 kg, Army/WCAP), respectively, served as highlights leading up to the Nationals, where he crossed paths with Kendrick Sanders (NYAC/OTS) in the semis. Sanders, who was the talk of the tournament and deserves to be congratulated for his own fine season, used a reverse lift to come away with a 7-3 win that few saw coming.
So here's what the circumstances were for Stefanowicz at the World Team Trials Challenge Tournament last month in Raleigh: his hamstring was strained into spaghetti string, so he couldn't practice; he entered as the #6 seed; '18 World Team member Geordan Speiller (Florida Jets) had returned to action as the #2 seed; and there was still Haight to deal with, whom Stefanowicz had never beaten before.
The morning began with a scare. Stefanowicz was being given all he could handle courtesy of Chandler Rogers (CRTC) and required points late in the match to wind up victorious 11-8. That put him in the semis opposite Speiller. What was expected to be another close battle went in the complete opposite direction. Stefanowicz zipped an arm throw and got on a run with a gutwrench, earning a quick tech. Haight was the last piece to the puzzle.
Injured.
Winless going in against Cheney.
And none of it mattered.
They were competitive bouts. Haight is just too good for it to look any differently. But there was also an element of decisiveness. Stefanowicz prevailed by matching 5-1 scores in both contests on a day when he was unsure if his body would even cooperate. That was the edge he carried after the fact. Stefanowicz exited the Challenge Tournament with enough time to heal and game plan for Sanders. When noon struck on Saturday in Piscataway, New Jersey, he was more than eager to demonstrate how ready for the moment he truly was.
On To Lincoln
Five more Senior World Team spots will be on the line this Saturday when Final X: Lincoln kicks off at 12pm (CT) on FLO. The Rutgers matchups were great. The Lincoln matchups are just as good but they might be even better.
60 kg
Mike Fuenffinger (US Open Champion) vs. Ildar Hafizov (2008 Olympian, multi-time World Teamer)
WCAP teammates Fuenffinger and Hafizov have traded wins and loss the past season, and their styles both clash and complement one another's. Fuenffinger might have a slight edge when it comes to transitions and scrambles, but no one in the US is as technically sound as Hafizov. Par terre, as is usually the case, will likely make or break this series. 
63 kg
Ryan Mango (Two-time US Open Champion, 2018 Pan Ams gold) vs. Xavier Johnson (2019 Grand Prix Zagreb silver, 2018 Bill Farrell Memorial bronze, National Team member)
Everyone has been wanting to see these two mix it up, primarily because they haven't met since the November '17 Schultz. That was a big Mango victory, but Johnson is a very different dude nowadays. They're both mind-bendingly explosive and Johnson has a great lift, but Mango has seen it all before. There will be bombs and high-flying moments to be found in these matches. Please don't miss them. 
72 kg
Ray Bunker (2019 Dave Schultz Memorial gold, 2018 Bill Farrell Memorial gold) vs. Alex Mossing (2017 U23 World Team member)
No two athletes on the card offer as many stylistic differences as Bunker and Mossing. Bunker is a tireless bruiser who wants to pound opponents into breaking. While his technique has improved, his go-to approach remains the same, and the people love him for it. Mossing, on the other hand, is a classical thrower who is also capable of scoring-friendly counters. Both have endured hard roads to get here and they will show you that come Saturday. 
97 kg
G'Angelo Hancock (Two-time Senior World Team member, 2016 Junior World bronze) vs. Luke Sheridan (2018 Bill Farrell Memorial gold, National Team member)
Sheridan should be riding a wave of confidence due to the fact that his on-the-mat career has skyrocketed since moving up to 97. His Trials victory over Daniel Miller (Marines) shouldn't hurt, either. That being said, his opponent couldn't be more formidable. Hancock, ranked #3 in the world, has medaled in every single tournament he has entered this season and owns three straight wins over Sheridan dating back to last year. Adjustments for Sheridan have been necessary. If he has made the right ones, you'll know early. 
130 kg
Adam Coon (2018 World silver, 2019 Pan Ams gold) vs. Cohlton Schultz (2017 Cadet World Champion, 2018 Junior World bronze)
Schultz was not supposed to win the Challenge Tournament, and did so. But the accomplishment is not as important as the methodology. Schultz was more than able to fight in the ties and take ground against three of the best heavyweights in the nation. He is also more opportunistic than most in this weight. Coon — the bigger, stronger, bodylocking machine who just so happens to have a World silver medal dangling around his neck — will be game for the task. Just like Smith/Bey was for Rutgers, Coon/Schultz is seen as the main attraction for Lincoln. 
OUR COVERAGE
5PM previews will be split between here and FLO, so please lock onto all of this content as much as possible in advance of the event.
5PM – Final X Lincoln
Bios/recent relevant histories.
Post-session recap(s).
Follow-up insights from athletes.
5PM on FLO – Final X Lincoln
Another edition of Anonymous Scout.
Match-up analysis.
Post-event recap.
SUPPORT OUR ATHLETES!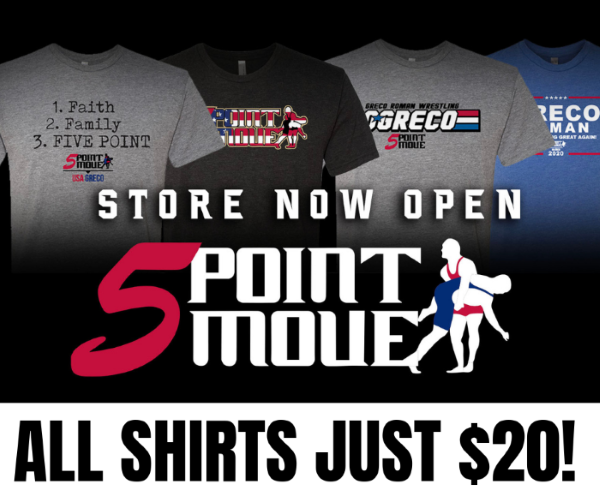 Listen to "5PM23: World Team Trials Challenge Tournament Preview" on Spreaker.
SUBSCRIBE TO THE FIVE POINT MOVE PODCAST
iTunes | Stitcher | Spreaker | Google Play Music | RSS
Notice
: Trying to get property 'term_id' of non-object in
/home/fivepointwp/webapps/fivepointwp/wp-content/themes/flex-mag/functions.php
on line
999