Today began the 2019 Winter National Camp at the US Olympic Training Center in Colorado Springs. We will be providing updates/perspectives from the camp later in the week, so please stay tuned.
On Saturday night in Ann Arbor, Dalton Roberts (60 kg, NYAC/OTS) and 2018 World silver Adam Coon (130 kg, Cliff Keen, world no. 7) were officially honored as recipients of the annual Jacob Curby Award prior to the NCAA dual meet between Michigan and Illinois. In addition, Coon was also presented with $25,000 on behalf of the Living the Dream medal fund due to his great good work in Budapest.
The Jacob Curby Award, named for multi-time National Team member Jake Curby who tragically passed away in January of 2010, is given out each year to two Senior athletes — one from Northern Michigan University's Olympic Training Site — and one from the Olympic Training Center; Coon is and was not a resident athlete in Colorado Springs but did perform a bulk of his training for the Worlds at the OTC.
Also on Saturday
The Chicago Beat the Streets Brawl, a first-time fundraiser, unfolded at Oak Park & River Forest High School featuring a Greco exhibition put on by former OPRF student/2017 Junior World Champion Kamal Bey (77 kg, Sunkist, world no. 7) and perennial contender Kendrick Sanders (NYAC/OTS). Mike Powell, who originally rose to prominence as the head coach for Oak Park where he ignited the careers of several standout US Seniors, is now the executive director of Beat the Streets Chicago, and it was he who organized the event as well as the showdown between Bey and Sanders. However — Bey/Sanders was not a typical match. Instead of going for six minutes of live wrestling, the pair traded high-scoring holds that were then judged by youth wrestlers sitting matside.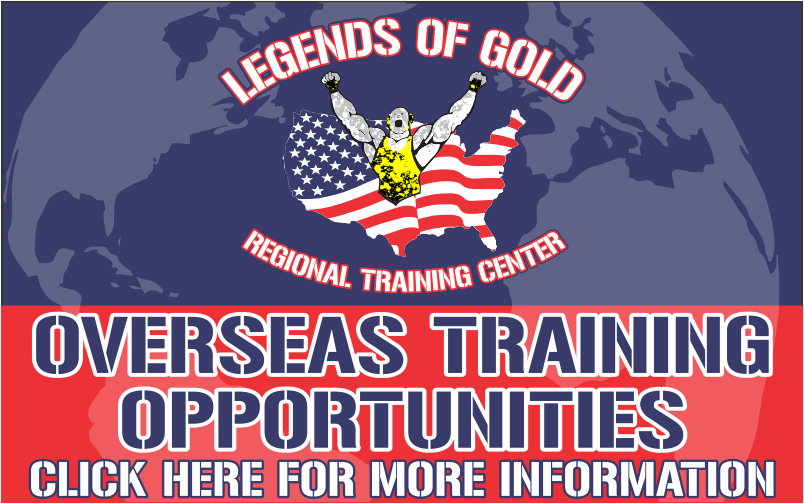 While a regular bout pitting Bey, who was coached by Powell in high school, against Sanders would have likely offered a decent dose of organic fireworks (they met in a highly-anticipated match last March in NYC that did not disappoint), Powell's objective was to create an avenue where the techniques did the talking, not the result after six minutes. "My goal is that if we're going to grow the sport, which is part of my job as the ED of Beat the Streets, then that includes getting little kids excited about wrestling," Powell said Monday afternoon.
Along with raising money for the Chicago BTS program, that was the entire point of Saturday's event. As such, Powell was kind enough to take a time out for some more questions related to Saturday's showdown and the feedback he received after the fact.
5PM: Kamal was just a slam dunk to participate in this, right? Was his the first name that popped up when you envisioned this concept? 
Mike Powell: Yes. That's the simple answer, yes. I mean, he's the best showman in wrestling.
5PM: It's hard to really find a close second right now. 
Powell: They should let him wrestle freestyle. First of all, anyone who thinks he would get dogged by a Senior-level freestyle wrestler is a fool, unless the guy was just able to run from him. But in international styles, you've got to go forward. For my money, I'd pay to watch Kamal wrestle freestyle than most freestylers. He's just so much fun to watch move his body.
5PM: How did you like Kendrick's performance? He was just getting back to practice recently and he took this opportunity on short notice. 
Powell: He was incredible. He stole a significant amount of the spotlight. He and Kamal really hammed it up as they got more into it. It was really cool. He's a showman, it was great. I was really pleasantly surprised, I had gotten several comments like, I didn't think Kendrick would be that into it. But he got into it. Kendrick very much feels like he's doing this for kids like himself. His story is one that is very similar to the stories you hear out of Beat the Streets. He lost his mother at an early age, was raised by his grandmother, and wrestling saved his life.
Woke up super sore, I don't think I've been thrown like that in my life. All in all it was worth seeing those kids smile and excited about the sport of Wrestling. @BTSCHICAGO1 put on an amazing event last night !

— Kendrick Sanders (@TheGoalisGold) January 13, 2019
5PM: What was the general feedback you received, especially from people who might not have been that familiar with Greco to begin with?
Powell: It was phenomenal. It was a great thing. The adults were very entertained but the kids were off-the-charts excited. Here's one of the really wonderful things about this: I asked Joe Rau, Robby Smith, Kamal Bey, and Kendrick Sanders to make themselves available to the kids. The adults, too, but a lot of this was for the kids who were there throughout the day. I just asked that they make themselves available.
And they were there. They were schmoozing, they all did it. But Kamal, and this is great, probably spent two hours playing a football game on the open mats behind the event. We kept the mats from the Ramos clinic open. Kamal was quarterbacking a youth football game. Then he's wrestling with these kids, like five-on-one, then he's signing their shoes, signing their shirts. It was a like a dream come true for these kids. We had a lot of Oak Park kids and we had a bunch of Beat the Streets kids, and they know who Kamal is because they idolize him. I mean, they really, truly idolize him. And he and Kendrick were there all day, jazzing it up with these kids. Kamal was so generous with his time, his emotion, and his energy, it's just an amazing thing.
The whole day was great. The event was great, Kamal and Kendrick's show was incredible. It was sad to not have Ellis there, but Kendrick was off-the-charts good. He way exceeded expectations.
5PM: Has the fundraiser been a success?
Mike Powell: Yes. Obviously, I'm not a man who is ever really satisfied with things. Here's the thing: we're putting on events with two full-time staffs, so considering that, yes, it was a wild success. For financial reasons, for PR reasons, for awareness reasons, for our cause — everything about it was successful, I would say.
YOU can contribute to that success by watching the Chicago Beat the Streets Brawl. Subscribing to the feed counts as a donation (just $14.95) — or you can make a donation directly to Beat the Streets Chicago in any amount by clicking here. 


Ellis Scoped But Quick Turnaround
As alluded to above by Powell, 2012 Olympian/multi-time World Team member Ellis Coleman (67 kg, Army/WCAP, world no. 11) was originally pegged to participate on Saturday. Unfortunately, he was forced to bow out due to a meniscus procedure on his knee. But not to worry — Coleman's recovery time is expected to be brief and he should resume training within a few weeks. In the meantime, below is a chance to observe one of his primary off-the-mat talents.
View this post on Instagram
Questions? Concerns? Feel like reaching out? Do so on Twitter, Facebook, and Instagram!
SUBSCRIBE TO THE FIVE POINT MOVE PODCAST
iTunes | Stitcher | Spreaker | Google Play Music | RSS 
Notice
: Trying to get property 'term_id' of non-object in
/home/fivepointwp/webapps/fivepointwp/wp-content/themes/flex-mag/functions.php
on line
999