It is both big news, and not really news at all — yet. Even saying "reports are surfacing that…" misses the mark because there is no plurality as of this time. Precisely one article, a very short article, from a foreign wrestling federation's domain is all we have.
And those in position to talk about it have chosen not to chime in on the matter, which could be construed as a sign that there is either nothing to discuss; or that they are holding back simply due to not having all of their proverbial ducks in a row and would prefer to wait until the pond has settled.


But if there is a Senior World Championships in the calendar year 2020, United World Wrestling needs to know that despite the weirdness, surreality, and potential procedural headaches which may arise, such an endeavor would likely enjoy substantial support from the athlete base the organization is called upon to serve.
The ball of conversation began rolling in Eastern Europe on Wednesday. That's when the Wrestling Federation of Belarus released a laughably brief online update declaring that UWW had signed off on holding a Senior World Championships in Belgrade, Serbia this coming December. No UWW officials were quoted, and no exact date(s) were included. Just, "December", for, of course, all three Olympic styles. Shortly after being made aware of Belarus' report, we then took it a step further by sharing their limited details and expounding on what those details do and do not mean.
The subject in question is one digit removed on the launch code's keypad from being described as "nuclear". On the whole, it would appear that a Senior World Championships is a good thing, a logical and forward-thinking mechanism to reintroduce the Olympic season. Plus, since UWW had already announced their intention to put on World tournaments for the Junior and U23 age groups, not doing something for the Senior Olympic level within a reasonable distance from the actual Olympics would risk wasting what could be a valuable marketing opportunity for the sport.
On the other hand, another risk would also seem to exist: devaluation of the optics surrounding the event. With Olympic qualifying procedures set in stone and dependent on four more events scheduled for '21 — along with UWW's vaunted "Ranking Series" likewise incapable of being amended — a '20 World Championships carries zero consequence. Whereas the '19 tournament had it all (Olympic weight qualification and coveted ranking points), a '20 Worlds, by comparison, might be in danger of being seen by some as little more than a grand exhibition that compels nations to participate even if they are not totally ready to prepare adequately, or structure a reasonably fair selection process.
Then again, a World Championships with no strings attached, just like how it used to be in non-Olympic years? One could argue the event might actually usher in decidedly more passion and excitement than what is normally available, certainly if by then the world itself has managed to climb out of the economic, physical, and emotional rubble brought on by the coronavirus pandemic.
So, all good? Maybe? Probably?
According to a quartet of top United States Senior Greco-Roman competitors, yes. For the most part.
Thursday evening, four well-known athletes shared their perspectives with us (all of whom have been World Team members): Ellis Coleman (67 kg, Army/WCAP); Kamal Bey (77 kg, Sunkist), RaVaughn Perkins (77 kg, NYAC), and '18 World silver Adam Coon (130 kg, NYAC/Cliff Keen, world #6). Each athlete opted for a "wait-and-see" approach when discussing the news, naturally. Between the virus hitting a recent uptick in the US and the idea of a 2020 Worlds, for now, being shrouded in relative mystery, it is understandable. They also expressed enthusiasm about the prospect of having a major tournament for which to prepare, though some of that enthusiasm was tempered with regard to what would be a short timetable both before and after a (presumed) fall World Team Trials.
Dialogue has been formatted via topic instead of questions-and-answers to provide a more logical flow for reading purposes.
The Virus Still Looms Large
Coleman: "You see how the virus is in America. If they do have the Worlds, would it possibly be everyone but us? And then at the same time, November-December is right around flu season, so who is to say how bad everything is going to get worldwide? We're in the summer, when everyone was saying it was supposed to die down because light is supposed to kill the virus. But look how bad it has gotten. Who knows how bad it's going to be in December?"
Bey: "You shouldn't rush it just because you can. The only way I can see them having a World Championships is by seeing how many corona cases people get. Then it could be, Alright, we just had 50,000 people catch the coronavirus and now the Olympics have to be pushed back again, or whatever. It's like sticking your foot into some water to see if it's too cold or not."
Perkins: "It can mess up the Olympics. If you catch corona, well the Olympics have already been postponed. What happens if we have this World Championships and there is an outbreak with all the athletes catching the virus? Then what do we do? I look at that from a coach's standpoint, but as for the athletes, we just want to win and become World Champions."
Coon: "The real fun begins with this country, the United States. We're still shut down, and other states have been backpedaling after having already re-opened. So to have a whole Trials to determine the Team and who could even show up to a Trials… I don't know, there are a lot of factors that go into it if we even send anyone from the USA. Would this World Championships end up being like one of those little league tournaments when you're in elementary school that they call a 'world championship' even though it's the three counties nearest to each other? Or is every country going to take it seriously and send their best guys? Or is it going to be, Hey, do you want to go and risk COVID?"
The Timing
Coon: "Here in the US right after December, four months later are the Trials to make the Olympic Team. I'm not sure we're going to have people hammering forward when four months away, if you get injured at these World Championships — that won't mean a whole lot per se if the best guys aren't going to be there — if you get hurt during this time, you've just blown the five years you've been training for. Five now, not four, because of the Olympic delay."
Coleman: "I think it is good timing. You still have four months to prep for the Olympic Trials, and you're still going to have the better part of a year to prep for the Olympic Games. You wouldn't want it be too close to the Olympics because you wouldn't want anything to happen to those Olympians, since for some of those countries the people who qualified are already going. If anything happens to any of those people, you would want them to have the time to recover and be able to get back and make it to the Games.
Would the Worlds Be Seen as Just a Test Event or Tune-Up?
Bey: "It seems like it would be another tournament for people to wrestle at. I'm all about medaling, winning medals, and representing the United States but I feel like it would take away from the Olympic Games — which should be everyone's focus."
Coon: "We've known about World Championships for two years. We knew about all of these prior tournaments. To just throw one together in six months and call it a World Championships? There are a lot of procedural things that happen in a lot of these countries. It's a good idea to do a grand prix or a ranking tournament, or whatever you want to call the thing. And it would be nice, if everyone is in a spot to go, to see all of these world-class athletes again and go for it. But it could turn into a tune-up for Tokyo because that's where all of the emphasis is. I'm not sure about the name, per se, The World Championships, because you are going to run into some people who see it as another tune-up match.
"There are going to be some countries who won't send their #1 guy because they are going to have athletes who don't want to go and risk sickness potential that knocks them out for a couple of months trying to make their Tokyo teams."
Perkins: "The World Championships are the World Championships. It doesn't matter who is there, or how many people are there, it is a World Championships and I am going to celebrate it like a World Championships, just like anyone else. (Balint) Korpasi won in 2016, the non-Olympic weight Worlds, where all of the top guys went to the Olympics at 66 (kilograms). He wound up winning the World Championships, and then two years after that he made the podium again, he earned silver. There was a lot of competition and he still got his medal. I wouldn't take that from anyone.
"Whichever athletes would say, Oh, it's just a tune-up tournament, I don't think there is such a thing where someone would say, I'm just coming out here to compete. No. As wrestlers, we want to win no matter what tournament it is. It could be an exhibition for me and my mindset wouldn't change. I still want to win. I don't care what it is, I don't care who it is in front of me, I want to win. It could be (Roman) Vlasov or someone from the US, I still want to win. Of course, people are going to say that because they lost. But if they win, they're going to say, I'm a World Champion and they will carry their flag above their heads proudly. If they win, I guarantee they will step on the podium with that belt around their waist. And if I win, no matter what, my face is going up on the Wall of Champions at the Olympic Training Center."
The Potential Benefit
Coleman: "Honestly, it's a good way to gauge yourself and a good competition to prep yourself for the Olympic Trials, considering that everything has been closed down and everyone has been off the mat for a while. If we do get that opportunity to train and compete, who wouldn't want to go to a World Championships and test themselves, and potentially set themselves up for a good Olympic run? I think it has been a long time since everyone has been on the mat and it would be nice again to get that foreign feel to see how you match up against those guys — especially after being off the mat and only watching film and thinking wrestling. Potentially for myself, I would love to do it. I would definitely love to do it to set myself up to see how my opponents are before the Olympics, and to see how I feel after being off the mat from corona and the surgery. It would be interesting.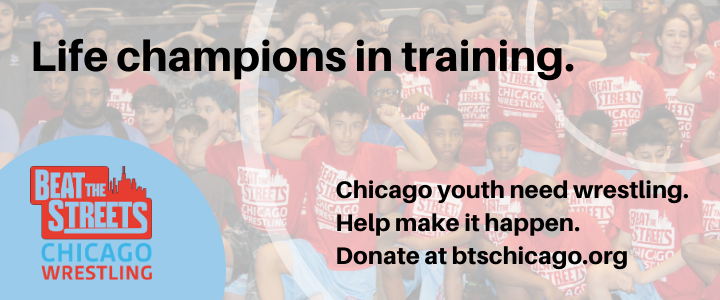 "It gives everyone off the mat something to train for. It gives them a reason to want to work hard and train hard. I mean, imagine all of the athletes in all of these other countries where the athletes who qualified are automatically going to the Olympics? For them, there are no Olympic Trials, so all of these other athletes had to postpone a year and wonder what's next for them, What am I training for is there are no Olympic Games? It's not false hope or anything, because if you're an Olympic athlete you want to go hard and have something to keep the fire burning. That is another big opportunity for a lot of people."
Perkins: "I can't speak for anyone else, but for me, this gives me another chance to come back and make a World Team, get back on the United States National Team, and it gives me another chance to test this weight out before the Olympic Year. That would be great for me. I think it would be great for a lot of US athletes. I would love for it to happen. If it happens, I'm there, I'm 100% committed to it."
Coon: "Just a tournament in December would be a fun opportunity to see how people have been training during this time. You realize that you're not going to get the best of some people, and you'll get the best from some other people just because their training situations might be different.
"There is some risk involved with it, but at the same time, without that risk you're not going to gain much reward, either. Who knows? For me, I have to see how things are playing out, who is going, and if it is actually going to be competitive, and if it makes sense for me to be at my best competing at that time and still be at my best in April. There are just a lot of things to figure out and sort through."


Listen to "5PM37: The wildman Sammy Jones" on Spreaker.
SUBSCRIBE TO THE FIVE POINT MOVE PODCAST
iTunes | Stitcher | Spreaker | Google Play Music
Notice
: Trying to get property 'term_id' of non-object in
/home/fivepointwp/webapps/fivepointwp/wp-content/themes/flex-mag/functions.php
on line
999