Listen to "5PM31: Happy Thanksgiving with Dennis Hall" on Spreaker.
Episode 31 of the Five Point Move Podcast arrives just in time for Thanksgiving, which is used as the backdrop to begin a conversation with co-host Dennis Hall regarding early-season training for high school wrestlers at his club, World Gold Wrestling. Soon after, the conversation shifts back to Senior Greco, and in particular, the Bill Farrell Memorial. At that event just under two weeks ago, wrestlebacks were not offered for athletes who lost prior to the quarterfinals. Given that it was a qualifying tournament for the US Olympic Trials, Hall shares his opinion about how productive or fair that procedure was, or wasn't.
The second half, for the second episode in a row, focuses mainly on the scheduling for top US Seniors who will be competing throughout the winter and leading up to the Trials. Once again, Hall doesn't shy away from describing his dissatisfaction with the high amount of activity. The Haparanda Cup in Sweden takes place this coming weekend featuring 25 Americans, so that is covered, as well.


To close out, there is a little Thanksgiving banter before Hall takes a time out to remark the on the tragic passing of former US National Team wrestler Brian Keck, who was a driving force behind some of the most important youth developmental tournaments in the country.
A few highlights
Hall on the importance of mental training for his athletes
"It's everyday. If you're not working on their mental part, and the physical along with the mental… It's both. I don't think any kid, if they are not mentally strong, they're not going to be at the state tournament on the podium. And so much of the work I do with the athletes I coach is getting inside their minds and training their minds to think the right way.
"To me, the mental has to be done with the physical. Because if you're not working on the mental and physical together, you're never going to be able to mesh them together during competition."
Hall on the Bill Farrell Memorial not offering wrestlebacks prior to the quarterfinal(s)
"One of my guys, Brady Koontz, went 0-1, he lost in the first round to Max (Nowry). Max is in the finals against (Ryan) Mango, and my guy doesn't get the chance to wrestle for third, to try and qualify for the Olympic Trials. So, I definitely am a little biased, but for me, it's about getting as many matches… If you're going to spend the money to go to a tournament, you want to get more than one match."
Hall on the Ranking Series tournaments preceding the Pan Am Qualifier in March
"Who cares? If I'm the #1 man, I'm not going to the ranking tournament. Who cares? I'd rather be at home training because it's a week-and-a-half, two weeks out of my training. If you're going to win an Olympic medal, does that ranking tournament mean anything? No, it doesn't mean anything. So I don't get why you'd send guys to it."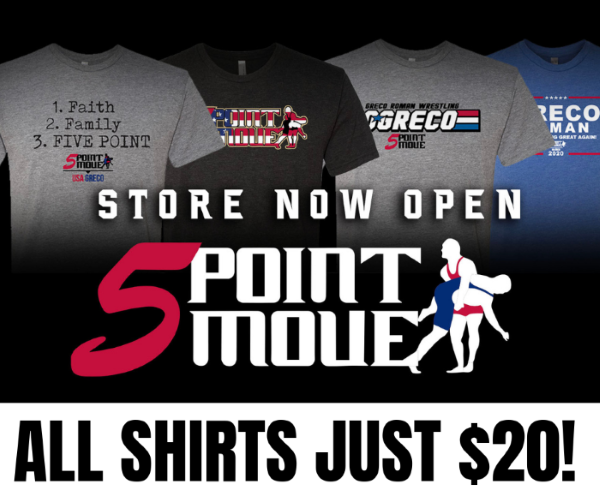 SUBSCRIBE TO THE FIVE POINT MOVE PODCAST
iTunes | Stitcher | Spreaker | Google Play Music | RSS
Notice
: Trying to get property 'term_id' of non-object in
/home/fivepointwp/webapps/fivepointwp/wp-content/themes/flex-mag/functions.php
on line
999