The end of 2019 is almost here, which means it is time to acknowledge those United States Greco-Roman athletes who left their marks on the sport throughout the calendar year in one way or another.
From today, December 27, to Tuesday, December 31, fans have the opportunity to vote for the following Five Point Move awards:
Athlete of the Year
Impact Performer
Outstanding Individual Performance
Each award involves specific (but hopefully not convoluted) criteria.


Athlete of the Year Voting Procedures
Senior Greco-Roman athletes who were a part of the 2019 US World Team are automatically considered qualified candidates. The same is true of Junior athletes who earned medals at their World Championships (of which there were three in '19). Additional athletes who managed to earn noteworthy titles or medals during the year are also included. However — if fans would like to select an athlete who is unlisted on the ballot below, they can do so by writing in their selection(s) to info@fivepointmove.com.
The fan vote is tasked with determining the top five candidates by midnight (ET) on December 31. Once voting ends, the 5PM AOTY Voting Committee will then select the winner from the top five as decided by the open fan vote.
2019 5PM AOTY Voting Committee
Joe Betterman — Multi-time US National Team; 2007 World Team member; four-time Senior US Open champ; Colorado USA Wrestling Chairman
Mike Foy — 1989 World silver medalist; two-time Olympian; '89 Pan Am Championships gold; '95 Pan Am Games silver; head coach, Leo High School (Ill)
Rulon Gardner — 2000 Olympic gold medalist; '01 World Champion; '04 Olympic bronze medalist
Jim Gruenwald — Two-time US Olympian; three-time World Team; two-time Pan Am Championships gold; head coach, Wheaton College
Dennis Hall — 1995 World Champion; '96 Olympic silver medalist; '94 World bronze medalist
Sam Hazewinkel — 2008 University World Champion; '19 World Team; multi-time US National Team
Jim Martinez — 1984 Olympic bronze; '85 World bronze
Paul Tellgren — Former US National Team member; Technical Consultant, Five Point Move
Joe Uccellini — New York State Greco-Roman/freestyle developmental head coach; founder of Curby 3-Style Wrestling
2019 Impact Performer
The Five Point Move 2019 Impact Performer award is intended to appropriately recognize the American Greco-Roman athlete who made the biggest impact on the international stage during the calendar year.
QUALIFYING FACTORS:
An athlete had to have won at least one international event and placed in a minimum of two.
Senior events only.
Impact Performer is decided entirely by fan vote (users may vote more than once).
2019 OUTSTANDING INDIVIDUAL PERFORMANCE
Unlike AOTY and Impact Performer, Outstanding Individual Performance isolates the efforts of one Greco-Roman athlete at a single tournament. Candidates were determined according to subjective but relevant contextual parameters.
Highlighted performance represented a breakthrough or milestone achievement for the athlete or;
A signature win, over either a foreign or domestic opponent, was included or;
Athlete overcame perceived odds or adversity.
QUALIFYING FACTORS:
An athlete had to have placed at said event.
Senior events only.
Outstanding Individual Performance is decided entirely by fan vote (users may vote more than once).
OIP CANDIDATE BIOS
(In order of weight class)
Ildar Hafizov (60 kg, Army/WCAP): bronze at the Military World Games
The Military World Games are a big deal. The drop-off between CISM events and the actual United World Wrestling Worlds, especially at the lighter weight classes, is either not substantial — or it hardly exists. In Hafizov's case, he ran over his first opponent (Abdennour Laouni of Algeria) before tangling with '18 World bronze Sailike Walihan (CHN). Hafizov went out there and just took it, four'ing Walihan towards the end of the first period to set up his 4-1 decision win. A loss in the semifinal to Ri Se-Ung (PRK) ended the possibility of gold; but in the bronze round, Hafizov obliterated '18 Junior World runner-up Tigran Minasyan (ARM) via tech.
Nolan Baker (67 kg, NYAC): bronze at the World Team Trials Challenge Tournament
When Nolan Baker showed up to the Trials Challenge Tournament in May, word was already out. Everyone knew how destructive his go-to was, they just hadn't experienced it for themselves. The education they received was alarming, devastating. Baker went 5-1 at the Trials, good for third place. Four of his five wins were recorded prior to the final whistle, and all four of those were pins. Among Baker's victims were high quality opponents and included the likes of Austin Morrow (NYAC/OTS) and Benji Peak (Sunkist/OTS). Baker racked up more wins via fall in '19 than anyone else in the country by such a large margin it is not even worth doing the math. And it all started in Raleigh.
Alex Mossing (72 kg, Air Force): World Team Trials Challenge Tournament champ
72 kilos was a gauntlet in Raleigh, but Alex Mossing dug deep when it counted the most. He got moving in the right direction with a surprise pin over weight class favorite RaVaughn Perkins; went all sorts of haywire in a shootout with Nick Tarpley; and then came out on top after a three-round war of attrition with Michael Hooker. The one constant throughout Mossing's biggest Senior tournament to date was his constant hunting for points in virtually each and every position. Not everyone can do what Mossing does when he's on his game, and the Trials mini tournament was a glaring example of his will to score regardless of the circumstances.
Patrick Smith (77 kg, Minnesota Storm): gold at Pan Am Games
In one of the most electrifying outings for a US Senior this quad, Patrick Smith went toe-to-toe with three tough opponents at the Pan American Games in August and broke each one down until they had next to nothing left in the tank. The final round saw Smith trailing Wuileixis Rivas Espinoza (VEN) 2-0 in the second period when a takedown gave him a criteria edge. That would not be the end of it, as Smith later scored a step-out point to ice what wound up as Greco's only gold at the tournament, the importance of which cannot be overstated. The Pan Am Games for wrestling and United States Greco in particular is a marquee event. To see Smith standing on the podium top step with the National Anthem blaring in the background was a much-needed sight (and sound) for many.
John Stefanowicz (82 kg, Marines): World Team Trials Challenge Tournament champ
He did not even practice. He couldn't. Stefanowicz's hamstring has been reduced to a swollen strand of spaghetti following the US Open, and with just a couple of weeks between that tournament and the World Team Trials, there wasn't time to rest or fully rehab. Then how do you explain what happened next? Few really can. But with the chips in the center of the table — and without the benefit of reasonable mat time — Stefanowicz engineered a run that is still being talked about. In order, he defeated Chandler Rogers, '18 World Teamer Geordan Speiller, and swept Cheney Haight in the best-of-three finals — after having gone winless against Haight previously. A remarkable tournament to say the very least.
Kendrick Sanders (82 kg, NYAC/OTS): US Open Champion
Sanders won his first Open title in '14, so he had to wait a little while to do it again. Despite being widely known as an extraordinarily talented wrestler, and one whose career is well-established, the longtime NMU rep entered the April Nationals as a sizable underdog. They weren't even talking about him. But all it took was a second-round win over '18 Trials champ Jon Jay Chavez, and the whispers started. In the semifinal, Sanders got the better of Stefanowicz in what was another very compelling bout. Then the whispers quickly elevated to exclamations. As for the finals, it was storybook. Sanders met up with rising star and Marquette stablemate Spencer Woods, and although it ended in Sanders' favor, both sides came out looking like winners. It was a terrific, if not sentimental win for such a gifted athlete as well as one of the year's best stories, period.
G'Angelo Hancock (97 kg, Sunkist): gold at the Hungarian Grand Prix
In February, Hancock became the first US athlete since Jordan Holm in 2015 to win the perennially-tough Hungarian Grand Prix, and Hancock's showing was a mixture of outright dominance and incredibly clutch scoring. The week prior during his march to bronze in Zagreb, Hancock had struggled in spaces with Korea's Lee Se-Yeol. Not in Hungary. The three-time US World Teamer starched Lee via succession of gutwrenches. Hancock was again in total control opposite Abudourexiti Alimujiang (CHN) in the next round, though the score was only 4-0. A tight battle with Iranian Hassan Ali Aryanezhad unfolded in the semis, and an even tighter one with Fatih Baskoy (TUR) was the premise in the gold-medal match. Just after giving up a point late in the second period, on the next reset, Hancock blitzed Baskoy to retake the lead with time a factor. That score sealed the bout and helped further ignite Hancock's glittering run of medal-winning performances overseas this past year.
Cohlton Schultz (130 kg, Sunkist: World Team Trials Challenge Tournament champ
It was, contrary to popular belief, not Cohlton Schultz's first Senior tournament. The wunderkind's first Senior appearance came at Thor Masters last March. Still, Schultz wasn't actually supposed to win the Trials, was he? Was he supposed to be able to beat the likes of Toby Erickson (Army/WCAP), Jacob Mitchell (Army/WCAP), and Robby Smith (NYAC/Chicago RTC)? Supposed to or not, Schultz most certainly did. He decisioned Erickson in the quarters, pinned Mitchell in the semis, and then after dropping Match 1 to Smith in the best-of-three, came back against his former practice room mentor to take the back-end two bouts. Schultz later went on to fall to Adam Coon at Final X before clinching his second Junior World medal in consecutive years; and last weekend, he won the US Nationals. You look back now at this snapshot from a tournament that came and went seven months ago, and it must be scary for domestic heavyweights to realize that Raleigh was just the beginning.
The 2019 Athlete of the Year will be announced on January 2, with the winners of Impact Performer and Outstanding Individual Performance following shortly thereafter.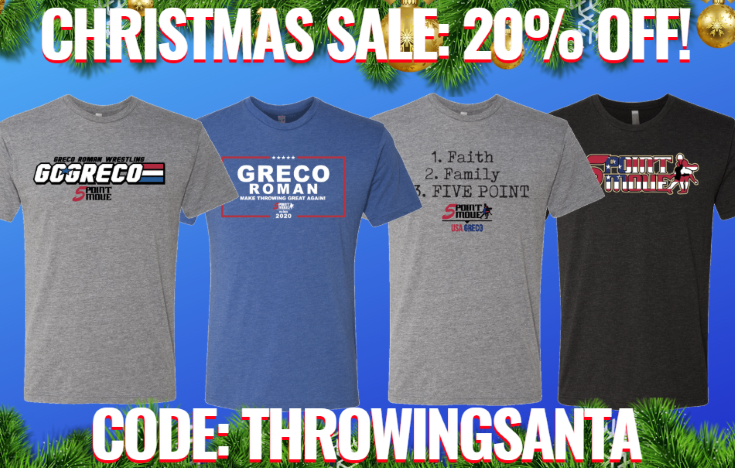 Listen to "5PM32: Previewing Senior Nationals with Dennis Hall" on Spreaker.
SUBSCRIBE TO THE FIVE POINT MOVE PODCAST
iTunes | Stitcher | Spreaker | Google Play Music | RSS
Notice
: Trying to get property 'term_id' of non-object in
/home/fivepointwp/webapps/fivepointwp/wp-content/themes/flex-mag/functions.php
on line
999