Tomorrow begins the 2020 Pan-American Championships, the first of two continental events for USA Greco-Roman wrestlers in consecutive weeks with the Olympic Qualifier taking place next Friday.
To be sure, the Pan Am Olympic Qualifier is at the forefront of the Greco program's concerns, but the "ranking points" attached to the Championships offer a next level of incentivization. As has been reported, 2020 is the first Olympic season that includes top-2 seeding for continental qualifiers. Those seeds are based on coveted "ranking points", which is why at press time four (and potentially five) of the six US athletes scheduled to appear in the Pan Am Qualifier are also on board for this weekend's Championships.


There is a secondary purpose for potential ranking points earned at the Pan Am Championships: seeding at either the Tokyo Olympics — or the non-Olympic World Championships. Wrestlers who do not appear in the Olympic Games may have an opportunity to compete in the second-ever non-Olympic Worlds sometime in the fall. That tournament has not been scheduled or officially announced as of yet. But the consensus is that it will be, and if so, athletes holding the requisite number of points for a top-4 ranking will find themselves seeded in the tournament.
From an actual team perspective, the US would like to stamp down yet another team title just as a show of force throughout the remainder of the trip.
Team USA: 2020 Pan-American Championships
United World Wrestling unveiled the entry list for the Pan American Championships earlier this week. Even if the entries are not completely accurate, the list provides a sense of the athletes from other nations who may pose threats to the US competitors. More important than that, however, is what this tournament means to the US combatants in both Olympic and non-Olympic categories.
UPDATE: a previous version of this report included 63 kilograms, which was to be represented for the US by National Team member Xavier Johnson (Marines). Unfortunately, 63 kilos is no longer being contested at the 2020 Pan-American Championships; therefore, we have removed Johnson's preview. 
55 kg: Max Nowry (Army/WCAP, world #5) — 30 points
Previous Pan Am Championships experience: Two golds ('13 & '19); one silver ('18)
Nowry lost a hard-fought, questionably-officiated close decision in the '18 finals to Sargis Khachatryan (BRA) before (literally) reversing the outcome last season. Khachatryan took a passive lead in the second period when Nowry stepped over a gutwrench attempt and grabbed his own turn to steal the win. Khachatryan is back again this year and is still formidable, but Nowry is either at or near his competitive apex.
60 kg: Mike Fuenffinger (Army/WCAP)
Previous Pan Am Championships experience: 8th place ('18)
Two-time National champ and Final X runner-up Fuenffinger didn't have an terrific first-time out at the Pan Ams two years ago, losing his only match to Dicther Toro Casteneda (COL), who also defeated Ildar Hafizov (Army/WCAP) at the Pan Am Games last summer. Castaneda is on the entry list, as are Luis Orta Sanchez (CUB) and an up-in-weight Marat Garipov (BRA). Fuenffinger does not get a ton of opportunities to compete internationally, so he needs to embrace this one as best he can ahead of the Trials — while also perhaps providing teammate Hafizov with a nice scouting report for next week.
67 kg: Alex Sancho (Army/WCAP)
Previous Pan Am Championships experience: Silver ('16); 5th place ('15)
The US is not entirely sure reigning three-time World Teamer Ellis Coleman (Army/WCAP) will suit up for next week's Qualifier. They hope that will be the case. But if not, the confidence level will not waver. Sancho, who won his first Senior National crown in December, is one of the country's best lighter-weight competitors and has been for half a decade. When he took silver in Frisco ('16), he was not as refined as he is today, though the competitive depth facing him in Ottawa has also improved. All eyes will be on '16 Olympic/two-time World champ Ismael Borrero Molina (CUB), who tore up Sancho two years ago at the Granma Cup. Pan Am Games bronze Nilton Soto Garcia (PER) is another potential obstacle for the American, and there are a couple of others who could provide tests.
72 kg: Ray Bunker (Marines)
Previous Pan Am Championships experience: N/A
With the focus so strong on the Olympic weights, Bunker — like teammate Johnson — finds himself as one half of a two-horse race. On the opposite side is Joilson de Brito Ramos of Brazil, who is thought to only be moonlighting at 72 kilos since he is considered the biggest threat for Coleman in a week's time. de Brito Ramos is a good worker who improvises more than he manufactures when it comes to on-the-feet concerns. Meanwhile, Bunker always has a plan. And that plan is to pulverize opponents with pressure, pressure, pressure. So long as he doesn't walk into scores, Bunker is going to have his moments, which could translate into a successful first Pan Ams appearance.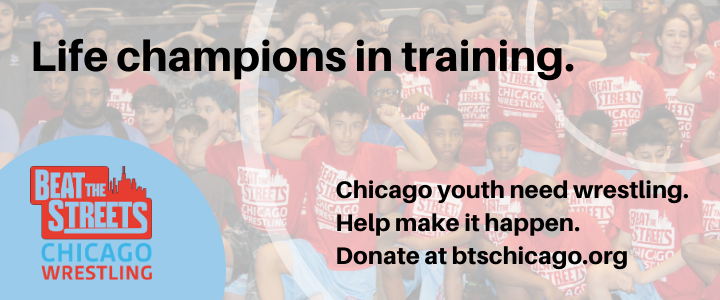 77 kg: Patrick Smith (Minnesota Storm)
Previous Pan Am Championships experience: Three golds ('15, '16, & '17)
The United States' only champ from the '19 Pan Am Games was Smith, and two of the three opponents he defeated in that tournament are registered for this one. It is also hard to ignore Smith's history against South American counterparts, primarily because he hasn't dropped a match yet in a Pan Am event. But he is also yet to face Cuban Yosvanys Pena Flores, winner of last year's Championships. That was when Pena defeated Kamal Bey (Sunkist) in a poorly-officiated final. It likely matters very little that Smith hasn't went against Pena. What the popular Storm rep is known for doesn't lend itself to many secrets. Like he said, they know what they're getting. This tournament provides Smith with the chance to get a baseline before next week while also racking up "ranking points".
82 kg: John Stefanowicz (Marines)
Previous Pan Am Championships experience: N/A
Keeping with the continued trend, the heaviest of the non-Olympic weight categories at the Pan Am Championships offers a tiny bracket. Only Stefanowicz, Jose Vargas Rueda (MEX), and Marciano Ali (PUR) are in the running. The way to see the Marines' participation in this tournament is as a their last competitive training exercise prior to the Olympic Trials. Though the difference is here is that the American is the clear favorite. Stefanowicz is picked to win, if not smash this round-robin, and gain a little confidence boost heading into April.
87 kg: Joe Rau (TMWC/Chicago RTC) — 10 points
Previous Pan Am Championships experience: Gold ('15)
Rau will operate in the deepest upper-weight bracket, a bracket that is also set to include a pair of athletes to whom he fell in the Pan Am Games — Luis Avendano Rojas (VEN) and two-time U23 World medalist Daniel Gregorich Hechavarria (CUB, world #10). Avendano, who has drastically improved over the past three seasons, is a thoroughbred athlete whose fundamentals take a backseat to unconventional positions and scores. Hechavarria is a prototypical Cuban who plays it more by the book, but is certainly willing to pry and angle at an above-average rate for this weight class. These two wrestlers are not the only issues for Rau either in this tournament or next week, but they are deemed the biggest potential problems. Rau is more physical than both, and better from top par terre. US fans will want to see the Chicagoan command the tempo and wear each of his opponents down into dust.
97 kg: G'Angelo Hancock (Sunkist) — 14 points
Previous Pan Am Championships experience: Silver ('19); bronze ('17)
Nothing is taken for granted, but the only name at the Pan Am Championships who Hancock may have his eye on is '19 Junior World champ Gabriel Rosillo (CUB). Rosillo defeated Hancock in the finals of both Pan Am events last year — and both matches were frustratingly close. You say "frustrating", because it would appear that in an instant, Hancock could have flipped the script and forced his way to match-changing scores. But every time it felt like that might happen, Rosillo would deftly bail, or, benefit from a weird call. This is even counting their messy Pan Am C'Ship final where Hancock missed a throw and essentially scored on himself. Kevin Mejia Castillo (HON), once a tough test for Hancock, is still around, and Luillys Perez Mora (VEN) has come up a little bit recently. But if this doesn't wind up coming down to Hancock/Rosillo — this week and next — it would be a big surprise.
130 kg: Adam Coon (NYAC/Cliff Keen) — 10 points
Previous Pan Am Championships experience: Gold ('19)
If the entry list is accurate (which is not a lock), newlywed and '18 World silver Coon will have quite the terrain to navigate with '17 World bronze Yasmany Acosta Fernandez (CHL) and Pan Am Games silver Moises Perez Hellburg (VEN) in the mix. Coon was on the wrong end of an Acosta bombing at the Pan Am Games (though they have tangled plenty during various training camps with much closer results) and fell to Hellburg in a strange match at Matteo Pellicone. The rest of the field? Coon can handle pretty easily, if he already hasn't. This is not a pressure situation. Sure, the US wants all of their qualifying candidates to earn points and grab a top-2 seed. For Coon, what the Pan-American Championships event offers is the ability to gain back some comfort in the pocket and generate enough momentum to power through when it counts next week.
The 2020 Pan-American Championships begin Friday morning at 11:00am ET and can be viewed live on Trackwrestling.com (subscription required). 


Listen to "5PM33: The Marine Corps' Jamel Johnson" on Spreaker.
SUBSCRIBE TO THE FIVE POINT MOVE PODCAST
iTunes | Stitcher | Spreaker | Google Play Music | RSS
Notice
: Trying to get property 'term_id' of non-object in
/home/fivepointwp/webapps/fivepointwp/wp-content/themes/flex-mag/functions.php
on line
999