In rapid succession, Cory Land (55 kg, Ironclad) had roped a front headlock, snuck in an arm drag once his opponent bailed, and then lowered for a duck-under. Not one of these attempts scored. What they did, however, was demonstrate to Zhantoro Mirzaliev (KGZ) that the athlete in front of him would be relentless — and at a World Championships, relentlessness is what matters most.
Day 1 of the 2021 Cadet World Championships began at 11:30am local time in Budapest, Hungary (5:30am EST) and aired live in the United States on FLOWrestling.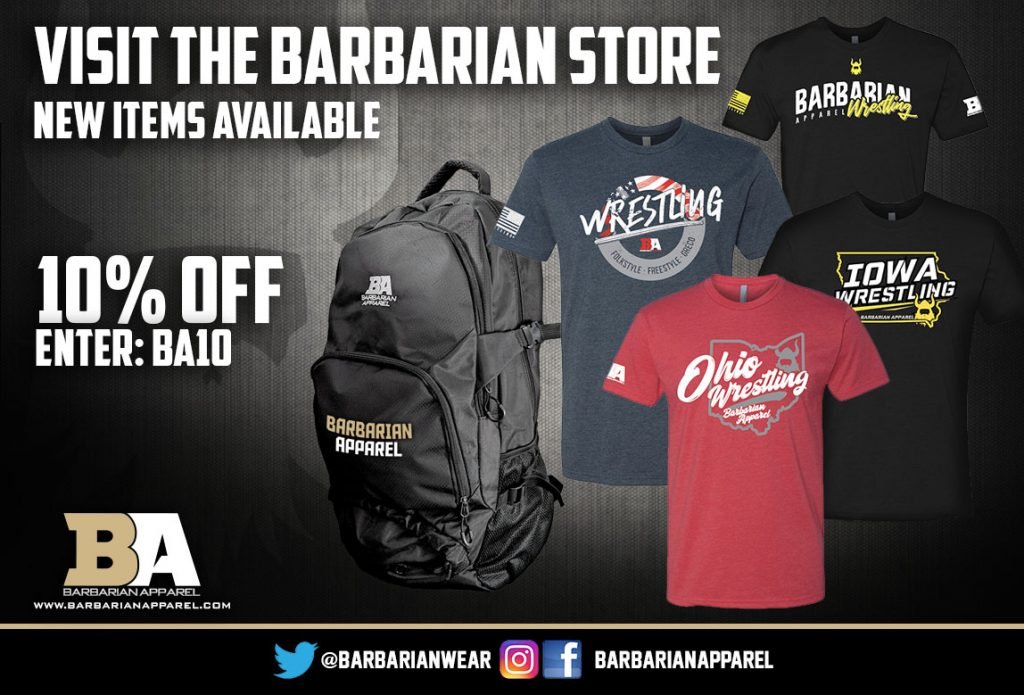 And it was that focused-driven pressure, along with clear-as-day talent, why Land was able to get past a trio of skilled adversaries and advance to the gold medal round on Saturday. But the Alabama boy was not the only American to have himself quite a day. Otto Black (48 kg, Black Fox) marched to the semifinal on the strength of two victories (including one via fall) but was on the wrong end of a criteria decision to Servet Angl (TUR). Black does not require repechage, and will wrestle for bronze. At heavyweight, New Jersey's Jim Mullen was defeated in the round-of-16 by Nikita Ovsjanikov (GER) — but Ovsjanikov ran the table from then on, pulling Mullin into Saturday morning's repechage round where he will face Lyova Sargsyan of Armenia.
Land — who is the only holdover from Team USA's '19 Cadet squad — chipped hard with Berati Inac (TUR) in the opener before coming up with a near takedown on the edge. It was ruled a step-out point and they reset. Soon after, Inac clambered to the body, and Land countered for the land-on-top and immediately transitioned to a pair of gutwrenches. Ahead 7-0 in the first period, he was in complete control. One more restart, and Land sealed it up with a takedown (plus an additional point from a failed challenge from Turkey).
An early fire-breathing exchange with familiar face Adam Silverin (SWE) briefly provided a scare for Land in the quarterfinal. Silverin had yanked head-and-arm, Land exposed, and both came out of the mess with two points (Land holding criteria). After the restart, Silverin struck back by getting behind and nailing a lift for four. Land, to his credit, brushed it off quickly. For on the next restart, he scampered for a takedown; another reset, and Land found a loose folkstyle "cement mixer" position that he used to deposit Silverin to his back, tallying four more. The US rep tacked on another point in the second to emerge victorious 9-6.
Mirzaliev was not like the others in that he managed to keep Land away from multi-point scores. The key, then, was movement. And a lot of it. Following Land's opening salvo of attempts, he was the recipient of the bout's first passivity/par terre chance. His lock did not yield a score, though a step-out right before the buzzer increased his advantage to 2-0. Down by a pair, the onus was on Mirzaliev to score. But there was a problem: Land wouldn't stop being the attacker. He was consistently in on the head, or searching for handles on tie-ups which kept Mirzaliev on his back foot.
The result? Land recorded another step-out — and with under a minute to go, charged behind for a takedown. No further scoring was availed and, for the first time since '17 when Cohlton Schultz (130 kg, Sunkist) earned gold, the US program is guaranteed a Cadet World medalist. In tomorrow's final, Land will square off against Valerii Mangutov (RUS).
Black & Mullen
Black was effective, efficient, and aggressive on Friday morning. Gritty, as well. After Yuri Karapetyan (ARM) was gifted the first passive, Black bit down and stayed glued to the tarp. Back standing and it was all of the sudden a chess match. Black poured in the ties, and Karapetyan showcased darting looks that didn't hold promise. The score was still 1-0 deep into the second when Black spun for a takedown. His try at a lock was halted once it lassoed around the legs — and they were restarted with under a minute remaining. Karapetyan, under the gun down 2-1, went for a front headlock that might have been a tad rushed. Because as he looked to torque backwards, Black was ready to adjust — which he did by keeping his balance and landing on top. Karapetyan was on his back and in dire trouble. Black knew it, and held his foe in place to collect the pin.
All it took was one sequence in the quarterfinal for Black to enter the medal argument. He had Peter Totok (HUN) grounded for two, and then followed with a gut to make the score 4-0. Neither athlete got on the board after the first, and Black was in the semifinal opposed by Angl in what turned out to be a see-saw contest.
A beautiful high duck-under put Black on top 2-0 in the first period. He appeared confident, did Black, as he picked and prodded in the ties and making Angl work for each step forward. Scoring was held in check into the second, but it didn't stay that way. Angl was the beneficiary of the passive/PT opportunity and capitalized with a gut; Black reversed with exposure to retake the lead; TUR challenged the back-end score and lost, giving Black an additional point. But trailing 5-3 with time a factor, Angl got a run on an arm spin and zipped behind to net two points. The score was knotted at five, but because Angl had the higher-yielding score, criteria was his. For bronze, Black will duel the winner between Dzimitri Darahi (BLR) and Faraim Mustafayev (AZE).
Mullen pressed Ovsjanikov in each exchange but it was the match's first-period par terre that did the damage. From top, Ovsjanikov rotated a pair of guts to go up 5-0. Still, Mullen would not come close to fading. He was constantly in Ovsjanikov's face trying to hunt down scoring chances. They were hard to find, as Germany knew when to slow down the ties, and when to busy up the works. Ovsjanikov surged ahead further following a takedown in the second, putting Mullen in a 7-0 hole. A takedown just as time expired ruined the shutout for Ovsjanikov, but it was a 7-2 defeat for Mullen, who will breathe new life in the repechage.
Skellenger & Rogotzke
'19 U15 World Combat Games gold Jadon Skellenger (65 kg, Suples) tore through Rokas Cepuskas (LTU) and Ashot Poghosyan (BUL) in a manner befitting of such a top-tier prospect. Skellenger, who defeated Fargo Cadet champ Joel Adams (MWC) to make this Team, was close to unstoppable when enveloping his offense and prevailed via VSU to reach the quarterfinal. Once there, he was cut down by Ankit Guli (IND) in an ultra high-scoring 14-6 decision loss. Guli lost to Imed Khudzhadze (UKR) in the proceeding round, which eliminated Skellenger from a potential route to bronze through the repechage.
Ryder Rogotzke (80 kg, PINacle) kicked off his first Worlds in a flourish by pinning Mihael Salajec (CRO). In that affair, Rogotzke had built up a 6-0 lead when the duo became mired in a positional battle near the edge. What the Minnesotan did was keep his composure. Rogotzke didn't overreact or bail in haste. Rather, he held his ground and looped over the top for a headlock. Eventually, he settled into his clasp and brought Salajec to his back for the fall. Unfortunately for the young talent, Joju Samadov (AZE) ended the ride after that with an 11-4 decision.
Day 2 of Greco-Roman at the Cadet World Championships begins Saturday morning at 11:30am (5:30am EST) and airs on FLOWrestling.
2021 Cadet World Championships
July 23-25 — Budapest, HUN
TEAM USA DAY 1 RESULTS
48 kg — Otto Black (Black Fox)
WON Yuri Karapetyan (ARM)
WON Peter Totok (HUN) 4-0
LOSS Servet Angi (TUR) 5-5
55 kg — Cory Land (Ironclad)
WON Berati Inac (TUR) 10-0, TF
WON Adam Silverin (SWE) 9-6
WON Zhantoro Mirazaliev (KGZ) 5-0
vs. Valerii Mangutov (RUS)
65 kg — Jadon Skellenger (Suples)
WON Rokas Cepauskas (LTU) 9-0, TF
WON Ashot Poghosyan (BUL) 8-0, TF
LOSS Ankit Guli (IND) 14-6, TF
80 kg — Ryder Rogotzke (PINnacle)
WON Mihael Salajec (CRO) via fall
LOSS Joju Samadov (AZE) 11-4
110 kg — Jim Mullen (NJ)
LOSS Nikita Ovsjanikov (GER) 7-2
WON  Lyova Sargsyan (ARM) via fall
DAY 2 TEAM USA RESULTS
45 kg — Bo Bassett (Young Guns)
LOSS Ruslan Lukiaev (RUS)
51 kg — Kaedyn Williams (LAW)
LOSS Abolfazi Shahraki Niya (IRI)
60 kg — Brock Bobzien (Poway)
LOSS Bagdat Sabaz (KAZ)
71 kg — Braden Stauffenberg (Izzy Style Wrestling)
LOSS Ruslan Nurullayev (AZE)
92 kg — Nathan Wemstrom (Izzy Style Wrestling)
LOSS Rasmus Liisma (EST)




Listen to "5PM50: Mr. Fantastic Benji Peak" on Spreaker.
Listen to "5PM49: Robby Smith on coaching, fatherhood and mentors" on Spreaker.
Listen to "5PM48: Austin Morrow and Gary Mayabb" on Spreaker.
SUBSCRIBE TO THE FIVE POINT MOVE PODCAST
iTunes | Stitcher | Spreaker | Google Play Music
Notice
: Trying to get property 'term_id' of non-object in
/home/fivepointwp/webapps/fivepointwp/wp-content/themes/flex-mag/functions.php
on line
999