For the second year in a row, young American Greco-Roman athletes will be coming home from the Netherlands carrying a whole lot hardware.
Over the weekend at the famed Easter Wrestling Tournament in Utrecht, Holland, 15 US age-groupers from Legends of Gold earned medals, including seven champs. The total number of medalists is nearly double what it was a year ago for the US at the same event, when eight wrestlers managed to make the podium.
Best of all, there were a slew of repeaters in terms of both placewinners and participants from 2018 — important not only due to the obvious evidence of improvement but also because it means youths are maintaining interest in Greco.


Billy Sullivan (55 kg) and Kellyn March (63 kg) finished first for the second consecutive year, and both wrestlers project to have big futures in the sport once they advance past age-group competition. They were joined by first-time Easter Tournament champs Riley Hollingshead (55 kg), Sloan Johannsen (38 kg), Ayson Rice (41 kg), Gavin Chapman (57 kg), and 2019 U15 World Team member Joel Adams (48 kg).  Hollingshead, Rice, and Chapman all competed in this event last year, but none of them medaled. A lot can change in 12 months.
The tour, which continues on this week with a multi-national training camp, was organized by the aforementioned Legends of Gold team, the full-time wrestling training center located in South Dakota helmed by Terry Pack, father of Senior competitor Cody Pack (77 kg). Legends of Gold were crowned the 2019 Easter Wrestling Tournament team champions, with Budapest Honved and de Halter Ultrecht taking second and third, respectively.
2019 Easter Wrestling Tournament
April 20th-21st — Utrecht, Holland
Boys 18-20
55 kg
Billy Sullivan — gold
60 kg
Adam Allard — bronze
63 kg
Kellyn March — gold
72 kg
Garhett Gibson — 72 kg
77 kg
Austin Smith — 9th
Boys 15-17
45 kg
Trason Oehme — silver
51 kg
Otto Cate-Cribari — silver
Andy Meyer — 5th
55 kg
Riley Hollingshead — gold
Cannon Montoya — 13th
Ethan DeLeon — 16th
60 kg
Russell Nickerson — 21st
Payton Fridrich — 29th
65 kg
Lucas Slack — 9th
71 kg
Cody Kimball — 6th
80 kg
Matt Rodgers — 4th
Damion Schunke — 5th
Jayden Johnson — 14th
92 kg
Navarro Schunke — 5th
Boys 12-14
35 kg
Trevon Oehme — silver
38 kg
Sloan Johannsen — gold
41 kg
Ayson Rice — gold
Koltyn Grebel — 6th
48 kg
Joel Adams — gold
Koye Grebel — silver
52 kg
Ashton Keller — silver
57 kg
Gavin Chapman — gold
62 kg
Jarrett Roos — bronze
Boys 7-11
26 kg
Gage Lohr — bronze
29 kg
Carter Kendrick — 8th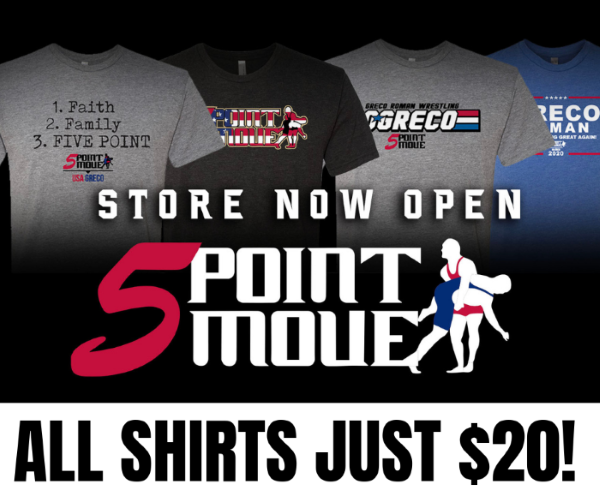 Listen to "5PM22: Sammy Jones guest co-hosts as Five Point Move visits with Lucas Sheridan and Sam Hazewinkel" on Spreaker.
SUBSCRIBE TO THE FIVE POINT MOVE PODCAST
iTunes | Stitcher | Spreaker | Google Play Music | RSS