Tyler Dow (77 kg, Wisconsin RTC) does not avoid battles against the best competition he can possibly get. As demonstrated throughout his still-young career, it has in fact been quite the contrary. Dow, a Junior World Team member in 2018, a U23 National runner-up this past fall, and student-athlete at the University of Wisconsin, is fond of chasing the names worth chasing. On Wednesday night, that name was Ryan Epps (Minnesota Storm), a wrestler with whom Dow shares a similar pedigree, and also stands as a potential adversary in the near future.
Underground 4 began at 6:30pm CT Wednesday evening and aired live on Rokfin.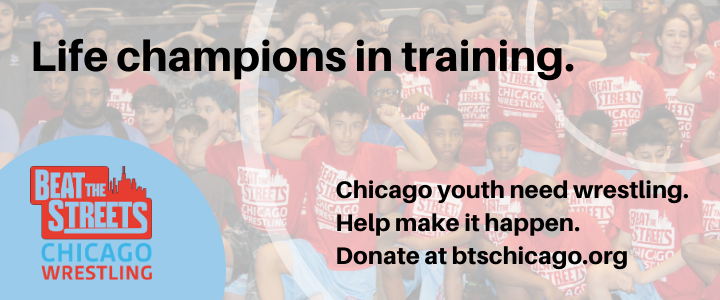 It was popular for some to characterize Dow/Epps as a rematch, though it was more of a continuation. The pair had locked horns in the aforementioned U23 Nationals in November, with Dow emerging victorious following an Epps ankle injury early in the contest that resulted in a default. The opportunity arose for a redux thanks to Underground 4, and the match-up proved even more intriguing than for which most could have hoped — particularly considering both are expected to contend at next month's Last Chance US Olympic Trials Qualifier.
The first period gave way to an interesting exchange that saw the pair fight for bodylock position. Dow assumed the initiative and arched to execute near the line. Just as the hold reached its apex, Epps adjusted to land on top off the edge; after a brief conference among officials, two points were awarded to Epps and they reset. Dow prodded at the arms following the stand-up and weaved out of Epps' underhooks into a nifty arm drag that yielded a takedown. He wasn't satisfied. Sensing the need to snare momentum, Dow then immediately locked for a gut and cranked Epps over for two more and a 4-2 advantage he carried into the break.
There was not a pronounced deviation in the tempo as the second frame got underway. Dow still appeared poised, while Epps continued hunting for underhooks and creating movement. A minute into the period, Dow took a risk by dropping down for an apparent high dive. Epps was prepared by meeting Dow's level change with a near-lateral before scrambling for takedown points. Next, the Minnesotan patiently gathered his opponent's left arm for a trap-arm gut and executed to jump ahead 6-4.
Dow was not done by any means. Once back on the feet, he resumed scanning for workable tie-ups, the kind that might ignite a domino effect. The issue? Epps' would not betray vulnerable position. The driver's seat was all his. For however much attempted action with which he was greeted in turn represented the same amount he dished back, ultimately closing out the thriller by wrapping a front headlock to the final whistle.
"I feel like I was getting there a couple of other times just based on how he was moving, but there was a little reaction to it," Epps said afterward regarding his match-winning sequence. "I could feel him getting a little more tired in the second period, so I was staying a little bit lower in my stance and driving more with my hips and pushing in with my body to dig in my hooks. Even if I wasn't scoring from there, I was keeping myself in the center and moving him so he couldn't set anything else up. As soon as I got my score I was just controlling the match because I knew that he didn't have any opportunities to score off of my positioning."
As far as the concept of settling a score was concerned, Epps admitted to appreciating the chance to stand across from Dow once again under different circumstances, though that wasn't the only catalyst for motivation. With the upcoming sprint to the Olympic Trials mere weeks away, the two-time Division III National champ was also equally happy to mix it up at a competitive pace in an effort to keep his wrestling motor operating in a sufficient manner.
"Obviously, I wanted to get back out on the mat and get that realistic feel as much as I can before the Trials, but it also wasn't my best showing at U23 (Nationals) just because of injury, so it was nice to be able to wrestle the full match and get that outcome at the end," Epps said. "I like Tyler. It wasn't bad blood or anything. It was about getting that rematch and coming out on top by wrestling my match."
Underground 4
February 24 — WI
79 kg: Ryan Epps (Minnesota Storm) def. Tyler Dow (Wisconsin RTC) 6-4




Listen to "5PM44: Michael Hooker and Toby Erickson join the show" on Spreaker.
Listen to "5PM43: Christmas Time with Millersville's Kerry Regner" on Spreaker.
SUBSCRIBE TO THE FIVE POINT MOVE PODCAST
iTunes | Stitcher | Spreaker | Google Play Music
SUBSCRIBE TO THE FIVE POINT MOVE PODCAST
iTunes | Stitcher | Spreaker | Google Play Music
Notice
: Trying to get property 'term_id' of non-object in
/home/fivepointwp/webapps/fivepointwp/wp-content/themes/flex-mag/functions.php
on line
999