The United States Greco-Roman program has an athlete going for some 2021 hardware.
On the strength of two victories, G'Angelo Hancock (97 kg, Sunkist, 5PM #1) is in position to give Team USA a World bronze medal. The only holdover from Day 1's action, two-time Olympian Ben Provisor (82 kg, NYAC, world #4, 5PM #1), saw his own quest for bronze unfortunately disappear following a narrow 2-1 loss to Hungarian staple Laszlo Szabo in the repechage round.
Meanwhile, two-time World Team member Dalton Roberts (60 kg, Army/WCAP, 5PM #1) and Cohlton Schultz (130 kg, Sunkist, 5PM #1) both fought valiantly in close losses to outstanding foreigners. 
Day 2 of the 2021 World Championships began at 10:30am local time in Oslo, Norway and aired live in the US on FLOWrestling.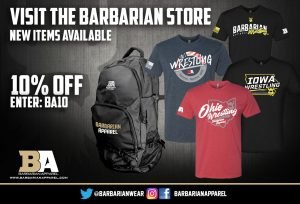 Hancock opened against a very capable Ibrahim Tigci (TUR) and immediately waded into the ties upon the whistle. Light hand-fighting interspersed with medium pummels and various footwork exchanges defined the preamble. Tigic was the recipient of the match's first ding. Hancock achieved his clasp, feigned a step to lift, and then gutted Tigci over his left side for two. 
Though the score was a mere 3-0, Hancock portrayed a supremely confident air once the second period began. His second pair of offensive points arrived from the result of a deft off-balance maneuver. With Tigci underneath his clutches, Hancock released pressure and simply generated forward motion. Tigci's footing was quickly compromised, and Hancock continued to the body for a takedown on the edge. At 5-0 — along with a clearly worn Tigci in tow — the American cruised to the end-of-match rituals with an impressive decision. 
Kiril Milov (BUL) is a World silver medalist ('19). He is now also 0-2 opposite Hancock. 
It is not that Milov failed to present a threat on Friday. It was more that Hancock had assumed command of each miniature battle, be them on the hands, wrists, or during the pummel. Milov was constantly following Hancock's tempo, which combines smooth technical flow and a measure of explosiveness known to catch opponents off-guard. They have to account for the danger factor on the feet; as such they have to pay special attention to the in-fighting's cadence. 
But it was from par terre where the bout's first offensive score originated. Hancock benefited from the passivity knock, thusly taking advantage by hoisting Milov and executing a "Polish finish" on the edge. Two points for USA made the score 3-0. Later in the first, Hancock reached and roped the body; in one fell swoop, he deposited Milov to the tarp. Another two points — plus one more after BUL challenged the sequence and lost — put Hancock ahead 6-0 heading into intermission. A comfortable lead he did not relinquish as Milov was held scoreless through the remainder. Prior to Friday, Hancock had defeated Milov via tech in the '18 U23 Worlds, as well. 
The match separating Hancock from the final is one that will perhaps gnaw at him — though a statement was made nonetheless.
Alex Szoeke, an Olympian for Hungary back in August following a tough selection process, offered a formidable challenge, and one to which Hancock had long been looking forward. They've traded paint on occasion during training but a true head-to-head eluded the pair until Friday.
The American took control.
After gaining the first passivity, Hancock locked and exposed Szoeke for two more and a 3-0 lead. Body attacks, or throws of any kind, were not readily available from the outset. Szoeke has enough shrewdness and horsepower, mixed with the requisite amount of nuance, to negate grand attempts. Still, Hancock urged in the ties, brandishing movement that kept the pace a tick in his direction for most of the opening stanza.
The second-period passivity point went to Szoeke, and the par terre brought momentary confusion. From bottom, Hancock stood and pivoted, with his motion catching Szoeke — who was clasping from behind — by surprise. Hancock then turned into Szoeke, who fell to his back and thus exposed. The officials, they needed a minute. The Hungarian corner did, too. A delay for the review ended with one point for Hancock, who was now sitting with a 4-1 advantage.
Three points. Sometimes, it's enough. Particularly above 77 kilograms. It wasn't for Hancock on Friday.
Szoeke soon rallied with a step-out. Hancock, up 4-2, scanned the ties but was not in a position to take any major risks. Not that Szoeke himself was lighting it up with attempts. But the third passive/par terre instituted last February (which is not accompanied by a point) does hang over the proceedings in close contests. It is not implemented very often. It was here, with Szoeke the beneficiary inside of the sixth minute.
Hancock went prone and Szoeke mustered his lock. He brought it up as if to lift before rolling Hancock for two. By the time the reset was ordered, only :33 was left on the clock. Hancock pushed and pulled — but so did Szoeke, who had managed to snare a righty underhook that might have been responsible for the sealing the deal. Hungary remained upright for the criteria win, sending Hancock into tomorrow's bronze round.
When he gets there, the four-time US World Teamer will greet the winner between Yevgeni Seveta (UKR) and Peter Oehler (GER).
Provisor
In '16 World bronze Laszlo Szabo (HUN), Provisor had himself the kind of opponent that he likes. Half-bruiser, half-technical… Not as strong, but game and tactical. That style of opponent is normally susceptible to Provisor's methodology and, certainly, Szabo was compromised in spaces against the Wisconsin native (and college frosh).
However, it was Hungary who stole some of the thunder in the first period. As they jockeyed near the outer skirt of the mat, Szabo snapped and off-balanced Provisor for a step-out, inadvertently stealing a page from the book of "Big Ben". The first passivity went to Szabo, also, but the follow-up gut attempt was fruitless.
Provisor had steam billowing to start the second period. Soon after, Szabo was dinged for passivity. If Provisor were to alter the momentum, this was it. He dutifully attempted to achieve his lock, which proved difficult. Szabo's movement from bottom combined with the perspiration of both athletes ate away time for Provisor's clasp to settle. When he finally had it, a turn and lift were both tried. Neither paid off, and back up they were with just over :90 remaining. The heat was on. Provisor looked to wedge inside, and in nearly each instance Szabo collected the fingers and hands to shuffle them out of range. Snaps were thus deployed. Provisor meathooked Szabo, a primary weapon. Alas, frustration. The 2-1 score did not change, and Provisor's hopes for bronze had been washed away.
Roberts
A fire-breather of the highest order, Roberts' gameness was once again on full display when staring down '20 Euro gold Gevorg Gharibyan (ARM). Gharibyan, unlike some in and around Eastern Europe at 60, is not risk averse on the feet. For his part, Roberts — though recognized for his increasing amount of technical polish — is more of a brawler who also stakes claim to an expansive lung capacity. 
True to form, Roberts pressured at the whistle and the clash was underway. Hand-checking mechanics did not betray positional advantages in the early-going, that is until Gharibyan caught Roberts' arm and looped it for two points. Undaunted, Roberts re-entered the ties interested in isolating a tie-up that might lead somewhere. The action was high-paced but stagnant, and passivity reared its head on Roberts. Gharibyan then managed to lock a four-spot — but the NMU grad hastily adjusted for a counter-exposure to stay in the mix down 7-2 after the first three minutes. 
Intent and forward movement were the key for Roberts as the second began to unfold. He could not muster vulnerabilities worth exploring, even if Gharibyan lacked the same level of steam. The official intervened with the second-period passivity, doled out on Armenia. Roberts looked to get on a run with his clasp. Nothing doing. Back standing, and soon after a mish-mosh near the boundary saw Gharibyan emerge with a step-out point. Time was short. Roberts' resolve was long. So, he plowed ahead with urgency. In one of his last-gasp exchanges, Roberts forced Gharibyan out for a point. Alas, that was all there would be. A big-time effort for Roberts, though an 8-4 defeat that erased the potential for World gold this calendar year. 
Gharibyan's ride screeched to a halt in the semifinals at the hands of '18 World silver Victor Ciobanu (MDA), who had surprised Stepan Maryanyan (RUS) in the quarters. Gharibyan's loss altogether eliminated Roberts from the tournament. 
Schultz
The American audience would do well to understand that despite Schultz's status within the college folkstyle marketplace, he is in fact even better-suited for international Greco-Roman competition. It would also behoove those who examine NCAA concerns to grasp that the margin between wins/losses and success/disappointment on the global Greco landscape is as thin (or in the upper-weights, far thinner) than either of the two other Olympic wrestling disciplines, and cannot be measured by numbers on a scoreboard. 
As alluded to in the FLO preview, Schultz — in addition to his Cadet World title ('17) and Junior bronze and silver ('18 and '19, respectively) — had acquitted himself well twice previously against authentic top-tier Senior heavies. First was an exhibition against Olympic/World bronze Johan Euren a few years ago; and again in '20 when opposed by Alin Alexuc-Ciurarriu (ROU) at Thor Masters. Iakobi Kajai (GEO) on Friday represented another well-decorated monster, as well as an opportunity to collect one of the biggest scalps in the bracket. Kajaia, who had previously amassed a string of medals at age-group, was also Mijain Lopez's (CUB) runner-up in the Tokyo Olympics. 
It was within reach for Schultz. He proved, as he had already proven, that he was on the same level as someone like Kajaia. But the first-period passive highlighted once again how narrow the margin for error in the sport's heaviest weight division.
Schultz pawed with his right hand through the feeling-out process, just minding the chance for an underhook. Kajaia deflected, using his hulking frame to create a wall whilst leaning in just enough to provide some added "big man" resistance. They would instead plod, with Schultz's preference for footwork-generated motion unable to negotiate windows or off-balances necessary for attempts. Thus, passivity. Kajaia cranked a pair of gutwrenches — but on the second rotation, Schultz floated the lock and stepped over. Instant exposure. Kajaia was briefly in danger of the fall, or so it seemed, until he rolled to his stomach.
The action picked up towards the end of the first period. Exchanges became more pressing, and Schultz's only issue was Kajaia's physicality. Whenever threatened, Kajaia simply bulled forward a little more in between wrangling off the wrists and forearms.
Passivity on Kajai arrived just before the second minute of Period 2. Schultz circled around for a front headlock. Initially, Kajaia did not appear threatened by the hold. But, Schultz adjusted his lock accordingly and achieved a semblance of elevation. That resulted in prudent defensive measures on the part of the Georgian. Ultimately, he managed to stave off the assault and a restart was called. The fight wasn't a done deal. It usually is, especially at heavyweight. But Schultz pursued as much as he could till the whistle.  Kajai was fading, little doubt about that. He was, is, also too experienced and savvy for the sort of small mistakes that make a drastic difference. And in the end, the 5-3 decision was all his.
Kajaia was downed 2-1 in the semifinals by Zauri Gedekhauri (RUS), putting a cap on Schultz's Senior World debut.
Wrestling resumes on Saturday at 10:30am local time (4:30am ET) with three US athletes scheduled to compete — "Wildman" Sammy Jones (63 kg, NYAC), '19 Junior World bronze Peyton Omania (67 kg, CYC/NYAC), and Alan Vera (97 kg, NYAC). All three are making their first Senior World appearances. The bronze-medal round featuring Hancock will start at 6:00pm in Oslo (12:00pm ET). All of the action will broadcast live in America on FLOWrestling.
2021 World Championships
October 7-10 — Oslo, NOR
TEAM USA DAY 2 RESULTS
60 kg: Dalton Roberts (Army/WCAP)
LOSS Gevorg Gharibyan (ARM) 8-4
87 kg: Ben Provisor (NYAC)
LOSS Laszlo Szabo (HUN) 2-1
97 kg: G'Angelo Hancock 
WON Ibrahim Tigci (TUR) 5-0
WON Kiril Milov (BUL) 6-0
LOSS Alex Szoeke (HUN) 4-4 (criteria)
130 kg: Cohlton Schultz (Sunkist) — 14th
LOSS Ioakobi Kajai (GEO) 5-3
TEAM USA DAY 3 DRAWS
63 kg: Sammy Jones (NYAC)
vs. Deniz Menekse (GER) 
67 kg: Peyton Omania (NYAC/CYC) 
vs. Hasrat Jafarov (AZE) 
87 kg: Alan Vera (NYAC)
vs. Turpal Bisultanov (DEN) 




Listen to "5PM50: Mr. Fantastic Benji Peak" on Spreaker.
Listen to "5PM49: Robby Smith on coaching, fatherhood and mentors" on Spreaker.
Listen to "5PM48: Austin Morrow and Gary Mayabb" on Spreaker.
SUBSCRIBE TO THE FIVE POINT MOVE PODCAST
iTunes | Stitcher | Spreaker | Google Play Music
Notice
: Trying to get property 'term_id' of non-object in
/home/fivepointwp/webapps/fivepointwp/wp-content/themes/flex-mag/functions.php
on line
999