G'Angelo Hancock (97 kg, Sunkist, world #7, 5PM #1) didn't break out the kitchen sink against Alan Vera (87 kg, NYAC, 5PM #1), but then again, he didn't have to. Decisive movement and a pair of timely scores were all the '16 Junior World bronze medalist needed in order to keep true to his word.
Hancock/Vera began at 9:00pm ET and streamed live as part of FloWrestling: Burroughs vs. Zahid.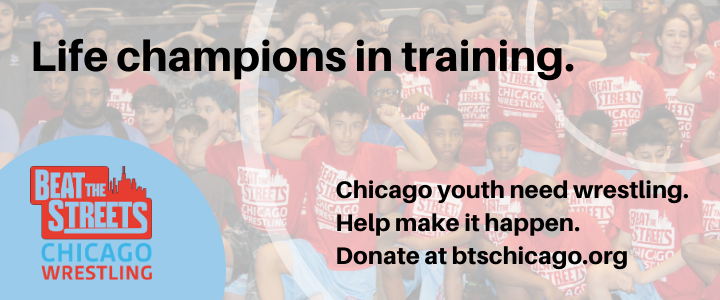 Last week in anticipation of tonight's showdown with Vera, Hancock predicted a victory via technical fall. That's exactly what happened, just not in the high-flying manner many were either hoping for or expecting. From the outset, Hancock overwhelmed Vera in the hand-fight and utilized his considerable frame to bully into position. A snap-to-spin opened the scoring, and Hancock capitalized further by immediately transitioning into a gutwrench.
After the reset, Hancock yielded to a Vera underhook on the left side. He was not in a rush to pummel out of the hold. Instead, Hancock looped his left arm over the top and found over/under's. It appeared that he might adjust for a bodylock, but Vera retained his center of gravity even as Hancock ushered him to the edge. Just as Hancock had let go and decided to nudge for a step-out, Vera arched for an unstable throw attempt. Hancock quickly pounced and landed on top for two more points and a commanding 6-0 lead.
One more restart. At this stage, which is to say midway through the first period, Vera seemed to be running out of options. Whether due to a size disadvantage or simply an inability to slow down Hancock's attacks, he couldn't find his rhythm. When Vera re-engaged at the next whistle, his right wrist instantly became Hancock's property. An off-balance and another snap-spin sequence provided the three-time US World Team member with the two additional points necessary to end the only Greco bout on the card prematurely, though not before a Vera challenge for a potential offensive leg-foul was reviewed and dismissed.
Following the bout, Hancock commented on several topics, beginning with finally having the chance to compete for the first time since qualifying 97 kilograms in March.
"You know me, I like getting matches, I like getting out there, I like getting exposure," Hancock said. "I'm comfortable getting exposure, but with that being said, I think I was more uncomfortable with not having a match in so long. It was more of a release for me. I'm sure a lot of athletes have had that 'self-fear' of training on their own and training during COVID. It's scary when you're like, Man, I'm used to having my coach with me and having a regulated training system full-time, having constant input from coaches. But now it is a different situation where you have to train yourself, or get in whatever you can, which has been my situation. So that's why I was actually more uncomfortable not being able have a match in a while. I'm 100% grateful for the opportunity, for sure."
The openings against Vera, such as the closing sequence that began with an off-balance, revealed a side to Hancock's game that is usually obscured by his penchant for dynamic throws. But he saw something different leading into this match-up; plus, he also wanted to illustrate how important it is for people to understand that although Greco is known as an upper-body style, the legs are actually quite a critical component in achieving offensive success.
"My plan before the match, what I told people close to me was, 'Alan Vera has extremely long arms — and I'm going to arm-spin the dude. I want to arm-spin him, get on top and throw. That's four and four. That's the match,'" explained Hancock. "But in reality, it came down to the movement, which is what I wanted.
"That last exchange was more subtle. Usually, I am getting that off-balance to create movement to open up a chain-wrestling sequence. I train specifically for that and I am a big user of legs. If you're not using your legs in Greco-Roman you are missing a vital skill. You look at the top wrestlers, like Frank Staebler, (Rasul) Chunayev, some of the top wrestlers from around the world use their legs. If you don't, you're out of the loop. So I use my off-balance to create motion and to create chain-wrestling, and then I can get to that neck-drag-neck move that I use to get underneath the armpit. That's the sequence we try to set up, but sometimes you can get a takedown directly off of it, if not more."
As for any perceived "bad blood" due to the barbs both slung at each other during FLO's virtual press conference prior to the event, Hancock insisted that all was right with Vera — not just following the match, but even before it. The way he tells it, Hancock feels they had a code to uphold that ran  in concert with representing their discipline in front of what many suspect was a wide online audience.
"I wouldn't call it a 'sad thing' to say, but the truth is that freestyle has enough depth to where they can actually create legitimate beefs and rivalries, whereas in Greco, it's a close-knit family, truly," said Hancock. "We can talk trash to our opponents and we'll duke it out, but then we will always reward the better wrestler. If you can hit the high-amplitude throws, the sharp techniques, the crazy moves, then kudos to you. Because, that's what we're trying to do. In Greco, we need to improve our sport, we need to grow our sport.
"I love wrestling Alan Vera because he will attack me and go after me like crazy in practice matches to expose my weaknesses. I love that. I have no hard feelings, and I know that Alan Vera has no hard feelings. We're good friends. We wanted this match because it was bigger than us, and we realized that. 100%, that's the common goal for Greco. Coach (Matt) Lindland has a goal for Greco and the athletes have bought into that common goal."
FLOWrestling: Burroughs vs. Valencia
November 14 — Austin, TX
103 kg: G'Angelo Hancock (Sunkist) def. Alan Vera (NYAC) 9-0, TF


Listen to "5PM40: Sam Hazewinkel and Jesse Porter" on Spreaker.
SUBSCRIBE TO THE FIVE POINT MOVE PODCAST
iTunes | Stitcher | Spreaker | Google Play Music
Notice
: Trying to get property 'term_id' of non-object in
/home/fivepointwp/webapps/fivepointwp/wp-content/themes/flex-mag/functions.php
on line
999