Every time the Fargo Nationals are brought up, I get excited. Not because of the good memories I have had there, but also, because of the bad ones. Obviously, winning Fargo represented the apex of my wrestling career at that time. Looking back years later, I understand that it wasn't just that I had won. It was the hard work beforehand, as well. The time spent on the mat during the "offseason", the never ending butt-kickings from coaches and older training partners… Having it pay off in such a grand fashion was gratifying. I remember the tournament being an absolute grind, especially when wrestling both styles and competing in 20-25 matches, provided you've gone deep enough. That many matches in the span of just a few days is insane, which is why the champions who participate in both Greco and legs are held in such high regard.
This was my experience. And now, a fresh crop of Juniors have joined the club following Friday's finals. 
The final round of the 2021 USA Wrestling Junior Nationals began at 2:00pm local time in Fargo, North Dakota and aired live on FLOWrestling.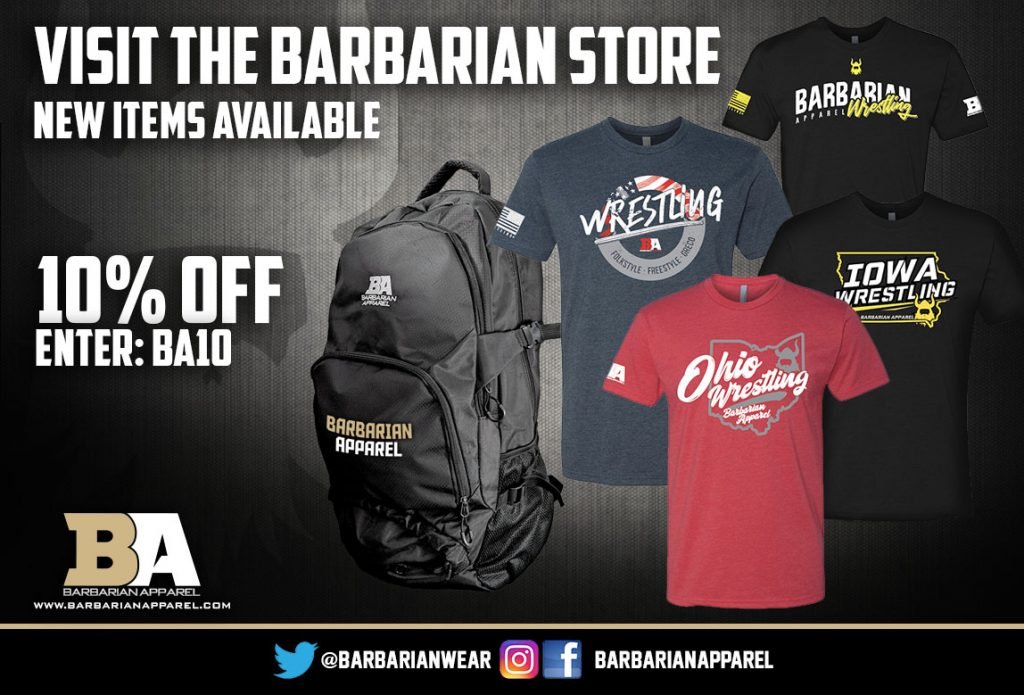 Coming out of the incredibly-stacked 126 lbs division was Alaska's Jeremy Bockert, whose seven-match trek through the tournament was littered with throws, hard in-fighting, and the kind of timely scores that have a habit of making a big difference in what only appear to be otherwise small moments. Full-time athlete Carter Stephenson (CO) had looked sensational in his own right at the top of the bracket until Cadet Trials runner-up Gable Porter (IA) ended his run in the semifinals. Meanwhile, Bockert had been briefly tested by Will Korth (UT) in the round-of-16 before earning a pin, and Keith Smith (NE) delivered a few instances of trepidation, too. But Bockert was all in for the semis, where he tech'ed Wilfried Tanefeu (ND) to enter the Fargodome's spotlight on a high note.
Porter is not a good wrestler. He is a fantastic wrestler. And when he rolled through on a dashing Bockert headlock and swiftly himself moved into a gutwrench, it was easy to appreciate how skilled he really is. But after they returned standing and Bockert had spun around for a takedown, the end for Porter had already drawn near. From top par terre, the Alaskan star cranked a turn and stepped up to lift. He then arched, torqued, and subsequently launched Porter for an enormous five to cap one of the more sparkling runs in recent Fargo memory.
Bolton, Guanajuato, & Gaitan
The first match of the finals consisted of Kolter Bolton (100 lbs, ID) matching up with Jeremy Oani (100 lbs, CA). In addition to his Junior exploits, Bolton also wrestled in the 16U freestyle and Greco tournaments — but did not place. In Junior freestyle, he wound up 5th.  Junior Greco was apparently far less of a problem, culminating in an unbelievable couple days of wrestling.
Bolton came out fired up, looking to score points on every attempt — but in the first period, it would be his defense on a throw from Oani that would result in his first points. A step-out followed to expand his lead to 3-0 . A big headlock less then two minutes into the match would give Bolton a 7-0 lead and also the pin that would end the match. The Idaho National champ was suitably amped after the fall, making sure to hug his coaches after the last match of his long summer business trip to Fargo '21.
Benjamin Aranda (113 lbs, IL) versus Davian Guanajuato (113 lbs, AZ) was third on the docket. It was a phenomenal match that featured a lot of action in both periods, as well as a near-comeback story. The first part was all Guanajuato, who amassed seven unanswered points from an excellent hip toss for four and a step-out, followed up by a missed headlock by Aranda in the beginning of the second period.
This is when tides usually start to turn. Aranda responded with a duck-under straight to a trap-arm gut wrench to rattle off six. With just over a minute left, the score was 7-6 in favor of Guanajuato. In an exchange of hand-fighting and gaining position, Aranda scored a step-out to knot the score, though Guanajuato still held the lead due to his four-point move in the first period. The flurry left Guanajuato with a tweaked shoulder and he needed some time to recover. In the remaining :33, Aranda pushed the pace and tried to open up positions to score, but Guanajuato was solid and held off the storm to come away victorious.
The 160 lbs final was a short match, but the action was quick and fast. From the beginning both Manuel Gaitan (CA) and Caden Young (WI) were digging for underhooks and positional advances; however, at :44 into the match and with Young just inches away from the boundary, he nailed a throw with double underhooks to take the lead 4-0. For the next :45, both athletes were still keeping their pace and jousting for position, and they seemed to be totally comfortable swimming between underhooks and overhooks. But with 1:47 left in the first. Gaitan was able to achieve full control of a bodylock and rocketed his opponent to his back, thus regaining the four points he had lost. More than that, he secured the fall that brought yet another "stop sign" to the state of California.
Canoyer, Parker, & Semenenko
Keeping with what appeared to be a common theme, 170 lbs delivered another Wisconsin/Nebraska pairing with Jared Stricker (WI) standing across from Evan Canoyer (NE). In the first period it was a battle on the feet but, eventually, Canoyer was hit with passvitiy and put in par terre. Stricker was looking for points right away and scored four off of two quick gutwrenches. With 30 seconds to go in the frame, Canoyer got on the board thanks to duck-under. Stricker entered the second up 5-2, but soon the passivity script flip-flopped. No points were scored and the fight continued until :10 remained. That was when Canoyer's relentless double underhooks provided the go-ahead takedown on the edge of the mat. Stricker went all out to the whistle but couldn't convert on any points, allowing Canoyer to walk away with a National title-clinching comeback he won't forget.
At 182, Deanthony Parker (IL) put on a dominating performance over Michael Altomer (NY). Off to a quick start, Parker locked up a double underhook throw to toss Altomer out of bounds. The action also included a leg foul from Altomer, which quickly ballooned the score to 6-0 only 25 ticks into the bout. Parker continued to push the pace and dashed a takedown accompanied by a hard-fought gut. And that was it. Parker, who was stoic and confident throughout the entirety of his journey to the crown, appeared as though wrestling under the lights was strictly a business endeavor. That is, until he gave his coaches a high-five and cracked a smile.
The 220 lbs final was a full-bore onslaught of points, which is something to see out of the big boys. The match pitted two gifted upper-weights against one another: Alex Semenenko (NY) and established US age-grouper Andrew Blackburn-Forst (IL). Things started off quickly, and didn't stop until time expired (man, was it fun seeing big guys rattling off points in the National Finals, leaving it all out there).
Just 33 seconds in, Semenenko hit a nasty headlock to take the lead 4-0  — but was immediately rolled through for two points and a gutwrench by Blackburn-Forst to make the score 4-4 (with Semenenko leading on criteria). With 1:45 left, it seemed like the same sequence of events as the opening period. Except this time, Semenenko unfurled an arm throw for four, and Blackburn-Forst followed with a counter for a reversal and a gut and trailed by one. Before the intermission, Semenenko went for double underhooks; what seemed like it should have been scored four was only given two. The score was 10-7 in favor of Semenenko 50 seconds into the second period when he went for a throw that, after a challenge, was only awarded two points instead of four followed by a counter by Blackburn-Forst.
The melee adjusted the score to 12-8. Semenko scored another takedown with just over a minute on the clock for a 14-8 cushion. Blackburn-Forst did not cease to push the pace and earned a caution-and-two with 20 seconds left in the bout. But as the match wore down, Semenenko tallied two more after a last-second throw attempt by Blackburn-Forst. An impressive match from start to finish, for both involved, but a sparkling 16-10 decision for Semenenko.
2021 Fargo Junior Greco-Roman Finals
July 23 — Fargo, ND
FINALS RESULTS
100 lbs: Kolter Burton (ID) def. Jeremy Oani (CA) via fall
106 lbs: Ray Ray Harris (CA) def. Elias Navida (CA) via fall
113 lbs: Davian Guanajuato (AZ) def. Benjamin Aranda (IL) 7-7 (criteria)
120 lbs: Max Black (CO) def. Jett Strickenberger (CO) 3-1
126 lbs: Jeremy Bockert (AK) def. Gable Porter (IA) 11-1, TF
132 lbs: James Dalrymple (TN) def. Anthony Aniciete (NV) 4-0
138 lbs: Q'veli Quintanilla (WA) def. Kyle Boeke (MN) 6-3
145 lbs: Tyler Antoniak (NE) def. Jack Milos (IL) 9-4
152 lbs: Nick Hamilton (NE) def. Cale Anderson (WI) 2-1
160 lbs: Manuel Gaitan (CA) def. Caden Young (WI) via fall
170 lbs: Evan Canoyer (NE) def. Jared Stricker (WI) 5-5
182 lbs: DeAnthony Parker (IL) def. Michael Altomer (NY) 10-0, TF
195 lbs: Wyatt Voelker (IA) def. Ryan Cody (FL) 7-5
220 lbs: Alex Semenenko (NY) def. Andrew Blackburn-Forst (IL) 16-10
285 lbs: Ryan Boersma (IL) def. Aden Attao (ID) via fall
PLACEWINNERS
100 lbs
3rd – Andrew Fox (UT)
4th – Cole Rogers (MT)
5th – Vincent Biondoletti (FL)
6th – Isaac Stewart (MT)
7th – Ian Werner (AK)
8th – Jaymz Young (IL)
106 lbs
3rd – Michael Longo (CT)
4th – Christian Forbes (OK)
5th – Brandon Morvari (MN)
6th – Ethan Grimminger (CA)
7th – Marco Tocci (PA)
8th – Tyler Washburn (FL)
113 lbs
3rd – Alan Koehler (MN)
4th – Kyison Garcia (UT)
5th – Kenneth Hendriksen (TX)
6th – Kaleb Casey (WI)
7th – Nolan Wertanen (MI)
8th – Dominic DeAltonaga (CA
120 lbs
3rd – Kannon Webster (IL)
4th – Jonathan Gurule (NM)
5th – Christian Tanefeu (ND)
6th – Paul Kelly (CA)
7th – Yusief Lillie (WA)
8th – Mitchell Neiner (WA)
126 lbs
3rd – Carter Stephenson (CO)
4th – Wilfried Tanefeu (ND)
5th – Teegan Vasquez (MT)
6th – Keith Smith (NE)
7th – Tristan Bremer (ID)
8th – Kyle Rice (ID)
132 lbs
3rd – Joseph Airola (CO)
4th – Ethan Fernandez (NJ)
5th – Nash Singleton (OR)
6th – Christopher Martino (ID)
7th – Walker Bents (MN)
8th – Elijah Paulson (MN)
138 lbs
3rd – Weston Dalton (CO)
4th – Ramon Ramos (AZ)
5th – Stevie Barnes (IA)
6th – Koy Buesgens (MN)
7th – Ashton Miess (WI)
8th – Alec Peralta (CA)
145 lbs
3rd – Matthew Rodriguez (CA)
4th – Gunnar Hamre (WI)
5th – Ivan Morris (CO)
6th – Cael Rahnavardi (IA)
7th – Richard Fedalen (MD)
8th – Conor Goucher (WA)
152 lbs
3rd – Paniro Johnson (PA)
4th – Derek Raike (WV)
5th – Thor Michaelson (WA)
6th – Jordan Williams (OK)
7th – Daniel Wask (NJ)
8th – Michael Kilic (GA)
160 lbs
3rd – Robert Weston (GA)
4th – Alaa Elkerm (NJ)
5th – Aaron Dobbs (WI)
6th – Erik Gibson (PA)
7th – Matthew Rogge (WI)
8th – Gaetano Console (IL)
170 lbs
3rd – Derek Matthews (ID)
4th – Caden Ernd (IL)
5th – Joseph Jens (IL)
6th – Codei Khawaja (IN)
7th – Bradley Gillum (IL)
8th – Adrian Artsisheuskiy (NY)
182 lbs
3rd – Clayton Whiting (WI)
4th – Dante Roggio (ID)
5th – Adam Ahrendsen (IA)
6th – Jared Simma (KS)
7th – Drake Buchanan (IN)
8th – Asher Ruchti (OR)
195 lbs
3rd – Caden Rogers (PA)
4th – Tom Culp (IL)
5th – Nicholas Casad (IN)
6th – Gabe Sollars (IN)
7th – John Gunderson (WI)
8th – Eli Sheeren (TX)
220 lbs
3rd – Kalob Runyon (IA)
4th – Ashton Davis (TN)
5th – Joshua Howell (IN)
6th – Gary Powell (OH)
7th – Crew Howard (IA)
8th – Ghee Rachal (IL)
285 lbs
3rd – Matthew Moore (CO)
4th – Keith Miley (MO)
5th – Jacob Barnes (OR)
6th – Aiden Lacoma (VA)
7th – Hayden Simpson (OK)
8th – Tristan Kemp (MA)




Listen to "5PM50: Mr. Fantastic Benji Peak" on Spreaker.
Listen to "5PM49: Robby Smith on coaching, fatherhood and mentors" on Spreaker.
Listen to "5PM48: Austin Morrow and Gary Mayabb" on Spreaker.
SUBSCRIBE TO THE FIVE POINT MOVE PODCAST
iTunes | Stitcher | Spreaker | Google Play Music