Four more age-group Greco-Roman medals are being added to the pile for the US in 2019.
Hassan Khan (71 kg, CA), Tim Eubanks (87 kg, WBU), and Aaron O'Connor (130 kg, NV) all earned silver medals at the Torneo Internacional Jovenes Promesas event ("Promising Young International Tournament" in English) in Los Alcazaras, Spain. Khan, brother of former NMU rep Shehiryar, is an up-and-coming multi-style athlete who doubled up — he took second in both Cadet Greco and freestyle, his first international medals of any sort.
Eubanks, who only competes in Greco and has steadily demonstrated signs of improvement on the domestic circuit over the past year, gives Williams Baptist its second and third-ever overseas medals following Sean Sesnan's (55 kg) silver in Sweden last October. Heavyweight O'Connor is another prospect with all-style skills, and just like Khan and Eubanks, picked up his first foreign piece of hardware.


The Americans differed in the number of matches they got in at the event. Khan had a full round-robin slate, dropping his first bout on Saturday before winning the next two. Eubanks only had one other opponent in his weight at Junior, Ivan Alvarez of the host country. In the U23 division, Eubanks fell to Oskar Johansson (SWE) — but avenged his Junior loss to Alvarez and and torched Sergio Iglesias (ESP). O'Connor also had a round-robin, losing his first match to Geronimo Camara (ESP) and then won his second over Antonio Garcia (ESP)
Alas, matches are not the entire point of these trips. The trio of wrestlers participated in a full international training camp leading up to the tournament, which is the "prescription" that the US program strongly encourages when it comes to development. Multi-time age-group World Team coach Nate Engel joined the American delegation in Spain this past week and came away extremely pleased with how well the wrestlers adjusted.
"I think our guys had a great experience here," Engel said on Sunday after the event wrapped. "They got to train with Portugal, Spain, and a very tough Swedish team coached by Kim Holk, who is a former star from Sweden. For two of the three guys it was their first time competing and training overseas. I think they learned a lot and will grow from this experience. It's so important to get overseas to train and wrestle Greco to get that feel, to understand the difference between what you see at Fargo and on the world stage. They learned valuable lessons to move forward and I think it has lit a fire to keep growing in Greco.
"I also want to make sure I say 'thank you' to Coach Tony Spiker for setting up this trip," continued Engel. "I know a lot of hard work and time went into this and it's a valuable lesson these wrestlers will never forget."
Torneo Internacional Jovenes Promesas
April 13th-14th — Los Alcazaras, Spain
TEAM USA RESULTS
*First names were unavailable for two of Khan's opponents at press time.
*Classification points listed.
Cadet
71 kg
Hassan Khan (CA) — silver
LOSS Benitez (ESP) 4-0
WON Emil Persson (SWE) 4-1
WON Alharthi (KSA) 3-1
Junior
87 kg
Timothy Eubanks (WBU) — silver
LOSS Ivan Alvarez (ESP) 3-1
130 kg
Aaron O'Connor (NVV) — silver
LOSS Geronimo Camara (ESP) 5-0
WON Antonio Garcia (ESP) 5-0
U23
87 kg
Timothy Eubanks (WBU) — silver
LOSS Oskar Johansson (SWE) 4-1
WON Ivan Alvarez (ESP) 5-0
WON Sergio Iglesias (ESP) 5-0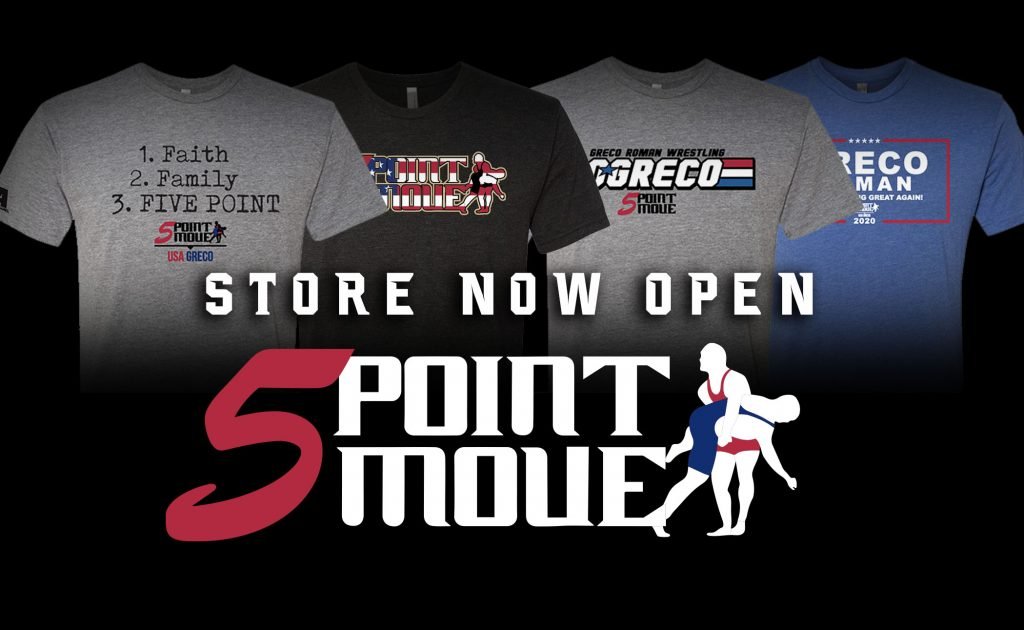 CLICK HERE TO DONATE TO THE USA GRECO-ROMAN PROGRAM
Listen to "5PM22: Sammy Jones guest co-hosts as Five Point Move visits with Lucas Sheridan and Sam Hazewinkel" on Spreaker.
SUBSCRIBE TO THE FIVE POINT MOVE PODCAST
iTunes | Stitcher | Spreaker | Google Play Music | RSS
Notice
: Trying to get property 'term_id' of non-object in
/home/fivepointwp/webapps/fivepointwp/wp-content/themes/flex-mag/functions.php
on line
999