The best-of-three series between Max Nowry (55 kg, Army/WCAP, world no. 12) and Brady Koontz (TMWC/Ohio RTC) — set for this coming Saturday as part of Final X: Rutgers in Piscataway, New Jersey airing live on FLOWrestling — does not come with a lot of fanfare. Of the five Greco-Roman bouts on the card, Nowry/Koontz is in fifth place in terms of overall interest. That can't be helped. Part of it is the weight class — 55 is in its second year after returning from a three-season hiatus, plus it's a non-Olympic category — and part of it is because the mainstreamers aren't as familiar with Nowry or Koontz as much as they are Kamal Bey (77 kg, Sunkist, world no. 5), Ellis Coleman (67 kg, Army/WCAP, world no. 14), and Ben Provisor (87 kg, NYAC/NLWC).
Then there is the perception battle.
Most feel that Nowry owns a significant edge over Koontz, and that their series will be decided in two rather non-competitive matches. They're selling Koontz low, at bargain basement prices, even though he is coming off of defeating Dalton Duffield (NYAC/OTS) in two straight bouts at the Trials Challenge Tournament, while Nowry himself had to dig pretty deep in order to earn a decision over Duffield at the US Open back in April.


The argument that performances against common opponents presents a faulty basis for comparison fails to hold water for one reason — Nowry's degree of experience, which includes an Olympic Trials final as well as a University World title in addition to whatever other honors he has achieved at Senior, vastly overshadows anything Koontz has achieved thus far. Yet in his first Senior tournament ever, Koontz unleashed a combined 28 points to win four matches, two of which came at the expense of the weight class favorite.
Say what you want, but that comparison is not without at least some relevance.
Nowry and Koontz share two other common opponents — Jabari Moody (NYAC) and Ibrahim Bunduka (INWWTC). Nowry owns a pair of tech's over Moody from the past two Senior Nationals; Koontz tech'ed Moody in Raleigh last month. Bunduka gave Nowry a little trouble in the Open quarters; Koontz got on top of Bunduka and gutted his way to the mini tournament finals.
Yet the consensus is that this won't be a close series. Maybe, maybe not. But one thing it very well could and should be is extremely entertaining. Here's why they match-up better than you might think:
Koontz's gut
In the upcoming Anonymous Scout on FLO, an athlete who would be in the know of such things said he was unsure if whether or not Koontz's gutwrench was "Senior-level", i.e., dangerous or tight enough to turn someone like Nowry. He might be right — Nowry boasts pretty rigid defense, and further in his favor are workout partners. The WCAP room is home to four lightweight athletes who are also competing in the Final X Series, and two of them, Ildar Hafizov (60 kg) and Coleman, are prodigious offensive wrestlers from top par terre. Therefore, even if say, Koontz's gutwrench is a weapon, it is one many expect Nowry to handle.
Then again, there is only so much a guy can do when the opposition is able to use his extensive reach and go elbow-to-elbow, as Bunduka found out firsthand.
The one cause for consternation related to Koontz's gut and its imagined effectiveness against Nowry is that with Bunduka, it was necessary for Koontz to pop at the end to complete three of his four rotations. It isn't unusual in the slightest for the offensive wrestler, "the gutter" in this case, to pop at the end. But Bunduka, though clearly talented, is a newbie, and still had the presence to threaten with a float-over. He didn't have the timing or the position to do it and wasn't all that close. Alas, Bunduka is not Nowry.
They are two different attempts, to be sure. Koontz, unless he locks to lift from standing, has experienced the brunt of his success simply wrapping around the midsection. Conventional, basic. In the clip above depicting Nowry and Sargis Khachatryan (BRA) from the 2019 Pan Ams, it is more of a collapse-gut scenario stemming from Kachatryan's inability to clear Nowry's legs. The dynamics in his hip movement wouldn't be much different in either case, however. Even with a lock-tight low to mid gut, Nowry is in the process of mastering the float-over and his athleticism provides a big advantage in that regard.
If Koontz receives opportunities from par terre in this series, his success or lack thereof with the gutwrench will play an enormous role in the outcome. There's no other way to say it: if he cannot turn Nowry, his path to victory becomes extremely narrow.
Positioning
Koontz has exhibited terrific positional discipline throughout his compressed time on the National scene, counting his surge to the Junior Worlds last year. Dennis Hall perhaps deserves some credit for that, but we're talking about a completely different body type. Koontz is rangy, particularly for a 55'er, and yet he has done an excellent job of maintaining his center of gravity — and is careful rarely to avoid hawking over opponents or extending his arms in an overzealous nature.
As for Nowry, he breathes position. He's not out there guessing. But he is also not as classically-postured as Koontz, who is very much a hips-in, back-straight type until caught up in an exchange. Nowry is very comfortable, obviously, digging in against taller opponents, and likes to use a two-on-one and pull them down so he can snap into a front headlock. Koontz has a front headlock, as well, plus he will go to a two-on-one. But underhooks come so easily for him and he achieves the position constantly.
The equalizer could be Nowry's arm drags, of which there are a variety. Some arrive from a two-on-one, others he catches cross-arm, and he doesn't plant or set. Nowry's feet are always moving and he pivots faster than anyone else in this weight class. When he locks the two-on-one, he owns the pace and creates off-balances virtually at will.
This will be the true chess game. Koontz maintains solid position and is already turning into an athlete who holds a definitive understanding of how to use his legs to bully others in the tie-ups. Can he remain upright and bully Max, and grab that all-important first passivity in Match 1? Don't bet against it.
Intangibles
There is a lot to be said for the emotional component. In a sense, neither has been here before. This is the first iteration of Greco-Roman in the way-hyped Final X Series and the matches are not unfolding in weight class order (Nowry/Koontz is bout #5 in Saturday's first session). If there is an edge you want to dole out for experience on a glitzy domestic stage, then of course, it favors Nowry. He has participated in two previous Senior Trials finals series and owns two US Open titles.
What is much more interesting is where each wrestler stands at this moment in their careers. Nowry is 29 and on the precipice of having to once again jump up in weight, this time for the 2020 Olympic Year. He will certainly be viewed as a candidate to make the Tokyo squad (at 60 kilograms), but 55 means something to him. It was at this weight class where he rose to prominence behind Spenser Mango; and after falling to Sam Hazewinkel in the Trials' best-of-three last year, is still waiting to check in at a Senior World Championships. Even if his career continues following 2020, this could be Nowry's last shot to get it done at 55, which would seem a natural source of motivation.
On the flipside, Koontz is the one with nothing to lose. The perception of pressure, that is all pointing in the other direction. At only 20 years of age, Koontz wrecked the narrative in Raleigh and looked great doing so. And he is not even a full-time Greco athlete just yet and his ceiling is astronomically high. It's as if he is walking into this thing possessing a secret only he knows about.
Conclusion
Final X: Rutgers is showcasing five intriguing Greco-Roman World Team Trials finals featuring several of the absolute no-doubt-about-it best athletes in the US. Each series has its own reasons why people are going to watch, which is exactly what this sport needs. Just be sure that when you tune in Saturday at noon ET, you're paying attention to what goes on at 55. You could be witnessing the first step towards a World medal, or the passing of a torch. Or both.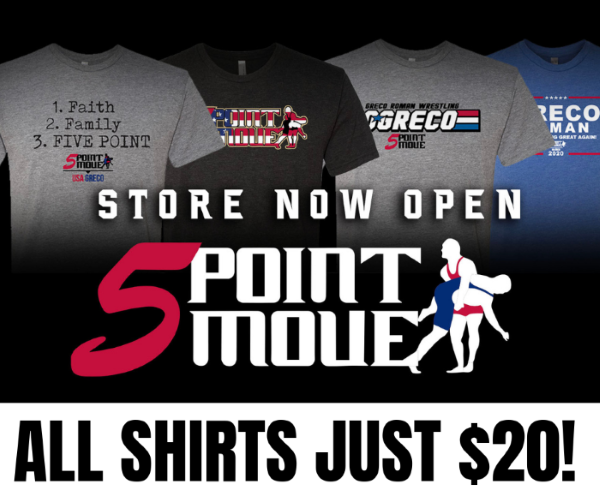 Listen to "5PM23: World Team Trials Challenge Tournament Preview" on Spreaker.
SUBSCRIBE TO THE FIVE POINT MOVE PODCAST
iTunes | Stitcher | Spreaker | Google Play Music | RSS
Notice
: Trying to get property 'term_id' of non-object in
/home/fivepointwp/webapps/fivepointwp/wp-content/themes/flex-mag/functions.php
on line
999