lt will be a battle between 2019 US World Team members tomorrow evening when Joe Rau (87 kg, TMWC/IRTC) squares up with Pat Downey (TMWC) at Rumble on the Rooftop live from downtown Chicago.
The event itself is a special one. Organized in an effort to raise much-needed funds for regional training centers and Beat the Streets-Chicago, Rumble on the Rooftop will serve as the first wrestling showcase on the continent since the Pan-American Olympic Qualifier in March. Moreover, the card is filled with a collection of bouts featuring well-known folk/free competitors, though two of the athletes — Rau and '19 Junior World Team member Zac Braunagel (82 kg, IRTC) — are more associated with Greco.
Which brings us to the marquee showdown between Rau and PDIII.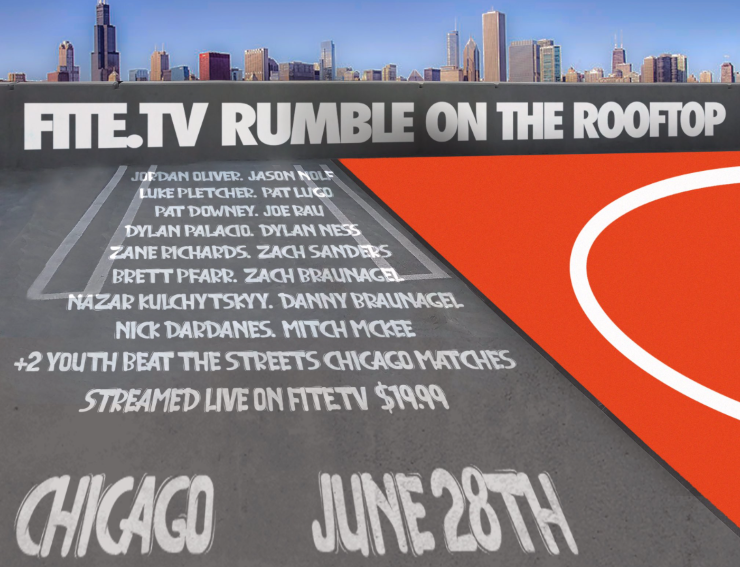 Rau and Downey went 1-1 against each other in the '19 freestyle World Team Trials. Rau defeated Downey 7-2 in the quarters; and then Downey scored a 7-0 shutout in the bronze round. Of course, those matches were contested entirely under freestyle rules. Their bout Sunday evening will be split with the first period Greco, and the second, leg-grabbing-optional — a unique circumstance for which Downey deserves credit. It was his idea.
Perhaps part of the reason why Downey suggested a dual-style match, aside from abiding by an admirable ethical standard, is because he is suitably familiar with Senior Greco thanks to having previously had two-time Olympian Ben Provisor (77 kg, NYAC) as a training partner. It also might be due to the sequence Downey engineered against Rau early in their '18 bronze match-up (available below).
The four-pointer viewed above wound up responsible for the majority of Downey's points in the contest. Rau, for some odd reason, chose to challenge the sequence. The call was upheld, Downey received an extra point to take a quick 5-0 lead and added two more in the second frame to walk away the 7-0 winner. However, it pays to zero right in on that initial burst and isolate what led to the score. Downey's entry is slowed down to half-speed in the proceeding clip (click to play).
What you see is a shrewd, opportunistic attack that took place immediately after the whistle. What you also see is Rau's dedicated posture (hips way back). As if conditioned to betray a Pavlovian response, Rau then reaches for a collar-tie; and before Rau can settle into the position, Downey is already moving on shucking away Rau's left arm. The force in which Downey flung the arm actually turned Rau a full 90 degrees, opening up a tremendously wide lane to the body Downey had absolutely no trouble exploiting despite his legs and hips coming from a less-than-ideal distance.
Rau's posture for Greco is naturally not the same. While he does jut his hips out on occasion (particularly when wrangling a two-on-one), he brings them in virtually each and every exchange, and is mindful of the relationship his hip position has with where his shoulders and feet are located. This is 101-level material, and why the "wrestling is wrestling" ethos to which so many cling fails to hold water when comparing baseline starting positions between Senior Greco and freestyle.
But for as important as position is, a valid argument could be made that if Rau — in any or all of his freestyle matches in recent years, not just with Downey — portrayed a classical Greco stance and operating position, he would not have been a viable threat, let alone experience even a measure of success. The legs are a primary target, after all, and straightening one's back and pushing the hips forward leaves a lot of clearance. Rau understands this very well, you might imagine. In addition to his litany of Greco accolades, he was also a Division III National champ and has on-and-off worked in with plenty of folkstylers throughout his Greco career.
So what that calls for is a way to find a middle ground, a mechanism that both shores up leg-attack vulnerabilities and offers opportunities to ignite offense: underhooks.


In their first meeting, Rau achieved underhooks against Downey constantly. Some he forced, and others were presented on a silver platter, as Downey is equally confident working from overhooks. A glimmering example of his strength and athleticism is the fact that he did not surrender a score to Rau from a direct underhook. When Downey had to, he would merely dip levels and re-wrap around Rau's waist and show a cross knee or ankle pick, something — anything — to create a 50/50 position that would detract from it being a full-on advantageous prospect for Rau.
Rau did score from the feet in that initial bout, of course. And it came from one of his biggest strengths, the two-on-one. Rau used the hold to lock around Downey and convert a snappy takedown/gut combo.
Underhooks were less a part of the story in their bronze match. After Downey cleaned up on the four-pointer demonstrated in the GIF, which occurred within the first :10, he did an excellent job of stopping Rau from getting to his underhook on the right side. Whether by design, will, or due to simply making a logical adjustment, Downey clamped onto Rau's arms going into and coming out of exchanges.
Rau answered by opting for more snaps and head-work; but minus a couple of leg attacks, was nullified offensively. He was also unable to grab a meaningful underhook through the entirety of the first period. He had more success in that regard later in the bout — and was subsequently penalized for passivity, because that's apparently how things work in freestyle — but even with that, Downey did not let windows remain open as consistently long as he did in Match 1.
Is there a correlation? Did the absence of Rau underhooks in Match 2 pave the way for Downey to emerge? The early 5-0 lead certainly put the onus on Rau to mobilize an attack plan, and a steadfast devotion to underhooks was not a part of said plan if one existed. Downey was playing with house money from the outset, confidently wading through tie-ups without ever revealing the type of glaring vulnerabilities of which a Greco athlete should take advantage.
Par Terre
Rau's ability from par terre top eclipses that of Downey's — not that there is a workable sample size when analyzing only two matches, to be fair.
In Match 1, Rau did not receive a static par terre chance, since we do not count his gutwrench as having originated from PT  (though the relative easiness in which he netted a turn is something to think about, potentially). For his part, Downey had a crack from PT top late in Match 1 and had a decent look at a gut that did compel Rau to swivel, but that was about it.
Applying a strict observational perspective, and with recognizing the respective aptitudes, experience, and tendencies of both athletes, Rau's body of work from PT top is much more considerable. Also, a gutwrench is a high-percentage technique and Rau's gut is much more tried-and-tested in a discipline where that kind of thing happens to matter a whole lot more. As for PT defense, the same principle applies inversely. Downey is solid at defending guts and ankle laces; Rau is better, more hardened, and more cognizant of how to employ gut defense against a wider range of extremely-skilled PT top specialists.
How Is This Going to Work?
As mentioned, the first period of Rau/PDIII at Rumble on the Rooftop will be governed according to current United World Wrestling Greco-Roman rules, and the second period will use freestyle's rule-set. For Greco fans who are hoping Rau winds up on par terre top and rakes a succession of guts en-route to a first-period tech, slow down. No matter what happens in the opening period, there will be a second period. In other words, Rau and Downey are guaranteed to test one another in both international styles.
Another interesting wrinkle regarding the bout's governance is that the score from the first period will carry over. So, if Rau does race out to a big lead entering the second, Downey will have to get on his horse ASAP in order to make up what has the potential to be a significant deficit. That could depend on the official(s) as much if not more so than Rau's own output. To be sure, Downey is an elite-quality hand-fighter. He will not walk blindly into some massive throw; plus he has already brandished the capability to thwart much of Rau's offensive prowess on the feet. That said, it would behoove Downey mightily to avoid being put down, lest he risk falling so far behind that coming back demands a Herculean endeavor.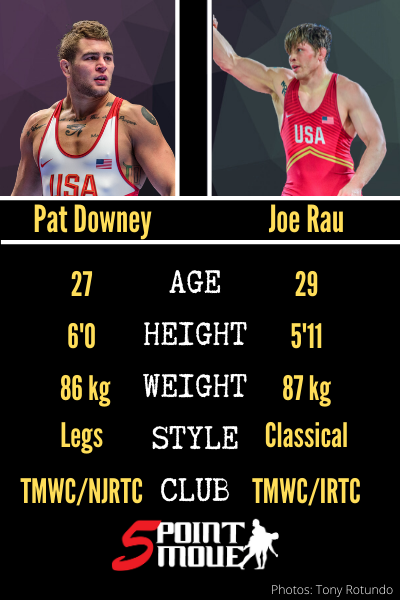 Freshness shouldn't be a problem. Neither wrestler has competed in quite a little while. For Rau, it was back in March when he won the Pan-American Olympic Qualifier one week following a stellar performance at the Pan-Am Championships. You have to stretch back a bit further for Downey, who last stepped on a competitive (freestyle) mat at the Ivan Yarygin tournament in January. None of this is all that pertinent. Both are World-caliber athletes who have managed to remain duly motivated and in-shape over the course of the pandemic lockdown.
Ultimately, what we have here is a fascinating showcase. It is a rare match-up between two terrific wrestlers of differing disciplines at or near the heights of their careers amid an oft confusing and challenging time in most of our lives. They are set to dust it up on a metropolitan rooftop because they're competitors, and because it's a good cause. Above all, they are doing it for our entertainment.
Wrestling fans for over a quarter of a year have not been shy when sharing how much they miss watching competition. Some have even claimed to feel "starved". A little dramatic? Maybe. But Rau and Downey are hungry, too, and all we're asking is that they demonstrate such Sunday night.
2020 Rumble on the Rooftop
June 28 — Chicago, IL
87 kg: Joe Rau (TMWC/IRTC) vs. Patrick Downey III (TMWC/NJRTC)


Listen to "5PM37: The wildman Sammy Jones" on Spreaker.
SUBSCRIBE TO THE FIVE POINT MOVE PODCAST
iTunes | Stitcher | Spreaker | Google Play Music
Notice
: Trying to get property 'term_id' of non-object in
/home/fivepointwp/webapps/fivepointwp/wp-content/themes/flex-mag/functions.php
on line
999