Earlier this evening at Rumble on the Rooftop, broadcast live on FITE TV from downtown Chicago, two-time World Team member/'21 Olympic Trials finalist Joe Rau (87 kg, TMWC/IRTC, world #7) and freestyle star Patrick Downey engaged in a special "hybrid" match featuring both Olympic styles. They had met twice previously in the same tournament: in one of his forays into leg-grabbing, Rau decisioned Downey in the quarterfinal of the '18 World Team Trials but was shutout by Downey when going for third.
When the bout tonight was being put together a couple of weeks ago, it was Downey who first publicly suggested a Greco-Roman-only period, which was quickly agreed to by Rau. It was incorrectly presumed on this platform yesterday that the first period would present Greco's rule-set. That was not the case. How it came to be was actually much fairer than that. The on-the-mat official flipped a red/blue coin and Downey won the toss to decide which style. And again, he deferred to his opponent. Downey surprisingly opted for Greco, and while his gesture was appreciated, it came back to haunt him in a big way.


Unlike their second bout at the '18 freestyle Trials, Rau diligently sought a right-side underhook. He pawed and pulled, with Downey doing his best to posture through the position and stave off attacks. Rau switched over to a two-on-one, and then a lefty underhook. Nothing was doing. Passivity soon rang in on Downey, which is when the match spun out of control. Rau came close on a high-gut-lift but Downey ambled out and to the side. Rau kept the lock — and as Downey looked to scramble, he inadvertently reached for Rau's left leg. It was an immediate foul, though it was not called until after Rau managed to turn the hold into a throw that netted four plus an extra two from the caution. Downey was put down in par terre once again, and this time Rau converted on his high-gut-lift for two more, taking a clean 9-0 lead into the second period.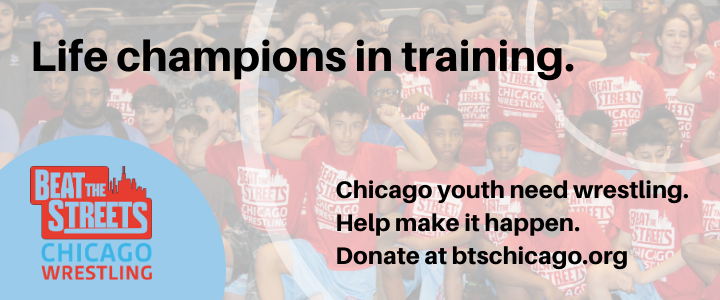 Downey got on the board :15 into the second period thanks to a cross-ankle pick. A follow-up leg lace was unsuccessful, and back to the feet they went. Rau remembered underhooks as the period found its midway point and Downey began scanning for potential attacks. He scored a nifty takedown off of an overhook 50/50, a strong position for him. No offense was available from the mat and they returned standing for the race to the finish. Rau observed more controlling ties, looking strong. Downey had a last-gasp effort towards the end of the period but was off-balanced before it could pose a threat. The 9-4 win was notched for Rau, who took the microphone to address the viewing audience shortly after the bout's conclusion.
"I wish I was in better shape and gave you guys a better show but it was awesome wrestling in front of Chicago," Rau said. "I took all of COVID off. I was living in my brother's basement, switched RTC's (regional training centers). I just started training again but I couldn't miss this opportunity wrestling in front of my high school coach, my club coaches, my coach now (Bryan Medlin). I mean, this is a dream come true. I'm wrestling in my city and I won, so this is pretty friggin awesome."
2020 RUMBLE ON THE ROOFTOP
June 28 — Chicago, IL
87 kg: Joe Rau (TMWC/IRTC) def. Patrick Downey III (TMWC/NJRTC) 9-4


Listen to "5PM37: The wildman Sammy Jones" on Spreaker.
SUBSCRIBE TO THE FIVE POINT MOVE PODCAST
iTunes | Stitcher | Spreaker | Google Play Music
Notice
: Trying to get property 'term_id' of non-object in
/home/fivepointwp/webapps/fivepointwp/wp-content/themes/flex-mag/functions.php
on line
999