The time has come to determine the recipients for Five Point Move's 2020 awards, Athlete of the Year and Outstanding Individual Performance.
It needn't be said that the competitive calendar for 2020 wound up falling far short of expectations. United States Greco-Roman athletes were able to participate in only a handful of international events through mid-March. Days after four Americans qualified their respective weight categories at the Pan-American Olympic Qualifier in Ottawa, the US Olympic Trials were postponed; it would not be too long before the Tokyo Olympics themselves were pushed back for an entire year. In October, the US Nationals offered the first open opportunity for Senior wrestlers to compete in seven months. Since then, the slate has been bare — although that may change very soon.
In spite of such an abbreviated docket of activity, it remained a priority to deploy our process for two of our three end-of-year awards.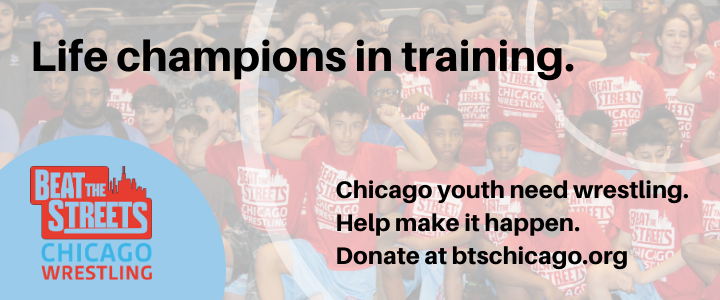 For starters, we believe in continuity with regard to this platform. There is no question that the circumstances surrounding 2020 from a wrestling perspective have been uniquely troublesome, the result of which led to year-long postponements of the Olympic Trials and the Olympics along with the natural byproduct of a much smaller competitive sample size than is the norm. However, neither of these factors enveloped nearly enough validity to consider bypassing our awards. A 5PM Athlete of the Year has been named each year since 2016; and while there are indisputably less datasets and accolades over which to ruminate this time, meaningful achievements were still logged and important victories, recorded. Therefore, to halt the consecutiveness of 5PM awards in light of 2020, we decided, was devoid of necessity and would unfairly eliminate an opportunity to recognize admirable performances deemed worthy of preservation.
Secondly, there is the audience. Fans should not have to endure any more postponements, cancellations, or general weirdness. They do not deserve to have everything put in a box and set aside for another time. What they need is to remain engaged and part of how we steer coverage. Because, ultimately, 5PM's awards are just as much for our audience as they are the athletes. Fans share in every aspect of this experience. As such, that concept alone justified and ensured this platform's decision to move forward with our 2020 awards, with the exception of Impact Performer. 
ATHLETE OF THE YEAR VOTING PROCEDURES
Qualifying factors responsible for determining Athlete of the Year candidates are as follows:
Current year's US Senior World/Olympic Team.
US Senior National Champion.
US Senior World/Olympic Trials Champion.
Minimum of one Senior international medal.
Junior/U23 World medalist.
For 2020, only two of the five prerequisites displayed above were available to be achieved since the United States did not hold a Senior Trials tournament, nor were there Trials tournaments or associated World Championships for Junior and U23 competitors. The most significant event in which American Senior athletes competed was the Pan-American Olympic Games Qualifier in Ottawa, Canada — where four wrestlers qualified their respective weight categories by virtue of placing either first or second.
If fans would like to vote for an athlete who is unlisted on the ballot below, they can do so by writing in their selections to info@fivepointmove.com.
The fan vote is tasked with determining the top five candidates by midnight (ET) on January 2. Once voting ends, the 5PM AOTY Voting Committee will then select the winner from the top five as decided by the open fan vote.
2020 5PM AOTY VOTING COMMITTEE
Joe Betterman — Multi-time US National Team; 2007 World Team member; Colorado USA Wrestling Chairman
Rulon Gardner — 2000 Olympic gold medalist; '01 World Champion; '04 Olympic bronze medalist
Jim Gruenwald — Two-time US Olympian; three-time World Team; two-time Pan Am Championships gold; head coach, Wheaton College
Dennis Hall — 1995 World Champion; '96 Olympic silver medalist; '94 World bronze medalist
Sam Hazewinkel — 2012 Olympian; '18 World Team '08 University World Champion; multi-time US National Team
Jim Martinez — 1984 Olympic bronze; '85 World bronze
Justin Ruiz — 2005 World bronze; multi-time US National Team
Paul Tellgren — Former US National Team member; 5PM Contributor
Joe Uccellini — New York State Greco-Roman/freestyle developmental head coach; founder of Curby 3-Style Wrestling
Athlete of the Year fan voting is available from now until 5:00pm on January 4. 
2020 OUTSTANDING INDIVIDUAL PERFORMANCE
Unlike AOTY, Outstanding Individual Performance isolates the efforts of one Greco-Roman athlete at a single event. Candidates were determined according to subjective but relevant contextual parameters.
Highlighted performance represented a breakthrough or milestone achievement for the athlete or;
A signature win, either over a foreign or domestic opponent, was included or;
Athlete overcame perceived odds or adversity.
QUALIFYING FACTORS:
An athlete had to have placed at said event.
Senior events only.
Outstanding Individual Performance is decided entirely by fan vote. Voting is available from now until 5:00pm on January 2.
OIP CANDIDATE BIOS
(In order of weight class)
Alex Thomsen: US Nationals (10/9/20 – Coralville IA)
Although he had once been known as a gifted age-group competitor in Greco-Roman, Thomsen's march through the Senior bracket this past October in Coralville was a jolt to the system. After downing '19 Fargo champ and fellow up-and-comer Camden Russell (MWC), Thomsen collected one of the biggest upsets of the tournament (and in recent memory) when he defeated well-established Senior and National Teamer Taylor LaMont (Sunkist/UVRTC, 5PM #9). He later put the finishing touches on his impressive outing by decisioning former Cadet World Team member Mosha Schwartz, a fitting conclusion.
Ildar Hafizov: Pan-American Olympic Qualifier (3/13/20 – Ottawa, Ontario, CAN)
There were two opponents of particular concern for Hafizov at the Pan-Am Qualifier in March: Luis Orta Sanchez (CUB) and Andres Montano Aroyo (COL). Of the two, Montano was seen as a potentially more challenging obstacle, due in large part to his broad scope of experience and demonstrated record of success in recent years against Americans. There was to be no escape route. It was almost guaranteed Hafizov would face either athlete in the first round.
Sure enough, that's exactly what happened and it was Montano. In perhaps the most thrilling match of Hafizov's US career thus far, he managed to nail a clutch counter score midway through the second period en-route to victory. He then won two more matches, including the all-important semifinal that qualified 60 for Team USA in Tokyo.
The case for Hafizov is similar to another candidate on this list, Joe Rau (87 kg, TMWC/IRTC, world #7, 5PM #2). Four years ago, Hafizov — then in the midst of his first full season as a USA representative — unexpectedly came up short at the Pan-Am Qualifier in Frisco, Texas. Coming from Uzbekistan, where he had made an Olympic appearance ('08) after qualifying in Baku '07, Hafizov well understood the gravity associated with the assignment in Frisco. That he had come up empty caused him great consternation. On March 13, any and all of those harvested negative emotions were washed away in a flourish.
Benji Peak: US Nationals (10/9/20 – Coralville IA)
It's not just what a tournament is supposed to mean to outsiders. It is also what a tournament might mean for an athlete.
Ever since arriving at NMU in '17, Peak has taken his rightful place as one of the program's top competitors whose activity level never wanes. If an event is available with enough space on the calendar, Peak will seek entrance. At the same time, he had also not been seen as a "right now" contender, one who will seriously challenge for a spot on a Senior Team. It had nothing to do with talent, relevant experience, or some woeful lack of demonstrable ability. Youth is youth, the line in front is rather long; and the thought was that Peak, like so many others, would need to wait until the landscape turned over in the coming years.
In October, that perception was smashed into many pieces.
Peak's side of the bracket in Coralville was loaded with problematic antagonists, including '18 Open runner-up Jessy Williams (NYAC/Sparta RTC) and Trials-qualified Nolan Baker (NYAC, 5PM #7), the latter of whom had pinned Peak twice previously. The whole crew fell like dominoes. Peak tech'ed his way to the finals, where former Northern Michigan teammate/'19 National runner-up Calvin Germinaro (Minnesota Storm, 5PM #8) was waiting. Most remember what happened next. Peak scored a takedown, Germinaro was called for a leg foul following a Peak lift attempt, and then… Few finals over the course of this current cycle have offered the same blend of adrenaline and, it should be noted, goodwill. But that was one match. All tournament long, Peak competed like a motivated Senior and it resulted in his most dynamic showing to date.
Alex Sancho: Pan-American Olympic Qualifier (3/13/20 – Ottawa, Ontario, CAN)
To be clear: Sancho advancing to the final of the Pan-Am Qualifier, which therefore cemented 67 kilograms on behalf of the US at the Olympics, was not surprising. Nor was the manner in which Sancho completed the mission. In his two victories on the day, he outscored the opposition 15-2 — and the best part about that is there were some who believed Sancho could have went completely untouched had he not adopted a more conservative approach. Then again, that's why it was a revelation, especially for those outside of the Greco ecosystem.
Despite having long been established as a major US star, the Pan-Am Qualifier was Sancho's most high-profile opportunity and he aced the test. A wider swath of people saw how Sancho goes about his business during what was a critical moment for the program. To fail to recognize this appropriately would be doing a disservice to such a profound achievement under what were at the time rather uncertain circumstances.
Joe Rau: Pan-American Olympic Qualifier (3/13/20 – Ottawa, Ontario, CAN)
Qualifying the weights in Ottawa was of equal competitive priority for each of the six athletes who represented Team USA in the tournament. But for Rau (and Hafizov, assuredly), a deeper personal element hung in the air over the outcome. In '16, Rau, then at 98 kilograms, had three opportunities to nail down his weight class for Rio and fell short (Frisco, Mongolia, and Turkey, respectively). He had seemed to carry this burden on his shoulders throughout the next four years, like so much invisible baggage only those closest to him bothered to notice.
Rau passionately desired a chance for redemption. First came the '19 Worlds, which ended in disappointment. Ottawa six months later, however, provided the watershed moment for which he had longed. In his first bout, Rau required a late step-out to prevail via criteria over Luis Avendano Rojas (VEN). The clincher arrived in the proceeding round, as the native Chicagoan definitively loosed the monkey off his back by decimating Lesyan Cousin Otomuro (JAM) 9-1. Cuba's Daniel Gregorich Hechavvaria forfeited to Rau in the finals, a somewhat common theme at the event since placing in the top-2 was the ultimate directive. Given how Rau had competed both on that day and the week prior, Hechavarria might have made a wise decision.
G'Angelo Hancock: Pan-American Championships (3/6/20 – Ottawa, Ontario, CAN)
Though Hancock fell in a classic high-scoring battle to '19 Junior World camp Gabriel Rosillo (CUB) on March 13 that could only be described as anomalous for the second-heaviest weight category, it did not buff the shine off of the accomplishment. Like Hafizov, Sancho, and Rau, Hancock had completed the all-important objective of weight qualification. His Qualifier finals showdown with Rosillo held immense value in terms of fan interest and it was admirable that the pair were committed to avoiding a letdown. But it was also of little competitive consequence.
The week prior was more telling for Hancock. After a first-round drubbing of Edson Acuna Salazar (MEX), Hancock drew Rosillo and the result was a weird and wild series of exchanges that saw the Cuban emerge victorious with a pin. It was strange, the entire thing, even if the chemistry between the two was undeniable. The round-robin format at the Pan-Am Championships would provide a shot to run it back. Hancock struggled against Venezuelan Luillys Perez Mora but dug into the trenches when it mattered most to record a 3-0 decision. The triumph earned Hancock another go-round with Rosillo for gold.
And, Hancock torched him. Quickly. Following the passivity, Hancock used a punishing front-headlock to net four points before doubling up with the maneuver to seize the finish. When factoring in the odd second-round loss to Rosillo, the near-quagmire opposite Mora, and then the no-doubter with the title on the line, the '20 Pan-Am Championships will go down as a tournament that Hancock — and everyone else, for that matter — should hope to remember.


Listen to "5PM43: Christmas Time with Millersville's Kerry Regner" on Spreaker.
SUBSCRIBE TO THE FIVE POINT MOVE PODCAST
iTunes | Stitcher | Spreaker | Google Play Music
Notice
: Trying to get property 'term_id' of non-object in
/home/fivepointwp/webapps/fivepointwp/wp-content/themes/flex-mag/functions.php
on line
999