If you were to construct a brick wall using Type M mortar, douse it in gasoline and light it on fire, and then tell each United States Greco-Roman athlete that running through it would somehow — for some illogical and unknown reason — equate to a successful performance at these 2019 World Championships, they would have had but one question for you:
'Is that all?'
Short of hopping out of an aircraft from orbit and voluntarily plunging to the Earth without a parachute, there is nothing each and every member of Team Greco would not have done — or did not do — to prepare for the all-important task of qualifying his respective weight class for the 2020 Tokyo Olympics. But now that this weekend is over, and with the mission not accomplished and more questions floating in the ether than answers, you will be hard-pressed to find sympathetic (or educated) minds willing to reconcile the scope of effort required to even consider such an endeavor in the first place.
Still, the objective went unchecked for Team USA this morning following Sunday's showing that offered its own share of disappointment; though there were a few moments on Monday that delivered hope until a score or sequence all of the sudden went south.
Day 3 of the 2019 World Championships began at 11:00am from Nur-Sultan, Kazakhstan (1:00am ET) and aired live in the US on Trackwrestling.


It all began with returning World silver medalist Adam Coon (130 kg, NYAC/Cliff Keen), the #2 seed at this tournament whose side of the bracket in 2019 bore very little resemblance to last year's — with the exception of his opening-round opponent Lingzhe Meng (CHN). Just about every wrestling fan in American knows who Meng is — he was Coon's second victim in the '18 tournament, a match credited with truly igniting what was then (and still is) the most adrenalizing run seen from a US Greco wrestler this quadrennial.
But Meng is not the same wrestler he was a year ago, or at least it seemed that way in the first period. Coon dug in and looked to navigate position, really to just find a pocket or angle to wrap Meng's body. Meng was plodding in the exchanges and soon got nabbed for passivity. As Coon tried to work for a turn, Meng reversed and soon converted his own gutwrench for a 3-1 lead.
There was little reason for concern entering the second, if only because Coon is not always dominant from bell to bell, and he wasn't last year against Meng, either. But all it takes is one bodylock from the former Michigan star to completely alter a match's outcome. However, Meng was not biting. He was not, as they say, "a willing participant". Instead, he smartly opted to close every perceived hole and eventually hung on to win 3-1.
If Coon had won, he would have met three-time World Champion/multi-time Olympic medalist Riza Kayaalp (TUR), one of the bracket's clear favorites, in the next round. Meng got that chance — and lost 4-0. Meng's loss to Kayaalp ended Coon's tournament, and by extension, a chance to qualify the weight class.
Unfortunately, he was not alone for the US this morning.
Smith
One of the country's most popular competitors, and also one of its best dark horse contenders, is Patrick Smith (77 kg, Minnesota Storm), who took on Germany's Roland Schwarz. One of three first-round opponents familiar with his US counterpart, Schwarz had defeated Smith via 9-0 tech fall this past March in Denmark. But a result like that often needs to be dismissed. Matches contested prior to a World or Olympic event are good for a sample size, a little comparing and contrasting. But they are not necessarily indicative of how an athlete will perform when the stage is bigger and brighter.
Sure enough, Smith came firing out of the gate, though with an element of patience. He brought his familiar brand of pressure but did not overextend or overreach. He knew his pace would be enough to make something happen all by itself. What that looked like in the first period was a passivity/par terre chance. From top, Smith attempted to crank Schwarz over but the German defended. They returned standing and it appeared as if Smith was just getting warmed up. He was moving well, moving Schwarz around. And just before the bout's intermission, scored a step-out point to go up 2-0.
Early in the second period, Smith suffered a cut over his eye that required medical attention in the form of a gauze headwrap. Occupational hazard. When action resumed, Schwarz benefited from a passive call on Smith and executed a lift for four points. While the scoring changed the match, it was not Smith's undoing — mostly because he wasn't done yet. Back on the feet, the Minnesotan's pressure increased. He got inside on Schwarz and coaxed another step-out point to trim the deficit to 5-3. There wasn't a lot of time left, and Smith needed more than just two points to reclaim the lead. Alas, Schwarz remained busy enough to stave off any remaining advances from then on to triumph 5-3.
Lithuania's Paulius Galkinas soundly defeated Schwarz in the round-of-16, eliminating Smith from possible re-entry through the repechage round.
Hafizov
Competing in front of friends and family for the first time in years, Ildar Hafizov (60 kg, Army/WCAP) turned in an inspired effort to begin action on Monday. Facing off with 2016 Junior World silver Etienne Kinsinger (GER), a stout wrestler who defeated '18 US World Team member Dalton Roberts (NYAC/OTS) in the qualification round last year, Hafizov brandished the type of movement and technical expertise that is largely responsible for what has been a remarkable career.
It didn't matter that he was put down first for passivity. Kinsinger, a capable lifter with good all-around offense from top, was unable to net a turn. After a reset, Hafizov cleared Kinsinger's clutches and got around back for a takedown before securing a two-point lift.
Up 4-1 to start the second, Hafizov kept his foot on the pedal. And Kinsinger was showing signs of wear. Again, Hafizov used positional poise to score, this time by forcing Kinsinger out of bounds for another point. With the score now at 6-1, Hafizov eventually cruised to victory.
The proceeding round gave way to '19 World bronze Lenur Temirov (UKR) in one of those proverbial "gotta have it" matches. A win against Temirov not only represented a berth in the quarterfinals, it also meant a likely pairing with returning World Champion Sergey Emelin (RUS), the thinking being that even a loss to Emelin wouldn't be so bad, since the Russian was favored to advance to the finals (and did).
As was the case in his bout with Kinsinger, Hafizov was the first man dinged for passivity. Then things got a little weird. Temirov went for his lock and Hafizov defended, and Temirov was called for a leg foul. Ukraine challenged — and lost — giving Hafizov a point. They returned standing and Hafizov was darting into position, trying to latch two-on-ones and set up other potential scoring opportunities. Temirov, to his credit, was engaging, as well, and neither athlete had managed to gain a clear advantage.
The next passive point went to Hafizov. This was his best shot to take control of the match. Then…it fell apart. Hafizov looked to elevate his turn attempt and Temirov quickly reversed position and yielded two exposure points on the back-end. The fight wasn't over. Not even close. It was only a two-point margin. So, Hafizov tried to create angles, and his urgency almost paid off with a step-out that might have swung the momentum before being waved off. Time became an issue and Hafizov pressed. Not out of it yet. But just as the bout was drawing to a close, Temirov deposited Hafizov to his back for four more points in what officially became an 8-2 decision.
Emelin defeated Temirov 10-0 in the quarterfinal to eliminate Hafizov from contention for bronze through tomorrow's repechage.
Notes:
Team USA finishes the 2019 World Championships with a record of 8-12, with four victories coming by way of technical fall.
Nations that (at the time of publish) have qualified Olympic weights will be updated in our recap on FLO.
Elsewhere on Monday, '17 World Champion Kenichiro Fumita (JPN) advanced to the 60-kg final opposite Emelin. Fumita didn't make Japan's team last year but won at U23.
In bigger news, Alex Kessidis (SWE) is one step away from a World title. Kessidis defeated two-time U23 World champ/'16 World silver Daniel Cataraga (MDA) to begin his day, later on scored a surprising tech over Mohammadali Gerei (IRI), and triumphed in the semis against Karapet Chalyan (ARM). Kessidis will face the highly-decorated Tamas Lorincz (HUN) for gold tomorrow.
At 130 kilograms, Kayaalp advanced all the way to tomorrow's final and will take on '17 World bronze Oscar Pino Hinds (CUB). Pino Hinds has obviously qualified 130 for Cuba, which means he will not be a factor at the Pan American Qualifier next March.
Both Roman Vlasov (RUS) and Kim Hyeon-Woo (KOR) will need to qualify next year. Vlasov was shutout by Ashkat Dilmukhamedov (KAZ) in the round-of-16. Dilmukhamedov then went on to defeat '17 World champ Viktor Nemes (SRB) in the quarters before falling to Lorincz in the semis. Kim was ousted by Gerei in the round-of-32.
Dilmukhamedov has appeared in six prior Senior World events with four fifth-place finishes. He is already in tomorrow's bronze-medal round.
2019 WORLD CHAMPIONSHIPS
September 14-17 — Nur-Sultan, Kazakhstan
TEAM USA DAY 3 RESULTS
60 kg: Ildar Hafizov (Army/WCAP)
WON Etienne Kinsinger (GER) 6-1
LOSS Lenur Temirov (UKR) 8-2
77 kg: Patrick Smith (Minnesota Storm)
LOSS Roland Schwarz (GER) 5-3
130 kg: Adam Coon (NYAC/Cliff Keen)
LOSS Lingzhe Meng (CHN) 3-1
TEAM USA UPDATED RESULTS
55 kg: Max Nowry (Army/WCAP) — 5th
WON Fabian Schmitt (GER) 10-1, TF
LOSS Khorlan Zhakansha (KAZ) 3-2
WON Abdelkerim Fergat (ALG) 11-3, TF
LOSS Eldaniz Azizli (AZE) 8-0, TF
63 kg — Ryan Mango (Army/WCAP) — 7th
WON Julinho Be Correia dju (POR) 11-0, TF
LOSS Rahman Bilici (TUR) 7-4
67 kg: Ellis Coleman (Army/WCAP)
WON Meirzan Shermakhanbet (KAZ) 10-2, TF
LOSS Deyvid Dimitrov (BUL) 5-0
72 kg: Ray Bunker (Marines) — 12th
WON Yogesh Yogesh (IND) 6-5
LOSS Aik Mnatsakanian (BUL) 6-2
82 kg: John Stefanowicz (Marines) — 23rd
LOSS Lasha Gobadze (GEO) 7-0
LOSS Haito Qian (CHN) 9-0, TF
87 kg: Joe Rau (TMWC/Chicago RTC)
WON Kumar Sunil (IND) 6-0
LOSS Mikalai Stadub (BLR) 9-1, TF
97 kg: G'Angelo Hancock (Sunkist)
WON Nikolai Krysov (UKR) 6-0
LOSS Melonin Noumonvi (FRA) 6-2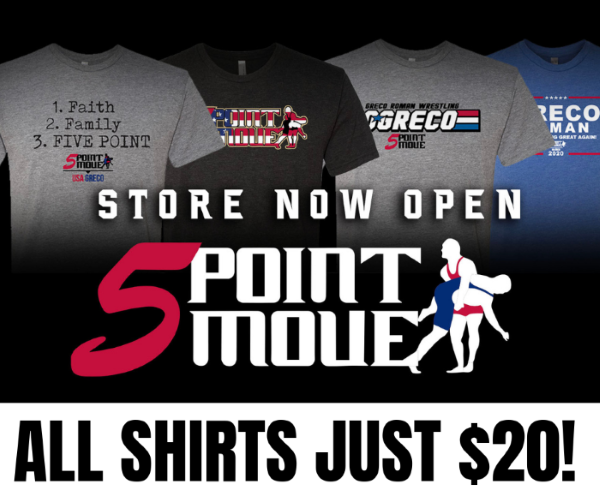 Listen to "5PM28: G'Angelo Hancock, Joe Rau and Max Nowry" on Spreaker.
SUBSCRIBE TO THE FIVE POINT MOVE PODCAST
iTunes | Stitcher | Spreaker | Google Play Music | RSS
Notice
: Trying to get property 'term_id' of non-object in
/home/fivepointwp/webapps/fivepointwp/wp-content/themes/flex-mag/functions.php
on line
999