Context is important.
The G. Kartozia & V. Balavadze Price Tournament held in Tbilisi, Georgia (colloquially referred to as the Tbilisi Grand Prix) is annually stuffed with a collection of elite, World-class Greco-Roman competitors from the Eastern Bloc region. Naturally, the host country has many of its athletes fill up bracket space, and since Georgia's national program is a perennially strong one, this occurrence only adds to the difficulty names from Armenia, Russia, Kyrgyzstan, and Iran also have to offer.
The point is, if you're an emerging Senior Greco-Roman athlete who is interested in testing one's self, there are easier roads to take than the one that leads to Tbilisi.
Wouldn't you know it, but the United States All-Marine Team is apparently not all that interested in taking easy roads.


This week, five athletes from the Marine Corps touched down in Georgia for one of the sport's most challenging pre-World Championships warm-up events — and though no medals were earned — all five acquitted themselves quite well, especially considering the caliber of competition.
National Team members Xavier Johnson (63 kg), Jamel Johnson (67 kg), and Daniel Miller (97 kg) were joined by Terrence Zaleski (82 kg) and Vaughn Monreal-Berner (87 kg) throughout the week. Xavier Johnson, he served as the lead-off hitter and fell in a wild, high-scoring affair on Wednesday. Jamel Johnson and Monreal-Berner got going on Thursday, and each had a match on Friday, as well. Miller and Zaleski both competed in their only bouts of the tournament on Friday and pushed their respective opponents to the absolute limit.
Johnson & Monreal-Berner Go Down Swinging
Johnson secured a tech win in his first bout on Thursday at the expense of Tornike Kandelaki (GEO) in just over a minute. That put him in the quarterfinal opposite U23 Asian Championships bronze Amantur Ismailov (KGZ). Johnson had his moments in the match, the result was within arm's reach. But he didn't get the nod, as Ismailov prevailed 7-4 and eventually made the final, pulling Johnson back into the tournament via the repechage where he faced lanky upstart Nikoloz Sabanashvili (GEO).
At the whistle, Johnson stalked forward against his considerably taller opponent, immediately angling to dig in on Sabanashvili's left side. Johnson went at Sabanashvili's wrists — with the Georgian reciprocating by trying to clamp Johnson's wrists. An arm spin attempt by Johnson fell short. Ruled a slip, they were back on their feet. The on-the-mat official had made up his mind previously that Johnson was going to get rung up for passive, and the call was confirmed just past a minute into the first. Johnson defended from par terre bottom and returned standing down 1-0. Following an exchange near the line, Sabanashvili received a step-out point, thus widening his lead by a point.
Johnson resumed his preference to work the left side in the second. Sabanashvili was hawking over the Marine, his height resulting in a pair of subsequential head clashes. Sabanashvili appealed to the ref, but action didn't stop. As such, Johnson ignored Sabanashvili's complaints and kept prowling inside. There was a fair amount of wrist and finger-grabbing, mostly on Sabanashvili's part. But to his credit, he weaved a right-side underhook, his long arm extending past Johnson's back. Johnson at first felt it was a rest hold and gestured accordingly. So he tried to make something happen. Johnson tried to wring his own hook and arch; but as he did, Sabanashvili covered for a takedown.
Manning Johnson's corner was Xavier Johnson, who wasted no time in throwing the challenge brick. They wanted a slip call — and they got it. Then with a minute remaining in the bout, Sabanashvili was hit for passive, giving Johnson a chance from top. He locked a righty gut and tried to run his legs, but Sabanashvili held firm. With under :05 to go, Johnson had one last shot. He had cleared the ties and hit a beautiful duck-under that left a wide-open lane to the body. He proceeded to run Sabanashvili to the edge where the pair got entangled in a 50/50 position at the hip with Johnson holding a right underhook. Action was stopped and the Marines wanted another look. There was no call, and when the match restarted with :03 left. Johnson went airborne searching for a handle but missed, resulting a heartbreaking 2-1 decision loss.
Johnson's repechage bout versus Sabanashvili can be viewed below:
Monreal-Berner
There were several Marines who over the course of the season improved in every discernible area. Monreal-Berner is one of them. Between the US Open and the Trials Challenge Tournament, his performances began to take on a more consistent tone. But it had been a little while since the Illinois native competed in an international setting, which injected even more intrigue into how he might do in Tbilisi. He didn't get a cookie to start off with. Standing across from Monreal-Berner in the qualification round was '19 Takhti Cup bronze Shalva Khachidze (GEO), an experienced athlete much more familiar with the landscape.
Monreal-Berner intently pawed at Khachidze, and they clashed with Khachidze briefly hooking Monreal-Berner's right arm. They broke apart, and Monreal-Berner reached for a headlock. Khachidze managed to stay upright and then covered. No slip was called, plus the Georgian was in a fortuitous position upon landing and snared a trap-arm gut for another two points. Monreal-Berner defended the follow-up attempt before Khachidze stepped for a side lift. He brought Monreal-Berner up and arched, but came up empty. Stout defense. After the restart, Monreal-Berner gave up a deep underhook on his right to Khachidze. It appeared ominous — until the Marine uncorked a gorgeously tight arm spin that yielded four. The ref on the mat, he didn't call the points, the table had to figure it out for him. Later in the period, Monreal-Berner flashed a solid body attack but gave up a takedown. From top, Khachidze went to work, and again, Monreal-Berner defended on the tarp.
Shortly into the second period, Khachidze scored his third takedown of the contest, and this time converted follow-up points in the form of a gutwrench that provided a 10-4 lead. Time was not on Monreal-Berner's side, so he kept plugging away. He nearly hit paydirt on a go-behind off of an arm drag with a little over a minute left but Khachidze spun out of a danger. After that, a high dive attempt from the Marine saw his opponent hip away, and then a slip from one more arm spin attempt also came up short. It was a solid showing for Monreal-Berner against a high-quality competitor, but one that didn't go down in the win column.
Since Khachidze made the 87-kilogram final, Monreal-Berner received an opportunity in the repechage round against Mamuka Iremadze (GEO).
The action was immediate. Iremadze held an over/under and dumped Monreal-Berner for four — but Monreal-Berner quickly reversed in the scramble to get a point back. He then clamped a front headlock and rolled it over, netting two — though he briefly lost control and Iremadze was awarded two exposure points of his own — before Monreal-Berner picked up two more from the same hold. The score at the end of the mess was 6-5 for Georgia. After the reset, Monreal-Berner yanked a nasty headlock and gained four more points as well as a fleeting 9-6 lead. Fleeting, because Iremadze popped his head out and reversed for a point.
After the reset, both wrestlers were locked in dueling head-arm tie-ups with Iremadze getting the better of the tussle by scampering around for a takedown. Time out for ketchup on Monreal-Berner's nose followed. When action was restarted. Iremadze swept inside, and similarly to how the bout had begun in the first place, threw Monreal-Berner to his back. This time there was no scramble, as Iremadze was awarded the pin just ahead of the period's conclusion.
Monreal-Berner vs. Khachidze
Monreal-Berner vs. Iremadze
Zaleski & Miller
Terrence Zaleski (82 kg) was quicker on the draw to begin his qualification bout opposite '18 World Military bronze Eduard Sargsyan (ARM). Zaleski, who has made impressive strides throughout this season, was doing his best to work Sargsyan in the ties and dig into position from the whistle. Sargsyan did breezily slide a couple of arm drags, but Zaleski couldn't be moved off his spot. The pace was his. And when the first passive/par terre chance was called, it went his way. From top, Zaleski at first looked to explode with a lift. But he settled his lock and returned to the mat, instead choosing to gut. Sargsyan tried to counter; however, Zaleski had his arm and stayed with it for two more points. Back on the feet, and Sargsyan began to commit more to two-on-one's. Zaleski deftly adjusted and re-engaged in the ties to walk into the break up 3-0.
The first moments of the second unfolded with Sargsyan holding a front headlock and whipping Zaleski forward. The exertion was great enough on the Armenian's part for Zaleski to go on his skates and fight to keep his feet. Back in the center and the hand-fight raged. Sargsyan had a line on a two-on-one, forcing Zaleski to fling free. A nice try at an arm spin came up empty for the Marine officer. Sargsyan covered but it was clearly a slip. Thing was, the table awarded two points for Armenia. Zaleski challenged — and after a lengthy review — the points were wiped off the board.
On the proceeding restart, Zaleski's intensity level raised as if he was the one behind on the scoreboard. He was chipping in hard, once again taking command of the tempo. It didn't matter. They were going to hit him for passivity at the first available opportunity, which is what happened. Sargsyan got his point, and from top, was able to execute a lift that netted four. Now down 5-3 and with a minute remaining, Zaleski plugged away. He level-changed and crashed into Sargsyan, searching for anything that could turn the tide back in his favor. There just weren't a lot of open looks to be had. Sargsyan, the beneficiary of a curious passivity chance late in the bout, stole the win 5-3.
Sargsyan was ousted by Rafiq Huysenov (AZE) in the quarterfinal to eliminate Zaleski from potential bronze contention.
Miller
Both Miller and 2019 Asian Championships gold Uzsur Dzhuzupbekov (KGZ, world no. 17) kicked off their quarterfinal meeting with deliberate inside work, trading mini-advantages in the hand-fight that neither athlete was able to translate into a meaningful tie-up in the bout's early stages. Eventually, Dzhuzupbekov tried roping a headlock, to which Miller responded by locking around the body. He had the elevation but not the angle, though he was still able to deposit Dzhuzupbekov the mat for a takedown. Back standing, and Dzhuzupbekov reached around Miller, who in his haste to avoid the takedown stepped out of bounds. A reset. Miller dug back into the trenches and almost had his own reach-around. And then on the next exchange, he got a run on an arm spin. At first glance, it appeared solid. But — Dzhuzupbekov yanked and covered; Miller scrambled but Dzhuzupbekov was still able to settle in back for two.
Behind 3-2 entering the second, Miller carried more urgency and banged into the hand-fight with a purpose in mind.
But it still wasn't enough to avoid the passive fairy.
Not even a minute into the frame, Dzhuzupbekov received his passivity point. He stepped up to lift. Miller tried bearing down,and came close to defending, but Dzhuzupbekov was still given two. One more try, and this time Miller dodge being thrown yet was chucked out of bounds. The next exchange was an odd one. Miller lost his balance and Dzhuzupbekov pushed off of him, covering for an apparent takedown. Miller wanted the challenge brick. He felt legs were involved. And he was right: the challenge was upheld and the score read 7-2. An impassioned Miller sensed the door closing. A multitude of attempts followed; front headlocks to high dives and everything in between. Unfortunately, none of them landed and Dzhuzupbekov advanced to the tune of a 7-2 decision victory.
Dzhuzupbekov was defeated by '18 Junior World Champion Mohammadhadi Saravi (IRI) in the semifinal, dashing Miller's hopes of a new life in the repechage.
Timestamps:
Zaleski — 27:36
Miller — 1:57:31
2019 Tbilisi Grand Prix
August 7-10 — Tbilisi, Georgia
TEAM USA RESULTS
63 KG
Xavier Johnson (Marines)
LOSS Gizo Meladze (GEO) 16-10
67 kg
Jamel Johnson (Marines)
WON Tornike Kandelaki (GEO) 9-0, TF
LOSS Amantur Ismailov (KGZ) 7-4
LOSS Nikoloz Sabanashvili (GEO) 2-1
82 kg
Terrence Zaleski (Marines)
LOSS Eduard Sargsyan (ARM) 5-3
87 kg
Vaughn Monreal-Berner (Marines)
LOSS Shalva Khachidze (GEO) 10-4
LOSS Mamuka Iremadze (GEO) via fall
97 kg
Daniel Miller (Marines)
LOSS Uzur Dzhuzupbekov (KGZ) 7-2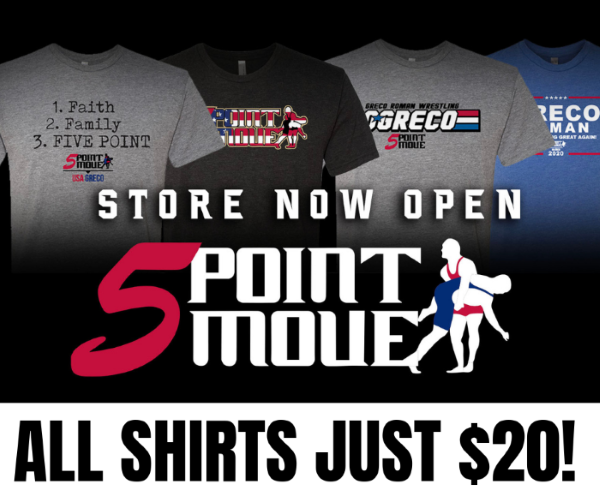 Listen to "5PM26: Princeton's Lenny Merkin and new USOTPC Greco-Roman athlete Nolan Baker" on Spreaker.
SUBSCRIBE TO THE FIVE POINT MOVE PODCAST
iTunes | Stitcher | Spreaker | Google Play Music | RSS
Notice
: Trying to get property 'term_id' of non-object in
/home/fivepointwp/webapps/fivepointwp/wp-content/themes/flex-mag/functions.php
on line
999