This latest generation of the All-Marine Wrestling Team has begun to hit its stride, boasting six US National Team members, four Final X/World Team Trials finalists, and most importantly, two World Team members. And though head coach Jason Loukides would and will never take credit for these successes, it doesn't make his impact any less profound.
Which is where we kick it off with Loukides in the June report. The performances of first-time World Teamers Ray Bunker (72 kg) and John Stefanowicz (82 kg) are prominently featured, and then the discussion points back to Daniel Miller (97 kg), who fell in a memorable series to Lucas Sheridan (Army/WCAP) last month in Raleigh. Of course, Final X runner-ups Xavier Johnson (63 kg) and Jamel Johnson (67 kg) are also discussed, along with an improved Vaughn Monreal-Berner (87 kg). To close out, Coach Loukides shares his initial impression of Greco's debut at the Final X Series.
5PM: (Ray) Bunker told me earlier this year that he was going to win a World Team spot. Few people probably would have believed such a declaration. Then he wins the Open and on Saturday he shut down Alex Mossing. Did you have a feeling about him entering this season, did you see him as an actual World Team candidate?
Coach Jason Loukides: It's his attributes. He is so strong, has great endurance, and he is the kind of athlete that when he figures out how to finally beat you, it's the same thing every time. It is kind of like a (Jordan) Burroughs double-leg — if you can't stop it, you're in trouble. What he does is, he puts that kind of pressure on you, and if you can't deal with it, it's going to be a really long day.
The most impressive thing about Bunker? He believes. He believes. He believes he's going to win. He believes. The press conference, I'm going to win. He believes it. There is no doubt that he believes it (laughs). And it's fun. He works hard, he does the things he needs to do, he tells himself that's what is going to make him win — and then he believes he's going to win — and goes out there and wins. It doesn't get any easier than that (laughs).
5PM: Leading up to Stefanowicz's final against Kendrick Sanders, was there a priority to prepare for Kendrick's explosiveness and reverse lift?
JL: In the Open (semifinal), Stefanowicz was so excited and wanted to battle, and he opened himself up. Kendrick is a smart wrestler and good at what he does. If you let him wrestle his perfect match, he could beat anyone in the world. We knew that his top wrestling was at a high level and wanted to make sure John was able to wrestle and not get stuck in underhooks and stuff like that. I think part of being injured helped him calm down a little bit and stay a little more focused on not giving up so much position to him. That really helped him.
He also knew that if the match is winnable in the second period, that favors John, so we were excited how the matches went down. The most impressive thing for me is how he did in Raleigh. You know, I've had athletes who were injured during competition, but I never had one who couldn't walk before competition — and then show up and win it. That was truly amazing to me. I didn't know if he was going to make it through the tournament, much less win.


5PM: Jamel (Johnson), who had such an impressive win at the Trials in Raleigh and made important adjustments for Hayden Tuma, went against Ellis Coleman in Rutgers' Final X and it didn't turn out the way you guys were hoping it would. What happened with Jamel and what didn't carry over for him that he had working in North Carolina?
Coach Jason Loukides: I mean, the big thing is he kind of did everything we wanted him to do, but he did it in separate matches instead of putting it all together in one match. He was solid on the feet and was close to scoring on an arm drag attempt in the first match; but from par terre, he didn't move at all and got turned up pretty good. In the second match, he defended much better, and I think if you could put those two parts of those different matches together, he would have had a solid match and had a chance to put some doubt into Ellis' game.
5PM: I saw when Xavier Johnson wrestle Ryan Mango in 2016, and I saw Xavier wrestle Ryan again a year later. The feeling going into Final X was that Xavier is a different wrestler than he was back two years ago. In his bouts with Ryan, he had opportunities, and he also held leads in both matches. What did you tell Xavier between periods during both matches, especially knowing how Mango is capable of coming back and would also be in line for the passives?
JL: We wanted to keep our stance with our hips level. He (Xavier) has to not bend at the waist. When Ryan is short, you don't want to spend all of your time in the front headlock. That's just going to use up all of your energy (laughs). So we wanted him to stand up straight — let him high dive, because we felt we could react if he did high dive — but we didn't want him on our head. When he got frustrated after one of the scores, he started wrestling up-top with collar ties and stuff, that's the only part we wish we could have changed.
The Mangos, they have that good flexibility in their upper backs that you just underestimate the amount of arch they can have. We were pretty confident going down (in par terre). We thought we had a chance of obviously not giving up a big four points there.
We felt like the matches were where wanted them to be. We knew they weren't going to be easy. Xavier was upset because he felt so good. He felt like his pummeling was doing good, so we were just disappointed. But there's nothing for me to be upset at. I know he is going to keep getting better. We thought maybe for that first par terre I should have thrown the block because he (Mango) kind of fled straight towards the out-of-bounds, and maybe that would have given Johnson another chance on top. But then you worry you lose your block early and that could be the end of it. But he got his lift in the second, and all the write-ups were correct on how the match was going to go. We were okay with that and we were excited to have that opportunity to get it done. And I thought we had it. I thought we had it.
5PM: With Xavier and Jamel coming this close and both had fantastic years, what is the conversation about following their matches?
JL: Mostly I tell them the good things. I tell them to enjoy the experience. You don't want to let this ruin the whole experience. You want to be excited that you're at the Final X. Your family is coming to support you, your community supports you, and you don't want to be that angry guy who just shuts off and pouts. So you just put the pressure on them to rebound as fast as possible. You've got to have a good time. The work has to be fun and so does everything else.
That's how I try to get them back to understanding that this is part of the process and that they should be happy with their effort. And once things calm down with that, maybe I tease them a little bit — or we go in to try to figure out what we need to get better for next time. Talk about where they need to get to pummel for more points. When you don't produce any points, it gives you fewer chances on top. If that match is reversed and stuff happens for Johnson in the second period and for Mango in the first, maybe we're up on criteria. But that is always up to the situation of the match if you're not scoring enough points.
5PM: Daniel Miller and Lucas Sheridan — Miller got him at Armed Forces, the script flipped at the Open, and then in Raleigh, Miller wins Match 1 in extremely exciting fashion but falls just short in the next two rounds. What do you say to him afterwards regarding the Trials, the improvements he has made, and also, what year this is?
JL: I always try to stay positive when I know my guys are good enough to win. It's harder if they come out of it where it seems like the gap is so big that it's going to be difficult. That part is frustrating. The match basically went where we wanted it to. The third match, he had his chance. In our mind, he shouldn't be getting turned, so it falls on him to avoid getting turned. We know he has the ability to not get turned in that situation. But it didn't happen in that match and it was a significant turn of events.
The big thing is, when a match goes his way, he has the tools to beat anybody. If he's behind or has to score points, he has to be able to prepare to overcome calls that might be questionable on our end, or calls that are changing the way the match is going. He needs that next level of putting together some offense to be able to come back — kind of like he did in the first match, just going to get that score. But just a more conservative part of his pummel, more attacks, more threats, and that will give him more chances on top and more chances to control how the match is turning out.
5PM: One more on Miller, he was talking about how down against Sheridan in Match 3, he said he wasn't thinking 'step out', he was thinking 'I need to score'. Is it that kind of situational awareness you've had to address with him?
Coach Jason Loukides: Yeah, and that's something our whole group of guys is dealing with. We're getting to where we are competitive, but we are also on the short-end of experience in those kinds of matches. The more they are in those matches, the less it will happen. It's kind of like Xavier (Johnson) with (Ryan) Mango. He has the ability to wrestle with Mango, but Mango definitely has the edge in experience. And it is those situations like Miller had where it shows up.  You just have to go through the fire, be in those situations — and hopefully come out on top while we're learning, since we like to win while we're learning — but sometimes while learning, you lose, too.
5PM: Vaughn Monreal-Berner is someone who came into your program with some age-group experience, but it had taken him some time at Senior to kind of crack through a little bit. But then all of the sudden this year domestically, he had some really good matches and results, specifically at the last two events, the Open and the Trials. If you could, speak to Vaughn and his improvement over this past season.
JL: I'm glad people are noticing that. At the Nationals, we had he and Terrence (Zaleski) on the backside of the bracket earn a lot of great wins. But no one talks about it if you're in the upper deck instead of the semis. I was really proud of how they both turned it around at Nationals  and had great wins. Vaughn beat (James) Souza there and ends up losing to (Ben) Provisor.
I was a little upset coming into the seeding for the other event (Trials Challenge Tournament) because Vaughn really should have been a top-three seed and had a chance to maybe wrestle (Barrett) Stanghill for National Team, but with the way the bracket fell when they seeded him where they did, he didn't even have the chance to make National Team. So he had a great tournament but no chance to make National Team because they sat out both (Joe) Rau and (Patrick) Martinez. We would have liked him to have a chance to come all the way back to wrestle Stanghill, it's just not the way it was designed in that particular case.
But we've known. I've teased him for a while in the room. It's like, we know he's good. He is definitely hard to wrestle. He can arm throw, bodylock; he fights hard, he's strong, he lifts good weights. But then he's coming up with all these losses and it just wasn't adding up. So for him to finally get some good wins, beat some quality guys, and have people take notice, that makes us real proud — but it's also like, It's about time (laughs). Don't always wrestle me hard in practice and then go out there and lose. We're glad that he finally has the confidence to go along with his ability.
5PM: This was Greco's debut at Final X. What did you think of the presentation and the environment?
JL: I liked it. I liked to be able to come and watch the freestylers. I very rarely stay for the freestylers because we can't stay the extra days to watch them. But I loved watching the freestylers, the men and the women. That was fun as a Greco guy since I don't usually get to. As an event, it's nice in the sense that it isn't all day. We're coming in, we're wrestling for a few hours, and that's it. Most of the time, you're dying of exhaustion by the end of the tournament because you've been there for two straight days (laughs).
Both venues were incredible. I don't know what the final numbers were, but I thought it was a great event. Any time we can be a part of freestyle and a part of wrestling as one family, I think that's good for us. It is good to piggyback off of the latest World Champions in wrestling, which is the men's freestyle team. Hopefully, we could all win it at the same time and showcase everybody.
Follow the All-Marine Wrestling Team on Facebook, Twitter, and Instagram for updates on results and competitive schedules.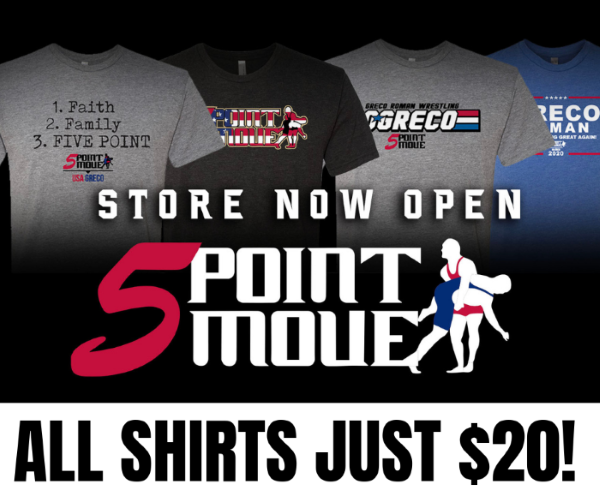 Listen to "5PM24: World Teamers Joe Rau, Pat Smith and Max Nowry discuss Final X" on Spreaker.
SUBSCRIBE TO THE FIVE POINT MOVE PODCAST
iTunes | Stitcher | Spreaker | Google Play Music | RSS
Notice
: Trying to get property 'term_id' of non-object in
/home/fivepointwp/webapps/fivepointwp/wp-content/themes/flex-mag/functions.php
on line
999