Peyton Walsh (77 kg, Marines) is two full years into his Senior Greco-Roman career. And he is a two-time US National Team member.
Math is sometimes easy, isn't it?
Walsh, a graduate of the US Naval Academy where he was thrice an NCAA Division I qualifier, began his tenure as part of the All-Marine Team in the fall of 2017. People hardly took notice at first. Between the lag that followed his actual entrance into the Marine Corps, indoctrination, and the general cyclical nature of wrestling itself, there just wasn't room for him on the radar. But when that changed, it changed in a hurry.
His opening string of events in late '17 provided only mere traces of feedback. None of the action was available to stream live. In those instances you're forced to piece things together. What you got back was that in Walsh's first Senior tournament (in Russia, of all places), he had earned bronze and apparently impressed with his ability to try to make something out of nothing. He then closed out that introductory trip with a 1-1 showing in Finland, which is certainly applaudable for a green-as-they-come American Greco athlete.


Just over a month later, Walsh was back overseas for the Grand Prix Zagreb Open in Croatia, where he was jobbed out of a win against '17 U23 European Championships bronze Antonio Kamenjasevic (CRO). We note this because in that match Walsh stood up from par terre and had caused Kamenjasevic to go out of bounds, yet the officials failed to give the Marine the point he deserved, resulting in a ridiculous criteria loss.
Walsh didn't even know the rules well enough for it to bother him.
That was in January of '18. Fresh, eager; tenacious and athletic; but highly lacking in the experience department.
And by the end of April, he was a National finalist.
Walsh collected three wins, including a classic at the expense of two-time U23 World Team member Jesse Porter (NYAC/NTS), to make the US Open final in his first try. Kamal Bey (Sunkist) stopped him for gold, a quick anti-gravity lesson. No big deal, really. Walsh had still, in a relative flash, announced his presence as a major player in America's deepest weight category.
At the World Team Trials that June, Walsh advanced to the Challenge Tournament final and fell to eventual best-of-three runner-up Mason Manville (NLWC). The top-3 distinction put him on the National Team, and his name has trended towards the top ever since.
The next season, Walsh did it again, placing "true second" at the World Team Trials. Despite his greenness and 77 kilograms' influx of tough competitors in advance of the Olympic Year, he was looked at as a genuine candidate for the Tokyo '20 Team.
But you know, pandemics and all that.
This past autumn, Walsh competed hopped overseas briefly before placing a solid 4th at the Nationals in December. Doing so meant a ticket to the Olympic Trials. He followed that up with a gold at Armed Forces in February. Soon after, all the little pieces that are supposed to make sense in the midst of an important training plan crashed to the floor. He and everyone else are still working on putting them back together again.
As a Captain in the Marines, Walsh, 27, is big on adapting. Improvising. It's the kind of thing these dudes talk about all the time. The Marine wrestlers seem to almost get a thrill out of having to ardently sift through the sands of chaos only to find that embracing discomfort suits their ethos more appropriately than wishing life in the moment offered more convenience. Because, an added challenge isn't really a new challenge, it just makes the original challenge a little different. The goal inevitably stays the same.
Peyton Walsh — 77 kg, Marines
5PM: In January of '18 in Zagreb, you were wrestling '17 U23 European Championships bronze Kamenjasevic. You stood up from par terre, basically a folkstyle standup, and he lost his balance after you pulled away from him. At first, the ref on the mat gave you a point, but it was wiped off and you lost on criteria. Given that you were new to competing internationally, what was going through your mind during that sequence?
Peyton Walsh: Honestly, when it was done I didn't even realize that I didn't get the point until the next day when I was looking at the film and asked Coach (Jason) Loukides. That was less than six months of me training Greco and gaining a full understanding of the sport and the rules. My whole life, it has always been to just go out there and compete. Wrestling is wrestling — whether it's folkstyle, freestyle, or Greco. And neither of us were able to put points on the board as far as being offensive. I was disappointed that I lost that match, but not because I didn't get that step-out point. Because, I didn't put any offense on him. I didn't even realize that I should have gotten the point until the next day and read your article, or whatever it was. That was probably because I was so young to the rules and the international styles. It wasn't something that ate at me and I didn't think anything of it at the moment.
5PM: What prompted your move to Greco?
PW: Well, it's pretty much all the Marine Corps has to offer as far as wrestling and training full-time. We do the freestyle and stuff at the Armed Forces Championships. But going through the Naval Academy and knowing that it's a potential career option for me if I was blessed with the opportunity to do it… I was a little hesitant at first just because I had never wrestled Greco growing up in Virginia. We barely did freestyle in the summer. But obviously, with loving the sport and everything, the opportunity came up, and I took it and ran with it. And fell in love with it. It's everything now. I've enjoyed the sport more in the past three years than my four years at the Academy.
5PM: Right away, you went on that fall of '17 trip that started in Russia, where your first Senior tournament took place. That is big deal, to wrestle there. I'm sure you knew that to wrestle in Russia was really cool…
PW: Yeah, definitely.
5PM: What was your first impression of getting a chance to compete in that kind of environment right off the bat?
PW: That was not only my first international tournament, it was my first Greco tournament. Being able to dive right into that culture in St. Petersburg was unreal. Not just the wrestling aspect, also the way of life was unreal, and how much of their lives revolve around wrestling. It's crazy, because you walk around town and they can tell you're an athlete and that you're not from around there. It's almost like you're walking around as royalty even though you weren't even Russian. It was funny.
That opportunity was incredible, and then we got to go to Sweden and Finland shortly afterwards. Coach (Gary) Mayabb came up there for that one, some NMU (Northern Michigan University) guys. Major Jay Antonelli came up there, too. He was kind of our in-man because he had some friends there from previous tours. Just getting to indulge in the culture, getting to train with some amazing athletes and coaches, and learning how to interpret what they were saying and translate it into English, and figuring out moves… Again, I'm still pretty green when it comes to Greco. I'm kind of wrestling that combination of all three styles (laughs). Just getting my feet wet.
5PM: You bring up Mayabb from that tour. When he came back, he told me about an instance where in one of your matches, you basically hit a high crotch without the leg, which is resourceful and innovative. Do you remember this?
Peyton Walsh: There was definitely a penetration step involved, yes (laughs).
5PM: Well, that is something important because one of USA Greco's criticisms is that level changes are not utilized enough. It's a skill everyone in America basically has. During this super-early part of your career, were you just taking what Loukides and other guys would give you in the room and then tailoring them to fit your body style and to find ways to innovate scores?
PW: Absolutely. Just getting in a solid position. Greco is all about getting into position and winning those small battles. In folkstyle, I was about scoring points and putting points up on the board. I hadn't quite figured out that it's more of a chess match in Greco. I'm kind of just like a Tasmanian devil out there, just trying to score any way I can.
This was a local tournament. It wasn't like we were wrestling the Russian national team in this little tournament. It looked like a 1970's or 1980's YMCA auxiliary gym with two mats on the floor (laughs). I didn't have a style, I was just trying to score any way that I could.
5PM: Okay, but four months later you had a US Open performance as a first-timer that we don't see very often. What happened in the interim between December/January and late-April? Was there something that started to click?
PW: From a technical aspect, I don't think anything really clicked. Being on the Marine Team, I am just super-blessed to be able to get my butt kicked everyday by (John) Stefanowicz and the guys who have a mental fortitude like him and (Ray) Bunker, (Daniel) Miller, the Johnsons (Jamel and Xavier). There are people on that list you don't know because they don't travel as much as us. But, being surrounded by those guys there is this expectation to win. And it doesn't have to be pretty, either.
I don't go back and watch a lot of film of my old matches. If I did, I wouldn't be very impressed with how I wrestled technically. But just finding a way to win. I don't think anything technically clicked, I think it was just the sheer will of trying to get your hand raised at the end.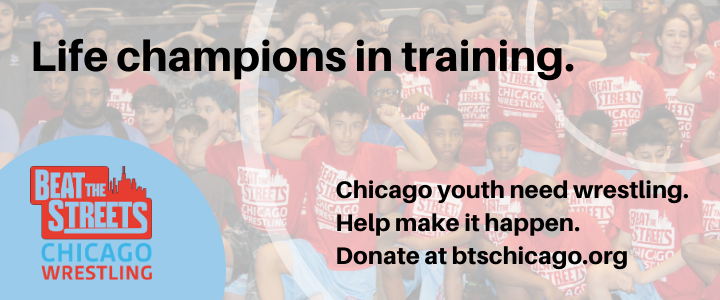 5PM: During that run at the '18 Open, did you at all come to the realization that like, 'Wow, I made the right choice to pursue this style'?
PW: I don't think it really hit me yet. I don't think it hit me until afterwards. It was a fun tournament. I had recently gotten married and my wife was there. The weekend before, we had celebrated our wedding and she flew to Vegas to watch me, and then we went on our honeymoon. I was still on my wedding high, had a good tournament, and then went on our honeymoon. So, I don't know if it really sunk in while I was there because I was already on a high. But yeah, looking back, if I didn't have as good of a tournament that weekend I don't know if it would have resulted in the same type of confidence in my training and competition to where it's at now. That tournament was huge for me confidence-wise.
5PM: I watch you and you are not very predictable. Everyone knows Greco has its positions that are very important, and a lot of it can unfold the same way on the feet. You don't play it that way. You're very athletic and competitive but not bound to a set style. Would you be weary of becoming too…
PW: Technically dependent?
5PM: Exactly. Risk losing that unpredictability and athleticism in the name of classical technique. 
Peyton Walsh: No, honestly, I'm not worried about that. If anything, it'll just make me more sound. Because, you are going to get caught. You are going to get put into positions, you're going to give up points, and you try to minimize that, hopefully. A lot of times where what you're talking about is demonstrated is when I am in the air or I get in some sort of scramble where I probably shouldn't come out on top. So it is fine-tuning some of those technicalities where I don't need to do that. It's nice to have in your back pocket, but it's not something I worry about. Obviously, I am always trying to get better in every position. It also isn't my game plan. I don't want to go out there and rely on my athletic ability and competitiveness to win. There always has to be some sort of strategy — even though it may not look like one (laughs).
5PM: '18 World Team Trials. What was the process like leading up to it? You had the Open final a couple months before, what were your expectations?
PW: My goal was obviously to win. It's always one match at a time. Still being new to the scene but coming off of a good tournament at the Open, my expectations were to get to the finals and win. I hadn't wrestled a lot of the guys in the bracket and I think that played out to my advantage a bunch.
5PM: Why?
PW: Just because I feel I was pretty unorthodox. And just being new, too. You know what you want to do. With it being my first year, I didn't know what my expectations were. I knew what I had set out to do. But if I had walked out of there 0-2, I would have walked out of there the same way because I know I would have given everything I had with the opportunity. I would have been pissed off, but I didn't know what I was supposed to do.
At the time, I probably thought I had a lucky tournament at the US Open and that, This time, I've got to back it up. I went out there and wrestled hard. I competed pretty well. I didn't get my hand raised at the end of every match but I walked away pretty happy with the opportunity and getting on the National Team.
5PM: How did you view the 2018-19 season? You made another National Team in one of the US' deepest weights. Sure, you wanted to make Final X, make the World Team. But at the same time, did last season at least say something to you in terms of consistency?
PW: Yes. I felt like after 2019 that I had earned it. I had beaten several guys consistently and it wasn't a fluke. Like, I had earned it. Anyone can win once out of ten times but if you can beat them consistently, I felt that I had earned that position. Again, I wasn't happy with not making it to Final X, but overall, I was very pleased to be on the National Team.
5PM: Loukides is the best coach in the country. It's not my fault that he is, but he is, at least currently. He works with you guys on a lot of specifics individually and as a team. Did you have a distinctive plan of your own for this Olympic Year? Especially knowing the landscape at 77, and coming up with a strategy for how you were going to make this Olympic Team in April?
PW: Well first, I have to agree with you, Coach Loukides is the best coach in the country (laughs). And his approach to each athlete on a personal level is unmatched. But I wouldn't say it's like we break it down to where say, my plan is different than Stefanowicz's. Maybe he has a different mentality and style than myself.
5PM: Let me phrase it this way: did you identify a missing piece in 2019 that you felt you needed to fill in by April of 2020?
PW: Oh man, that's tough. I don't know. I don't think so. You always try to focus on the things that you are good at and then get better at your weaknesses. But going into a match it is, These are the positions I want, this is where I'm going to score and he won't be able to score on me. Sticking to those types of things and getting better at them. And if I get into a position where I don't have the advantage, it is how do I get out of those situations and put myself in a position where I can score or it becomes more 50/50.
I guess there were specific situations we would focus on. But Coach does a really good job of, depending on the tournament, getting us to peak at the right time. He cycles us throughout the year. We're constantly climbing the mountain but there are going to be a couple of valleys in there. He makes sure that each of us has that peak right when we need to. And that's mentally, physically — and hopefully, emotionally and spiritually.
It is definitely something that we talk about as a group, and then on a more personal level with Coach.
5PM: The string got cut on everyone in March. You had Nationals in December, January overseas, in February you won Armed Forces. But then March comes. What was your initial reaction to finding out the Trials were postponed a year?
PW: Heartbreaking. And I'm not even one of the guys who has been invested in this. I'm thinking of guys like Joe Rau, even Miller. I mean, they were here for the whole cycle, and there are people who have been in the game for multiple cycles. But being a Marine, I realize how fortunate of an opportunity it is to be here. Realistically, I only had three or four years to give it a shot. Right now, most of the guys on the team are set to move on to their careers at the end of the summer or early-fall. We are putting in the paperwork to extend us so we have the opportunity to train and compete for the Olympics. But my first reaction was, Wow, this is it, this is how I'm ending my wrestling career because I'm going back to fleet and won't get the chance to put my foot on the line and go for this thing. 
It was heartbreaking, but there is still hope we get extended through the summer of 2021 and I'll get that opportunity. But if duty calls, that's where I'm headed.
5PM: When I ask you this it is under the presumption that you have not been physically dormant throughout this break. What have you been doing, under the watch of Loukides and otherwise, since this situation has been on your lap?
Peyton Walsh: Just doing what you can with what you've got. Obviously, we're not on the mats grinding with each other everyday. But it has definitely been an opportunity to refocus and re-center myself as a person, too. Not only am I training — like running and lifting — we have also been able to borrow dummies and do throws and circuits with weights. If anything, I think I will be in better shape once we get back because that's all I've been doing.
But in other areas that I have been too tired to focus on, the slower-paced life has given me the opportunity to refocus on some of my goals and what's important. Being more spiritual, reading more. It has been good. There is always a way to look at the situation as half-full. Even though I'm not wrestling everyday, I am getting better at being a Marine, as a wrestler, as a person — everyday — just by doing simple things.


Listen to "5PM37: The wildman Sammy Jones" on Spreaker.
SUBSCRIBE TO THE FIVE POINT MOVE PODCAST
iTunes | Stitcher | Spreaker | Google Play Music
Notice
: Trying to get property 'term_id' of non-object in
/home/fivepointwp/webapps/fivepointwp/wp-content/themes/flex-mag/functions.php
on line
999