"I just wanted to drag him in the mud a little bit."
Jamel Johnson (67 kg, Marines) knew that in order to get past Hayden Tuma (Army/WCAP) in the finals of Saturday's 2019 World Team Trials Challenge Tournament, he would have to stand in the pocket with Tuma and take his best shot. That's because despite Johnson's overwhelming talent and years of experience, Tuma had remained a looming obstacle. When they had met previously both this year and last, it didn't go the Marine's way, due in large part to Tuma's ability to zoom through tie-ups and/or pound out points from par terre. On Saturday, Johnson adjusted his game plan and dug in hard, with the result winding up as a two-match sweep that now puts him in the Final X Series early next month.


There was the gut in Match 1 that helped pave the way; but the gutwrench in Match 2 closed the show. When Johnson got his lock in the second period and kicked off the mat to generate enough force, he had set the table for a follow-up gut that provided a 5-1 lead. All he had to do was avoid a big mistake, a task easier said than done when it comes to Tuma's explosiveness. But Johnson held firm and made it happen, and now joins three other Marines — Xavier Johnson (63 kg), Ray Bunker (72 kg), and John Stefanowicz (82 kg) — who are likewise on the cusp of earning the right to represent the United States at the World Championships later in the fall.
Jamel Johnson — 67 kg, Marines
5PM: You've had trouble with Tuma before and Match 1 started dicey, but during that second period it began to appear as though you got into a groove, maybe figured something out, and then you scored your points. Walk me through your mindset as that bout was unfolding.
Jamel Johnson: The second period, to be honest with you, I just wanted to drag him in the mud a little bit. I have a great tool, which is my teammate Raymond Bunker. He's a fantastic pummeler and I don't typically pummel. You've seen my matches, usually I'm trying to throw or make it spicy. But today, I just knew that I need to rely on a tool that I don't use, which is pummeling. And I knew I could go in the mud a lot deeper than he possibly could, and I was willing to find out if he can do that.
5PM: Match 2, again, it's the script, you got your chance from top in the second period. The first match when you got on top, you were really straining to get him over. In Match 2, you didn't have nearly as much difficulty. Why?
Johnson: I'm dealing with some stuff so I just had to suck it up and push through. I knew if I could suck it up for this last match and get that turn, then I would be good.
5PM: When you shot that leg underneath on the gut in Match 2, did you know that you would be able to get two turns and not just one?
Johnson: Yes, yes, yes, yes. As soon as that happened and I knew I was in the clear, I wanted to get one more to seal the deal. I did, and after that I was like, Alright, back to the mud again (laughs).
5PM: What about this turnaround? You have a couple few weeks before the Final X Series. How does the training plan change if it does at all?
Jamel Johnson: It doesn't change. It doesn't change at all. We had the work up to the US Open, and I dropped the ball on that. And then there was the work leading up to this. It's going to be the same thing, back-to-back-to-back. And the tournaments are almost the same distance apart from each other, so it's not changing, really. But it's going to be intense.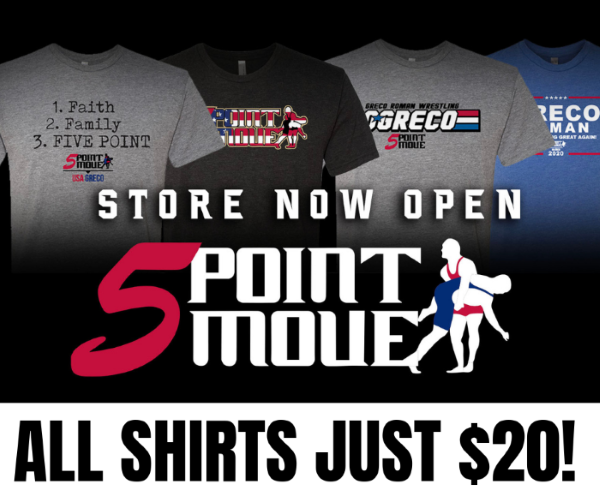 Listen to "5PM23: World Team Trials Challenge Tournament Preview" on Spreaker.
SUBSCRIBE TO THE FIVE POINT MOVE PODCAST
iTunes | Stitcher | Spreaker | Google Play Music | RSS
Notice
: Trying to get property 'term_id' of non-object in
/home/fivepointwp/webapps/fivepointwp/wp-content/themes/flex-mag/functions.php
on line
999