Daniel Miller (97 kg, Marines) knows what downtime is. He just doesn't know what it feels like, at least not anymore.
For the fourth summer in a row, Miller has kept nearly as active throughout July and August as he typically does in November or March. Senior Greco-Roman competitors, especially in the US, typically don't abide a seasonal concept as it is. Yet, most still find a way to take a post-World Team Trials breather if possible. Miller does, too. The difference is his respites are exceptionally short and seem to drive him crazy.
This summer has offered even less time to rest than usual. Between the camps, his participation in the Tbilisi Grand Prix, serving as a training partner for the World Teamers in Kazakhstan, and now preparing for the upcoming Military World Games next month in China, the calendar has remained packed. This is what Miller wants. It is how he functions best as an athlete. Just give the man a few goals to accomplish and let him get to work.


The biggest goal, of course, hovers in the distance. April's Olympic Trials represent the key objective for every American athlete. There are boxes in need of checking off first in Miller's view, various measurables for which only he can account.
It's a process that began a while ago and a slight squinting of the eyes renders visible all the evidence one requires. Miller is onto something. He has become a remarkably consistent athlete whose confidence has risen along with his profile. Is everything leading up to April seen as a mere beta test? Probably. But the Military Worlds is the most important item on his mind at the moment, and as he details below, a moment is all he can ask for.
Daniel Miller — 97 kg, Marines
5PM: How was your experience in Tbilisi? You've been to a lot of places by now, how does that trip, tournament, and general environment stack up to the others?
Daniel Miller: Tbilisi was definitely different than most of the trips I've been on. One of the challenges being out there was functioning as a coach/athlete. We didn't know if we would be traveling or not until a week before, so it was a little stressful with all of the logistical coordination that we normally have. But we got all that done and flew out there. It was a relatively long travel time, though obviously, it doesn't feel like a long travel time after going to Kazakhstan a few weeks later (laughs).
Once we got out there, we had to make sure we were communicating and coordinating everything we needed to with the Georgian federation without having an official coach designated to go with us on the trip. The first day, we were trying to figure out where the training facility was, what hours it was open, what our responsibilities were, where do we pay, what do we pay, and so on. We got all that hammered out the first day. We got it figured out and we got it done. Then we worked out and got our guys down on weight.
As far as results, I wouldn't say we achieved what our goals were going out there; however, we went through the process how we wanted to, which is how we fought in our matches as opposed to what I just described leading up to it. We went out there expecting adversity. Anytime you go overseas, there are new opponents, different opponents, and there is going to be a different style of officiating — and that's how I'll say it, it's a different style. But it's good to get exposed to that. As we've talked about many times before, you have to be able to thrive and prosper in any kind of environment. Because, you are going to be placed in environments that are the least ideal, and having experience that will lead to being more successful in the future.
I was sitting in the coach's corner for the first few days of competition and I started competing on the third day. Acting as a coach has one aspect to it because you're trying to fight for your athletes, deciding when to throw the challenge block, trying to keep your athletes calm if they disagree with something on the mat. It can be taxing sometimes.
I was going to the drawing meetings, which was the only time they had the mats open and available for us to practice. So I was trying to coach the guys and prepare them for their matches during the day. The guys did a great job of helping me out with that as a group. One team, one fight, one effort — and I appreciated that immensely from them. But when they were done in the afternoon and I had some time to work out after coming back from the draw meetings, they had already done their workouts and were still willing to put in the work with me after they had already worked out. That way, I could maintain my weight and stay fresh, stay crisp.
At the end of the day, the guys went out there and fought hard. We did a good job of keeping our composure, which is important in that kind of environment. Tbilisi is a practice, and it was a good practice, both for the wrestling aspect of it and the match-prep aspect of it. It is an environment unlike any other as far as the way things were done there, but part of that was because I played that dual role of coach/athlete. It was a different trip for me, a lot more mentally-taxing because of all of the additional responsibilities. It was different, but it was good. It was a good experience. It was good to simulate that adversity and gauge our success in that kind of environment, and that's exactly what we were looking for.
5PM: Last time we talked, the wound was still pretty fresh bust starting to heal. For you competitively, was it nice to remain active and compartmentalize where your focus resides?
Miller: It's a great opportunity for that. Coach (Jason) Loukides does a great job of keeping you moving forward and making sure you're headed in the right direction. Not only moving forward, but moving forward in the most advantageous way for each individual athlete. As you get closer to the Olympic Year, one of the concepts is that a year after the Olympics or two years after, you're focusing a lot more on your camp and developing your skills. And then as you get closer, you're doing less of the camps and competitions that way you have what you need and you can make smaller adjustments over that period of time. We were talking about it today, how the Olympic Year comes so fast and it can be hard to make those adjustments.
For me, this (Tbilisi) was one of our shorter trips, but we got what we needed. We gauged ourselves against new opponents and how we performed in a new environment, and that's how we're going to continue moving forward. We have World Military World Games coming up, and it's not like there is a training camp with that. We're going over there to compete and there are a lot of high-caliber opponents who will be there, or at least there usually are. I haven't seen the entry list for this year, but I'm looking forward to the same thing: going out there, competing, and testing my skills against guys who compete at the World and Olympic level.
Continuing to press forward definitely helps. You started the question with how the last time we talked was after Raleigh and how the wound was still healing. It's good to callous that off, take those lessons, and move forward with them right away. The sooner you can apply those lessons more quickly and apply those fixes, the better they are going to hold in your memory and your skill-set. I don't want to say it was necessary, but it was extremely advantageous for me to continue at a high pace and move on to different events and test those skills and tweak those adjustments left and right in order to make sure we're ready to go come game time.
5PM: You've now been to the Senior Worlds as a US training partner a few times. What was the most important thing you learned this particular year about being there?
Miller: Okay, so that is a very interesting question because it is actually one of the things we talked about on the way back (from Kazakhstan). Coach Loukides, Lieutenant (Jamel) Johnson, and I were having this discussion specifically. I think one of the big things I noticed — and I don't think it has changed but that I noticed it more this year — is that the guys who are winning medals, or are in contention to win medals, are not waiting for their next match. They are going out there willing to lay it on the line every second of every match. That doesn't mean you're going out there making crazy scoring attempts or doing things that are outside of your game plan, or outside of your left and right lateral limits. It just means that your intensity level and focus are there. You're present in the moment more so than I think I have been in my career.
That is one of the things moving forward I need to try to focus on and improve myself. It is part of the mental game, making sure that I am present in the moment and doing whatever I can in that match. Because, if you look past that match… I have seen it in my career in the results. Sometimes, you are going to fall short in that match. But developing the habit is what I think is more important. To develop the habit that every single match is as important as the gold-medal match. I think preparing that way will also help for when you are in that gold-medal match, saying, I have prepared for this match every single match leading up to it. If you treat them all the same as if they are all gold-medal matches — and have the same intensity, the same mentality, and you are willing to leave it all out there every single match — then that's the only way you're going to get there. If you're not willing to treat it like a gold-medal match, the other guy will. And he's going to be the one who gets there instead of you.
That was the biggest lesson I took from this year. And again, I don't think it is something that changed in the athletes. If it had, then it was only because they were fighting for a spot to qualify for the Olympics this year. But I think it has been the same every year, it's just that as you continue to learn more lessons it opens your eyes up to new things. And that was the #1 thing that I saw this year that I hadn't recognized in the past.
5PM: The CISM Military Worlds offers a high number of elite athletes. You were there in '17, and two years later, it's almost like you're a completely different competitor. You have at least a sense and a few good guesses of who could perhaps be in your bracket. Either way, you are much improved and much more experienced guy now. With that in mind, what do you look forward to most about this tournament?
Miller: I think more so than anything, and just like any other tournament, is just the opportunity to go over and compete. A lot of times when we're going to a tournament, you don't know who is going to show up or who is going to be there, who you're going to wrestle or what kind of calls you're going to get. None of that really matters because at the end of the day, you're getting the opportunity to compete. You hope you compete against some really good guys so you can gauge yourself against the best wrestlers who are out there based on the results.
This is a tournament where in general, they have been World medalists in the past or will win World medals in the future, so you know what caliber of athlete you'll be having here. I am excited to go out there and be among those athletes and show my capabilities, as well. Like you said, in 2017, I was hoping to do the same thing. Obviously, I've had two more years of experience and hopefully two more years of positive growth since then. And hopefully, the results will show that. At the end of the day and regardless of results, I'm excited to go out there and have an opportunity to see where I'm at, how I'm performing, and continue to grow based on that performance.
One of the other things that is so exciting about this event in particular is that we are competing against other military members from all around the world. And also, this is the Military World Games, which to my understanding is the second largest event in the world next to the Olympics. So I am extremely grateful to be a part of such a huge and illustrious event, although I didn't know it existed prior to joining the Marine Corps (laughs). I'm excited about that. But being able to go out there with men and women who are service members for their countries is exciting.
At a regular tournament, you are representing the United States. Here, you are representing the United States Military, and then we are going out there and representing the United States Marine Corps, specifically. For me, that is a fantastic opportunity because you are not only identified based on where you're from, but also what branch you're with. There is a certain amount of responsibility that comes along with that.
I am hoping that I can live up to that and make my predecessors proud out there. Over the last few years, I have, like you said, developed physically as an athlete. But I have also developed as a Marine and have grown a much larger appreciation of those who have come before me and I just hope to do right by them.
5PM: One of the phrases you have used a lot is how you and the Marines "train through events", how you're always training regardless of the tournament or schedule at that time. The Military World tournament comes first, then on the back-end of that is New York and the December Nationals. Do you have specific markers or a curriculum in place if only because this is a different season with a shorter time-table with the Olympic Trials?
Daniel Miller: I think one of the greatest things about being part of a program with a coach like Jason is that when you have the kind of relationships our athletes do with him, you can take that worry and focus out of your hands and put it in his. He definitely has a program that has more foresight than what I have, and more vision. He knows what is going on more than I do, which allows me to focus on my training just for this particular event. I know that we dealt with a lot of scheduling moving forward regarding which opportunities we want to take advantage of and where we want to get specific kinds of training in.
We have been building our base for the last month now. This is our last opportunity to win a World-level medal for our program this year. This is an event of extreme significance. So, we are training and tapering for this event, and then we are moving forward with a game plan for the Olympic Year.
Like we talked about before, the Olympic Year goes fast. Luckily, we got a head start on building the base, which is usually our first phase. It's like a restart for the year. For the majority of the guys, except for Lieutenant Johnson and myself, the new year has already started and they will continue to build their bases through this tournament. Lieutenant Johnson and I will have a little bit of reprieve just so that we are prepared to go out and represent well. Because like I said, this is one of the significant events.
We'll come right back and hop into the building phase and continue to train through those early events. The reason for that is that it hard to get the periodization right for every event. It's hard to go from the Military World Games in October, to the Bill Farrell in November, and some guys will be trying to take overseas trips before Christmas, and then we have the Olympic Trials qualifier right there in December. So the periodization is difficult and you have to be strategic about it because there are lot fewer spots to make the Olympic Trials this year. You've got the top-five spots at the qualifier, and you also have the Bill Farrell, which is an Olympic Trials qualifier. I don't know if we're having a Dave Schultz (Memorial), so that (potentially) eliminates another qualifier spot. Going from seven to five takes two qualifying spots away. Taking away the international medals as a qualifier eliminates you.
Right now, because I know that Jason has all of that vision and all of that foresight plus a plan for what happens after the World Military Games allows me to focus on my preparation for the next few weeks for the World Military Games. Then we are going to regroup and press forward from there. It's safe to say that I will probably continue that mentality of training through some events and trying to peak for the Trials and making the Team. All of the best luck from me is going to Tracy (G'Angelo Hancock) to win the Pan Am qualifier so that the weight is qualified before we even go to the Trials. That way we know someone from this weight class is going to the (Olympic) Games. That would be ideal. Otherwise, we have to focus on peaking the athlete, whoever that is, to go to the Last Chance qualifier.
There are a lot of factors that play into that. We originally talked about going to Nice (France) in February. Now it's a "Ranking Series" tournament, don't know if we'll be going to that. Still don't have the solid dates for Armed Forces.
That's why the training plan has to be in place now. With these events, you don't know if you'll be able to go, you don't know the dates, you don't know if the schedule changes three or four times, and you don't know when the US training camps will be. So, you have to set your training plan and be ready to train through all of that stuff. You have to set your benchmarks saying, This is where we're going to try to peak, and then this next one we're going to try to peak. Understanding that, there has to be room for error in there. If we win Trials and that's where we peaked but the weight is not qualified, guess what? We have to go out and perform shortly thereafter, otherwise, we're not going to the Games. So I think that "training through" mentality offers a lot of flexibility inherently.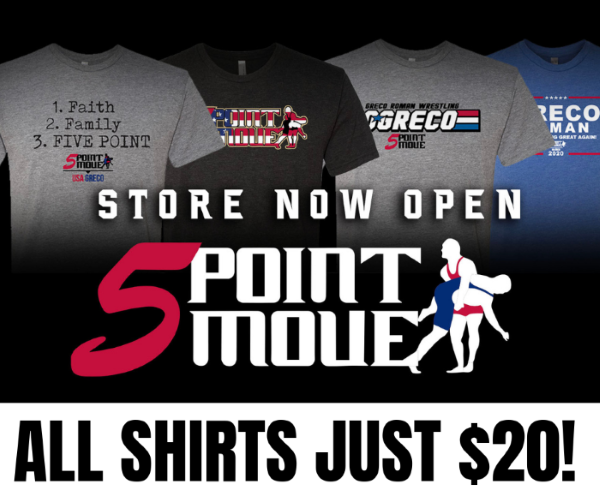 Listen to "5PM28: G'Angelo Hancock, Joe Rau and Max Nowry" on Spreaker.
SUBSCRIBE TO THE FIVE POINT MOVE PODCAST
iTunes | Stitcher | Spreaker | Google Play Music | RSS
Notice
: Trying to get property 'term_id' of non-object in
/home/fivepointwp/webapps/fivepointwp/wp-content/themes/flex-mag/functions.php
on line
999