John Stefanowicz (82 kg, Marines) is at a place where he is just starting to break through into the American wrestling mainstream. Consider: he is now a two-time National Team member after having taken second in the '17 World Team Trials and true third a year ago. So, the casuals who may not betray much fervency towards Greco-Roman have at least a cursory understanding of who he is. On the flipside, actual hardcore Greco fans have become more than familiar with Stefanowicz's makeup, and attach themselves to his performances. They do this not just because he's good, but because of how he competes.
Stefanowicz attracts onlookers thanks to an at-all-times aggressive pace and refusal to yield position. You know what you're signing up for when he wrestles and the payoff is always consistent. In a sport where at its highest level scoring oft dissipates due to the athletes' hesitance to make a mistake, Stefanowicz's mission is to keep coming and coming until cracks in the opposition's armor illuminate vulnerabilities. Sometimes that arrives midway through the second period, but it can happen earlier than that, as well. One way or the other, Stefanowicz's mission is your surrender.
But last weekend at the Armed Forces Championships in El Paso, Texas, the Marine faced one of his biggest domestic challengers in recent memory. His opponent in the deciding dual meet against Army was multi-time World Team Trials finalist and 2014 Military World silver Jon Anderson (87 kg), who perhaps more so than anyone else in the country, is best known for pushing adversaries to the brink of exhaustive misery. Wouldn't you know it, but that is precisely why Stefanowicz and Anderson draw a lot of comparisons to each other.
Such was the premise for Stefanowicz's battle with Anderson this time around. They had met prior, back in 2014, a bout Anderson won convincingly (via tech). Stefanowicz is not the same competitor he was then, obviously, which is why their showdown on Saturday brought with it immense intrigue.
As expected, the six minutes they spent together delivered in both brutality and tension. They clashed, and clashed and clashed. Blood made a brief appearance. Anderson was relentless, but so was Stefanowicz, and it was he who took advantage of a couple of second-period step-outs to walk away the 4-1 winner en-route to earning Armed Forces gold.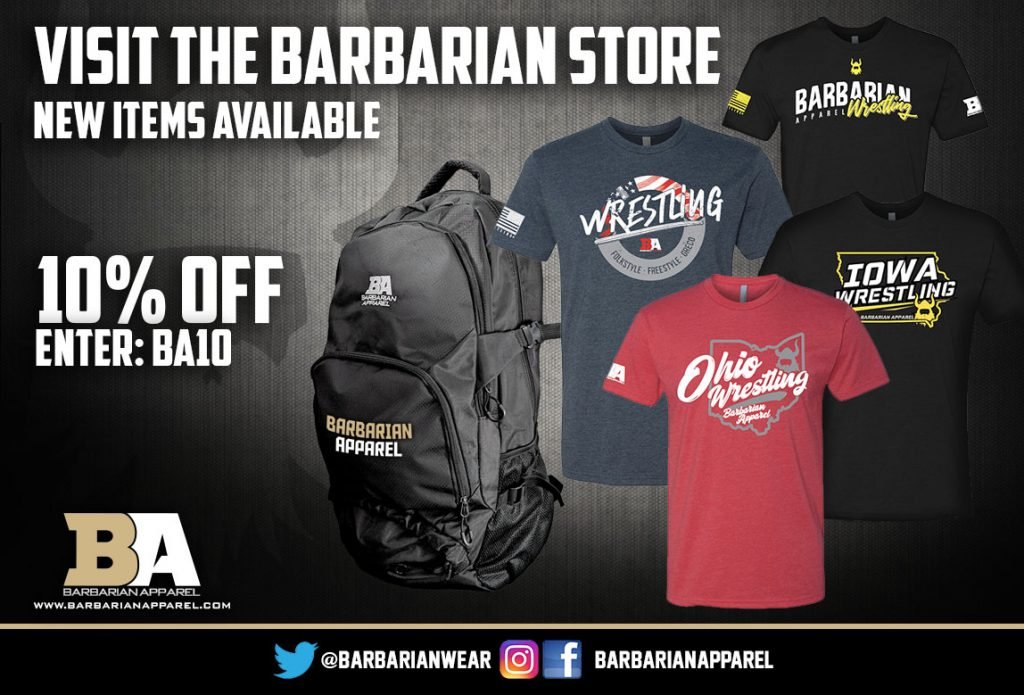 There has been more going on with Stefanowicz than what transpired in El Paso. He made his season debut at December's Haparanda Cup in Sweden, drumming up a bronze; he stayed over for the Haavisto Cup in Finland a week later; and then Stefanowicz was back overseas in February where he defeated 2018 U23 World runner-up Rajbek Bisultanov (DEN) in his first match only to barely miss out on the medal stand the next day.
US athletes who have designs on making World Teams — and subsequently earning World medals — don't put a ton of stock into winter results. They see it all as part of the preparation process for when the chips on the table are assigned a higher value. That's certainly the case with Stefanowicz. But it's also true that he willingly embraces every opportunity available to test his skills regardless of when it falls on the schedule. And that's precisely the mindset he was in when we sat down to get his perspective on the recent string of activity that is starting to get everyone pumped up about watching him chase down even bigger objectives come the springtime.
John Stefanowicz — 82 kg, Marines
5PM: It didn't pan out against the Army this time, but you look and the Marines have four National Team members and a few others who came into Greco with no experiences and are now becoming legitimate contenders. Your coach, Jason Loukides, is rightfully seen by many as the best head coach in the country currently. What is the secret, the way you see it, to his success?
John Stefanowicz: You'd say camaraderie, but it's not camaraderie. He takes a system that takes time, takes grit, perseverance, and all of those other great motivational words to truly believe in — but the second you see that sliver of hope, you are a believer, and everyone is going through it. (Ray) Bunker is going through it, (Daniel) Miller is going through it, I'm going through it, Jamel (Johnson)… Look at Xavier (Johnson), look where he was  two years ago and look where he's at now. We all went through our plights but Coach Loukides invested fully into each one of us, and once you believe in that, there's no going back.
I think everyone on our team would easily follow him anywhere and no questions would be asked. At the same time, I have every other coach in the country asking me, What weight are you going next year? I honestly don't know. If Coach tells me to go 97(kilograms), then I'm going to go 97. If he tells me to go 72 or 67, then I'm going to try my damndest to do that. I'm going to go wherever he tells me it's good to go. When the time comes and he tells me to start gaining weight or losing weight, or to change my diet, I'm doing that. He tells me to wrestle 82, so I'm wrestling 82.
It's the kind of thing where everyone knows their place on our team because we are an actual team. People want to say this is an individual sport, okay, yeah, it is an individual sport. But it's more than an individual sport to us, and that is where we fall off of everyone else's cookie cutter idea of what a wrestling team is. We are a team — we live, work, eat, breathe, and travel together. We do all of that stuff together. It holds more water for us than other teams.
5PM: Knowing you were going to have Anderson, did that in any way provide bonus motivation?
JS: I wouldn't say it provided bonus motivation, no. Going to Armed Forces is enough. That's more than enough for us. If you said eight months ago I was going to have Anderson, it doesn't really mean anything to me unless you say, Eight months from now you're going to have Armed Forces. That's my motivation, that's everybody's motivation, at least on the Marine team.
That is what we live by when we go there and see brackets, and there might be changes for a team or something like that. One, you go in there with a mindset that bracket may very well be changed up, and if it is, we don't worry about it. We're all going to wrestle the same way we do. At the end of the day, I'm not going to completely change the way I wrestle for someone else, especially at Armed Forces because we had been training for that year-round. As soon as the World Team Trials are over with, the clock starts right back over again.
No, I don't think wrestling Anderson changed it up or added anything to it. Armed Forces is enough. It is certainly enough.
5PM: So you're saying that a win over him doesn't add any extra significance?
JS: No, no, no, I never said that. I never said that. A win over Jon Anderson is always a big win. To say I have a lot of respect for Jon would be a huge, misguided understatement. It's kind of crazy, but when I first came on the scene in 2011, I was watching him as the years went on. Heck, I think in 2014 at Armed Forces he just manhandled me at 75 kilos as if it was nothing. I've always admired, liked, and followed the way in which he wrestles. I've put my own sauce on it, but at the end of the day, that brought us a huge win. It would be for anyone, for that matter. It just goes towards the respect and history. It is definitely something I tip my hat off to.
Going into it, we both knew. We kind of talked about it beforehand when I had seen him before the actual day of competition. Even on the warm-up mat before the Army and the Marines wrestled, we shook hands, slapped each other around a little bit, and whatnot. We knew it was going to be just a battle. There was no secret to that.
5PM: Predictably, the second period is when this match was decided. The step-outs appeared to firmly turn the tide in your favor. Did you see it that way also? Because that's not something that typically happens to him? It's rare. 
JS: I think that went together with each other's game plan. When you see people go back into the corner during that little :30 break, you see people either sticking to their game plans, or then jumping ship. They're tired, they're spent, something's going wrong, and their game plan isn't working so they aren't going to stick with it.
The score was 2-1, so it was practically tied up, you know? Going into the break, looking back on it, and seeing what we were doing, Coach Loukides said a couple of things to look out for and a couple of things to do. But — one thing he said was, Stick to our game plan, stick to what you're going to do and don't back down. Because as soon as you back down and he feels it — just like any wrestler would do — he's going to take it and run with it. That's something you can't let a wrestler like Jon Anderson have.
I respected the game plan, kept the pressure going, and at the end of the day, something had to give, and it wasn't going to be me.
5PM: It's an odd situation. You had a great win in Zagreb, but unfortunately, you didn't have a medal to show for it. The win over Bisultanov was a nice win, he was in a World final last year. 
John Stefanowicz: Yeah, I heard that, actually (laughs).
That's one thing, look, I'm not going to fluff or battle myself over your past wins or what crazy thing you've done. Unless we've wrestled, shook hands, and thrown blows, if I remember your name it's because I had to have trained with you.
But I'm not the guy who is reading the back of baseball cards remembering every stat and every name. When I was in high school and remembering that stuff, it would turn me into a headcase, so I don't really… I mean, I walked out there and just said, Oh, he's from Denmark (laughs). That was about it. I asked the coaches real quick, What does he do? They told me a couple of things that he did, and we went from there. Coach (Matt) Lindland told me, He's going to battle, he's going to push, this and that. Alright, thanks coach, anything else? And he was like, Nope, just go out there and do you. That was the extent of our game plan for that match.
There was no extensive info, how, He did this in the European final, or anything like that. I walked off the mat and asked Spenser (Mango). He was like, Oh, he's a U23 European champ, and whatever else. Oh, so he's pretty good? Okay. You could call me ignorant or naive, I don't care. I'm just not that guy who is going to be reading 20 pages down and nitpicking what someone else has done. I'm just not like that.
5PM: The best part about Zagreb, whether you realize it or not, you had three high quality opponents. But more importantly, you got to move around overseas. Now, you went away in the fall for a minute, but with that trip, you then had National Team camp in January, then it was Croatia, and last weekend was Armed Forces. Did this run of activity satisfy your competitive style?
JS: It did. I went out to National Team camp with our four guys and Bunker came along, too. We were feeling good. Our weights were darn near scratch and we weren't cutting weight at all. Everything was great. We knew were going to Zagreb, but then we thought about Schultz and competing in that, as well. Coach Loukides said, Hey, you four guys, I'm sending you guys overseas and I don't want you getting hurt before Zagreb or Armed Forces. If you save your energy for this, it'll balance it a little better. So, I listened, long story short.
We had to decide if we were going to wrestle Schultz instead of Zagreb, or Zagreb instead of Schultz, before Armed Forces. What we weren't going to do both. We looked at the kind of competition we'd be able to get — and we also looked at Xavier, because Xavier made it to the finals — so we wanted to get everyone in the finals. We looked at getting all four of our guys in the finals of the ranking tournament. There was a lot more long-term planning, and that's what Coach does, he's the long-term planner. So we decided to go with that and it wound up working well. We came back and then I had a recruiting trip for the Marine Corps. That's what we'll do, visit high schools and nearby colleges, and stuff like that. I was on a recruiting trip between Schultz and Zagreb for three or four days and that gave me a quick break so my body could recover from whatever we did in Colorado Springs. I felt like it worked out really well. We were able to keep the body going without getting banged up so much, and then we moved into Armed Forces.
5PM: You opened up the season overseas. Like we just talked about, you had National Team camp, Croatia, and Armed Forces. Now you're hitting a bit of a breather until the US Open. Competitively-speaking, do you feel as though you've gotten your money's worth thus far leading up to the spring?
John Stefanowicz: Yes, I do, I feel like I've gotten my money's worth. And the thing is, over the next 45 to 50 days, if Coach says that he wants to see me get some more matches in, another tournament in, or something else, I can guarantee you'll see my name on a roster going somewhere overseas. But again, if he doesn't think I need another match before Nationals, then you're not going to see me until Nationals.
I feel like I've gotten mine in. I feel like we can see where I'm at and where everyone (on the All-Marine team) is at, for that matter. Now we can use this time to tweak anything that needs to be tweaked and maybe get some guys who aren't from our room and bring them in to train. Get some different looks, some different people, and open up some great training opportunities since we have this break. And I don't see the All-Marine team squandering it by any means. It might not be a Monday through Friday type of thing, but we're going to use the time we have advantageously.
Follow the All-Marine Wrestling Team on Facebook, Twitter, and Instagram for updates on results and competitive schedules.
Listen to "5PM21: Paul Tellgren, Ellis Coleman and Alec Ortiz stop by the Five Point Move Podcast" on Spreaker.
SUBSCRIBE TO THE FIVE POINT MOVE PODCAST
iTunes | Stitcher | Spreaker | Google Play Music | RSS
Notice
: Trying to get property 'term_id' of non-object in
/home/fivepointwp/webapps/fivepointwp/wp-content/themes/flex-mag/functions.php
on line
999