Ellis Coleman (67 kg, Army/WCAP, 5PM #1) is in what you'd call a "good place". He always is, it seems. Always quick to betray gratitude, always willing to emphasize the positives.
Coleman, because he is rather adept at employing various literary mechanisms, doesn't just declare a glass as half-full. He likes to go the extra mile. What this usually sounds like is that he will take the time to illustrate exactly how much water fills said glass and explain why the amount in question is more than enough to quench his metaphorical thirst.
The "good place" for Coleman, at least pertaining to this check-in on Thursday night, covers all of the bases. Mentally, physically, spiritually… He's doing well, and wants you to know that. His family expanded to five in December when Ellis Jr. greeted the world. The married father of two daughters is still outnumbered in his own house, but the males are gaining steam. His triceps, the one that was practically shredded off the bone back in the fall of 2019, has healed. Is it the same as it was before? Ah, probably not, but it's close enough. You won't ever get him to concede that the pandemic's slowdown worked to his advantage. He had his mind dead-set on making his second Olympic Team last April even with a compromised arm. He wound up with a year-long reprieve that allowed for a full, or fuller, recovery; but if pressed, Coleman would trade those circumstances if it meant the country and the world as a whole didn't have to endure so much suffering.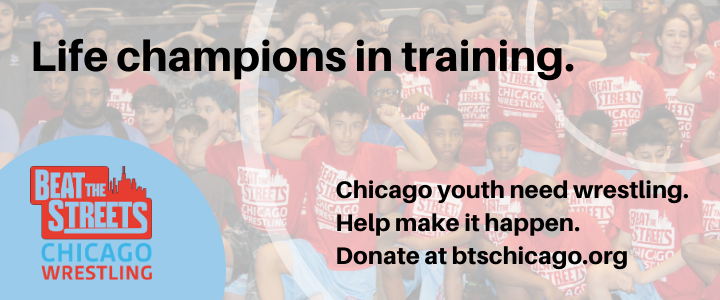 Currently, his spirits are elevated past the norm. Last week, four-time World Teamer Coleman, along with members of Army's World Class Athletes Program, finally received clearance to bolt from Fort Carson in favor of Boise, Idaho to train under the guidance of Suples founder and former Northern Michigan head coach Ivan Ivanov. Army hadn't gone anywhere since last March. While most of the nation's Senior performers were putting plans in place to attend camps or compete (including some overseas), Army/WCAP wrestlers were forced to remain stationary. Up until two weeks ago, they were still piecing together workouts and doing their best to function at optimal capacity.
Morale at Fort Carson has not fluctuated drastically during this interim, or not as much as it has elsewhere around the country. Still, they all needed to get out of dodge for a minute. That they were able to do so and visit Ivanov has served to inject some real momentum. Momentum several, including Coleman, will hope to carry with them into Rome early next month — but not for the sake of that tournament. Everyone knows what the priority is. All the Matteo Pellicone Memorial represents is a testing ground. And while Coleman has been shelved the longest, that entire crew needs matches, as well.
So, you can't blame him for smiling. Following a longer-than-expected hiatus filled with more question marks than the Riddler's bedroom closet, Coleman is, at last, mobilized. He did not require a trek to Boise or a plane ticket to Italy to see a silver lining, though all of it does make for a brighter picture. He is pleased to have this opportunity is absorbing as much of it as he possibly can. Such an attitude has played a large role in his career success.
It is why he constantly finds himself in a good place.
Ellis Coleman — 67 kg, Army/WCAP
5PM: How has life in the Coleman household been since Baby #3 arrived?
Ellis Coleman: Good, really good. This was a big one for me, and not that is a slight on my girls because I love all my kids the same. But just being an male, it is a big thing in terms of continuing your legacy, your last name. Plus, it was the way we went about it compared to my wife's previous pregnancies. We waited until the end to find out the gender. We didn't find out through the ultrasound or anything like that. We waited until the very end and a little boy came out.
It has been crazy. Obviously, my daughters are excited because they have a brother, and everyone is always excited when a new baby arrives.
5PM: I think the wrestling community and the audience at large would want to know, and it's a fair question: will there be more?
EC: (Laughs) I don't think so. I think that's it, he's the last one. I don't know. I mean, right now, for sure, my wife doesn't want another one and I don't want anymore. But then again, who knows how we'll feel when we're older and wrestling is out of the picture? But for right now, it's a for-sure no.
5PM: How was the process for you once you were able to really start actually training again, say eight or nine months ago? Were you able to hit a groove when everything began to resume?
EC: Initially, when we first started back up. It had been kind of a bumpy road because we're military and nothing was set in stone. There were a lot of discrepancies with training just figuring out where we could train, and how often. It was hard to catch a groove as far as wrestling training. But mentally, I felt good. I had been off the mat for quite a while. Even among the entire Senior level, I think I was off the mat the longest. The last time I've wrestled was at the 2019 CISM World Championships, and that was October. I had surgery after that. I had torn my triceps in Nur-Sultan.
Coming back, it was just about training and mentally preparing myself to be able to get into the mix again; to be able to think about my goals again and what I'm trying to look forward to and improve on, as well as what the next thing might be for me with regards to competition. The mindset, the rehab… It was about finding a foundation again because I had been off the mat for so long.
5PM: There were a few conversations, a couple of near-misses somewhat recently, when it came to potential tournaments. But there was no approval to travel, and as soon as those conversations began, they seemed to end. Now we know that you're going to Rome. Have you felt like you need to get a competition in before the Olympic Trials? Was there anything frustrating about having to wait this long?
Ellis Coleman: No. For me, I hadn't wrestled anyone in quite a while. It has been a long time. But I always try to remain optimistic, no matter what my situation is. The only thing I've said is that whatever the competition might be, I would prefer it be overseas or somewhere else instead of the US because I don't want anyone to have a chance to feel me out. It was the same thing from where I left off. For me, I needed more foreign looks and international competition because of all of the matches I've had in the US, and the success I have had here. It's not to throw shade on anyone else but, for me, the biggest thing is international competition. Period. That is what makes or breaks me for my career.
All of my losses come at the World Championships or internationally. A lot of people have been going to all of these (overseas) camps and competitions, meanwhile I've just been going to the Pan-Ams and Worlds, Pan-Ams and Worlds. I seldom get that international competition. Even my last international tournament, other than the Worlds or Pan-Ams, was Denmark (Thor Masters) in 2017.
5PM: Well, in '16 you had the Hungarian Grand Prix, so that is two overseas events over the past five years. That's it. 
EC: Exactly, and look at the Hungarian Grand Prix that you just brought up. I lost to Poland (Dawid Karecinski) in the quarters, and before that match I had wrestled another from Poland, (Mateusz) Bernatek, who the very next year took second at Worlds — and I beat him. Seeing guys like that early, feeling them out, and to know what they do as much as I know the guys from the US… And, those guys compete against each other all the time. They see each other a lot, so they know one another well. How these foreigners feel about each other is how we feel about each other in the US. And not to throw shade again, because they're heads and shoulders above us technique-wise and as far as experience.
But that's why it has always been about international competition for me. You have Tracy (G'Angelo Hancock), who is one of our best international wrestlers, and he goes everywhere. He spends a lot of time traveling, a lot of time at camps, and just a lot of time overseas. I think that is the biggest thing for me, getting to all of those camps and getting all of those looks.
As far as the US goes, I am not trying to look past anyone. I'm not overlooking anyone or taking anyone for granted. But — all of my losses are coming at the World Championships and things like that. I think that has always been a big thing for me. At the same time, I also think it would be a good step for me to have some matches against US guys, too, considering that I have been off the mat for so long. But, who knows? That's just my mindset right now.
5PM: Now you know the dates for the Olympic Trials. When it comes to Rome, how does that fit into your own ideas about periodization and everything else?
EC: That's actually another battle in itself. I think it's a good fresh start to gauge myself. It's competition, you know? So, regardless, you have to prepare for competition and then battle. That's the same thing I'm going to have to do at the Olympic Trials. I don't really know how I feel about that. I'm excited to compete. That's about it. I mean, the biggest thing is the Olympic Trials right now, no matter what happens in Rome. I could tech my way through Rome and I'm still going to have wrestle the Olympic Trials the very next month. The excitement to be able to compete again is there, but the Olympic Trials is the main focus.
5PM: Compared to your usual day-to-day training in Colorado, how has Boise camp thus far challenged you with its different dynamics?
EC: Boise has been very challenging. Ivan finds ways to implement wrestling into every single workout. It's not like since we are wrestlers that we'll do this exercise or that because it is close to a wrestling move. It is more that there is a certain type of athleticism you need, or a certain type of feel you need, to be successful. Every single thing that he does — all of the workouts, the exercises, the stretching — is implemented in a specific way.
For example, there are people who are naturally-gifted athletes, and sometimes that depends on where you are from or where you grew up. My brother and I play basketball and we're naturally good at it because we played all the time. We grew up in Chicago where a lot of people play basketball. But you have to have natural athleticism and natural ability to be able to play with just anyone and be good enough to remain competitive. It is like that for wrestlers with other sports sometimes. They might look at another sport and be like, What the heck is that? But you put them on a mat and they kick butt.
There is something about the way Ivan teaches that gives you that natural athleticism and ability that pertains to strictly wrestling. So if you grow up training with Ivan and doing all of that stuff, you're going to have all of the fundamentals and basics down very quickly. There are just so many things he does that naturally build those characteristics. And it doesn't just improve technique, it improves everything about wrestling ability for you.
There is so much stuff that he puts us through and it is so natural in the way that he teaches it; and because it is so natural to him, it becomes even more natural to us. When you can see why, you understand more about wrestling overall after doing all of these exercises with him. At the same time, they kick your butt. You get tired. And, all of these positions are wrestling positions that you want to be in that will help you technically or help you as far as scoring these extra points. They help you get more out of what you're trying to do, whether it is training or competing. It's hard to grasp because it is so good, so perfect, and so well-rounded that everyone should be doing it. Men's freestyle, women's freestyle, Greco — everyone should be doing his system because it's amazing.
5PM: You have trained with Ivan before at various points. It seems like he surprises you with different variations of exercises and drills. Is he always breaking out new stuff every time you see him?
EC: Always. He is always breaking out new ways to train. He is very innovative. He is always introducing these different methods to do everything. There is nothing stale, nothing plain. That's the good thing about him. There is always something that he adds. It could be a similar position, technique, move, or exercise, and he adds something new. He is always improving on something. He is still kind of like an athlete in his own mindset and perspective of coaching and wrestling. He is always competing with himself to find a better way or to find different methods to improve the stuff that he is doing.
I love training with him. I wasn't as blessed as a lot of others who had him as a coach, like Spenser (Mango), (Andy) Bisek, and all of those guys at Northern Michigan. He was only at Northern for a couple of months when I was there and then he left. I only had the opportunity to train with him for a short time. So, I knew a little bit about him but not a whole lot. Not like most athletes who were coached by him and became successful Greco wrestlers. Every time I get the chance, I pick his brain and try to get the most out of it.
5PM: This is a little bit of an odd situation in that Army finally gets approved to travel, but it's not to an overseas tournament just yet. Instead, it's a trip to train along with all of your teammates, many of whom you hang out with outside the room, anyway. That said, it has been quite a very long while since you guys have left the area and been able to get a change in scenery. Has that part of it been a breath of fresh air?
Ellis Coleman: I think so, especially because everyone has been wanting a change of scenery and to get out and train somewhere else. It was actually nice to get out, especially because of who we were going to train with.
For me, I've been injured so much. Between that and all of this time off because of COVID? I mean, who is more familiar with being off the mat than I am? So, I love the change of pace for us, but at the same time, the ball is in my court right now. I'm used to this. I'm used to being stagnant and then having to move forward. I've done it millions of times, so it's like I've never left.


Listen to "5PM43: Christmas Time with Millersville's Kerry Regner" on Spreaker.
SUBSCRIBE TO THE FIVE POINT MOVE PODCAST
iTunes | Stitcher | Spreaker | Google Play Music
Notice
: Trying to get property 'term_id' of non-object in
/home/fivepointwp/webapps/fivepointwp/wp-content/themes/flex-mag/functions.php
on line
999