The Army World Class Athletes Program will have six Greco-Roman wrestlers competing for World Team spots at the Final X Series next month, more than any other team or affiliation in the country.
Prior to the just-wrapped World Team Trials Challenge Tournament this past weekend, Army already had four athletes locked in — Max Nowry (55 kg), Mike Fuenffinger (60 kg), Ryan Mango (63 kg), and Ellis Coleman (67 kg). After the finals ended on Saturday afternoon, two more from WCAP joined the party: Ildar Hafizov (60 kg) and Lucas Sheridan (97 kg).
For Hafizov, the Worlds is familiar territory. While in his native Uzbekistan, the 31-year-old appeared in three World Championships as well as the 2008 Beijing Olympics. Two years ago, Hafizov earned the 59-kilogram spot on the US squad that competed in Paris. Just as remarkable is his consistency. Since becoming a Team USA athlete entering the 2015-16 Olympic season, Hafizov has made it to the Trials best-of-three finals every year, joining two-time Olympian Ben Provisor (87 kg, NYAC/NLWC).


Although Sheridan is a former two-time Junior World Team member, 2019 represents the first time he is knocking on the door as a Senior. A product of the Community Youth Center in Concord, California run by Coach Mark Halvorson, Sheridan burst onto the scene already owning a high acumen for the sport and he improved quickly, going from not placing at the Olympic Trials to coming in fourth at the World Team Trials a year later. But it was last season when it began to come together. In Sheridan's first performance at 97 kilograms, he dominantly won the Bill Farrell Memorial before finishing the year with a bronze at the US Open and as the runner-up in the '18 Trials Challenge Tournament finals.
For the purpose of recent context pertaining to Saturday's proceedings, Hafizov swept 2018 U23 World Team member Randon Miranda (NYAC) is his finals series, giving up precisely one point between their two matches. Before facing Miranda, he had scored a runway 10-0 tech against Taylor LaMont (Sunkist) in just :47. Against his only two opponents, Hafizov's tournament ended with a 23-1 scoring differential.
As for Sheridan, he and Daniel Miller (Marines) put forth an entertaining series that came down to the third and decisive match. In their first meeting, Sheridan was seemingly on his way to victory when Miller blasted him over for four points just before time expired. In Match 2, four points went Sheridan's way in the first period thanks to an arm throw and he went on to win 5-1. The last bout saw Sheridan use the second-period passive chance to his full advantage. From par terre top, he gutted Miller to net two points and pick up the 4-3 decision, as well as a ticket to the Final X Series.
Both of these interviews were conducted on Saturday shortly after Hafizov and Sheridan had won their respective finals series.
Ildar Hafizov — 60 kg, Army/WCAP
5PM: Last year, you had dealt with an injured neck. In 2019, you have looked a lot healthier, a lot fresher. Ever since Schultz it is almost like you're much more confident because you're actually healthy. 
Ildar Hafizov: More confident. Last year I did hurt my neck, I had bulging discs. Right now it's good, I got a shot and it's working perfectly. Now I can practice and do everything I want to. So yeah, I do, I feel fresher right now. I feel a lot better. I'm ready to compete at the Worlds, to be honest. We need to qualify.
5PM: You had Miranda in the Open semis, so you knew he's creative and can be more of a counter-wrestler who capitalizes off of other guys' attempts. What was your approach going into a series with him where you know you're going to have to win two matches and not just one?
Hafizov: I was preparing for that. I didn't rush, I didn't do anything crazy or push him back to get scored on, you know? I think I kept it calm, or calmer, than I usually do. Usually I try to run over people and just score all the time. Here, it was more just, Calm down and score on whatever I can see. It's a lot easier.
5PM: I think a lot of people, myself included, were expecting a tough match between you and Taylor LaMont in the semis given how when you two wrestled a couple years ago it was pretty tight.
Hafizov: If you watch that match it wasn't tight. The referees made it tight. The referees always make my matches tight. That's one thing I don't like. Maybe people don't like me? Maybe referees don't like me? I don't know, I'm trying to do my best and raise the same flag. I'm trying to compete just like everybody else. I want it, you know? I want a medal. I want a medal for the country.
5PM: We've talked about this before, you come from a European style. Do you think that sometimes the officials struggle with that? Like when you first came over and they were saying 'legs'?
Hafizov: They are always saying "legs", but if you ask every foreign referee, there are no legs at all. Even my matches with Miranda, I didn't use my legs. If you watch, I step behind him but I pop. That's the main thing. If you watch the US referees and the referees overseas, it is two different things. I am not saying the US referees are bad. No, they are doing their best. But sometimes I feel pressure from the referees.
5PM: Do you feel like you need to adjust your style?
Hafizov: Well it's like Coach (Dremiel) Byers says, you have to beat four people on a mat — three referees and the guy you're wrestling. So I think about it all the time, I'm going to compete against four, not one. And I have to build some new tactic, create something new, do something else to beat the guy. It's like, I want to do something and then the referees screw me up all the time. Even the final match at the Nationals. They always create something and then I end up losing. It shouldn't be like that (laughs). It shouldn't be.
5PM: Obviously, next is the Final X Series where you will compete against Mike (Fuenffinger) again. You're in the same room.
Hafizov: Yeah.
5PM: I keep being told nothing changes just because it's you two again. 
Ildar Hafizov: I don't think anything will change with my practices. I will always do what I have been doing. I am going to try to do my best. If I see something, I will do it. If I see a score, I will score.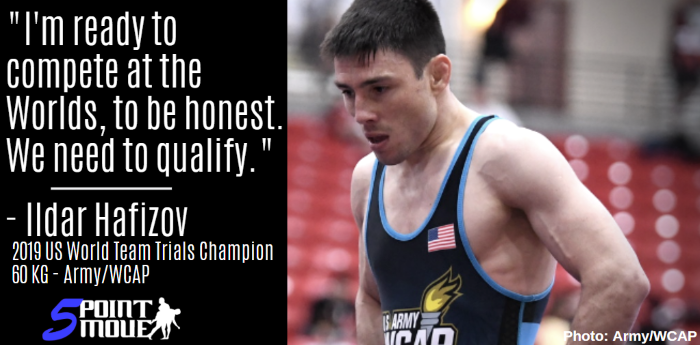 Lucas Sheridan — 97 kg, Army/WCAP
5PM: Match 1 was well within your grasp. You were in control for the entire time and then with literally :02 left, he gets a four and that's it. What was your mentality knowing you had that first one sealed up before it slipped away?
Lucas Sheridan: You know, the frustration is there and there's no doubt about that. But I went up to the stands and our team is made up of such an interesting group of people. You have Ildar, who is one of the most amazing fathers I've ever seen in my life. And he looks at me with the dad eyes and says, Wrestle through the whistle, wrestle through the whistle. Then I look at JD Souza and he smiles at me. That man has been through everything with me, so when he smiled at me I knew for a fact that I was going to be okay. He and I are bash brothers till the day we die. When I knew he had his faith in me, I knew that I'm good.
It's not just me out there. It's me and Souza; it's me, Souza, Jacob (Mitchell) and Toby (Erickson); it's me, Souza, Jacob, Toby, (Dremiel) Byers, Bruce (Robinson), and Spenser (Mango). I have my whole team behind me at all times. I was a little nervous. I can't lie about that. But when I have my whole team there, I'm good.
5PM: Match 2 there was an arm throw..
Sheridan: I know, where the hell did that come from?
5PM: I was going to say, wow, we haven't seen that from you.
Sheridan: I know, I'm hitting arm throws now, what am I doing with my life? But hey, I have to give Max Nowry this one, he was working with me last year on it and everyone knows it's like a JD Souza arm throw. I've got great guys with arm throws in the room. Ildar has a beautiful one, too, and they've been teaching me and teaching me and teaching me. And I've been stubborn and stubborn and stubborn, and not trying it. I talked to my dad at the Open, and he was a little worried. I tried it in the Miller match at the Open and he was like, Hey, you know, we've got to be careful with that. And then my brother says, No — we need that. We need something else. 
I am probably the best one-trick pony you're going to find in this world, and I am very honest about it. You add something else to my arsenal and that adds a whole new level for me. It's something we've been working on and I'm basically just saying Screw it right now. I am putting everything I have into every single match. I guess an arm throw was one of those things this time.
5PM: Considering that was the difference in the match, were you understanding of how he could assert himself in the second period and that you would have to meet his intensity for that lead to hold?
Sheridan: In complete honesty, if you were to have asked me that question last year my answer would have been Yes. This year, when Spenser, Bruce, and myself have talked, I'm not thinking about what other people do anymore. It's about what I need to do. Okay, I have a lead. We know he could bodylock me if I'm being an idiot. Alright, shut it down on that, control the arm when I have an underhook. I'm not too much worried anymore about what they're doing, I am worried about what I need to do.
Coach (Shon) Lewis was sitting there, Go get your win, go get your success. And that's what I went out there and did.
5PM: Going into Match 3 I've got to think your confidence is really high. Match 1 had barely slipped away, Match 2 you were in control. Match 3, even though it's winner take all, you seemed to have a pretty assured approach even down in the second period.
Sheridan: Spenser had looked at me and said, "The sun is going to rise tomorrow." And I think that's what really got me. I mean, it's a wrestling match. I've had a lot of things in my life this year that have changed. They have really changed my perspective when it comes to matches. To be honest, if I had lost that match I'd be okay right now, if only because the sun is going to rise tomorrow. At the end of the day, my girlfriend is there for me; at the end of the day, tomorrow night I am going to have dinner at my girlfriend's house; at the end of the day I am going to call my parents and they're going to love me. Like I said, my perspective on all this has changed, so when you ask me these questions I can hear my answers from last year — and I can feel the difference in my answers this year.
5PM: It must be nice to get this first step to the World Team out of the way, no?
Lucas Sheridan: It definitely does. Look, Tracy (G'Angelo Hancock) is a fucking stud. I mean, let's be honest about it. I've got a long ways towards catching up but this is a step in that direction. This is a step for USA Wrestling as a whole. If Tracy was the only good 97 (kilos) in the United States — and he's overseas training and getting better — we need to push him here, too. He needs to push us here, too. We need whoever is going to represent us to get a medal and this is me taking a step towards closing that gap to get to him. The dream of course is to beat him, the dream is to go to the Olympics and get my medal. Today was a step in the right direction. There is still a marathon to go, but a step a day will do.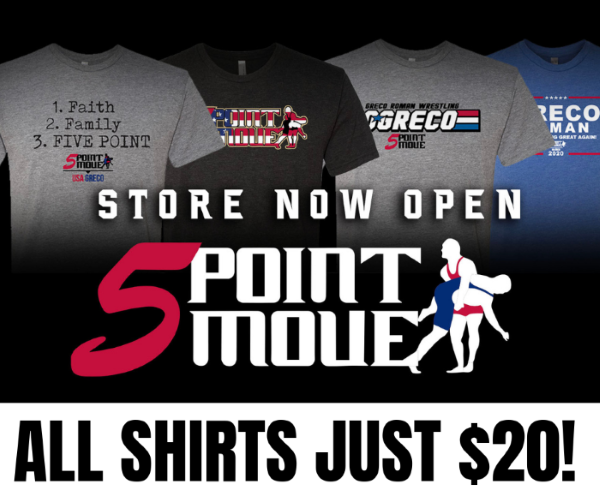 Listen to "5PM23: World Team Trials Challenge Tournament Preview" on Spreaker.
SUBSCRIBE TO THE FIVE POINT MOVE PODCAST
iTunes | Stitcher | Spreaker | Google Play Music | RSS
Notice
: Trying to get property 'term_id' of non-object in
/home/fivepointwp/webapps/fivepointwp/wp-content/themes/flex-mag/functions.php
on line
999