There is a fine line that Ildar Hafizov (60 kg, Army/WCAP) walks better than most. He is the rare sort who can, with steely confidence, intimate his own abilities while still managing to give credit to vanquished opposition. It's his natural state. Hafizov is an honest portrayal of dignity, which is to say that he is prideful and purposeful without feeling the need to flex on any ego games.
These days you might figure he'd be okay with a longer pause in the spotlight. Last month, the 32-year-old notched his most important achievement as an American wrestler thus far. At the Pan-Am Olympic Qualifier in Ottawa, Hafizov advanced to the final round. In doing so, he guaranteed the US an entrant at 60 kilograms for next year's Tokyo Summer Olympics. The qualifying process for the Olympics — as most readers surely know by now — came first on Team USA's list of objectives this season. All of the travel dates, training camps, and individual preparation plans dating back to last summer revolved almost exclusively around this directive.


In Ottawa, the US secured four of six weight classes, though the performances of Hafizov and Joe Rau (87 kg, TMWC/Chicago RTC, world #7) stood out the most — and for similar reasons. Both athletes had attempted to qualify their respective weights back in '16 to no avail, resulting in a decent amount of mental baggage that seemed to linger throughout this current quad; and both had to get past tough opponents in their very first bouts two-plus weeks ago just to stay in the argument.
For Hafizov, that person was '16 Olympian Andres Montano Arroyo (ECU), a two-time Pan-Am Games champ and perhaps the bracket's de-facto favorite if bookkeeping is your thing. An incredibly clutch counter-throw late in that match (along with an equally-clutch challenge call on the part of the US) provided the clear-cut victory. After that, Hafizov ran over a name from his past, Brazil's Murat Garipov before dishing out a lopsided decision at the expense of Samuel Gurria Vigueras (MEX).
A little distance has now been created since Hafizov's effort on March 13. Day-to-day life has taken on an uneasy air all of the sudden, and wrestlers all over the world are stuck in a holding pattern until further notice. One thing Hafizov has had recently is a little more time to spend on various projects in and around his house in Colorado — and to reflect on a series of matches that, no matter what else he manages to accomplish going forward, add another layer of sparkle to an already-standout career.
Ildar Hafizov — 60 kg, Army/WCAP
5PM: You said immediately after winning the Trials Challenge Tournament and before Final X that "we must qualify". Did that, along with having come up short in '16 as well as how important qualifying was to you, anyway, make you put added pressure on yourself in Ottawa?
Ildar Hafizov: Not pressure. I didn't even think about what was going to happen next. Now when I am competing, I am competing at that level. I started thinking, Whatever happens on the mat, it will stay on the mat. I can't take it to my wife, I can't keep thinking about the same thing over and over. It's bad. It's not good for my results, to keep thinking about results.
I was talking to Spenser (Mango) and he said, "Hey — relax and just wrestle like you wrestled in China (at the CISM Games)." After Kazakhstan, I was regretting a lot of things. I didn't throw when I was supposed to throw. There were a couple of times during the match with the Ukrainian guy (Lenur Temirov) where I could have thrown, but I kept thinking Now's not a good time. I was afraid to throw, you know?
But after I didn't throw and I didn't score, and I lost the match, I was sitting in my room thinking about how I didn't even try. That was the thing that bothered me most. It was killing me. I was like, Damn, I should have tried. I told Spenser and he said, "Next time you wrestle, if you don't want to regret it then at least try. Then if it doesn't happen, you won't have any regret, because you tried and did everything you could." I was like, Okay, now I'm going to wrestle this way. I'll try; and if it works, it works. If not, then it doesn't. 
In China, I wrestled a couple of matches the way I wanted. My throws were working, I was scoring, and my total wrestling was working. I wrestled how I wanted to. This mental thing I brought with me to Ottawa. I wrestled the way I wanted to and I think it helped me the most.
5PM: The way it sounds is that you got over a big mental obstacle after Kazakhstan. Was this mental hurdle something that affected you the last couple of years?
IH: I think so. In 2016 I wrestled at the (Pan-Am) Qualifier in Texas. It was my first really big tournament, a continental tournament, where I was representing the USA. It was too much pressure on me. No one put that pressure on me, I put it there myself. I was like, I have to qualify. I kept thinking about it. After I lost and got off the mat, my coach said, "I'm not even mad at you. You just need to wrestle your style. You don't need to think about what's going to happen next. No one is going to curse you. If you win or lose, it doesn't matter." Now I am kind of understanding. I'm living here six years now and I'm understanding how things work.
5PM: That was something I've brought up to Spenser and even asked Coach (Matt) Lindland about, which is that you and Rau tried to qualify in '16, and part of me always wondered if the fact you didn't qualify in '16 was something you carried around with you mentally ever since. It seemed like such a big deal to you that I've wondered if under the surface that affected your mentality. 
IH: It really hurt me for a couple of years. Yes, it did. But, the weight was qualified anyway in the tournament after. Jesse (Thielke) qualified the weight, so there was less pressure. The weight got qualified — not because of me, but somebody qualified. That was helpful for me because he did his job and qualified. But when I lost in '16, that motivated me to wrestle better and smarter.
5PM: Ottawa, the big match was obviously the first match. You can say the semifinal was the bigger match, but Montano was the match. Spenser said you guys wanted him early, and you got him early. I know you didn't see the draws the night before, but when you saw you had him first-round, were you even surprised?
Ildar Hafizov: I wasn't surprised surprised, but I didn't check who I would wrestle on Thursday. I went to bed, got some sleep, and woke up in the morning to go to the weigh-in. When I came out and started eating my food, I saw Spenser. Everyone had left. So I asked him, Who do I have first-round? And he said, "Montano." I was like, Okay… (laughs). I asked, What do you think about it? He said, "Well, you have him." I said okay. Then I asked him if I was top or bottom (in the bracket) and he told me bottom. Then I found out it was the qualification round with Montano. I guess this is how it's supposed to be.
It was a good thing I got him in the first-round. But the whole tournament he was not looking good. His next matches with the Brazilian (Garipov) and Mexico (Vigueras), he wasn't looking too good. Maybe he was upset after he lost, but I was watching him the whole tournament. He always wrestles one head above everybody else. I don't know. I think I got lucky, maybe. Maybe I got lucky (laughs).
5PM: No, it wasn't luck, you took the steam out of him. There were two very big sequences during that match. The first was early in the second period when you reversed and pushed him out. The turning point of the match was that high-dive attempt he made where you caught him and elevated. At first glance, it looked like it should have been two for you, but they have him the point. Thankfully, the challenge came in and you got one point. You should have gotten two I felt. 
IH: Everyone told me I should have gotten two, not one.
5PM: When he came in on that high-dive, it was a good attempt.
IH: It was good, yeah.
5PM: But you caught him right away. One motion, and you threw and elevated him right off the mat. Did you know him well enough to know he has a high-dive?
IH: No. No, it was a natural reaction. I didn't expect him to high-dive like that because he tried to high-dive before that, and I escaped the first one. On the second one, I didn't expect him to come right away. And he got deeper. So then I thought, Okay, now I've got to try to do something. Then I popped. And usually things work like that. When you think you're going to do it, you're going to do it. It's working. At least for me.
It was the same thing when I wrestled the Ukrainian guy. I felt two or three times during the match that I could throw him. And he kept coming and coming, and I kept thinking, I'll let him go away right now, but I'll do it the next time. The next time he did it again, I was like, It's too late. I was thinking during the match, which is not good. I should execute. But I kept thinking. And the third time didn't happen. I was thinking, Now when he comes in, I'll throw right away. And that didn't happen for three minutes. I was regretting that. All day and all night, I kept thinking about it. I kept telling Spenser how I should throw. He said, "Well, next time you will throw." He also said, "I don't want to see you regretting all of your matches because you didn't try."
In that moment (against Montano), I was like, I'm going to throw. And it worked. It helped me a lot.
5PM: When they came back and originally scored it for him and the challenge was called, did you feel confident it would come back in your favor? 
Ildar Hafizov: I wasn't confident on that one because Spenser told me to expect a bad call. He said there would be a bad call and for me to just keep wrestling my style, and that I will win the match. When we threw the block, I was thinking, Okay, if I'm not getting the point and he gets my point — which with the challenge lost would be two points — then I need to do something no matter what.
5PM: Did you feel him fading?
IH: He tried for like a minute or :40 wrestling very hard. The score was 4-3 and he started coming hard, hard, but I was confident in myself that no one could throw me. I was like, Even if he comes at me with a bodylock, then I will just throw him again. You have the advantage when you're winning because you can see what's coming. If you're like, defending-defending, then you can't see it. But if you're attacking-defending, you can see what's coming. You can expect it, because if he keeps coming, you can do something else. Even at the end I felt him and I was like, I could score. But I don't want to go for a bodylock and stuff just because I'm winning, and I don't need a risk right now. That's why Spenser was telling me, Don't risk it if you don't need it.
5PM: This is no disrespect to Garipov or Vigueras, but after this match was over, did you feel like the toughest guy was out of the way?
IH: Kind of. Because Montano is great all the time. He's a great wrestler. I don't remember him losing a match at the Pan-Am Championships. He's great. I never saw the Mexican guy because at the Pan-Am Games I wrestled a completely different person, so I didn't see him. I was watching him wrestle matches at the OTC (US Olympic & Paralympic Training Center). They were both wrestling with Montano. He was throwing Montano and Montano was playing with him, you know?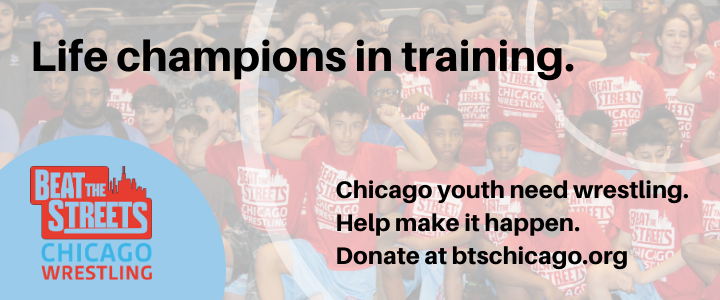 5PM: Garipov came out very hard. You gutted him out quick, but did that catch you by surprise?
IH: I think when you compete for a spot at the Olympic Games, they have to come out hard, it doesn't matter how they prepared. If you don't have anything, why you wrestling? I expected that every match. Even if the guy is not good, he still has something. He is still coming and this is their last chance to do something. If you're not prepared to face them hard every match, shit can happen (laughs). They can do some crazy stuff. Or even injuries, you know?
Garipov, I was watching him the week before at the Pan-Am Championships. He lost to the Colombian (Dicther Toro Castaneda) 9-0, all of the scoring from par terre. Then I saw he lost to the Guatemalan guy (Felipe Emerson Isaias) and they were both tired. So I was like, Okay, even if they put me down against him in the first period, it will be 1-0; and the second period he will get tired and I will get my attacks. The thing is, they put him down first and it ended up in par terre.
5PM: You said at the outset this wasn't so much about pressure anymore, but did you have more nerves prior to Mexico just because that was the match to qualify?
IH: I wouldn't say that. Because, I was warming up before the semifinal and I was thinking, I just beat the best guy in the Pan-American continent at 60 and 63 (kilos). Montano wrestled both 60 and 63, in both weights he was the champ. And I had just beaten him in the first round. And I beat Garipov and now I'm wrestling the Mexican.
I was like, I don't want to feel embarrassed losing to the Mexican right now (laughs). For me, it was not a final but it was a very important match. and I was like, Okay, I've got to do something. In that match, if you watch it, I did everything, but they still kept giving him scores. It pissed me off.
5PM: They gave him two for that one thing. 
IH: They gave him two for no reason and then I throw him three times and they didn't give me nothing.
5PM: Was there a palpable level of relief once the match was over and you had qualified the weight?
IH: Yeah. I don't know, it was a different feeling. All my heart, all my insides, were filled with happiness. I was so proud to qualify the US itself. I'm here for six years and now I have represented my country on a big level. I did something for country, not only for myself. The qualifications don't go by name, it goes by country. And now when they say the USA has that many qualifications for the Olympic Games, one of them is mine. I did it, I did it for the country. I'm very proud of it, proud to do something for the country.
5PM: I asked Spenser last week where he thought you ranked the Pan Am Qualifier among your US accomplishments. Spenser said it might be your bronze from the CISM World Games.  Was this, the Pan Am Qualifier, your biggest tournament as a US athlete? 
IH: I think so, yeah. The CISM Games was for the country, but for the military side, you know? This one was for the rest of the country, not just the military side. CISM was only for military. So yeah, right now, this is the biggest.
5PM: You know that you have your spot in the Olympic Trial finals locked down, you know that already. When things hopefully and eventually eventually get back to some semblance of normalcy, if there is any kind of normal season leading up to the Trials are you going to basically just tailor your training plan specifically towards a year from now?
Ildar Hafizov: I need to talk to Spencer about the training plan and the whole thing with the coronavirus and stuff, and when they're going to let us travel. We probably need to travel more to the other countries and wrestle. I know my spot is locked down, but I need some international matches before next year. I mean, like last year, I was wrestling almost a month apart, almost every month, I just kept wrestling, wrestling, wrestling with more international matches. But this year, I competed in Italy, Armed Forces, and Ottawa. That was it.


Listen to "5PM35: Pan Am Qualifier Recap" on Spreaker.
SUBSCRIBE TO THE FIVE POINT MOVE PODCAST
iTunes | Stitcher | Spreaker | Google Play Music