It has been two years since the United States last participated in a Military World tournament but that will change next month when a delegation of American athletes touches down in Wuhan City, China.
The 2019 Military World Games runs from October 20-24, and it is on the final day of the event when Toby Erickson (130 kg, Army/WCAP) will step on the mat.
Erickson, a Junior World bronze all the way back in 2011 before eventually forging a Senior career that has included a US Open title ('16) as well as numerous National Team appearances, is feeling pretty good about things these days. For starters, he seems revitalized and is, for the most part, injury free (or as "injury free" as it gets given his occupation). He has been able to train without any encumbrances for the first time in a few years, which naturally puts a smile on his face.
The 28-year-old is also riding positive vibes because in just over a month, he and his fiancée Jess are getting married. There will not be an immediate honeymoon, of course. That is going to have to wait a little while. For after Erickson finishes up at the Military World Games — and just a week after he says his vows — he is expecting to participate in the Bill Farrell Memorial/NYAC International in New York. Just about a month later will be the US Nationals/Olympic Trials Qualifier in Vegas.


But it all kicks off with this event. The Military Worlds (Championships or Games, as it were) is a serious, top-level tournament featuring many of the best athletes in the sport. Erickson is convinced he is among them and thrilled with this latest chance to prove it. There is nothing like cracking open the fall by slugging it out with a crew of elite heavies from every corner of the globe, and it is even better when the opportunity arises with the dawn of an Olympic Year.
Erickson wants to gain a sense of where he's at during what just might be the most important stretch of his career thus far. As a dangerous competitor with the resume to match, the big man presents an even more imposing proposition now that he is functioning at optimal capacity.
Toby Erickson — 130 kg, Army/WCAP
5PM: You had ligament tears in your arm from 2018 and some other stuff along the way on and off the last couple of seasons. How are you doing right now in terms of injuries and overall health?
Toby Erickson: My health is good right now. Going into this year is the best I've felt in a long time, actually. I am feeling better, I'm starting to move better. The trainers and I, we have focused on making sure that I'm getting stronger while rehabbing all of the little injuries to prevent them from turning into big injuries. It is turning into a better process this year. I am already feeling a lot better.
5PM: It was a solid run of events last season for you between Schultz, Armed Forces, and everything in the springtime. But that's the thing, you have not competed since May. You have trained through the summer, but with what will be a five-month break from tournaments, has that allowed you to remain fresher?
Erickson: Yeah, it has been a good break. It is good to take some time and address some issues that have been going on with your body, and that is what I tried to focus on during this summer. If I had nicks and boo-boo's here and there, then just making sure I'm doing the right things — so that when this season comes around — I'm healthy, ready to rock, and we don't run into the issues where I enter a tournament banged up. Not everyone is going to be 100% at a tournament, but you can do your best to make sure you're damn close. And that's what I'm trying to do right now.
5PM: The season didn't obviously end how you wanted it to, so does it feel good that your first tournament back happens to be a very, very, very big one?
Erickson: Yeah, it feels good that the first tournament is a very, very, very big one, but the last tournament didn't end the way I wanted it to and that's the past. I mean, once that tournament was over, you could do one of two things: sit around and think about it, or get over it and start focusing on the next thing. And that's what I did. I said, This season is over, get ready for the next one. Let's go. 
5PM: Military World tournaments don't get the same publicity as their Senior counterparts, but the competition level — especially at heavyweight — is certainly World class. You know who these guys are, whether (Heiki) Nabi is there, Lithuania (Mantas Knystautas), and whomever else. Will you use what happens here as a baseline or benchmark for the Olympic Year?
Erickson: Yes, I will use it as a both a benchmark and baseline just to see where I'm at and where I can go. Because, this tournament will boast some of the biggest names in heavyweight wrestling. Not just at heavyweight, in every weight class some of the best guys in the world will be there. I mean, I have been training throughout the summer just like these guys were. The only difference is that I didn't go to Worlds and some of these guys did. That might make it so that I am more fresh out of training than these guys are. Otherwise, I just have to use it to see where I'm at, where I need to go, and get ready to compete. I am not going to this tournament with the thought of not bringing home any tournament. I am going in believing that I am making the podium.
5PM: You're getting married, and that's going to happen right before competition here picks up. What is the plan after the Military Worlds is over with? There is the NYAC tournament, the December Open, and so on. Are you starting with New York?
Erickson: Absolutely. I believe that I will be competing almost every month, at least once a month leading up to the Olympic Trials. This year, I think I really need that, to get those reps in. Look, I can wrestle matches in the wrestling room all day long. But it is nothing like getting out in front of 50 people or 1,000 people and competing, and those are the reps I need right now.
5PM: It has been a while since you competed in New York, right? When was the last time, '15?
Erickson: November of the 2015-16 season. The next year, I had just come back from OCS (Officer Candidate School) and I had been on the mat maybe a week-and-a-half, so we decided not to send me that year. Then in March of '18, I was injured and getting ready to go into surgery.
5PM: Do you like showing up to the NYAC tournament? 
Erickson: Yes and no (laughs). Yes, because there has always been pretty good competition there, and if nothing else, I am getting reps in for what I want to do. No, because it's usually the first tournament of the season. I don't like making mistakes, and yet, that's the tournament I wind up making the most mistakes. What it does, is it leads me to fix things throughout the season — but I don't like to lose and I've lost several heartbreakers at that tournament.
5PM: Well this year, you could be entering New York with a brand new World medal. 
Toby Erickson: Yeah, and this year I will have a tournament under my belt going into Bill Farrell, so I should be ready to go and nearing really good form by that time because we have to peak in December anyway for the Nationals. So, I should be hitting a good, full stride starting with that tournament.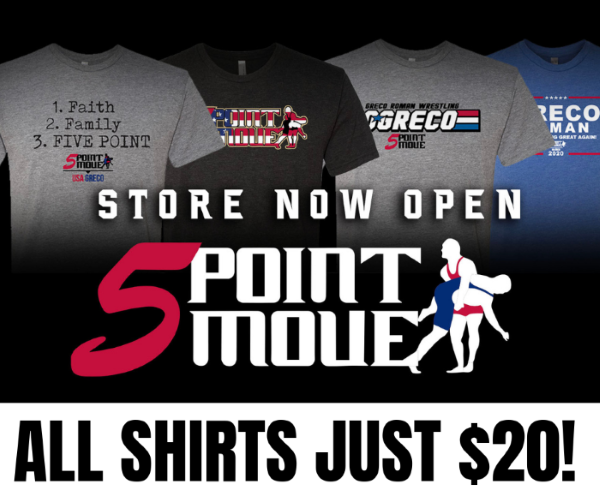 Listen to "5PM28: G'Angelo Hancock, Joe Rau and Max Nowry" on Spreaker.
SUBSCRIBE TO THE FIVE POINT MOVE PODCAST
iTunes | Stitcher | Spreaker | Google Play Music | RSS
Notice
: Trying to get property 'term_id' of non-object in
/home/fivepointwp/webapps/fivepointwp/wp-content/themes/flex-mag/functions.php
on line
999