Alex Sancho (67 kg, Army/WCAP) now finds himself in a different place. He is actually eager to speak with reporters. There have been more media inquiries lately and that's just fine. Sancho, 27, is, for him, uncharacteristically willing to open his life up to outsiders. He was never truculent with inquisitors, anyway; but questions were usually met with short, direct answers that begged for additional details. Sancho would always hold back just a little. As if for some reason, he was not entirely convinced that what he had to say was terribly important.
But he is mindful of the change in dynamics.
Before, he was an elite United States Greco-Roman athlete with loads of potential. Plenty of big wins and medal-winning performances adorn his resume. Also included on that sheet is the word "runner-up" more times than he'd like to count. "Runner-up", certainly for a wrestler of Sancho's caliber, is just a synonym for "crushing disappointment". With only some minor preamble, you could have pressed Sancho to discuss what that all felt like, how he planned to persevere through the heartbreak. You could get him to mumble some words about what he needed to do in order to take the next big step that had appeared so tauntingly elusive.
Today? Oh, today isn't like the other days. Today, Alex Sancho is an Olympian. Go ahead and ask him about that. If you do, he promises not to hold back. Not even a little.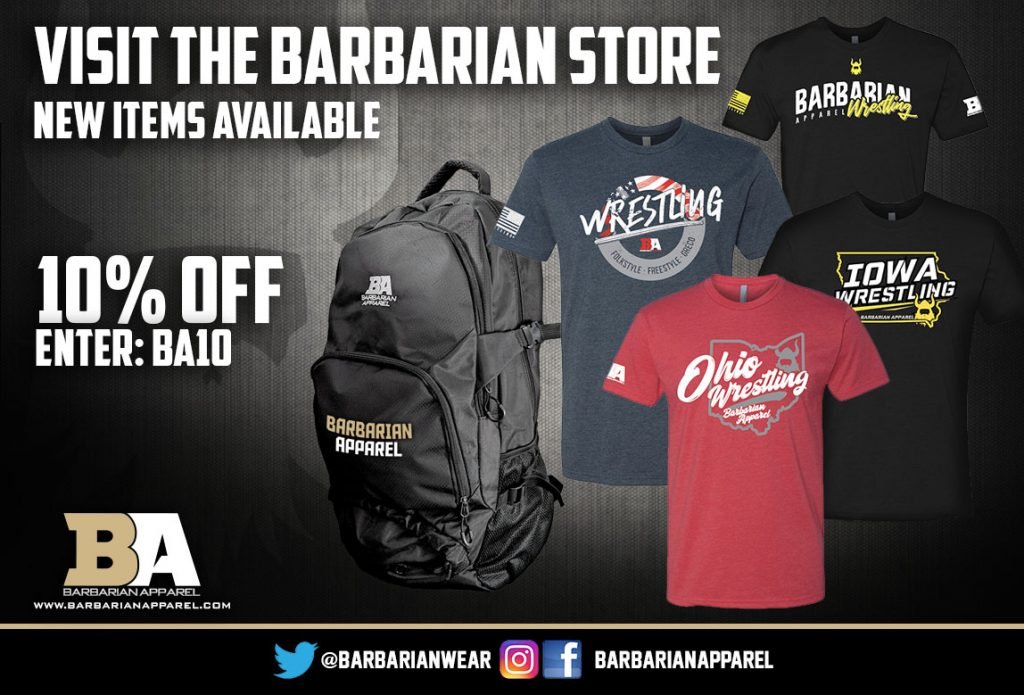 Sancho is approaching the extra attention with what you might deem an appropriate perspective. More people want to put him on the record, and he readily acknowledges the responsibilities which accompany his newfound status. He understands, with crystal clarity, that his confirmed ascension towards the top of his sport brings with it increased curiosity. "I need to get out of my comfort zone," he admitted this week. "I have to represent the United States and WCAP, talk to people and tell my story."
A major part of that story had been chronicled on this platform. Every "smart person" (i.e., fan of Greco-Roman) in Fort Worth, Texas last weekend knew that Sancho — who had earned a bye to the best-of-three Olympic Trials finals after qualifying 67 kilograms for the US in March of 2020 — was likely to face teammate and longtime domestic rival, the great Ellis Coleman. And even though Sancho had logged a handful of victories over Coleman previously, he was unable to string them together with a World Team spot on the line. The defeats tortured him. Every human brain has its own echo chamber. In Sancho's case, the refrain heard was a succession of epithets screamed in frustration, shortly followed by the kind of hard questions no media type would dare ask. Which is why Sancho, even in his introverted manners of speech, is easygoing on the record: what can you possibly ask that he hadn't already asked himself?
His mind is orders-of-magnitude quieter in the aftermath of the events last weekend. Sancho took Match 1 from Coleman thanks in large part to a scoring sequence in the first period; a little while later, he secured his ticket for Tokyo by coming away with a 3-1 decision in Match 2. When the buzzer sounded to conclude the second bout, Sancho unleashed a primal roar. The thunderous yet gleeful catharsis was soon tempered. Tears succumbed to gravity. He wept with joy and humility whilst carrying the American flag, basking in a moment that was for him — and also much bigger than him.
The road from here to Tokyo is a short one. The road leading from Miami, Florida all the way to Tokyo has been a long one. And there is still more work on the table. Sancho compulsively declares that he "will do everything" he can to become an Olympic Champion. He has said it so often over the past six days that believing his words is uncommonly easy. Usually, it is preceded by I'm telling you… Again and again, I'm telling you, I'm going to do everything possible to become the Olympic champ. He has also occasionally added, "I have to, this means too much to me."
Here it is. Sancho is "telling" you. And all of the sudden, he has a whole lot of people listening. He said that he needs to get out of his comfort zone. Weird, you might think, for he is already comfortable with being an Olympian.
5PM Interview with Alex Sancho
5PM: We'll start with March of 2020. Back to back, the Pan-Am Championships and then the Olympic Qualifier. While in Ottawa, did you have any thought or inclination that upon returning home you might hear that everything would be postponed for an entire year?
Alex Sancho: Before the tournament, we had a meeting with the heads of USA Wrestling. COVID just started around that time. It was a pandemic, but no one knew about it. It was on the news and people were closing up borders. They told us, You guys are here for one thing only, to qualify the weights. Don't let the news, TV, or people messaging you influence you. Block it out and do what you came here to do, which was to qualify the weight class. I tried to stay away from social media, TV, people, and just focus on trying to qualify the weight. But right after the competition, everything started closing up and I began realizing the severity of the situation.
5PM: It all happened really fast from the time you got home from Ottawa to the time word trickled down that the Trials and the Olympics were going to be put off for a year. Were you ever worried that these tournaments would be canceled or did you hold out hope that wouldn't be the case?
AS: I was always very hopeful that they wouldn't cancel the Trials, or the Olympics in general. Because, the Olympics is such a big tournament around the world. It unifies people. It signifies the dedication and hard work from athletes who have been training and competing for that one tournament every four years. I was very hopeful. I was praying that they would keep the Olympics. But I also knew that I had to keep my mind ready and remain spiritually-focused on the goal at hand of winning the Olympic Trials.
5PM: When you did find out that the Trials and subsequently the Olympics were both postponed for a year, were you ever concerned that you could lose the momentum that was built up in Ottawa, because that was quite a run in both tournaments combined. Were you like, Oh, I'm coming into this hot?
AS: Not really. I was pretty focused. I keep myself active, work out a lot. The only concern for me was the weight, eating a lot and gaining a lot (laughs). I've never been out of competition that long throughout my entire wrestling career, so it was really a challenge for me to stabilize my weight, eat healthy, and stay in shape during the process.
5PM: The optics of the tournament did not change, you wound up meeting your teammate in the final. Everyone knows what happened to Ellis in the fall of 2019 with tearing his triceps up and then he was off the mat for a while to where he wasn't totally ready for the Pan-Am Qualifier. I know that you and him have a relationship and there is mutual respect, so on and so forth. But giving him a year also meant that with the postponement, he was going to be as healed as he is ever going to get. With Ellis being your chief competitor, did you think, Well, now I'm going to get an even better version of him because of the postponement?
AS: Yeah, there is always going to be a better version of Ellis. He is a great competitor and an overall great friend. Just wrestling with him everyday we improve as Greco-Roman athletes. Just by wrestling each other, we get better. We equal each other out.
I was the one who actually wound up getting injured four months ago. Right before the Trials, four months before the Trials, I ended up tearing my right pectoral tendon lifting weights. So I was in his shoes and had to do intensive rehab for three-and-a-half months. I got on the mat wrestling again right before the Trials. I was in his shoes. I was the one hurt this time. Only one of us could become the champ, and that was me.
5PM: So you jumped the line here, really good interviewing skills. Very candid, very professional on your part. But okay, let's get to that…
AS: (Laughs) No, I'm just saying, he is the one who had been hurt and I wasn't. Then I was the one hurt this time, but everything ended up working out just fine.
5PM: I like to use the "Ten Scale", I think it's easy and that people understand it. So when you tore your pec, and with 10 being the highest and 1 being the lowest, how much doubt was there regarding your ability to perform when the time came?
Alex Sancho: Man, it was heartbreaking when I was benching 215 (lbs) and on the fourth rep I couldn't get it. My tendon just collapsed. It was heartbreaking. I looked at myself in the mirror and I had no mobility at all on my right side. My right nipple was all the way down to my belly button. It was pretty disgusting. I knew that I either had to do intensive rehab without the surgery, or get the surgery and do even more rehab. I had to just suck it up and wrestle at the Trials. I only had two matches. It was, Just wrestle two good matches and I'll be on the Team.
5PM: It must be a really, really big high to qualify the weight, because by doing so you also earned an automatic bye to the best-of-three final. And then seven and a half months later, it's a really steep low to experience a devastating injury. That said, you knew you'd do what was necessary to get back from a physical standpoint. How long did it take you to bounce back mentally and emotionally to where you felt like you were gaining steam again?
AS: Two months after the surgery and as I was doing rehab, I started gaining mobility in that arm again. I knew that I had another good month and then I would be back on the mat. I told the trainers that either way, no matter what, I would be back after three months. From there, it was just building confidence in my par terre defense and my right-side underhooks, and building confidence in my mobility. Once I achieved that, I was ready to go.
5PM: In the middle of all this, you got engaged to be married. You have had your mom, your family, and maybe you talk to them all the time but they aren't in Colorado. Going through this process, having the Trials finals spot locked down to getting injured at a really bad time before the Trials, has it been very important for you to have someone around for comfort and encouragement?
AS: She's the one behind the scenes, man. She is my comfort, she is my joy. I love her so much. She helped me throughout this whole entire process by putting ice on me, massaging that area… She cooked for me through the weight cut and was there for me since Day 1. I am so grateful for her, and she was definitely a big part in my becoming an Olympian. I'm very grateful for her, that's why I'm marrying her.
5PM: Army/WCAP is very close-knit and you have told me that the coaches were 110% behind you once you got injured. But Ellis had long been associated with that program, their most successful athlete among the current generation. Privately, inwardly, did you ever think, 'The coaches might want him to make the Olympic Team over me'? Did you ever think that teammates might have wanted him to make the Team over you?
AS: Not really. The coaching staff, the trainers, they are not bias towards anyone. They are in there trying to make everyone better and push every athlete to their fullest potential. I feel like everyone in the room had that same goal to make the Olympic Team. No one was favored. It was actually the opposite. Everyone was pushing each other. Everyone was getting on each other's asses to make everyone else better.
5PM: That is fair because I don't think Army gets enough credit for that. Everyone knows Army is deep at the lighter weights. Five at 60 kilos in the Trials counting Ildar (Hafizov), three at 67 with you, Ellis, and (Michael) Hooker. I'm not the Army's press secretary but you did hear the guys rally around each other all through the quad to where it basically came off like, When one of us makes the Olympic Team, we all make the Olympic Team. 
Alex Sancho: Yes, yeah, definitely. I'm doing this for my Army family, I am doing this for WCAP. When one of us wins, we all win. We all have a big part in each other's performances in the room. That's why WCAP is the best athletic program in the world. We have the best coaching staff and we have the best athletes pushing us to become better everyday. We have all of the benefits, too. We have a great facility and the best trainers to help us heal and recover. Mentally, physically, I believe it's the best program in the world.
5PM: The military athletes have had to follow their state and local COVID guidelines plus another layer on top of those from the Department of Defense. When talking about traveling and training, the military athletes were…
AS: Hit the hardest, yeah.
5PM: Exactly. By the time you might have even had a shot of competing somewhere before the Trials, you were injured. Were you at all concerned about going into the Trial finals without having competed? 
AS: The only thing I was concerned about was not having competition before the Trials. But I wasn't worried because I knew I only had two matches; plus, I had already wrestled everyone in the US and knew what they did, and had a game plan for that person. But we did have a lot of restrictions. We had to get approval from the chain of command to even get back on the mat. We had to get approval to train, lift weights, and touch the equipment.
It was a long, stressful process, but we got approved two months before the Olympic Trials and started training again. It has been a weird, difficult year.
5PM: Before the Olympic Trials, what was your take on this new school of 67 kilogram guys? You had wrestled Calvin Germinaro in the Open final, you wrestled (Nolan) Baker twice, then there was Benji Peak, Alston Nutter… Did you take these guys individually as serious, serious threats already?
AS: Yes. You see it every cycle, new kids coming up and transitioning. Benji Peak, Alston Nutter, all of these guys from Northern… It's a great program. (Andy) Bisek has control now and I'm sure we're going to see a lot more guys coming out of the woodwork. But yeah, I have trained with and seen these guys wrestle before. It wouldn't have been anything new to me if I saw them in the finals at the Trials.
5PM: When you got to Fort Worth, Texas ahead of the tournament, did anything about your brain change? Did you start getting anxious, butterflies?
AS: You always have butterflies in this sport. In any combative sport, you're going to get nervous. If you don't, you're not human. Mentally and physically, my body and my mind, I knew I just had to get two good matches. I manifested that I was going to win this Trials and nothing was going to stop me. It was an out of body experience wrestling Ellis in the finals because it felt like I was in peak shape. I wasn't physically; I didn't lift weights or anything like that. But I was in peak shape in that my conditioning was there, and I want to thank (Ali) Asgary for helping me out through that process and working out with me. Swimming, running, biking, he was there for me with all of that stuff.
And I also want to thank the athletic trainers Kyle and Major Barber for keeping me healthy throughout the surgery and helping me get back on the mat before Trials. But mentally, I had one goal, one mission, and that was to win those two matches. It wouldn't have mattered who was in those finals, I was going to win.
5PM: You took the first match, obviously that was important for you. Sometimes that first match is make-or-break, and we saw that Saturday night elsewhere. If it goes well, it can be a tone-setter. Did getting Match 1 against Ellis relieve any weight off of your shoulders?
Alex Sancho: (Sighs) To tell you the truth, I've wrestled in the World Team Trials finals before and won the first match. Winning the second match is what took weight off my shoulders. Making that Team took the weight off my shoulders. It has been such a journey, coming up short multiple times by taking second. I'm just glad I got it done. After that first match, I knew I had to keep that momentum going into the second match and stay focused. I had the same mentality, stuck to the game plan, and won the match.
5PM: That turn in the second match won the series. I understand the rules, I understand there was criteria on your side. But without that turn, we don't know what happens. That turn was everything. 
AS: Yeah.
5PM: You had been there before, you had scored on Ellis before, but when you're in the Olympic Trials final, it's all dialed up. And Ellis was in it and defending well so far as I could see, so you really had to effort your lock. Nothing about your motion was taken for granted. You lifted guys at the Tbilisi Grand Prix a whole lot easier than you lifted Ellis. 
AS: There's a story behind that, actually.
5PM: That's what we're here for. 
AS: So the game plan for the first match was that I knew that Ellis was going to go for that right-side underhook really deep and bring the fire out, try to push me and get that passivity. But I knew he was going to be deep on that right-side underhook, so I put all my weight down on it. The game plan was then to hit that arm spin as fast as I could, and get behind for that two (points), and score from par terre or finish the match from par terre. That was the game plan for Match 1.
But when I hit that arm spin, I felt the tendon stretch really bad. I had a dead arm once I cartwheeled over him and I couldn't use that right side. Because, it was pretty much a dead arm. So I held him in par terre for a couple of seconds just to rethink and regroup, and figure out what was going on. But I got that arm spin, that takedown, and that was the match.
When the second match came around, the game plan was to get into the bodylock position with him and score from there. I put my weight down on his underhook once he got that right side, get into the bodylock position and score. I knew that I could do it. I had done it in practice before. Then once I would get to the bodylock, take him down, and end the match from par terre, or score from par terre. He got the caution in the first period, 1-0. We go to our corners, regrouped. In the second, I got the caution, I was the more aggressive wrestler in the second period, and knew what I had to do.
So I lifted him, got the appreciation throw, and scored two. But really, that right side was hurting me bad. I gritted my teeth and made sure I got that call so I would win the match.
5PM: And then after the match was over…
AS: You know I don't cry, Timmy. I don't cry. You could ask my wife. I do not cry. I'm the type of person who balls everything up and holds it in. I don't talk about it, I don't talk about my emotions. I don't discuss my emotions, I don't cry…
5PM: There is a very big difference between bottling sadness and bottling joy. They are not the same, but you have kept describing it as an out of body experience. Even off the record, you've done this already. What is the very first thing you remember after the match?
AS: When time had run out and I knew that I was an Olympian, I screamed at the top of my lungs and just let everything out. I let everything out, man. I just remember looking up into the stands and seeing my family out there crying telling me, You did it! You did it! Multiple times. I looked at them and just let everything out. I started bawling my eyes out.
But it was pure joy. There were periods of four years losing multiple World Teams and I was glad that I got it done. Now it's time to showcase my talents at the Olympics in Tokyo.
5PM: You qualified 67 in March of 2020 and then won the Olympic Trials 13 months later. With that amount of time leading up to all of this, and considering that Tokyo is now just under four months away, do you feel like you wish there was more space before you leave for Japan?
AS: No. I've been ready for the Olympics since last year. I have been ready to win the Trials and ready to compete for a long time now. It has been a waiting game. It actually favored me by being in the finals and waiting this whole entire time allowed me to get my mind right. This period has been the first time that I ever spoke to God, meditated, and became very spiritual. I made sure my mind was right before the Trials.
But I'm ready. I'm ready to go. I have the best support team. I have God looking down upon me. I know He's with me, and I'm ready to go.
5PM: What has it been like sharing this with your family? You have parents who are now the parents of an Olympian, relatives who are relatives of an Olympian. What has the aftermath been like this week talking everyone through all of this?
AS: They are so proud of me. My whole family is proud of me. They are nonstop posting things on Facebook and sharing things. My wrestling family back in Miami, they are sharing things, as well. I did this for them and my family. And now it's time to represent on the big stage and represent my country.
5PM: That's a good point, because you're a Greco-Roman wrestler from Florida, not Minnesota, not Wisconsin, not Illinois, and not Michigan. You had the whole little crew down there, the "Garage Boyz". That you came from a small group and got started in this style in that setting, what do you think your rise to the Olympic Team means when it comes to development in this country?
Alex Sancho: What it means is that if I can do it, any kid can do it. I got started in judo at a young age. I was five-years-old. I was bouncing around the walls and my family had to put me into some combative sport, so they put me in judo. I wasn't the best transitioning into wrestling in high school. I wasn't the best, but I had great coaches. I had great support.
When I was young, I always had the mentality that I wanted to be the best, but I wasn't quite there yet. I took fourth twice at the state tournament in Florida and knew that I wanted to continue with Greco-Roman and become an Olympic Champion. I knew that was what I wanted and made it to Northern Michigan University. When I got there, I continued with that same drive, that same mentality which says, Hard work beats talent any day. That was the quote my dad told me when I was younger and I used it. Because, I didn't have the talent. I just had the work ethic.
I'd come into practice every morning at Northern and work my ass off, and get my ass beat by multiple kids — but become better. Became better as a man, and as an athlete in Greco-Roman. I just put the time and the work in, and now here I am today. Anyone can do it. Any kid. It doesn't matter where you come from. You just have to have that drive and manifest it when you're young and carry it through your life.
I want to thank some people if that's alright. I want to thank my judo coaches. I can't name them all but I want to name one person, Lalo Broborich. He was my sensei back in the day. I started training judo with him when I was five-years old at Sylvania Heights Elementary. My wrestling coach, Albert Pardo from South Miami Senior High School. He grabbed me halfway through my freshman year because I was going out for basketball and he found out that I did judo when I was in elementary and middle school. He grabbed me from the basketball team and said, "You're not going to be a basketball player, you're 5'7. These guys are 6'2, 6'4. You're not going to be a basketball player, so come wrestle with us (laughs)." At my first practice, I wound up head-and-arming one of the guys there. That started my career at South Senior High.
I also want to thank my offseason coach, Humberto Miret. He was the one who showed me freestyle and Greco. He took me around the state of Florida to train and compete. He was the one who got me started in Greco. Then I want to thank Nestor Varona for letting me into Garage Boyz and teaching me the dynamics of Greco, and for letting me train with him and his kids. He was a major impact on my life.
I want to thank Coach Rob Hermann for giving me a chance at Northern Michigan University. 50% scholarship my freshman year (laughs). I want to thank Aghasi Manukyan because he was my mentor when I was up there. He was the one I looked up to and inspired me to become an Olympian and World Champion. He was the one who gave me the inspiration and the actual fundamentals of Greco-Roman wrestling, and I want to thank him for that. I love him and his family, and I wish his family many blessings. I miss him very much.
I want to thank WCAP for giving me a chance, as well, and for welcoming me and making it a really easy transition, and for helping me make this Olympic Team. I want to thank the Big Lord Above, Jesus Christ, for giving me the strength, endurance, and courage I've had throughout my whole entire life. If it wasn't for Him, I wouldn't be here. I want to thank Jesus Christ for everything.
I want to thank my family, my mom and my dad. I want to thank them for pushing me, sponsoring my trips, and giving me motivation. Finally, I want to thank my fiancé, Pishae Buasri, for helping me through this journey. She has done everything for me. She has cooked for me, cleaned for me, and she has been the best thing that has happened in my life. I want to thank her for that.
Follow Alex Sancho on Twitter and Instagram to keep up with his career and competitive schedule. 


Listen to "5PM47: Nate Engel and Xavier Johnson" on Spreaker.
Listen to "5PM46: Taylor LaMont and Jessy Williams" on Spreaker.
Listen to "5PM45: Chatting with Dennis Hall and Max Nowry" on Spreaker.
SUBSCRIBE TO THE FIVE POINT MOVE PODCAST
iTunes | Stitcher | Spreaker | Google Play Music
Notice
: Trying to get property 'term_id' of non-object in
/home/fivepointwp/webapps/fivepointwp/wp-content/themes/flex-mag/functions.php
on line
999