It isn't as if Jesse Thielke has come out of nowhere. The 23-year old established himself as someone to keep any eye out for going back to his days of age-group success. Thielke was a beast of a high school wrestler as well, earning four state titles in his native Wisconsin. But it was Greco Roman where he truly shined. The brazen youngster blazed a trail at both the Cadet and Junior levels, capturing national titles and earning spots on multiple World teams. And as soon as he could, Thielke was making a big impression on the Senior circuit, so much so that it would wind up becoming part of the confounding narrative going forward. For it seemed every time the Wisconsinite's trajectory was growing, it was as if there was something pulling him back. And he still made the World Team in 2013 in spite of all this.
However, entering competition in this Olympic year Thielke was finally able to fully return to what he loved the most: Competing in Greco Roman wrestling on his terms, his way. The results speak for themselves. The momentum began with a strong third-place showing at the Golden Grand Prix in Azerbaijan, picked up steam at the Zagreb Open in Croatia, and reached a fever pitch at the 2016 US Olympic Trials, where Thielke defeated former Olympians Spenser Mango and Ildar Hafizov back-to-back to cement his place on this year's squad.
But it was his performance last week at the 2nd OG World Qualifier in Istanbul, Turkey that deserves its own chapter in the story. With no other qualification chances left, Thielke was called upon to navigate through a field featuring many of the world's best 59 kg representatives. It was a bracket full of killers. But unbeknownst to them, a fellow assassin was about to announce his place at the table.
We begin our discussion with Jesse Thielke talking about his time as a member of the Wisconsin University Badgers because it is here where the full scope of what this athlete is capable of is truly revealed. But we also cover each match in his march to qualification in Istanbul as well as get his thoughts on everything from the state of the sport to how he views himself as an Olympian. Jesse Thielke is a lot of things – bright, funny, confident, talented, and friendly. But above all he is honest. You will find that out for yourself soon enough.
5PM Interview with Jesse Thielke
5PM: There's obviously a lot to get to but let's start with Wisconsin. I think coming into this Olympic year there were questions about you. Like, were you not cut out for college wrestling, had you had enough of college wrestling, or if Wisconsin messed you up from a technical aspect in terms of your Greco career.
Jesse Thielke: I guess that's a good way you could look at all those things because they've happened to so many people. There's so many proven examples of all those different things. But none of them are what happened to me. I think you can see now by the way that I wrestle on the world stage, which is of a much higher difficulty and degree than wrestling on the national stage, I'm over here throwing people around, dominating, ready to go. Wisconsin was just not a good environment for me. I didn't get along with the coaches and that ended up leading to a lot of backlash. So, I decided it was time for me to go do my own thing. And quickly I was right. You look at the results of me this year versus theirs this year as a team, which falls on their leadership, and it's safe to say I left for a reason. That I did what I did for a reason and it has been working out for me in my favor.
So honestly, I just picked the wrong school. When I was recruited there, there were different coaches and people in charge. And they left for a reason. All these people are leaving for a reason. Only the alumni who got hired as assistant coaches stuck around. I was there when Tyler Graff was, and he bolted as soon as he could. It's for a reason, you know? So I just let my wrestling, my training, and my work ethic talk for me. I don't have to talk. Everyone else can talk, everyone else has excuses. At the end of the day, you look at the scoreboard, you look at the results, and Jesse Thielke is winning. And that only changed when he went to Wisconsin. That should answer all of your questions right there.
5PM: Okay, so then do you just regret going to Wisconsin or do you regret continuing wrestling folkstyle?
JT: Both. I regret both. If I had thought college wrestling was worth all my time, I wish I had not wasted it at Wisconsin. But I know now more than ever that Greco is what I should be doing. It's what I love. And we knew all that. But when has that ever stopped me from achieving high success before? It's wrestling. It's still wrestling, it's just a different style, a different approach. I'm going to be out there competing all the time. But I wasn't that guy at Wisconsin, for a couple of different reasons. It's good to be out and I wish more people would stop associating me with the program because I never got any help while I was there, especially when it came to Greco. I was completely on my own and did all my training on my own. So the last thing I want is for people like that to take credit for anything I'm achieving from here on out.
5PM: Do you get behind the ideology that wrestlers should be concentrating on the international styles younger if they want to achieve success in that area? This is a debate that has picked up some steam lately.
JT: Yeah, I completely agree with that. I think if you want to be a Greco Olympic and World champion, you shouldn't wrestle in college because you're just wasting your time. I think if you want to be a freestyle World and Olympic champion, you better be dominating college. You should be wrestling like Kyle Snyder does, where he's just taking people down and dominating. If you want to do it, that's how you do it. Only for freestyle. For Greco, don't waste your time. We have too much to learn, we're too far behind.
5PM: When your college career ended and you knew it was over, did that feel kind of like a weight being lifted off your shoulders?
Jesse Thielke: Absolutely. Absolutely. I felt just like a relief, a weight off my shoulders. I could finally just start wrestling for fun again and I didn't have to worry about what people were saying about me or my family, or any of those things. People have your name in their mouth when it comes to that because they don't have better things to do and they're not in there with you grinding every day. So they don't understand, but that doesn't make them any better.
5PM: Following your Trials win, afterwards you assured the media that 110%, you weren't surprised in any way whatsoever with your performance. Some athletes are a little bit more reserved, they may say, Yeah, I was fortunate to get this or that. Not you, you were convinced you were going to win…
JT: Yes sir.
5PM: Okay, so coming off your impressive Trials performance and then leading into Mongolia, which was a pretty short turnaround, what was your approach?
JT: Same thing. Keep training, keep my weight down, everything will fall into place.
5PM: You then wrestled Sharma from India in a match where you…
JT: Yeah, one of the worst matches of my entire life.
5PM: Well that's what I wanted to ask you.
JT: I stopped wrestling. I was a completely different wrestler.
5PM: So you wind up leaving Mongolia knowing that hey, Turkey is IT. You also know every big name is going to be there, Angelov, Amoyan, Soryan, as well as the two Olympic medalists you wound up wrestling anyway. What exactly was your mindset then coming off Mongolia and heading into the 2nd OG Qualifier?
JT: It was one bad match. I didn't get a very good warm-up in beforehand. I didn't refuel my body the best way that I could have. It ended up coming back to bite me a little bit, I gassed in the match and lost to someone I shouldn't have. But it pushed me and I was hungrier than ever heading into Turkey — because not only did I need to qualify my weight, I just had one of the worst matches in my entire life on the biggest stage. And that's not me. With all of the time, energy, emotion, blood, sweat, and tears I put into this shit? There was no way I was letting that happen twice.
5PM: I'm assuming that there was a part of you that would have loved to have gotten it over with in Mongolia…
JT: The part of me that didn't want to have to make weight again felt that way.
5PM: But not having qualified in Mongolia and being forced to go to Turkey, was that kind of a game-changer?
JT: It might have been the best thing for me because now I know I can beat anyone in the world when my back is against the wall.
5PM: One of the points I made after you ran through Modos was that you were learning you could wrestle your way and beat these guys. Is that accurate?
Jesse Thielke: That is 100% accurate. Because my way is the only way that is going to work. That's the way everyone should approach their wrestling. It has to be your way or the highway, because if you're not dictating the tempo and pace of the match exactly how you want to and how you're supposed to and how you're best at over anyone else in the world, you're not going to win. That means they're doing it to you. That means they're in control, not you.
5PM: What was training like in Budapest ahead of Istanbul?
JT: All of us were pretty beat up going from the Trials to Mongolia to Turkey, so there wasn't a crazy amount of live wrestling. It was a lot of "play" wrestling, drilling, a lot of cardio games, keeping us healthy… Nothing really changed for us, it's just we attached to the same approach and mentality. Because I knew if I got that ball rolling early it was game over.
5PM: You came out right away with that dominating win over Modos where you looked fast and sharp. Coach Lindland had said the same thing the week before here, that if you have a great first match you'll get the ball rolling.
JT: You know that if I'm coming out firing on all cylinders it's only going to get better from there, and that's what I did. And I did exactly that preparation and my execution was perfect. We already knew as soon as that was taken care of, watch out, because there's a good chance no one is going to stop me.
5PM: What was your initial sort of approach when you saw your draw for Friday (at the 2nd OG)?
JT: You know, the past couple of tournaments, the Hungarian Grand Prix, awful draw, Mongolia, awful draw, so I was kind of used to it by now. The first time maybe it happened I was like, Oh, no way. But now, I'm just like, you know what? You've got to beat the best to be the best. You don't have to beat everyone, but if they are going to put all the best guys in front of me and I make it out of this, I'm going to be ready to rock and roll.
I actually wasn't worried about my first-round match. I had studied Modos before. Spenser actually had sent Coach Lindland a bunch of things because he had beaten him at Worlds last year I believe. So Spenser helped me out a little bit. But we had camp over in Hungary before the Hungarian Grand Prix and I had seen him wrestle for like, multiple weeks at a time. So I've seen him before. I knew he couldn't hang with me on my feet. He was just trying to get to par terre, I knew what his best turn was, I knew what I had to do to defend it. So I had a game plan already. And then I dominated him on my feet like I wound up doing all tournament; and when I do that, no one can beat me, doesn't matter who I wrestle. And after that the engine got going and the sky's the limit.
5PM: Next up was the Olympic silver medalist Lashki.
Jesse Thielke: Yeah, I had no idea who he was. I knew who Modos was just from beforehand. I didn't know how good that guy was, so that probably helped. I had seen him wrestle in Mongolia for true third against Tasmuradov from Uzbekistan, the guy I lost to at the Golden Grand Prix. So I had studied him a little bit and knew I could take him. Again, that's the key to the foreigners with me. If I can score on my feet, I can beat them all. Just to score big and score often on my feet because I know they can't hang with me. And even if it doesn't happen in the first period, they'll break by the second period.
5PM: Your match against the Georgian maybe, kind have should have been over in the first period. At first it appeared to be.
JT: Oh, it was. I scored about 15 points on him, but you know, him being who he is and me being an American, they made me work for it. I mean, I wasn't phased by it. As soon as I looked over at my coaches I was like, Yeah, they're probably going to make me keep wrestling. It got me set up for my next two matches, taking a little bit of adversity, you know?
5PM: They called back that one toss because of what, because of legs?
JT: Yeah, both of those were bullshit calls because I'm the American and he was the seasoned veteran. That's the politics of international wrestling. It's going to be there all the time. That's why I'm glad I didn't have to wrestle the Turk in the semis, I would've gotten screwed.
5PM: When it was 6-6 and Lashki ahead, it definitely kind of seemed like things were going in that direction. But even still, when it got tied up, you still knew you were going to be able to score, right?
JT: Yeah, after the first period I knew he was done. It just took some time and patience. Which is good, because it was that adversity which got me ready for my next two matches.
5PM: And that brings us to the what was perhaps the turning point of the tournament against Farunze (Harutyunyan) from Sweden. Down 4-2 to him, it still appeared that he was the kind of opponent you could score against.
JT: Yeah, that was what was going through my head, too. And then I pulled a little magic trick out of my hat.
5PM: You do appreciate how big of a moment that was for all of us "normal" people watching, right?
Jesse Thielke: (Laughs) It was big for all of us, not just the normal folks.
5PM: You exploded up as he clamped his left hand on your left shoulder with his right arm wrapped. It was incredibly reactive.
JT: It was just a switch from a gutwrench if their hips are back. He was up on his feet, so I just stepped up and popped my hips and then turned without giving up exposure. I caught that reverse half and then I knew it was over. Just a little folkstyle switch.
5PM: You watched it, right?
JT: Yeah, it was some gangster shit.
5PM: (Laughs) It was just a stunning move. What was the arena like?
JT: Well, they were all Turkish fans, so they were cheering for everything. It was pretty sweet, I was surprised. There were like a couple thousand more people packing that stadium in than there should have been. The Turkish people were going nuts, it was fantastic. Much better than Mongolia. But it was hot. That made it super hot in there because there were so many people.
5PM: Now we move onto the semifinals against Islamov. It's 4-0 off the first arm-spin, then it is 4-2; a step-out point makes it 4-3 but then you were down again 8-3 following another arm-throw. However,  just by eyesight, this again looked like the kind of situation where Jesse Thielke is going to be scoring on this guy.
Jesse Thielke: It's funny because all of my coaches told me about his arm-throw. And I kept attacking his right arm and elevating his elbow, but I wasn't able to score anywhere. So I wasn't really getting the job done. Then he hit two super nice ones out of nowhere. Normally, I can jump around on people but he disappeared in between my legs. Little bit of a different technique. And he got me twice, got to give him some props for that, it was very well done. But as soon as he took me down he went to reverse lift and that's my strength. I score on people, I attack their body when they try to reverse-lift me. So basically, he kept me in the match.
After we got sweaty he couldn't hit his arm throw anymore. And I knew I was going to get to his body. He kept trying to do like a folkstyle slide-by and then I just changed over and attacked his waist as soon as he did for the first four. In the second period he was chasing me, bang, high-dive to the body. And that was a wrap.
5PM: After the first period and it was 9-8…
JT: I knew he wasn't going to be able to keep up with me. His arm throw was all he had on his feet. Plus, we had already seen he can't score on me from top even if they put me down. I'm going to end up scoring again when he tries to reverse-lift me.
5PM: So in other words, what you're saying is that going into the second period you felt this match was as good as over?
JT: Yes sir. My coaches basically started telling me, Coach Lindland told me at the tournament, and he'll probably keep telling me this throughout my career, is to wrestle like I'm losing. Wrestle like I'm down two points. When I do that, no one can stop me. I keep attacking the whole match. No one can keep up with my pace or my style and my flow.
5PM: Up 13-8 with about a minute, minute and change left I remember wondering if you were going to just try and play it safe, ride this out. But nope.
JT: Yeah, I thought about it and I kind of was dancing and dancing. But every time I did that in a match I fricking got scored on. And I knew he was chasing me and chasing me. He tried one more slide-by but I didn't get to his body. Then we got to the edge and I hit my high-dive right into my scoring and that was it.
5PM: Where does this moment rank for you in your career?
Jesse Thielke: #1 all-time. Best moment of my wrestling career thus far.
5PM: Is that feeling adrenalizing, happiness, or just relief?
JT: It's everything. It's all of that. It is pure euphoria. There's nothing quite like it. I mean, I only experienced something like that when I won my fourth state title, made my first Senior World Team in 2013, my first Junior World Team when I bumped up from Cadet to win my Junior World medal in 2012. That's it. Four times in my career has it ever been that good.
5PM: It was one of the most electrifying performances I've certainly seen, considering the circumstances especially. But what adds to it is that you just kept scoring throughout the tournament. It'd be one thing if you squeaked out a few close calls.
JT: Yeah, but that's not me. I said that after the Trials. That's not how I want to win, that's not how I want to train. I'm either going to live or die by it, you know?
5PM: A few minutes before your Soryan bout there started to be a little talk that there might not be a final.
JT: No, I thought about it but I wanted to keep the ball rolling. You only get a chance to wrestle a guy like that (Soryan) so many times and hopefully I'm the one who wrestles him a final time in Rio. But yeah, I didn't get any warm-up in. We were waiting for hours and hours for everything to start. I went to use the bathroom and then of course, as soon as I went to do that, my coaches are sprinting in there saying, "Hey, you're up, pull your singlet up." And then I had to basically sprint to the mat. So no warm-up, no preparation for the biggest match of my life so far and it was pretty apparent, I think.
5PM: You seemed completely different compared to the guy who had just beaten four extraordinarily tough guys in a row.
JT: I mean, maybe there were some underlying feelings of, I already accomplished my mission and I've been gone for six weeks. Maybe it's time to go home. But no, honestly, that's not me. I just think I didn't get any preparation for it with the timing and the way everything worked out. But I'm glad almost because now he's going to underestimate me when it comes to Rio and that's who I'm going to have to beat for gold.
5PM: Another thing I've noticed as of late is that your conditioning seems fantastic. I'm not sure if I've seen you breathe with your mouth open more than half a dozen times in your most recent matches.
JT: It's reached another level with my diet and everything I did in preparation before the Trials and I knew that whole possible six-week span. So we just did everything right out here. And I attest that to my diet, to my training, to my coaches, and family who have helped me out here.
5PM: You wrestle with your mouth closed though most of the time. It makes you look like a wildman.
JT: That's exactly what I am. It's fun to me. It's the best thing ever and I want to be the best at it.
5PM: Is stamina a major focus of your training?
Jesse Thielke: Not as much as my mindset. But to fuel the machine that has to be part of it, especially with the way I wrestle, which is to constantly attack, wrestle like I'm down, and score-score-score. So I mean, it's all just part of the process. You want to do that as an athlete anyway to prepare yourself on any level in any sport. But for me, it's definitely key for pushing that pace and breaking these guys.
5PM: It's Thursday, May 12th. When are you ramping your training back up a little bit?
JT: Next Wednesday when we leave for training camp in Concord, California. That's when I'll start picking it back up again.
5PM: As someone who was a Fargo kid and has loved Greco since you were quite young, what is your take on why the international styles are seen as mere time-passers for college wrestlers, hence their hesitation to get involved earlier?
JT: College wrestling is a full-time job. Just like international wrestling is a full-time job. You only train half the year, you're going to get half the results. That's how high the level gets in each style. So unless you're wrestling, like I said before, folkstyle which more fluidly transitions to freestyle, you're going to be in trouble the other way around trying to go to Greco. And again, I've only seen the best people are wrestling like Kyle Snyder and J'Den Cox taking people down left and right.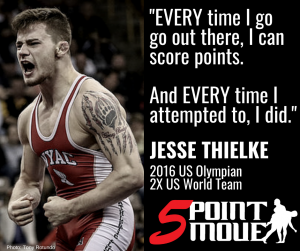 5PM: Have you had this outlook for a while?
JT: Yes, always. It started because I wanted to be the very best in everything that I do. Olympic champ, World champ, NCAA champ, high school state champ..everything all the way through.
5PM: The reason I bring this up is because like I mentioned, maybe because of qualification issues, the Olympic year, what have you, this has all sparked a lot of conversation. Some would like to see folkstyle abolished altogether.
JT: That's my vote. We're wasting our time. The foreigners are years ahead of us because they pick a style, for the most part, and train it since Juniors at the highest level. The Juniors are training with their Seniors, kind of like what is going on at the OTC out here. But they're doing it all the way through and they just have time on us. Time and coaching. Most of the Senior level guys, Greco or freestyle, will tell you that.
5PM: It seems to certainly be an emerging topic now, especially more among the Greco community, how a lot of Senior athletes don't even start focusing on Greco pretty much until they're your age now.
JT: That's why I wish I didn't wrestle folkstyle in college at all, because think of where I'd be now if I had never left after my Olympic year in high school. Think about that. Instead of only training half the year on my own in Wisconsin, I would have been in Colorado Springs for three years full-time.
5PM: Do you see this as something that could change for future generations? I'm not saying getting rid of folkstyle, I mean it more like we'll see more younger athletes focus on the international styles earlier or perhaps there will be more international style competitions within the states year round instead of just a few months in the Spring and Summer.
JT: I think if you look at some of our young American guns right now it has already begun. Our Daton Fix'es, our Spenser Lee's. All those guys are winning medals left and right, you know? And they didn't have Cadet Worlds when I was coming up, so I'm glad those kids have an opportunity. But I think it's great, it's fantastic. That's how it should be. The earlier they start the more prepared they'll be for the big show when it comes.
5PM: Well, it's good to have your insights because you're a very authoritative voice on the subject.
JT: I would know. I would know.
5PM: The convoluted nature of the topic rests in the idea that folkstyle leads to college and more opportunities.
JT: Exactly. A lot of people only wrestle folkstyle but the problem is when you're younger you should be wrestling all three styles to develop the skills to be the best college and international wrestler you want to be for freestyle. And you should wrestle folkstyle all the way through high school and train at the highest level even if you want to go Greco because I just did a switch and turned the Swede into making my Olympic Team official. You know what I'm saying? There are certain skills that you learn from wrestling all three styles growing up. And it's definitely with the coaches I've seen, especially at the high school level, who are pushing folkstyle only and that's wrong. It's hurting our kids.
5PM: That is why you're the "X factor", because although there have been those who have come before you who have employed folkstyle sensibilities into their game, few have done so at the same level of scoring, if anyone has.
Jesse Thielke: I'm a very unorthodox Greco wrestler. But that's because a lot of these Greco wrestlers are shoulder-chest guys. And I'm this tall, lanky, awkward dude with a bunch of tattoos, so I had to make that style work for me because it's my passion. And that is exactly what I did.
5PM: That's a good question. When did you realize that your style clicked for you? Saying 2013 with the World Team seems like too easy of an answer.
JT: It was basically then, 2012, the Junior Worlds. That summer of 2012 going into 2013, that's when I put all this damn training, time, and effort in and it just kind of clicked. And I never looked back from there. Even while I was in Madison training on my own it was developing the same thing. Plotting, scheming ways I could score, ways I could chain-wrestle, ways I could use my strengths to create an unbeatable style in Greco, which I love.
5PM: How about your family's role in all of this? Your parents are now the parents of an Olympian.
JT: My parents from Day 1 have supported the grind, the push. They've all sacrificed and been there for me always. And you know, I think about them and about the opportunities I've gotten. Because I have spent so much time pursuing the opportunities and dreams that I love, I've missed out on certain things. Sometimes it sucks and it's hard, and you think about that. But other times you think about what I've been able to do and it means it's all worth it. And I wouldn't have been able to do that, come up with a plausible course of action, without them. They've done everything for me, they'd do anything for me, and they love me for me. Every time I talk to them they say they don't care how the wrestling goes. They say, "We just like it because you like it, because it's your passion in life and you love it and that makes us happy." That is all they care about. They are the best. I would be lost without them.
5PM: That brings us to the fact that people are trying to help your family get to Rio.
JT: My parents just set up a Go Fund Me yesterday. I basically just wrote up this little blurb, actually a lot of the stuff we just talked about, and we set up this Go Fund Me account together. It talks about everything I've been through, what I'm trying to accomplish, and I want my family to be there with me. Like I said, they are so important to me. They are the most important thing to me in the entire world. Even more than wrestling. They're the best. If we could just find a way through people's gracious donations, I'm working on t-shirt designs, as well. We've had a lot of coaches and people that I have worked with who are trying to help me out. So it's a process and hopefully we can get the job done and get them all there.
5PM: How many people are in the Thielke posse here?
JT: The "Bubble family", as we like to call ourselves because we're a pretty crazy group, is me and my dad, my step-mom…this is my close family you have to realize. At every Packer game, at every function, Christmas, Easter, everything. It's me, my dad, my step-mom, older sister, two stepbrothers, a set of grandparents on either side, three uncles, an aunt, and a bunch of cousins and significant others (laughs). So it's going to be a process. We're going to have to work to raise this money. But it's worth it in the end. And no matter whether we reach our goal or not, we're going to have people there supporting me and that is all that matters. Yeah, it is quite a task. That is my core group of family. It gets bigger from there, which is why we are called the "Bubble family."
5PM: Any concerns about security in Rio?
JT: I'm hoping they do their best to take care of us, but I'm showing up for my medal either way. You can ask, at least any of the wrestling Olympians, we've done too much work, worked too hard, things like that aren't going to stop us. You hope and pray for the best, obviously, but we'll all be there no matter what happens. You are going to have to kill us to stop us from coming for our goals.
5PM: What about for the "Bubble family", has this been a topic at all?
Jesse Thielke: Where they are staying? Yeah, a little bit. We haven't talked about it too much yet, just trying to start the fund-raising process. But they know. They already know there's risk and danger in it because of the area.
5PM: Was there any kind of security for the athletes while you were in Turkey?
JT: No. We had a decent enough group of people and no one goes anywhere alone.
5PM: I was just wondering because you know, Turkey, the unrest across its borders and all that. I just wondered if they provided you guys security of some sort.
JT: Hey, I totally get it. In a place like that with as many Americans and foreigners who were in one place? In a place like Istanbul, as big of a city? Yeah, of course.
5PM: Yeah I was just like, you all weren't so far from ISIS territory there.
JT: The whole world is ISIS territory at this point. But yeah, that was definitely on all of our minds but it's not going to anything that stops us.
5PM: All things I've heard is that you're into some nerdy stuff. Like when you were all in Mongolia and you were playing Pokemon.
Jesse Thielke: Yep, that's me. I just hated being overseas for so long because I can't bring my Xbox with me because I don't want to break it or ruin it. I paid too much money for it and I use it too much (laughs).
5PM: What games do you like?
JT: Any first-person shooters or RPG games. I'll play anything with my friends. I'm not very good at sports games, ironically enough. Only in real life. But I do like FIFA.
5PM: You play Call of Duty?
JT: Oh yeah. I'm good at it, too.
5PM: You have the new one?
JT: Of course. Prestige Master, come on now.
5PM: Figures.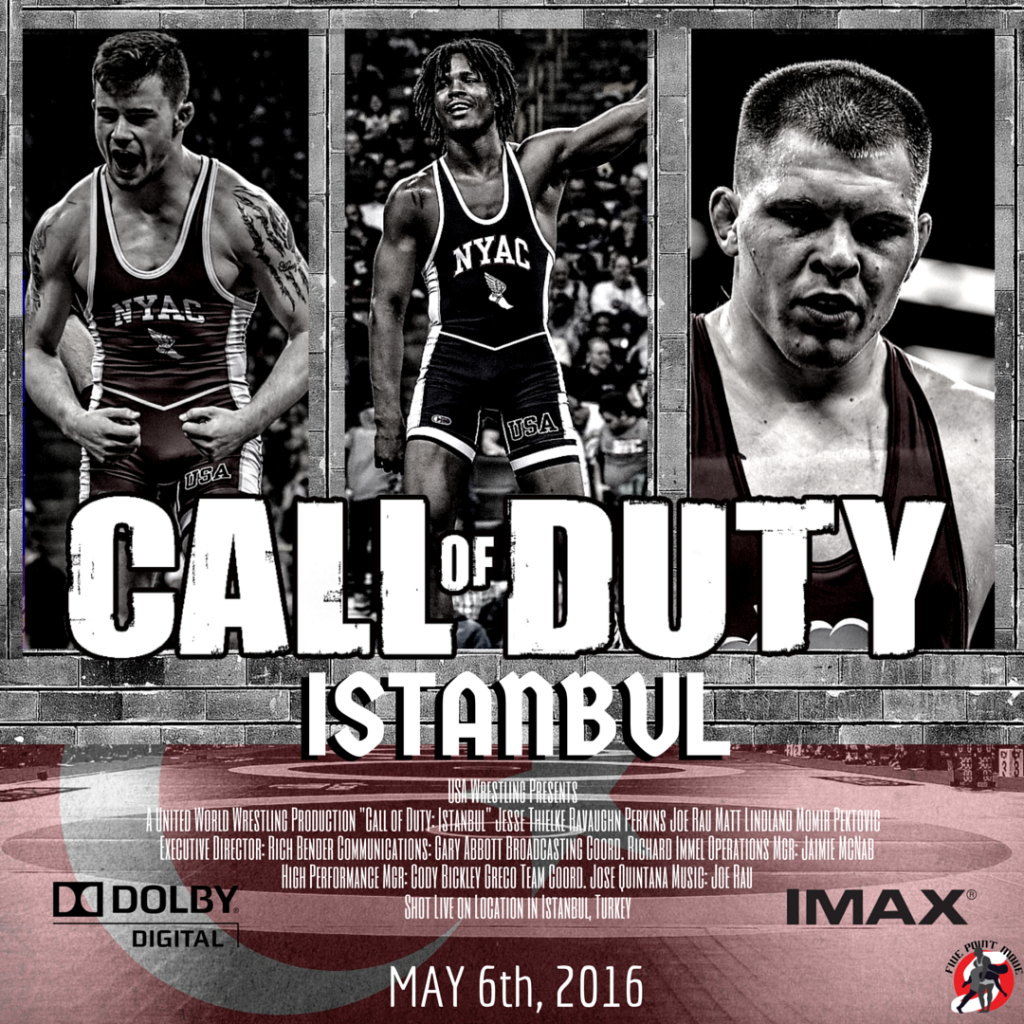 5PM: When you do have downtime and you're home in Wisconsin, what it is someone like yourself does as far as socializing and unwinding? Do you have any outdoor interests?
JT: Not when I was younger, but now that I'm older, I am becoming more patient, definitely. Mostly I just catch up with family first and then I hang out with all my buddies after that. We'll go out a couple nights, have some fun at the bar, play some pool and darts. I'll go fishing. I'm not a hunter but my dad is a big hunter. But I'll do anything man, I just run with it.
5PM: You might be young but is having your own family someday something you think about now or is that something you are looking forward to later on? 
JT: The way I look at is, is if it happens, it happens. If it's meant to be, it's going to be. But for right now, I don't think I could give my future family all of my love and all of my support while I'm still competing. That's the way I see it. I can't give them the father they deserve, the husband they deserve. You know, right now I'm barely getting the job done as an uncle because I'm gone for so long and I have nieces and nephews running around. But we'll make that work when that opportunity comes.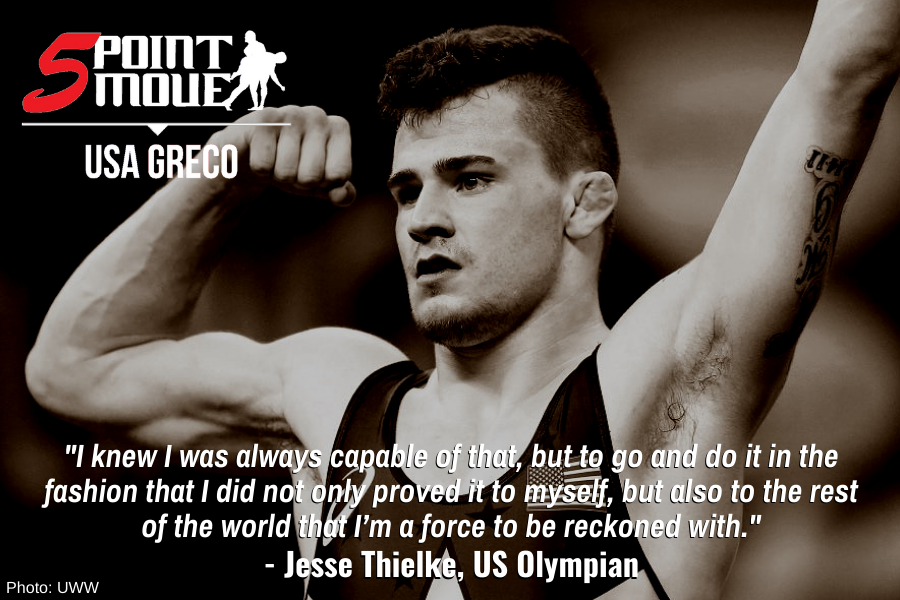 5PM: So what has this last month or so felt like to you? Has it been a whirlwind?
JT: It has been a journey, that's for sure. It's been hectic and crazy moving from one thing to the next to the next to the next. I haven't had much time to think about it or process it all really because I've barely had time to sit down. And get sleep. That is all I have really been doing is training, eating, sleeping, and wrestling. So now I've got time to process it all and work through it. So yeah, it's been one wild ride.
5PM: Do you see yourself differently?
JT: After Turkey, absolutely.
5PM: How so?
Jesse Thielke: I knew I was always capable of that but to go and do it in the fashion that I did not only proved it to myself but also the rest of the world that I'm a force to be reckoned with. And that makes this whole process so much easier.
5PM: If you look at your career objectively, from the outside looking in, is it panning out as you envisioned thus far?
JT: Not quite but I wouldn't have it any other way. Because I wouldn't be who I am today without having gone through the things that I did, good or bad. At the end of the day, I like who I am so far and the man that I'm going to become. And I think my family is proud of me and that's all that matters.
5PM: Okay, so next week you're in Concord and then after that at some point you have the Azerbaijani camp
JT: Yeah it's coming up faster than you think so, we'll get back in the flow of things. It'll be nice not to have to cut weight for a while. And then just keep having fun man, like I've been doing all year. It's been working for me.
5PM: Do you wish you could have the opportunity to get in more matches before the Olympics?
JT: Hmmm, no, I think the past couple of weeks I've had enough. Enough to know. Nothing that we didn't already know, but enough just to prove it and now we did.
You can follow Jesse Thielke on his road to Olympic gold on Twitter and Instagram. If you'd like to help the Thielke "Bubble" family make its way to Rio just click here! 
SUBSCRIBE TO THE FIVE POINT MOVE PODCAST
iTunes | Stitcher | Spreaker | Google Play Music
Notice
: Trying to get property 'term_id' of non-object in
/home/fivepointwp/webapps/fivepointwp/wp-content/themes/flex-mag/functions.php
on line
999