As 2019 begins to draw to a close, there is no other Greco-Roman athlete on the planet working with more momentum than Mohamed Elsayed (67 kg, EGY, world no. 4). And truth be told, there might not be another competitor operating with the same amount of popularity at the moment.
Elsayed, still just 21 years of age, is riding quite the wave, with the water's swell first taking shape last season. After earning Junior World bronze in 2016, he was back at it again in '18 but barely missed out on the podium. Elsayed was by then observed as a solid prospect, and one of Egypt's best young talents; but with only that one Junior bronze on his resume, he also wasn't stealing any headlines.
Boy, did that change in a hurry.


Two months following the Junior tournament, Elsayed regrouped and ripped through the U23 Worlds to pound out a gold. Only one match had been close, a nail-biting criteria victory over Alen Mirzoian (RUS) in the semis. Every other Elsayed win was lopsided, including his 8-0 dismantling of former Cadet World champ Karim Jafarov (AZE) in the final. The U23 gold wound up meaning a lot more than just a glimmering career triumph. It also served as the catalyst for what has become one of the most rapid ascents to the top tier for a young athlete in recent memory.
How consistent has Elsayed been? Consider: since his '18 U23 World title, he has lost precisely three matches (all at Senior). First was a 7-2 decision dropped to '17 World bronze Atakan Yuksel (TUR, world no. 7) at the Petrov last February; next was a 6-2 decision in Nur-Sultan at the hands of now-two-time World/'16 Olympic champ Ismael Borrero Molina (CUB, world no. 1). In the bout prior at the Senior Worlds, Elsayed had downed '18 World bronze Gevorg Sahakyan (POL, world no. 6) to qualify 67 kilos for Egypt in Tokyo. The bronze round of the '19 Worlds saw three-time champ Frank Staebler (GER, world no. 10) edge the surging upstart 6-5 in a match that was riveting from beginning to end.
Three of the four examples illustrated above were from one tournament over two months ago. What has happened lately is even more eye-opening. In October, Elsayed traveled to China for the World Military Games — where he grabbed gold by defeating '18 World Champion and multi-time medalist Artem Surkov (RUS, world no. 3). Last week in Budapest, he earned his second-straight U23 World title in near-dominant fashion, piling up five wins and blitzing the opposition by a combined score of 46-13 with three tech falls.
There is no arguing the importance of World hardware preceding an Olympiad. Coaches, athletes, and fans need their benchmarks, which is why the consumption of box scores continues to buttress most wrestling conversation. The shame of this practice is that athletes like Elsayed wind up becoming appreciated for what they do and have done more so than for how they actually do it.
In a discipline that is often vulnerable to criticism for lack of action and athletes defiantly playing it safe, Elsayed is a breath of fresh air. It's not because he simply tries to score. There are others in his own weight class known for their great skill. It is that Elsayed does it in his own way — one moment he is like a smooth, silent assassin;  and the next, a roaring fighter jet ready to unmercifully sear a target. No motion wasted, no histrionics to show officials he's "busy". Elsayed wants to work, and when he checks into the office, it's not difficult to notice how much he loves what he does. And no matter the stakes or outcome, he conducts himself like a gentleman whose respect for opponents is obvious both during and after battle.
International Greco-Roman wrestling is in the process of unveiling its next wave of stars, the guys who will take over the sport and preside over its health for an entire generation. It is clear that Mohamed Elsayed is one of them, and he couldn't have arrived at a better time.
5PM Interview with Mohamed Elsayed
5PM: Describe the win over Sahakyan in Nur-Sultan, the win that qualified the weight class for Tokyo.
Mohamed Elsayed: The happiness has no description. Despite my young age, I beat the Polish World medalist and qualified early. This was the result of planning before the tournament.
5PM: What did you learn from wrestling Borrero and Staebler?
Elsayed: Borrero and Staebler are among the strongest competitors in this difficult weight class, and it was a very important experience for me before Tokyo to learn a lot about them in terms of their expertise.
5PM: After Nur-Sultan, you won the Military World Games and defeated '18 SR champ Artem Surkov. What was your approach in that match?
Elsayed: It was a very important match. I respected the opponent, had a good game plan. It was a great win and confirmation I can win an Olympic medal.
5PM: At the U23 Worlds last week, you dominated most of your matches. Did you feel extra confident at the U23 tournament this year because of the success you have experienced since winning it the first time?
Mohamed Elsayed: Because, this year I gained confidence and a lot of experience from competing with World Champions and Olympians. Nur-Sultan and the Military Games gave me great confidence with regards to my preparation for Tokyo.
5PM: Why do you think you have you adapted so quickly to the higher level of competitors at Senior? You're still young, but over the past year, your career has really taken off.
Elsayed: This is not new for me. I competed from a young age in (African) Continental Championships with adults, and by the way, I am the owner of the ten Continental titles between Junior and Senior.
5PM: Did you always know you were going to wrestle, even when you were a little kid?
Elsayed: Yes, I am from a family of wrestlers.
5PM: Who are your main inspirations in Egypt? What wrestlers did you look up to the most growing up?
Mohamed Elsayed: The highest international and World Champion Mohamed Abdelfatah, who is currently residing in America and is the technical director of Greco-Roman wrestling.
5PM: What do you think Greco-Roman needs the most in order to gain more popularity?
Elsayed: You need a lot of press, media, and tournaments so that people see this is a fun sport and worth watching.
5PM: How do you spend your time when you're not wrestling?
Elsayed: I practice swimming and chess.
5PM: What is this next season going to be like before the Olympics? Are you going to compete in the Ranking tournaments, and then try to stay active in other events?
Elsayed: I will participate in the Ranking tournaments and the Continental Championships in order to jump to the top of the rankings.
5PM: You are known for your sportsmanship. Is that important to you, to set a good example?
Elsayed: In sports, respect comes before anything else. This is a big factor.
5PM: What is one thing you'd want the American fans to know about you?
Mohamed Elsayed: I am a person who does not know the impossible. I always tell myself, Do not give up! I will accomplish my goals. Watch me in Tokyo, I am going to show that to the world.
Follow Mohamed Elsayed on Instagram to keep up with his career and competitive schedule.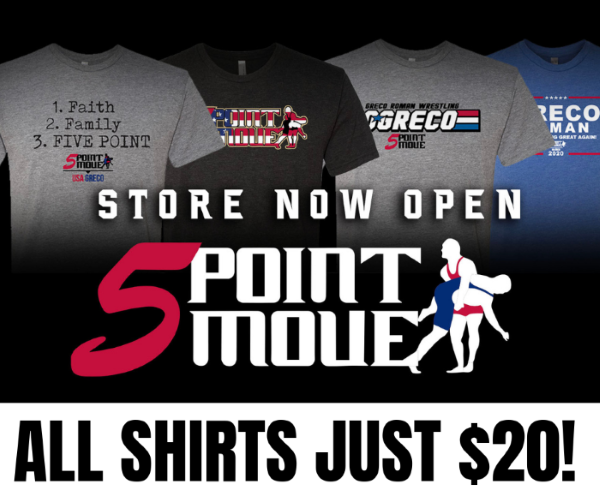 Listen to "5PM29: Junior world medalists Alston Nutter and Peyton Omania" on Spreaker.
SUBSCRIBE TO THE FIVE POINT MOVE PODCAST
iTunes | Stitcher | Spreaker | Google Play Music | RSS
Notice
: Trying to get property 'term_id' of non-object in
/home/fivepointwp/webapps/fivepointwp/wp-content/themes/flex-mag/functions.php
on line
999