The roster for the 2019 US World Team is 70% different than it was a year ago, as there are only three holdovers from the '18 squad. That isn't news at this point, what with only ten days remaining until the Americans depart for Kazakhstan in time for their acclimation period ahead of the World Championships.
But the word "turnover" has been bandied about recently, and while not woefully inaccurate, it also undersells what relevant prior experience does exist among the seven "new" athletes present on the '19 Team. Experience, that when combined with the three who were around last year, renders a much more significant profile than for which they are given due credit.


We'll break it down by first highlighting the three who were in Budapest ('18 Worlds):
Ellis Coleman (67 kg, Army/WCAP, world no. 17) — 2012 Olympian; 2013, '17, '18 Senior WT; two-time Junior World bronze
G'Angelo Hancock (97 kg, Sunkist, world no. 3) — 2017, '18 Senior WT; '17, '18 U23 WT; '16 Junior World bronze; '17 Junior WT
Adam Coon (130 kg, NYAC/Cliff Keen, world no. 2) — 2018 World silver; '14 Junior World bronze; '11 Cadet WT
Now for the seven who were not on the '18 World Team with this year's first-timers (at Senior) noted by an asterisk:
*Max Nowry (55 kg, Army/WCAP, world no. 13) — 2012 University World Champion; '09 Junior WT, '10 Junior WT
Ildar Hafizov (60 kg, Army/WCAP) — 2008 Olympian; '07, 09, '11, '17 Senior WT; '17 Military WT
*Ryan Mango (63 kg, Army/WCAP, world no. 20)
*Ray Bunker (72 kg, Marines)
Patrick Smith (77 kg, Minnesota Storm) — 2017 Senior WT; '14 University World silver
*John Stefanowicz (82 kg, Marines) — '17 Military WT
Joe Rau (87 kg, TMWC/Chicago RTC) — 2014 Senior WT; '14 University WT
It admittedly becomes fuzzy comparing the '18 group's credentials with those of the '19 World Teamers. On one hand, there were more first-time Senior World Team members for the US last year — but all of them expect RaVaughn Perkins (77 kg, NYAC) had competed in multiple age-group Worlds, and that includes Jon Jay Chavez (NYAC/FLWC), for whom Perkins took over just before the festivities in Budapest began.
For reference, here were 2018's first-time WT members:
Sam Hazewinkel (55 kg, Sunkist) — 2008 University World Champion
Dalton Roberts (60 kg, NYAC/OTS) — 2015, '16 Junior WT; '17 U23 WT; '12 Cadet WT
RaVaughn Perkins (72 kg, NYAC)
Kamal Bey (77 kg, Sunkist) — 2017 Junior World Champion, '16, '18 Junior WT; '17 U23 WT)
Geordan Speiller (82 kg, Florida Jets) — 2012, '13 Junior WT; '13 University WT
Coon (who has obviously turned out alright)
And as always, freestyle achievements are not officially accounted for on this platform. But if they were, then surely Sam Hazewinkel, a freestyle Olympian in '12, would raise the bar, just like Mango's silver in leg-grabbing at the '17 CISM Worlds would certainly qualify.
Perhaps seen as most important are the Olympic weight classes this year. Each US athlete occupying an Olympic category in '19 has suited up for at least one Senior Worlds (or Olympics) to date, combining for 14 total appearances. When you factor in the number of Senior international medals earned by the Tokyo hopefuls throughout their respective careers (which comes in at just under 60), any consternation regarding turnover, or experience (or the lack thereof) — or both — is based on myth, not reality.
What Happens When Camp Ends?
Tomorrow (Tuesday) is the final day of World Team Camp with full matches for the KAZ-bound athletes on the agenda. And after the last drops of sweat are mopped off the mats at the Olympic Training Center, there will still be a little over a week left until the US delegation takes off for Eastern Europe.
But what is the plan, exactly?
Last year, the US Team touched down in Hungary nearly a month before the opening whistle at the Worlds. We are already within, or past, that time-frame now, so there will obviously not be a long stretch of time spent in-country for the Americans — and according to US National Team head coach Matt Lindland, the shorter stay has to do with what you might call earned comfort.
"We started counting numbers of nights we get to sleep in our beds as a good thing for this Team," Lindland said over the weekend. "But what that means is that you come to this camp and give everything you've got at camp, and then go home and do what you and your personal coaches feel is appropriate at this time. That's how we structured this whole year out."
The way Lindland — who often encourages athletes to get out of their perceived comfort zones — sees it, the capital has already been accrued for the athletes over the course of this competitive season. There have been more camps, more time on target, and more overall responsibilities leading up to the conclusive training cycle. Thus, staying home a little longer became the natural choice considering the stakes.
"There are certain things that are out of your control, such as tournament dates being moved, maybe there aren't enough beds at the Training Center, whatever they are, but one of the things we can control is literally how many nights they can sleep in their own beds," explained Lindland. "That also means training in your comfortable training environment. The fact that everyone has been out here for camps multiple times and out of their comfort zones to challenge and push themselves, it only makes sense that they are in a comfortable training environment leading up to the most important competition in the world for our sport."
Questions? Concerns? Feel like reaching out? Do so on Twitter, Facebook, and Instagram!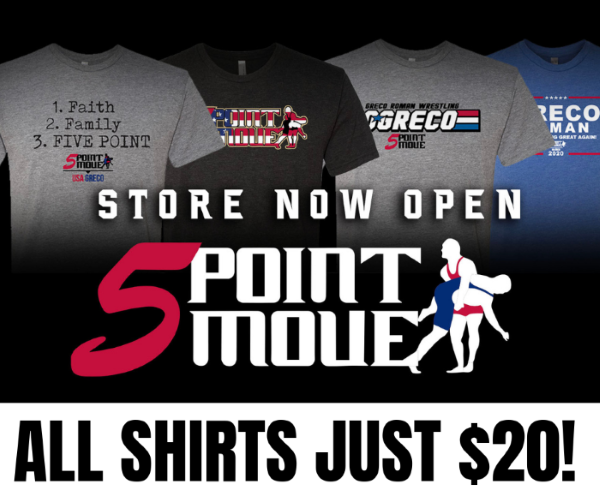 Listen to "5PM26: Princeton's Lenny Merkin and new USOTPC Greco-Roman athlete Nolan Baker" on Spreaker.
SUBSCRIBE TO THE FIVE POINT MOVE PODCAST
iTunes | Stitcher | Spreaker | Google Play Music | RSS
Notice
: Trying to get property 'term_id' of non-object in
/home/fivepointwp/webapps/fivepointwp/wp-content/themes/flex-mag/functions.php
on line
999