The three heaviest weight classes contain a laundry list of talented monsters, many of whom have tasted elite success at one time or another throughout their careers.
Men who have won several World titles are involved, as are plenty of others who have had medals draped around their necks. The lighter weight classes, they get all of the credit for housing the technique and highlight-worthy scoring sequences; but from 87 on up, you're seeing the most compressed grouping of star-studded Greco athletes scheduled to compete at the 2018 World Championships. And for that, you better be paying attention.
This article makes references to United World Wrestling's "Ranking Series" — for a brief description please see the first preview covering 55-60 kilograms. For a detailed overview, hop over to here — and updated World rosters for further reference are located here.
2018 GRECO-ROMAN WORLD CHAMPIONSHIPS
Budapest, Hungary
87 kg
Top seeds
1. Islam Abbasov (AZE) –2018 U23 European Championships gold, 2018 Vehbi Emre gold
2. Masato Sumi (JPN) –2018 Asian Championships silver, 2018 Vehbi Emre bronze
3. Robert Kobliashvili (GEO) — 2017 World bronze, 2018 European Championships gold
Tarp Talk
Abbasov is a nice young athlete and Sumi is more than respectable, but this is a weight class that is overloaded to where even those guys would have to be seen as sleepers. That's because you've also got: 2015 World Champion/2016 Olympic silver Zhan Belenyuk (UKR, world no. 17), 2017 World Champion Metehan Basar (TUR), Rio Olympic bronze/2017 World silver Denis Kudla (GER, world no. 8), two-time World bronze Viktor Lorincz (HUN, world no. 11), and 2017 World silver Radik Kuliev (BLR).
It's just a whole basket of problems all over the bracket, no matter where you look. That's not even counting the likes of Bekhan Ozdoev (RUS, world no. 5), who unseated Olympic champ Davit Chakvetadze at the Russian Nationals. Ozdoev, despite not holding the same degree of experience (and credentials) as the monsters above, has the physicality, skills, and attitude perfect for making a definitive splash.
Team USA — Patrick Martinez (NYAC) Martinez is a unique case.
Even though Martinez has only been competing on the Senior circuit for just under five years, he has already logged more overseas experience than the majority of his domestic contemporaries. That, along with how he made the 2015 World Team with less than 12 months of full-time training, as well as the bevy of international medals he has earned since, sort of make him an outlier.
But when Martinez made his first two Teams (with the second arriving in 2016), he did so at 80 kilograms (now 82). The success he attained in the lower non-Olympic weight class, to him, felt incomplete. Martinez wants to be an Olympian. With 87 kilos being the Olympic weight, he did not feel as though sticking around 82 and then having to jump back up made a whole lot of sense.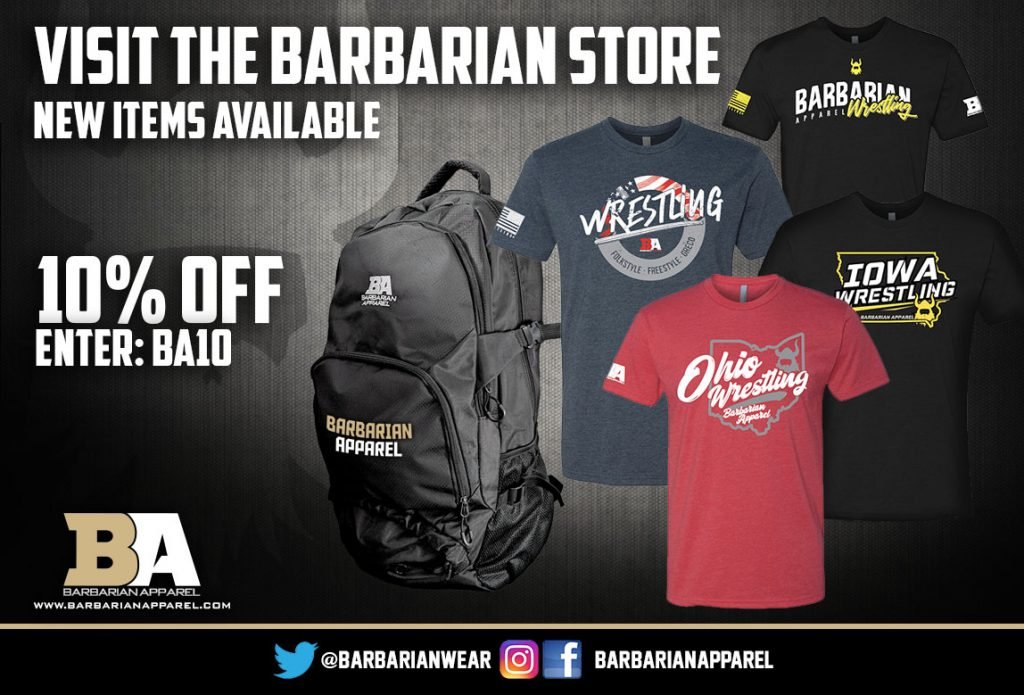 The spring of 2017 saw Martinez wrestle 85 kilograms at the World Team Trials, his presence in the bracket serving as a public declaration of his intentions. Two-time Olympian Ben Provisor (NYAC/NLWC) edged Martinez in the semis in what wound up becoming a fifth-place finish. Instead of continuing on and competing throughout the proceeding summer, Martinez chose to focus on tacking on some muscle mass and refining his skill-set. It was a decision that paid dividends shortly thereafter.
Martinez broke open the 2017-18 season with a dual meet win in Belarus and back-to-back golds at the SA Lavrikov Memorial in Russia and the Haavisto Cup in Finland, respectively. The Granma Cup didn't turn out so well. That performance in early-February came and went without a medal for the Olympic Training Center athlete. An injury then eventually cropped up in the spring, leading Martinez to sidestep the US Open.
June's running of the World Team Trials delivered the biggest domestic victory of Martinez's career. After emerging from the challenge tournament, he and Provisor engaged in a grueling, at times brutal three-match battle. Points were hard to come by, physicality was not. But in the end, it was Martinez whose hand wound up being raised following a third and decisive bout. He hadn't just made his third World Team, he had also vanquished the exceptional two-time Olympian Provisor to do so.
That's how Martinez secured his place on this US World Team. While impressive, it's what he has been able to do internationally that matters just as much.
Over the past three seasons — or better put, throughout the brunt of his career — Martinez has demonstrated a natural ability (and eagerness) to compete against foreigners. Right out of the chute, there he was, jumping in the Grand Prix of Spain, Karavaev, and Finland's Vantaa Cup. Soon enough, Martinez earned his first overseas medal at Zagreb. That was the winter of '16. Later on that year, he placed third at both the Pytlasinski Cup and the Grand Prix of Spain.
In conjunction with all of the overseas tournaments have also been training camps, part of Martinez's effort to fast-forward the assimilation period and relative growing pains that US athletes are often forced to navigate. He has not always made the medal stand; but it's not about that, or not in totality. Martinez has consistently logged relevant experience that, along with his two previous World Championships appearances, suggests there is nothing or no one in Budapest that will surprise him.
Putting more pressure on opponents is not a key to victory for Martinez for the sheer reason that is already part of his gig. Really, Martinez would benefit from taking more risks. Up to now, he has gotten by primarily on his immense base and overall physical viability. He is a guy who relishes the fight. But he is also shortchanging himself it seems. Martinez has the angles and offense to score points on the feet, and if he is going to advance far, that kind of thing will be a necessity.
So we can talk about how Martinez is still somewhat new to Greco-Roman, but this is his third Senior World Team. He's too good, too seasoned, too sharp not to understand the lay of the land here. No, he's not going to get a break or an easy path. This is a packed field. Martinez is going to need to force the action every second of every match. But he can to it. He's used to it by now.
97 kg
Top seeds
1. Balazs Kiss (HUN) — 2009 World Champion, two-time World bronze, 2018 European Championships bronze, 2018 Hungarian Grand Prix gold
2. Luillys Jose Perez Mora (VEN) 2016 Olympian, 2018 Pan Am Championships gold
Kiss, now 35, is still a force to be reckoned with and does not appear to have slowed down at all. After taking earning his second World bronze last year, Kiss resumed his charge this season with a third at the Euros and a gold from the Hungarian Grand Prix, which oddly, was his first-ever win at the event. Perez Mora shouldn't be dismissed — he's a strong athlete with an excellent lift. But he is yet one more beneficiary of UWW's "Ranking Series", and holds a top seed over plenty of others who are more accomplished than he.
Tarp Talk
2017 World silver Musa Evloev (RUS) competed in six individual tournaments this season. He washed out early at the Euros but rebounded with wins at the Russian Nationals (his second straight), the Tbilisi Grand Prix, and Serbia's Gedza. Returning bronze Revazi Nadareshvili (GEO) looks to be in contention again in 2018, but there is also space for a rising star like Felix Baldauf (NOR), who has been a beast the past couple of years and is still waiting for his breakout.
Of course, if we're overviewing 97 kilos, the man at the top of the mountain is multi-time World/2016 Olympic champ Artur Aleksanyan (ARM, world no. 5). Aleksanyan is the winner of four consecutive World-level events. He knows how to perform on the grandest stage — and will need to in Budapest — for the gap between he and everyone else is beginning to narrow.
Team USA — G'Angelo Hancock (Sunkist) It has been a while since a USA Greco athlete walked into the arena at a World Championships on the same kind of roll as Hancock currently is.
Hancock thought he was pretty good. You'd catch him in a candid moment and he would go so far as to tell you he was one of the best in the world — and when you say that, you say it WORLD. You enunciate it, drive it home for effect.
Aside from a few slugfests with Hayden Zillmer (Minnesota Storm), and most recently, his Trial series final opposite Daniel Miller (Marines), Hancock has gone around and beaten the brakes off of most domestic opponents dating back to 2016. He had even picked himself up some nice signature wins, and along the way, earned himself a Junior World bronze. The thing is, as Hancock has progressed, he would speak about his exploits with confidence. When you do good — and there's evidence to back it up — pumping yourself up isn't all that difficult to do.
Talking is one thing and actions are another. Hancock thought he was good. But he now understands, without equivocation, just how good he really is.
The summer's Wladyslaw Pytlasinski Memorial acted as Hancock's pre-Worlds warm-up tournament. After defeating former Junior World champ Nikoloz Kakhelashvili (ITA) and Russia's Maksim Safarayan, he met up with Aleksanyan, who had beaten Hancock at the Paris Worlds a year ago.
When you go to slay the dragon, your sword better be sharp.
Hancock wasted zero time executing on the first bodylock attempt that came his way and torqued Aleksanyan right to his back to earn a stunning fall. The win sent shockwaves around the country, and the global Greco community at large. Better still, Hancock came back the next day to ice the tournament with a dominant, bone-breaking decision over Nikolai Bayryakov (BUL).
You don't normally make a whole lot out of isolated events, but there was more to all of this than just a sparkling win on a summer day in Poland. Hancock has, for the most part, hung in there with or downright beaten some of the top guys in the world. So, and it should come as no surprise, he left Poland believing and knowing that he's one of the top guys in the world, too.
What about it does Hancock now know? That he wasn't just talking himself up all this time. Styles make match-ups, and guys like Evoloev, Aleksanyan, and Nadershvili, the weight class favorites, are all adept at tying up opponents and frustrating their offensive attacks. That comes with the territory. But none of these athletes can react or execute using the same blend of skill and athleticism as the American. Can they grind him down and play for passivity calls? Maybe. But even then, Hancock's par terre defense has improved significantly over the past year, so it wouldn't be an automatic danger for him should that type of situation arise.
Hancock will not be entering competition on Saturday as a favorite, but he will be riding in with the most momentum out of maybe everybody here. He can do something with that. And if all else fails, he simply needs to remember who he is, lean on what he knows. Which is that he belongs on their level and is on the cusp of taking over.
130 kg
Top seeds
1. Riza Kayaalp (TUR) — Four-time World Champion, 2016 Olympic silver, 2012 Olympic bronze, 2008 Junior World Champion, 2007 Junior World silver, eight-time European Championships gold
2. Balint Lam (HUN) — 2016 University World Championships gold, 2018 World Military silver, 2018 Granma Cup bronze, 2018 Hungarian Grand Prix bronze, 2018 Oleg Karavaev Memorial gold
3. Alin Alexuc-Ciurariu (ROU) –Two-time Olympian, 2010 Junior World silver, 2018 European Championships bronze, 2018 Hungarian Grand Prix bronze
Just to eradicate any potential pretense (and barring some weirdness with the draws) — everyone expects Kayaalp and two-time Olympic Champion/four-time World Champion Mijain Lopez (CUB) to meet in yet one more final, thus continuing a rivalry that is now nearly a decade old. Lopez has competed only once in a major event since downing Kayaalp in the Rio Olympics, but let's go ahead and assume the rest will do his 36-year-old body nothing but good when wrestling begins Saturday morning.
Tarp Talk
Lam, a really tall, lanky competitor, has become a steady presence on medal stands these last couple of years, and will pose problems for head-hangers. But will he be able to stare down someone like 2017 U23 World champ/2016 Olympic bronze Sergey Semenov (RUS), who is a seriously agile heavyweight with boatloads of lifts and throws at his disposal? How about returning World bronze Yasmany Acosta Fernandez (CHI), another large, powerful athlete who has proven to be exceptionally difficult to move around for plodders interested in waiting for the officials to get involved?
One heavyweight many aren't talking about enough is Lithuania's Mantas Knystautas. A Junior World silver in '14 and a runner-up last year at the U23 Euros, Knystautas is coming up fast and had himself an impressive showing at Pytlasinski.
Team USA — Adam Coon (Cliff Keen WC) Ever since defeating four-time World Teamer Robby Smith (NYAC/Chicago RTC), Coon has survived a physically and emotionally-draining summer of training that showed him just how different the international level of Senior Greco really is. He has also battled sore ribs and various other aches and pains which come with the territory. But — he's he's okay. He's in one piece. And while the climb for Coon is indeed uphill, there is something to be said for a gifted, intelligent, and driven crossover wrestler who makes it to the finish line ready to put on full display exactly what he's made of.
Coon worked very hard on shoring up his "Greco positioning" the past three months. The goal had been to fortify his core strength and improve his overall working posture. If you caught his performance at the German Grand Prix, though limited in scope, it was clear that the big man was workshopping these concepts.
He'll need some of that in order to compete. But not all of it. Coon is not going to get past truly seasoned competitors by trying to do what they do, only better. There hasn't been enough time for that. Will those attributes arrive in the future, the more disciplined and refined Greco attack mechanics? Most assuredly, so long as he soldiers on past this event. Coon, by all accounts, has acquired enough of an understanding of what not to do when mired in a static tie-up or exchange. What he'll need to do most is rely on what got him to this point.
Coon is a wonderous wrestling athlete who is at his best when out-hustling and out-maneuvering the opposition. The key resides in trying to create situations where his athletic instincts can take command. Rushing in for contact and forcing even the most hardened of the lot to react to what he's doing could be enough to open up opportunities, or counter the misguided attacks of frustrated heavies sick of being moved around the mat.
He could also use a confidence-builder out of the gate. All Adam Coon really requires at this stage is to receive proof that what he does works. Even something small, a counter throw-by, a snap-and-spin, defending a turn. We've seen him do this, all of it. Once Coon feels he's onto something, the slightest crack in the wall winds up being steamrolled into rubble.
If you're a US fan, that is essentially what you're hoping for. Coon is not supposed to be on the same playing field yet as most of the names in his bracket. But that hardly means he isn't. Look forward to a run, he just might have something special to show you.
CLICK HERE TO DONATE TO THE USA GRECO-ROMAN PROGRAM
Listen to "5PM20: Spenser Mango's Germany report while Jesse Thielke & Dennis Hall battle on Wisconsin trivia" on Spreaker.
SUBSCRIBE TO THE FIVE POINT MOVE PODCAST
iTunes | Stitcher | Spreaker | Google Play Music | RSS
Notice
: Trying to get property 'term_id' of non-object in
/home/fivepointwp/webapps/fivepointwp/wp-content/themes/flex-mag/functions.php
on line
999