Here's how it works: if you are a US military veteran, please know that your service to our country is forever valued. If you are not a veteran yourself but know one or two — or even if you happen upon a stranger in uniform along your daily travels — let them know that what they do is never taken for granted.
This coming Friday welcomes in the 2019 Bill Farrell Memorial in New York, the first tournament of the season to be held in the US — and the first real step towards selecting the 2020 Olympic Team.
That's because — as according to the official procedures — "the highest-placed Senior Greco‐Roman USA athlete per weight category winning a medal, who has yet to qualify, will qualify" for the 2020 Olympic Trials.


It was originally anticipated that only a couple of the nation's pre-qualified athletes were going to participate in New York, but that isn't the case. As of this writing, several recent World and/or National Team members are now slated to appear. Part of that is due to the impending US trip to Tbilisi, Georgia for training camp. The Tbilisi camp immediately follows the NYAC tournament; following Tbilisi are both the Haparanda (Sweden) and Haavisto Cup (Finland) with the Lavrikov Memorial (Russia) in between. Because of this, a group of athletes are training/competing overseas but will not end the calendar year by entering the US Nationals/Olympic Trials Qualifier in Fort Worth.
What this means is that Friday's tournament may offer a high number of intense match-ups, especially at 87 kilograms where 2019 World Team member Joe Rau (TMWC/Chicago RTC), multi-time National Team member Jon Anderson (Army/WCAP), and Alan Vera (Florida Jets) will reside.
But plenty of thrilling action is sure to unfold involving the lighter guys, as the temporary dissolution of the non-Olympic weight classes is sure to result in plenty of violent clashes both early on and later in the day. For serious United States Greco-Roman fans, this event just cannot be missed.
5PM 2019 Bill Farrell Memorial Plans
We will be covering the 2019 Bill Farrell Memorial live at the New York Athletic Center with recaps and results throughout the day. The content plan is as follows:
The Williams Word with WBU Head Coach Todd Allen.
An all-new Coach Lindland's Report.
Episode 30 of The Five Point Move Podcast.
Our official preview of the 2019 Bill Farrell Memorial on FLO.
Two athlete Q&A's.
Post-event results on 5PM; recap on FLO.
"The Gunslinger" Returns Soon
The release of the latest Storm Report with Minnesota Storm head coach Dan Chandler confirmed that Alec Ortiz (77 kg) is set to compete again for the first time in nearly a year after recovering from major knee surgery. Last January, Ortiz suffered a severely torn ACL, MCL, and meniscus. Naturally, he missed the remainder of the season. Now operating at full capacity (or close to it), the 29-year-old is targeting December's Nationals as his comeback tournament. As such, we caught up with Ortiz and spoke about his recovery and subsequent progress.
5PM: How frustrating was it to watch virtually an entire season go by while dealing with a badly torn knee?
Alec Ortiz: It was frustrating, but it wasn't the first time I had to do that. I actually blew out my other knee in high school during my freshman year. I didn't have to watch the whole season go by but I didn't get to do any postseason stuff. Like, I didn't go to Fargo that year or do any tournaments during the summer. So, I had a little bit of experience, I had the vaccine for it, so to speak.
It's always going to be disappointing losing a season, especially coming up on the Olympic Year, because then I don't get the chance to set myself up with the training and tournaments. But again, I did have a little bit of experience. It was, Okay, I've done this before. This is little more of a serious injury, and now I'm 28 versus being 16. But I know it can be done as long as I do the rehab and everything else I'm supposed to. It was disappointing, but with having that experience from the past, it wasn't as devastating as I think that it could have been. Other than the initial disappointment of realizing, Oh great, now I'm out of this tournament and it's going to be difficult hobbling around for the rest of the week, it wasn't as bad as it could have been. Thankfully, I had that prior experience to guide me through it as well as that whole rehab process. Just follow the protocols, don't be an idiot, don't try to show how tough you are. It wasn't as bad as it could have been.
5PM: Was the fact that it wasn't the Olympic Year any source of solace at all?
Ortiz: I mean, if you're going to plan it out and you have to have an injury, when do you want to have it? It was about as good as I could have hoped. Ideally, maybe a month or two earlier if it had to be done, that way I could have had more training. But it would have definitely been harder to deal with had it happened, say, this coming weekend in New York. Then it's, We're 100% done. Whereas back then, it was, We've got a whole calendar year to get back and rehab. It's the end of this season, but we still have the Olympic Year, which is what we're all looking forward to. It sucks, but again, I did have enough time, so it wasn't difficult to deal with on the spot. The way I saw it was, If we do everything right, we have time to get back to where we want to be.
5PM: How long did it take to get moving again?
Ortiz: Because of the extent of the damage and the amount of repairs they had to do, I was on crutches and non-weight-bearing on that injured leg for seven weeks. It was a beast. Getting up and down, or moving from the couch to the bed and around the house called for me to really, really rely on my wife a lot and she was fantastic. She got everything squared away. The job that I work at, my boss picked me up multiple times because I wanted to get right back in there. I couldn't do a whole heck of a lot, so it was difficult.
I mean, it was January in Minnesota (laughs). January rolling into February is when the snow is coming. It sucked and it was hard. It also made sense. That's how it goes. Things are going to be tough. But if you want it, you have to work hard for it. I had to work hard just to stay on my feet getting to the car so I could go to physical therapy and then back into the house.
Even after those seven weeks when they said I could start walking, I got cocky. Walking? That's fricking easy, I've already done that. But then it was like, Whoa. So I had to kind of learn how to do that again. It took a day or two to feel normal. It was a beast, but it was another thing I'm glad I went through. I am better for having gone through it but it was definitely tough. I am very thankful for my wife. Two years in a row she had to do all of the shoveling. Two winters ago I was in Denmark, so she had to do all the shoveling and get the mail so we could operate normally. This past year, I couldn't even put weight on my leg, so it was two years in row she did all of the shoveling. I am definitely going to owe her this next year. She carried the team on her back, for sure.
5PM: What is your status as of now?
Ortiz: I'll say the same thing I told my physical therapist. He will ask how I feel, to give him a percentage, like 50% or 80%. I have been telling him all along, I feel great right now. Standing, running up the block, or drilling a little bit, I feel fantastic. But I honestly won't know what my percentage is until I make weight, stand on the mat, and have another person who is trying to do the same thing I am. We're both trying to win this match. I can do all of the matches I want in practice and get as prepared as I can, but it's going to be real when I step on the mat. It's hard to emulate. I can emulate it in practice, but I won't know where I am until it's go time.
I won't be at the NYAC (Bill Farrell Memorial). Having this injury another month or two earlier would have been fantastic if I was planning for this year. The US Open is when we're planning on making my comeback, and if the schedule is correct, that's about all we'll have for the rest of the year. There are not a whole bunch of domestic tournaments that are available to compete in.
Croatia Starts National Camp
As the header indicates, members of the Croatian National Team started training camp today in Zagreb and are scheduled to finish up on November 22. Croatia is looking to fortify a program that did not have one athlete medal or qualify an Olympic weight in September at the World Championships. Even with that, there is still a lot of talent to go around, including the likes of Vjekoslav Luburic (82 kg), who earned silver at the U23 Worlds last week.
All of Croatia's current heavy hitters are listed for the camp, such as Dominik Etlinger (72 kg), Bozo Starcevic (77 kg), Ivan Huklek (87 kg), and up-and-coming heavyweight Ante Milkovic.
Japan WC Lineup
The end of this month will usher in the 2019 World Cup in Tehran, Iran with the top-eight nations from the World Championships. It is just a little early for rosters to begin floating around, but Japan has announced its 12-man team that is taking the trip.
As reported last month, both Kenichiro Fumita (60 kg, world no. 1) and Shinobu Ota will be participating. Fumita won his second Senior World title in September while Ota collected his first. The story of course is that Ota is moving up to 67 kilograms for the Olympic Year after triumphing in Nur-Sultan at 63. However, Ota's primary domestic obstacle at 67, Shogo Takahashi, is also making the trip. The blazing hot Shota Ogawa (55 kg), who just won the U23 Worlds after taking third in Kazakhstan, is coming along for the ride, as well.
55 kg: Shota Ogawa (2019 U23 World Champion, '18 World bronze)
60 kg: Kenichiro Fumita (Two-time World Champion, '18 U23 World Champion)
60 kg: Ayata Suzuki
63 kg: Yoshiki Yamada
67 kg: Shogo Takahashi (2019 Asian Championships bronze)
67 kg: Shinobu Ota (2019 World Champion, '16 Olympic silver)
72 kg: Tomohiro Inoue (Two-time Asian Championships bronze)
77 kg: Shohei Yabiku (2013 Junior World bronze)
82 kg: Yuya Okajima
87 kg: Takahiro Tsuruta
97 kg: Masaaki Shikiya
130 kg: Arata Sonoda
While rosters for the World Cup are thus far not fully circulating, Russian National coach (and five-time World champ) Gogi Kouguashvili did provide one clue as to who won't be traveling to Iran. It sounds like all of Russia's #1's will be staying home unless athletes directly request to be included.
Here is what Kouguashvili told official Russian outlet WrestRus:
"On November 14 in Adler, we will begin preparations for the competition and all members of the national team will come to the camp without exception. There are no released ones, but our key fighters, leaders who claim to participate in the Olympic Games, will not fly to Iran, and even at the ALROSA Cup, which will be held December 1-2 in Moscow, will not be involved either. But if someone expresses a desire to fight, for God's sake, let him fight. Our goal for the World Cup is first place. In 2017 we won the World Cup and this year we want to defend it. We'll talk about the composition ten days before the start."
Sale on 5PM Shirts
Running from today — Veterans Day 2019 — through Friday, all Five Point Move t-shirts are 20% off using promo code USAVETS at checkout.  T-shirt sales comprise a significant portion of our funding, plus they really are the coolest garments you could possibly own.
Questions? Concerns? Feel like reaching out? Do so on Twitter, Facebook, and Instagram!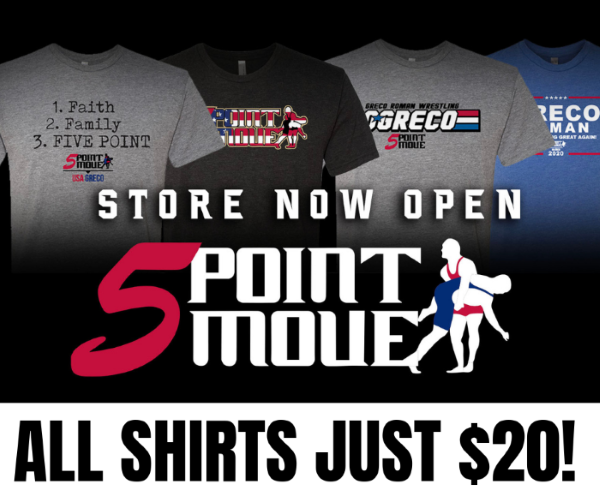 Listen to "5PM29: Junior world medalists Alston Nutter and Peyton Omania" on Spreaker.
SUBSCRIBE TO THE FIVE POINT MOVE PODCAST
iTunes | Stitcher | Spreaker | Google Play Music | RSS
Notice
: Trying to get property 'term_id' of non-object in
/home/fivepointwp/webapps/fivepointwp/wp-content/themes/flex-mag/functions.php
on line
999