Greco-Roman at the 2019 World Championships begins Saturday morning with all four non-Olympic weight classes, and for fans of the sport old and new, there might not be a better way to crack this thing open.
In an edition of the Worlds that sees Olympic qualification consistently own the headlines, the four non-Olympic weights (55, 63, 72, and 82 kilograms) could steal the show. For starters, there is a treasure trove of highly-accomplished stars occupying these categories. Then there is the little matter of the Olympic year itself. Many, if not most of the athletes preparing to compete on Saturday will have tough choices to make later this fall. For some, this very tournament could be their last best shot to walk away with the ultimate prize. There is already nothing like the intensity present at a World-level event, and the stipulations involved this time around are sure to ratchet the excitement up to a whole different stratosphere.
Saturday, September 14 
11:00am-4:00pm — Qualification rounds
6:00pm-7:30pm — Semifinals
Sunday, September 15 
11:00am-4:00pm — Repechage
8:00pm-10:00pm — Finals/bronze medal round
The 2019 World Championships begin at 11:00am from Nur-Sultan, Kazakhstan and can be viewed live in the US on Trackwrestling (subscription required). 


55 kg
SEEDS
1 – Eldaniz Azizli (AZE)
2 – Ilkom Bakhramov (UZB)
3 – Nugzari Tsurtsumia (GEO)
4 – Abdelkarim Fergat (ALG)
Returning champ Eldaniz Azizli (AZE, world no. 1) and Russia's Vitali Kabaloev (world no. 10) went 1-1 against each other this season in two dramatically different matchups. It started at the Clubs Cup in December when Azizli threw a beatdown on Kabaloev, who eventually gained a measure of revenge in the Euro semifinals. Important to note, if only because Kabaloev represents the first blemish on Azizli's record at 55 since the weight class' reintroduction 18 months ago. Azizli is as close to the total package as it really gets, particularly for this weight class. He has loads of experience up a weight and all of his skills translate even better here. Kabaloev is in a similar boat, as are plenty of other Seniors who predate this weight class' second go-round.
#2 seed Ilkom Bakhromov (UZB) could be in line for a breakthrough and it would make sense. It's his second year as a Senior, and while his results have been strong (victories at both the Hungarian Grand Prix and Asian Championships, respectively), he has looked even stronger. Bakhromov is gaining patience on the feet, which sets up his explosive throwing ability. He can then ice matches from top should he have the chance. Right there with him is Norayr Hakhoyan (ARM, world no. 9), who carries more of a sleeper label. He doesn't have the glitzy cred others here might — but he is a tough first-period wrestler and more than suitable in par terre.
Last year's bronze Nugzari Tsurtsumia (GEO) took a quick turnaround after Budapest and picked up gold at the U23 Worlds — by defeating Kabaloev in the final. He would have been in the mix at the Senior Euros had Azizli not fallen to Kabaloev, but he was certainly sharp enough to win at Pytlasinski a month ago. Germany's Fabian Schmitt earned bronze at the Euros, his biggest performance at Senior. Will that factor into his performance?
Host country Kazakhstan has listed both Zhanserik Sarsenbaev and Khorlan Zhakansha for potential entry. Either is a tough out. They went with Sarsenbaev in '18, and he was turned back by Shota Tanokura (JPN) in the second round. Zhakansha was tabbed for this year's Asian Championships (where he bronzed), so it is he who will likely appear in the bracket. That's dangerous news for everyone. Zhakansha is fluid, creative, and dynamic. He is also a bit of a risk-taker, and will give up points on the feet, but he'll hunt opponents down with little reservation and work hard to clear tie-ups. The scoreboard likes him.
Team USA — Max Nowry (Army/WCAP, world no. 12)
Nowry has been waiting for this opportunity for ten years. Ten years. That does not entitle him to a grand performance, nor does he "deserve" to reach the medal stand because he was forced to compete well above his natural weight throughout a substantial portion of his Senior career. Instead, US fans should be called upon to use logic and reasoning to decipher why Nowry is considered a medal candidate.
His recent bronze at Pytlasinski is a good start. After downing Dogus Ayaczi (TUR), Nowry faced off against Tsurtsumia and was step-for-step with the Georgian for most of the match but wound up giving away points from par terre. It was an 8-1 decision loss that felt a lot closer since it was really just one position that brought forth the result. It provided a workable dataset for his coaches, too. That Nowry later bested Murat Cankaya (TUR) put a nice bow on his performance, but for observation's sake, the match with Tsurtsumia was a more important takeaway.
There have been other bases of comparison. Like the aforementioned Schmitt, who Nowry locked horns with in Germany (twice) last year. Both bouts were close, and Schmitt was weary of engaging once he got a taste of Nowry's movement. The Pan Am Championships this year, which saw Nowry float a Sargis Khachatryan (BRA) gutwrench ahead of stealing the match with his own turn, provided a glimpse at a weapon that has been sharpened over the course of this season, and will come in handy on Saturday.
In a bracket that as of press time will offer only 20 competitors, the draw is rendered immaterial. Nowry is (very) likely going to be paired with a "name" athlete right out of the gate. There is no escape. That is his advantage. If he is warm and ready, it will prove difficult for the others here to match his pace. By and large, that's not their game. Any and all opportunities to score must be seized upon at 55 because points pile up fast around these parts. Nowry knows this. Whether his scores come from standing or par terre (top or bottom, as it were), that'll do just fine.
63 kg
SEEDS
1 – Stepan Maryanyan (RUS)
2 – Erbatu Tuo (CHN)
3 – Shinobu Ota (JPN)
4 – Slavik Galstyan (ARM)
Stepan Maryanyan (RUS, world no. 1) is undefeated at 63 kilograms. So, there's that. Eight tournament victories, including at the Worlds a year ago. He was also a bronze medalist in '17 (at 59 kilos), a Junior World champ back in '10, and owns a pair of Russian national titles. But it's not what he has done, it's what he is doing. Maryanyan, like most in this terrific weight class, is tailor-made for 63 and it shows in his energy level. Unlike some Russians, he does not fade too much entering the latter stages of bouts, and he actually tries to score from the feet. Combine that with a deadly top game, and it's easy to see why anyone knocking him off would be observed as a sizable upset.
Then there is '16 Olympic silver Shinobu Ota (JPN), who might even be a better all-around wrestler than Maryanyan, and is certainly more dynamic. Ota can exact a variety of setups and transitions that are rather uncommon, primarily because he is unafraid to generate scrambles. He is also a tough competitor and fiery at times. And he'll be plenty motivated in Nur-Sultan given how his domestic season shook out.
Iron-jawed Erbatu Tuo (CHN, world no. 2) had himself a really solid Worlds in '18, falling only to multi-time medalist Elmurat Tasmuradov (UZB, and who will be competing at 67) and Lenur Temirov (UKR, now at 60 kilos), the latter in the bronze match. Tuo and Tasmuradov squared off again in this year's Asian Championships final — and it was a gripping bout before Tasmuradov was forced to default with a seeming back injury. Tuo is a gamer whose squat body style and penchant for front headlocks and arm throws make him a constant threat, as well as really fun to watch.
If Kazakhstan is sending out World decorated Almat Kebispaev at 63, which it looks like they might, they have themselves a solid contender with tons of experience. But it's questionable. As mentioned, the World entry list for KAZ offers two athletes per weight, so it is a guessing game. Plus, Kebispaev has done most of his bidding recently at 66/67. Since he went 63 at the German Grand Prix, however, we're taking that as his test tournament (despite the two-kilo allowance that was in effect).
Turk Rahman Bilici (world no. 11) stands as the only other returning medalist outside of Maryanyan, and is going to present problems depending on bracket position. Now 30, Bilici has been around for a spell; so he doesn't huff and puff and overextend too often. He's athletic enough still, but more than anything, likes to stand pat as much as possible in anticipation of par terre. A dark horse here to keep an eye on would be Slavik Galstyan (ARM, world no. 5). Lanky is the word for this guy, and he is a choppy mess to deal with in the trenches (and susceptible to drags). But — he is a very good fighter with a nice lift when he gets his lock.
Team USA — Ryan Mango (Army/WCAP, world no. 20)
He has shared mat space with some of the planet's best. And yet, Mango's toughest opponent thus far during his Senior career has been between his ears.
Mango is either the best wrestling athlete in the country, or within the top three. That's not hyperbole or Greco bias, but an easy truth to recognize for any and everyone who has watched him compete. It's not about his explosiveness, which is more than substantial. It is about his ability to negotiate positions that meet his strong suits, and improvise during exchanges when said positions disappear. All he needs is a teeny, tiny window to reach the body, and the possibility for big points is never too far away. Aside from Ota (with whom Mango has traded paint before), no one else in this weight class can say the same thing. Not even Maryanyan, the bracket's most polished competitor.
Mango's issue has been that he sometimes forgets the very qualities that make his toolbox so enviable. The suggestion used to be that folkstyle at Stanford and the blending of disciplines required a prolonged adjustment period at Senior. Perhaps not an inaccurate assessment, though one that is no longer relevant. A founding member of Army/WCAP's "Ninja Squad", Mango has upped the ante and the results prove it. Even in a season delayed by injury, he still managed to win the Open — and then defeat rising star Xavier Johnson (Marines) in two straight matches at Final X: Lincoln. 
The education has begun to fully settle in. Mango now realizes how to employ his customized brand of Greco and prepare himself for just this sort of stage. In wrestling, people always yammer on about "what it takes" when that actually means different things to different athletes. For Mango, "what it takes" is very simple: he just needs to be himself.
72 kg
SEEDS
1 – Aik Mnatsakanian (BUL)
2 – Balint Korpasi (HUN)
3 – Abuyazid Mantsigov (RUS)
4 – Hujun Zhang (CHN)
Balint Korpasi (HUN, world no. 2) has a chance to make it four podium trips in a row. The winner of the first-ever non-Olympic weight Worlds in 2016, the dependable Hungarian earned bronze the next year, and was runner-up to the now down-in-weight Frank Staebler (GER, world no. 1) last October. He is an example of consistent excellence. If Korpasi enters a tournament, he gets a medal. There is only one tournament over the past two seasons where he finished out of the money (fifth at the '17 Tbilisi GP), and you'd have to dial it all the way back to his loss to Harry Lester at the '15 Vegas Worlds to find the last time he was one-and-done.
But he is not the #1 seed. That spot in the bracket belongs to Aik Mnatsakanian (BUL). Mnatsakanian's bronze in Budapest was a revelation and he hasn't slowed down all that much since, earning bronze, silver, and bronze at Zagreb, Petrov, and the Euros, respectively. What you get with Mnatsakanian is a par terre opportunist. He can score on the feet, using a deep right leg lead that serves as a sword's point for snatching drags. But it is often a hard pummel and some snaps until the refs get involved. Where Mnatsakanian really wants to be is on top, like most competitors. The difference is that his gutwrench is wonderfully effective, often a show-stopper, as evidenced by his rapid rise in the sport.
'18 U23 World Champion Cengiz Arslan (TUR, world no. 7) grabbed a win against Mnatsakanian en-route to Euro silver, and if you have seen him in action, you know the deal. He is a hard charger and very much into fabricating small windows to score from standing, but will also wear on opponents during tight matches in hopes of a passive. He will be a player on Saturday. One athlete who flies under the radar simply because he hasn't medaled yet is Dominik Etlinger (CRO, world no. 20). That might be a mistake this time around. Etlinger can hang with most in this weight — and has — but he has also struggled on the sport's biggest stage. He did snare a huge win over '17 World silver Mateusz Bernatek (POL) that helped usher in bronze at the Euros, and finished just behind Korpasi and Russia's entrant Abuiazid Mantsigov at the Grand Prix of Germany last month.
Two-time Junior World champ/'17 U23 World bronze Amin Yavar Kaviyaninejad (IRI) is this weight class' thoroughbred. There is no other way to put it. Kaviyaninejad is virtually the perfect size for this weight; can push, push, and push; is lightning-quick on the feet (drags, mostly); superb on top; and makes sound decisions throughout every match. It's as if you can see his mind at work during furious exchanges. Aside from wrapping up the U23 Asian Championships title, he has also won at Vehbi Emre and Tbilisi this season. A mean machine who should have your undivided attention.
Team USA — Ray Bunker (Marines)
In every sport, there is a team or competitor no one wants to see standing across from them. For the lot at 72 kilograms in Nur-Sultan, that person is Raymond Bunker.
The beautiful thing about Bunker is that it does not matter who the opponent is, the effort is going to stay the same.
He is going to slap hands and immediately go on the assault. He is going to try his darndest to get chest-to-chest and use his legs to plow forward until the opposition is compelled to redirect, or attempt a throw. In which case, the Marine is adequately schooled at landing on top. By the second period, just when Bunker's second wind transforms him into a fire-breathing zombie, counterparts are often left gasping for air and searching their brains for an exit strategy. They stop trying to win. They start trying to survive.
But it isn't always this way. Bunker does have vulnerabilities. He can get caught reaching, and like many in the US, is susceptible to being turned. However, both of those areas have benefited from discernible improvement this season. Top par terre had also been a missing piece for awhile. Bunker now boasts a signature reverse lift that has offered a reliable way to score, and his gut is similarly effective if he doesn't rush the lock.
Bunker's road to elite status has been short for two main reasons: coaching (Jason Loukides' influence) and uncommon heart, with his recent bronze-medal match in Poland responsible for providing the most glaring example for anyone who needs convincing related to his candidacy this weekend (as if the entire previous 18 months weren't enough).
Entering the 2018-19 slate of competition, the idea of Bunker becoming a World medalist, especially this soon, would have resulted in double-takes from anyone brave enough to hypothesize such a concept. Fast-forward to today, and the opposite is true. Bunker is a legitimate problem for every potential opponent because win or lose, they won't be the same afterwards. This bracket is stuffed with athletes who are much more refined than the Marine, but refinement is rendered immaterial when someone is trying to knock your head off. That is his wheelhouse.
82 kg
SEEDS
1 – Emrah Kus (TUR)
2 – Viktar Sasunouski (BLR)
3 – Saeid Abdevali (IRI)
4 – Rajbek Bisultanov (DEN)
2018 World runner-up Emrah Kus (TUR) doesn't have Peter Bacsi to worry about any longer, but that doesn't mean he should be considered a lockdown favorite. Not by any stretch of the imagination. Kus, a two-time medalist with a booming reverse lift, will likely contend, but the brush is thick at 82 kilos. '17 World champ (and '18 bronze) Maksim Manukyan (ARM) is one of the baddest dudes in the entire tournament — and unseeded, thus subject to the random draw. A special athlete. He can score from the feet, is difficult to move towards the zone, and sticks his face in everyone's grill until they concede position. And, he also didn't love falling to Kus at last year's World event.
Warhorse Saeid Abdevali (IRI, world no. 3) keeps chug-chug-chugging along as he nears 30 years of age. 82 kilos has fit him well. Fifth last year, Abdevali lost to Kus and Manukyan, two of the obvious best guys in the bracket. All the tools you remember through the World champ's career have been visible — still a beast in tight and a ferocious pummeler; still easy to get a rise out of; still cranking out points from top. Two-time bronze winner Viktar Sasunouski (BLR, world no. 3) has had a compressed up-and-down 2019 thus far. He won Vehbi Emre to start the year, didn't have a good Euros, but won Karavaev by defeating Kus thanks to a clutch correct throw late. Maybe he walks into this tournament feeling good about himself.
Russia's Adlan Akiev is getting the call here due to their lineup shift, and should be a factor. It's a similar thing to Aleksandr Chekhirkin last year. Their depth is so substantial that athletes who are more than capable enough of performing wind up riding the bench. But when they get the chance, they do the job. One wrestler who could surge to the podium and almost appears in line to do so is Rajbek Bisultanov (DEN, world no. 7). His runner-up showing at the '18 U23 Worlds was nice; but his win at the Senior European Championships this past spring that included victories over Kus (in the semis) and '15 World bronze Lasha Gobadze (GEO, world no. 13) in the final carries more significance at the moment.
In a Senior career that now spans over a decade, Rafik Huseynov (AZE) has yet to earn a World medal. He has been close before, and has won or placed at pretty much everything else. At the '18 Worlds, he beat a very good Daniel Aleksandrov (BUL, world no. 18) and was then ousted by Abdevali. This season, his high points were a bronze at Vehbi Emre and a silver in Tbilisi. So, watching out for a Huseynov charge wouldn't be a bad idea. The same is true of '17 World bronze Pascal Eisele (GER), if only because when a guy has done it once, he can do it again.
Team USA — John Stefanowicz (Marines)
Although Nur-Sultan 2019 represents Stefanowicz's first Senior World Championships experience, it feels like he has been here before. Part of that is due to his growing resume of overseas tournaments, but the other part is because the venue and stakes involved do not move his mercury.
Stefanowicz respects everyone but is impressed by no one. That means whenever he does face off with an accomplished foreigner, outsiders are more hyped up about it than he is. While there is something to be said for wrestlers who know how to raise their games, Stefanowicz thrives because he treats every opponent the same: with hostility. He and Marine teammate Bunker are very much alike in this regard. Consistency is important over there in Camp Lejeune.
As outlined last week in a detailed exploration of his career resurgence, it took a near-miss against Rio Olympian Zurabi Datunashvili (GEO) at the '17 Hungarian GP for Stefanowicz to finally pop up on the international radar. He hardly knew who the Georgian even was. It was the same thing again this winter, when he handed Bisultanov a criteria loss in Croatia. Names are not his objective. Victories are. Progress is. Every goal, large or small, is met with identical passion.
But passion does not win medals, certainly not by itself. Stefanowicz is not seen as a viable contender this weekend because he cares, or because he keeps improving, or because he has a great motor. It's his skills that are up for the task. Stefanowicz has always had solid positioning. Now it is supplemented by an increased degree of awareness in the pummel and more confidence to create those small tinges of counterpressure that set up his arm spin. He can also snatch an arm for a drag that allows for takedowns around back, or he can just beat you to a slumping heap in the ties.
Par terre, as it is often said, stands as the equalizer. For everyone. Timely defense wins big matches. That is where Stefanowicz will get tested the most. In every other meaningful area, the Marine is on par with the field. In this way, the draw shouldn't make a difference. Give Stefanowicz a reason to believe he can win a match, and he will exhaust all avenues to get it done.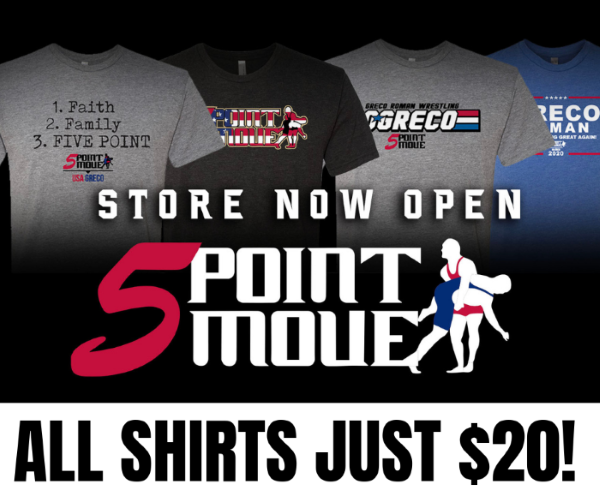 Listen to "5PM28: G'Angelo Hancock, Joe Rau and Max Nowry" on Spreaker.
SUBSCRIBE TO THE FIVE POINT MOVE PODCAST
iTunes | Stitcher | Spreaker | Google Play Music | RSS
Notice
: Trying to get property 'term_id' of non-object in
/home/fivepointwp/webapps/fivepointwp/wp-content/themes/flex-mag/functions.php
on line
999