The dust is finally starting to settle following a mesmerizing weekend in Estonia that ushered in three American medalists at the Junior World Championships.
Although the medals did not begin arriving until Saturday, Friday's proceedings can be credited for setting the table. That's when Cohlton Schultz (130 kg, Sunkist) outscored his first three opponents 24-2 before pinning Lu Zhang (CHN). It's just details, but with the result, Zhang became the second athlete from China in consecutive Junior Worlds to be pinned by Schultz (preceded by Lingzhe Meng, who was also flattened by Adam Coon in Budapest).
Right alongside Schultz of course was Alston Nutter (63 kg, Sunkist/OTS), the Wisconsin kid who famously ditched high school wrestling in favor of getting a head start at Northern Michigan in the fall of 2016. Nutter's first two opponents on Friday —  Zaur Nuriyev (AZE) and Assaukhat Mukhamadiyev (KAZ), respectively — were exactly the type of foreigners US athletes tend to struggle with — only, Nutter really didn't. His bout with Nuriyev had a sequence moment or two, but there was never a doubt Nutter could score if he had to leading up to the fall. Against Mukhamadiyev, Nutter was the aggressor in nearly each and every exchange, leaving Mukhamadiyev a frustrated mess by the latter stages of the second period.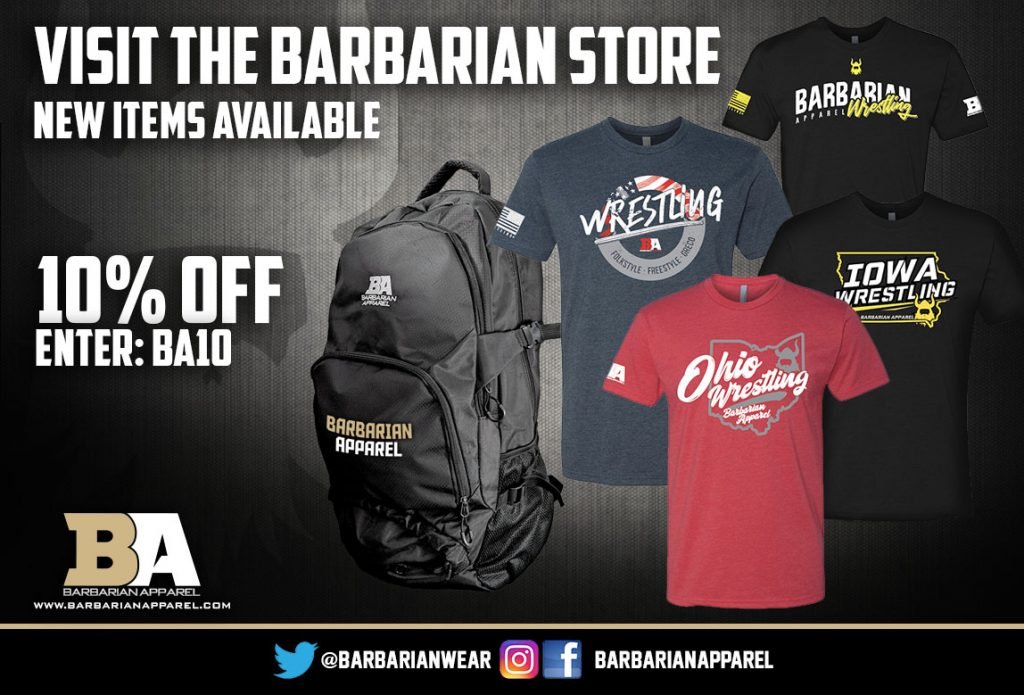 The semis didn't pan out for Nutter but he went down in the absolute best way possible, given the opposition. Abu Muslim Amaev (RUS), the eventual champ and whose technical intuition stood out above the field — netted the brunt of his points off of counter actions. Nutter simply went for it, simply tried to win the match by scoring. Six of Amaev's eight offensive points were the result of: a Nutter front-headlock early on that was cinched too high, leaving a clear lane to the body; and two missed arm spins that Amaev covered for takedowns.
That's why when the bout was over and Amaev's hand was raised, whatever disappointment that could be discerned was tempered by a rational brand of encouragement. The phrase "You win or you learn" appears in far too many memes nowadays to be taken seriously, but it was applicable in this case. Nutter did not walk off the mat a victim after the semifinal. He walked off with the advantage of knowing everything that went south in the match was ultimately correctable. And everyone who watched — his coaches and teammates included — realized that, too.
Saturday
Whatever charged-up feelings that were available on Friday more than carried over into Saturday, thanks in large part to Peyton Omania (MSU/CYC). Operating in the steepest bracket of the tournament, Omania's offensive might was on full display from the qualification round all the way to the semifinals four matches later. He opened with three tech falls, confidently ducking, darting, and throwing everyone in his path to set up a showdown with Iranian Mohammad Mokhtari. And like Nutter's first two opponents, Mokhtari would have appeared to offer the same kind of problems for an American competitor if not for Omania's unshakable resolve and clear sense of self-belief necessary to get the job done.
Take the second period, for instance. Up 5-3, Omania had to score again, lest he risk Mokhtari finding an opening for a takedown (or more) — or the officials getting involved by coming up with an excuse to call passivity. So he scored again, on yet one more duck-under sequence that all but put the bout away. Trite to offer, but sometimes the biggest risk is found in not taking one, especially when it comes to elite Greco-Roman competition at the World level where the element of risk is the only thing athletes truly control.
Then there was Nutter's unforgettable come-from-behind pin for bronze — and a little while after that — Aliakbar Yousofiahmadchali (IRI) literally handcuffing Schultz throughout the majority of their heavyweight final. Schultz's best opportunity in the bout presented itself with the first-period passive. He had a run on a front headlock and appeared really close to taking it over the top, but Yousofiahmadchali defended adequately and slipped away before any damage could be done.
Yousofiahmadchali did not prevail solely due to his getting away with "negative wrestling" murder (though it helped). Schultz is far too gifted of an athlete to isolate one reason for defeat (in a World final, no less) and canvas blame on the opponent and the three individuals tasked with governance. Schultz could have won this match and had his chance to do so. But it was just one more example of the ridiculously inconsistent and laughably inept officiating that has done more harm to this style than will ever be quantifiable.
There were wins elsewhere
Omania's surge and the medal-winning performances of Nutter and Schultz weren't the only moments for the US on Saturday. Tyler Eischens (72 kg, CARTC), Zac Braunagel (82 kg, IRTC), and Cameron Caffey (87 kg, MSU) all won their first matches in the morning. For Caffey, his day actually started in the repechage. In a bout that ended with a beautifully-executed headwrap, he emerged victorious via fall over Kumar Sunil (IND). In his second repechage bout, Caffey gave Sweden's Jacob Logaard all he could handle but dropped a contentious 8-7 decision.
Both Eischens and Braunagel won their opening matches dominantly. Eischens "Minnesota gutted" Deividas Subotkevic (LTU) into oblivion, and Braunagel chose a similar method of destruction for his disposal of Toyly Orazov (TKM). The duo did not advance after that, with Eischens falling to Igor Bychkov (UKR) (JPN) 5-2 and Braunagel to Satoki Mukai (JPN) on criteria.
Sunday
Sunday was all about Omania and his triumph in the bronze medal round over Xin Huang (CHN). The CYC rep drew first blood with a duck-under that he used to wrap around Huang's head-and-arm for a four spot. Another two points went to Omania in the second on a similar headlock — though Huang reversed and in the process exposed Omania, gaining four and cutting the gap to 6-5. Enough time remained for Huang to steal it late, but come on. No way. As US Junior World Team coach put it last night, "Nothing was going to stop" Omania from clinching World hardware Sunday afternoon.
2019 Junior World C'Ship Notes:
Eischens and Jack Ervien (77 kg, Takedown Express) were both defeated by eventual bronze medalists. Eriven dropped his second bout on Friday to '18 Junior World runner-up Sajan Sajan (IND), and Eischens was clipped by Igor Bychkov (UKR).
Excluding Schultz, who appeared in his weight class' final, three US athletes fell to eventual World Champions: Nutter (Amaev), Omania (Giorgi Shotadze of Georgia), and Caffey (Ilya Ermolenko, RUS).
Dariusz Vitek (HUN), Schultz's first opponent of the tournament, went on to earn bronze.
Kerem Kamal (TUR) won his third Junior World title on Sunday. In January of '18, US National Team member Xavier Johnson (63 kg, Marines) threw and pinned Kamal for bronze at the Grand Prix Zagreb Open.
The champion at 97 kilograms, Gabriel Rosillo (CUB, world no. 13), defeated US Senior World Team member G'Angelo Hancock (Sunkist, world no. 3) in the finals of both the Pan Am Championships and the Pan Am Games, respectively.
The US finished the 2019 Junior World Championships with an overall record of 14-10 with seven tech falls, four pins, and three decisions.
For those hopeful about continuity, five members of the 2019 Team will be Junior-eligible again in 2020: Dylan Ragusin (55 kg, Izzy Style), Eischens, Ervien, Braunagel, and Schultz.
2019 Junior World Championships
MEDAL RESULTS
55 kg
GOLD: Anvar Allakhiarov (RUS)
SILVER: Zaur Aliev (AZE)
BRONZE: Poyo Dad Marz (IRI)
BRONZE: Ken Matsui (JPN)
60 kg
GOLD: Kerem Kamal (TUR)
SILVER: Sahak Hovhannisyan (ARM)
BRONZE: Asgar Alizada (AZE)
BRONZE: Georgii Tibilov (RUS)
63 kg
GOLD: Abu Muslim Amaev (RUS)
SILVER: Leri Abuladze (GEO)
BRONZE: Alston Nutter (USA)
BRONZE: Shahin Badaghi Mofrad (IRI)
67 kg
GOLD: Giorgi Shotadze (GEO)
SILVER: Shant Khachatryan (ARM)
BRONZE: Peyton Omania (USA)
BRONZE: Valentin Petic (MDA)

72 kg
GOLD: Sergei Stepanov (RUS)
SILVER: Ulvu Ganizade (AZE)
BRONZE: Mohammadreza Rostami (IRI)
BRONZE: Igor Bychkov (UKR)
77 kg
GOLD: Mohammad Naghousi (IRI)
SILVER: Damir Rakhimov (RUS)
BRONZE: Sajan Sajan (IND)
BRONZE: Dmytro Vasetskyi (UKR)
82 kg
GOLD: Istvan Takacs (HUN)
SILVER: Aues Gonibov (RUS)
BRONZE: Dogan Kaya (TUR)
BRONZE: Maksim Bandarenka (BLR)
87 kg
GOLD: Ilya Ermolenko (RUS)
SILVER: Giorgi Katsanashvili (GEO)
BRONZE: Ihar Yarashevich (BLR)
BRONZE: Bedirhan Tan (TUR)
97 kg
GOLD: Gabriel Rosillo (CUB)
SILVER: Patrick Neumaier (GER)
BRONZE: Beytullah Kayisdag (TUR)
BRONZE: Uladzislau Pustashylau (BLR)
130 kg
GOLD: Aliakbar Yousofiahmadchali (IRI)
SILVER: Cohlton Schultz (USA)
BRONZE: Muhammet Bakir (TUR)
BRONZE: Dariusz Vitek (HUN)
Engel Q&A's
Despite his exhaustive responsibilities in Tallinn, Coach Nate Engel couldn't have been more accessible (and his wife, McKayla also did an outstanding job photographing the event) and following each day's action, he answered a handful of questions that enlightened the audience while also firing them up. In case you missed any of the Engel Q&A's from over the weekend, all three are listed (and linked to) below.
Engel Day 1 (Schultz makes final, Nutter rockets to semis)
Engel Day 2 (Schultz silver, Nutter bronze, Omania's offense)
Engel Day 3 (Omania's bronze, future of the program)
Senior World Team Camp
The most important part of the summer's preparation phase for the Seniors begins tomorrow at the US Olympic and Paralympic Training Center in Colorado Springs. 2019 World Team Camp kicks off featuring (most of) the US National Team members converging in a massive effort intended to harden up the ten athletes who leave for Kazakhstan early next month. Hard conditioning, hard live wrestling, technical adjustments, and some game-planning are all on the agenda.
We will work to provide updates and insights from US National Team head coach Matt Lindland and several of the athletes during the two-week camp.
Questions? Concerns? Feel like reaching out? Do so on Twitter, Facebook, and Instagram!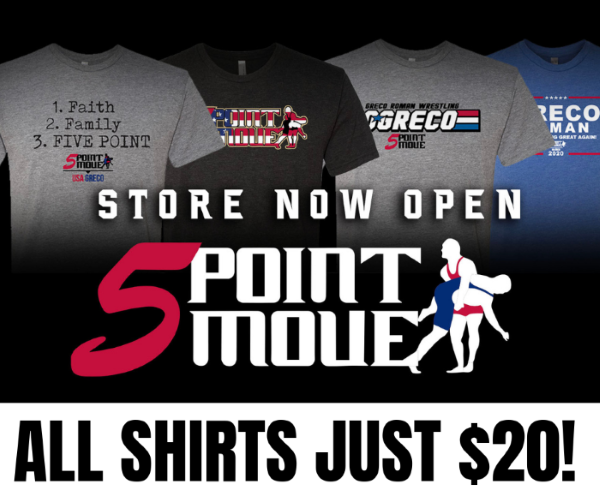 Listen to "5PM26: Princeton's Lenny Merkin and new USOTPC Greco-Roman athlete Nolan Baker" on Spreaker.
SUBSCRIBE TO THE FIVE POINT MOVE PODCAST
iTunes | Stitcher | Spreaker | Google Play Music | RSS
Notice
: Trying to get property 'term_id' of non-object in
/home/fivepointwp/webapps/fivepointwp/wp-content/themes/flex-mag/functions.php
on line
999