The 2019 Pan American Championships are this week, and as previously reported, the United States Greco-Roman program has placed a heightened emphasis on the tournament.
There is a perceived increase in the caliber of athletes available within the Pan Am continent, a perception that isn't too far off when you consider the talent that has spread out around South America in recent years (that and a modest influx of Eastern Europeans). Throw in the improved coaching for several of these nations, the "Ranking Series" points attached to the event, and the fact the US still has five spots to qualify for the Pan Am Games, and you have why an intense two-week camp in Springs in advance of Thursday's proceedings just wrapped up.


The American delegation jetted out for Argentina earlier today with a full ten-man roster. If the entry list below for the Pan Ams is accurate, then the US will be the only team in the tournament boasting a full squad.
Cuba's best all-around athlete, 2016 Olympic gold Ismael Borrero Molina, a four-time Pan Ams winner, is locked in for Thursday. But according to the list, his recent medal-winning teammates Yasmany Lugo Cabrera (97 kg, 2016 Olympic silver) and two-time World bronze Oscar Pino Hinds (130 kg, world no. 7) are not included, nor is 2017 World bronze Yasmany Acosta Fernandez (130 kg, CHI). Were it to stay this way with Pino Hinds and Acosta Fernandez not competing, outside of Borrero, Adam Coon (130 kg, Cliff Keen, world no. 2) would be the highest placer at a World/Olympic event showing up to wrestle.
But the hype surrounding the 2019 Pan Ams is still very real. Several of the countries that will be in action do offer athletes who pose legitimate threats to the US and everyone else. The reason why they may not have World hardware (or at least experience) is more the result of budgetary issues when it comes to sending competitors to the major events than it is anything else. However, that is slowly starting to change.
The 2019 Pan American Championships begin Thursday morning from Buenos Aires at 10:00am (+1 hour ET) and can be viewed live in the US on Trackwrestling (subscription required).
TEAM USA
55 kg: Max Nowry (Army/WCAP)
60 kg: Dalton Roberts (NYAC/OTS)
63 kg: Ryan Mango (Army/WCAP)
67 kg: Ellis Coleman (Army/WCAP)
72 kg: RaVaughn Perkins (NYAC)
77 kg: Kamal Bey (Sunkist, world no. 7)
82 kg: Cheney Haight (NYAC)
87 kg: Patrick Martinez (NYAC)
97 kg: G'Angelo Hancock (Sunkist, world no. 3)
130 kg: Adam Coon (Cliff Keen)
2019 Pan American Championships Entries
*Senior World-level credentials only. 
Argentina (ARG)
55 kg: Marcelo Torres
67 kg: Adam Ariel Monte
72 kg: Francisco Barrios
77 kg: Fernando Karlikovski
87 kg: Nicolas Enzo Baez
97 kg: Alejandro Martin Rodriguez
130 kg: Luciano Del Rio
Brazil (BRA)
55 kg: Sargis Khachatryan
60 kg: Diego Romanelli
63 kg:  Mauri Vicente Silverio
67 kg: Joilson De Brito Ramos
72 kg: Kenedy Moraes Pedrosa
77 kg: Angelo Rafael Marques Moreira
82 kg: Adil Barros Machado
87 kg: Ronisson Brandao Santiago
130 kg: Eduard Soghomonyan (2016 Olympian)
Canada (CAN)
87 kg: Phillip Barreiro
97 kg: Thomas Barreiro
130 kg: Charles Thoms
Chile (CHI)
67 kg: Cristobal Torres Nunez
97 kg: Alvaro Gutierrez Arancibia
130 kg: Diego Almendras Rodriguez
Colombia (COL)
60 kg: Dicther Hans Toro Castaneda
67 kg: Juan Carlos Lopez Asprilla
77 kg: Jair Alexis Cuero Munoz
87 kg: Carlos Andres Munoz Jaramillo
97 kg: Oscar Loango Solis
Cuba (CUB)
60 kg: Luis Orta Sanchez
67 kg: Ismael Borrero Molina (2016 Olympic gold, 2015 World Champion)
77 kg: Yosvanys Pena Flores
87 kg: Antonio Duran Robles
87 kg: Gabriel Rosillo Kindelan
130 kg: Angel Ernesto Pacheco Romero
Dominican Republic (DOM)
60 kg: Maikol Josefa
67 kg: Harold Yedy Read
77 kg: Johan Antonio Batista
87 kg: Carlos Alberto Adames Palmer
97 kg: Jose Antonio Arias Paredes
130 kg: Juan Carlos Diaz Mordan
Ecuador (ECU)
60 kg: Luis Morales Mayancha
63 kg: Andres Montano Arroyo
67 kg: Cristhian Alberto Rivas Castro
77 kg: Enrique Javier Cuero Ortiz
87 kg: Gregory Reasco Angulo
El Salvador (ESA)
60 kg: Juan Antonio Rodriguez Jovel
67 kg: Victor Alfonso Lopez Miranda
130 kg: Jose Noel Erazo Henriquez
Guatemala (GUA)
60 kg: Reydel Cristian Jimenez Eckstein
67 kg: Jose Alejandro Varela Garcia
77 kg: David Elias Choc Huoc
Honduras (HON)
67 kg: Luis Isabel Barrios Rochez
97 kg: Kevin Mejia Castillo
Jamaica (JAM)
87 kg: Lesyan Osvaldo Cousin Otomuro
Mexico (MEX)
60 kg: Emilio Perez Alfonzo
67 kg: Manuel Alejandro Lopez Salcero
77 kg: Juan Angel Escobar
87 kg: Alfonso Antonio Leyva Yepez
97 kg: Edson Everardo Acuna Salazar
130 kg: Luis Alberto Roman Barrios
Nicaragua (NCA)
67 kg: Alberto Ramon Mendieta Fuentes
Panama (PAN)
60 kg: Andres Gonzalez Andrade
67 kg: Alex Salomon Pineda Marin
87 kg: Alvis Almendra Jimenez
Peru (PER)
60 kg: Joao Marco Benavides Rochabrun
63 kg: Jose Davilla Cabello
67 kg: Nilton Soto Garcia
77 kg: Jean Canchumanta Arellano
82 kg: Carlos Espinoza Castro
87 kg: Ricardo Cardenas Esquen
97 kg: Manuel Huaman Caillahua
130 kg: Daniel Medina Chancafe
Puerto Rico (PUR)
55 kg: Joshua Xavier Medina
67 kg: German Diaz Maldonado (Marines)
77 kg: Marciano Ali
87 kg: Jovan Antonio Mercado
130 kg: Edgardo Lopez Morell
Venezuela (VEN)
60 kg: Anthony Palencia Puentes
67 kg: Shalom Villegas Requema
77 kg: Wuileixis de Jesus Rivas Espinoza
87 kg: Luis Eduardo Avendano Rojas
97 kg: Luillys Jose Perez Mora
130 kg: Moises Perez Hellburg
The European Championships
The second (or third, depending) toughest Senior event each year came and went this past weekend with the conclusion of the 2019 European Championships. The big story was not Riza Kayaalp (130 kg, TUR) winning his ninth title, or Roman Vlasov (77 kg, RUS) coming away with his fourth. Instead, there were a few other items worth pointing out.
2018 World silver Victor Ciobanu (60 kg, ROU, world no. 2) getting past his World final vanquisher Sergey Emelin (RUS, world no. 1) in a tense but exciting bout decided by criteria is a must-watch, especially the second period (the tourney is archived on Trackwrestling). Ciobanu became Moldova's first-ever Euros champ with the victory.
And then there was 2018 World Champion Artem Surkov (67 kg, RUS, world no. 1) losing in a surprisingly underwhelming affair to eventual winner Atakan Yuksel (TUR) in the quarters. Yuksel, who bronzed in Paris two years ago, did an admirable job of of stifling Surkov when it counted the most and his overall performance at this stage of his career was extremely impressive, just not high in terms of entertainment value.
Only five out of the 22 bouts in the heavyweight bracket ended early, with four of them coming via tech.
Also deftly pointed out by United World Wrestling's Eric Olanowski, Rajbek Bisultanov (82 kg), incredibly, put an end to Denmark's 93-year gold-less streak at the Euros thanks to his defeat of Lasha Gobadze (GEO).
Out of nowhere, Roland Schwarz (77 kg, GER) had the most captivating showing out of maybe anyone else in the tournament. He didn't win, Vlasov took care of that in the final. But Schwarz disposed of, in order: two-time World bronze Elvin Mursaliyev (AZE), 2014 World Champ/2012 Olympic silver Aren Julfalakyan (ARM), two-time U23 World champ Daniel Cataraga (MDA), and Daniel Aleksandrov (BUL) just to make it to Vlasov. Sick.
With the European Championships now having come to a close, and the Pan Ams, Asian, and Oceania Championships occuring later this month, expect a lot of movement in UWW's top-20 rankings due to the point system.
2019 European Championships Placewinners
55 kg
GOLD: Vitali Kabloev (RUS)
SILVER: Florin Tita (ROU)
BRONZE: Fabian Schmitt (GER)
BRONZE: Eldaniz Azizli (AZE)
60 kg
GOLD: Victor Cioabanu (ROU)
SILVER: Sergey Emelin (RUS)
BRONZE: Lenur Temirov (UKR)
BRONZE: Kerem Kamal (TUR)
63 kg
GOLD: Stepan Maryanyan (RUS)
SILVER: Stig-Andre Berge (NOR)
BRONZE: Levani Kavijaradze (GEO)
BRONZE: Taleh Mammadov (AZE)
67 kg
GOLD: Atakan Yuksel (TUR)
SILVER: Gevorg Sahakyan (POL)
BRONZE: Karen Alanyan (ARM)
BRONZE: Artem Surkov (RUS)
72 kg
GOLD: Abuiazid Mantsigov (RUS)
SILVER: Cengiz Arslan (TUR)
BRONZE: Aik Mnatsakanian (BUL)
BRONZE: Dominik Etlinger (CRO)
77 kg
GOLD: Roman Vlasov (RUS)
SILVER: Roland Schwarz (GER)
BRONZE: Viktor Nemes (SRB)
BRONZE: Arsen Julfalakyan (ARM)
82 kg
GOLD: Rajbek Bisultanov (DEN)
SILVER: Lasha Gobadze (GEO)
BRONZE: Aleksandr Komarov (RUS)
BRONZE: Emrah Kus (TUR)
87 kg
GOLD: Zhan Belenyuk (UKR)
SILVER: Islam Abbasov (AZE)
BRONZE: Erik Svilvassy (HUN)
BRONZE: Denis Kudla (GER)
97 kg
GOLD: Musa Evloev (RUS)
SILVER: Kiril Milov (BUL)
BRONZE: Daigoro Timoncini (ITA)
BRONZE: Matt Kuosmanen (FIN)
130 kg
GOLD: Riza Kayaalp (TUR)
SILVER: Iakobi Kajaia (GEO)
BRONZE: Sergey Semenov (RUS)
BRONZE: Alin Alexuc-Ciurariu (ROU)
Questions? Concerns? Feel like reaching out? Do so on Twitter, Facebook, and Instagram!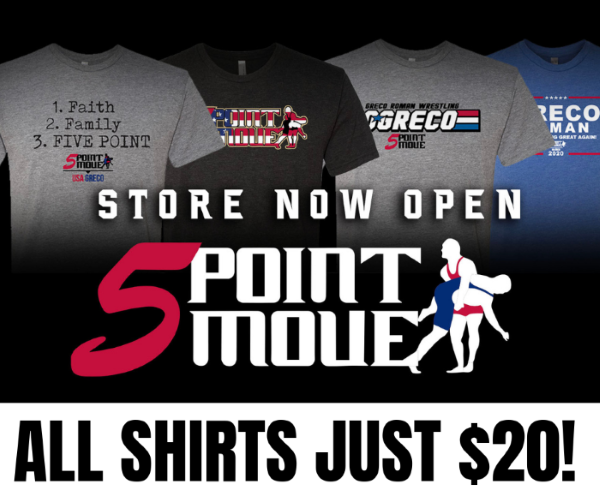 Listen to "5PM22: Sammy Jones guest co-hosts as Five Point Move visits with Lucas Sheridan and Sam Hazewinkel" on Spreaker.
SUBSCRIBE TO THE FIVE POINT MOVE PODCAST
iTunes | Stitcher | Spreaker | Google Play Music | RSS
Notice
: Trying to get property 'term_id' of non-object in
/home/fivepointwp/webapps/fivepointwp/wp-content/themes/flex-mag/functions.php
on line
999