Starting Friday from the Fort Worth Convention Center in Fort Worth, Texas is the 2019 US Nationals/Olympic Trials Qualifier. The particulars are well-understood: athletes who place in the top-five assure themselves a spot in the US Olympic Trials come April, although a healthy number of wrestlers who have already qualified are still slated to appear.
Pre-qualified athletes who wind up in the top-five still count and no one moves up. For example, if a wrestler who isn't qualified for the Trials loses to a wrestler who is qualified to determine 5th place, the losing wrestler will still need to compete at the "Last Chance" event in order to have another shot.


As of now, five of the six weight categories will host athletes who are qualified for the Olympic Trials. While nothing is completely set in stone, that list (in weight class order) should look like this (how athletes qualified is also rendered):
60 kg
Dalton Roberts (NYAC/OTS) — 2018 World Team
Ryan Mango (Army/WCAP, world no. 6) — 2019 World Team
Sammy Jones (NYAC/OTS) — bronze at 2019 Bill Farrell Memorial
67 kg
Alex Sancho (Army/WCAP) — gold at 2019 Bill Farrell Memorial
Peyton Omania (MSU/CYC) — bronze at 2019 Junior World Championships
77 kg
Kamal Bey (Sunkist, world no. 16) — 2018 World Team
RaVaughn Perkins (NYAC) — 2018 World Team
Spencer Woods (NYAC/OTS) — silver at 2019 Bill Farrell Memorial
87 kg
Patrick Martinez (NYAC/FLWC) — 2018 World Team
Chandler Rogers (TMWC) — bronze at 2019 Bill Farrell Memorial
130 kg
Cohlton Schultz (Sunkist) — silver at 2019 Junior World Championships
Jacob Mitchell (Army/WCAP) — silver at 2019 Bill Farrell Memorial
We have begun releasing preview material in the form of weight class analyses (67 and 87 kg, respectively) along with various pieces of Q&A material. These efforts will be heightened throughout the week in preparation for the start of the tournament.
5PM 2019 US Nationals Coverage Plan
Q&A with Corbin Nirschl (60 kg, WBU) and others.
All-new editions of Coach Lindland's Report & Fort Greco with Spenser Mango.
Episode 32 of the Five Point Move Podcast. 
A look at weight class storylines on FLO.
Post-session updates starting Friday.
Post-tournament recap on FLO.
2019 US Nationals/Olympic Trials Qualifier Schedule
*All times Central. 
Friday, December 20
10:30am-2:30pm — Preliminaries, quarterfinals, & consolations
4:00pm-7:30pm — Semifinals & consolations
Saturday, December 21
10:00am-1:00pm — Consolation semifinals & placement matches (3rd/4th, 5th/7th)
7:00pm-8:30pm — Finals
Each round of the 2019 US Nationals will be broadcast live on FLOWrestling (subscription required).
The Georgian Nationals
Late last week was the national tournament for Georgia, and a fair amount of that country's more accomplished Greco-Roman athletes took to the mats, with several coming away with gold. Even with that, there were also several notable absences, including the likes of 2019 World Champion Nugzari Tsurtsumia (55 kg, world no. 1), who fell (way) short of repeating as U23 champ last month. Plenty of others still checked in, however, with two-time World bronze Robert Kobliashvili and '17 World bronze Revaz Naderishvili both taking top honors.
The event did stream on YouTube and you can find individual sessions here. There were a lot of thrilling matches and scoring sequences, especially for former age-group dynamo and '18 U23 World runner-up Ramaz Zoidze at 67 kilograms, should you be interested in zeroing in on one particular athlete and weight class. 55 and 60 kilos, of course, also entertained as you might already suspect.
Last month, a large delegation of US Senior Greco athletes trained alongside members of the Georgian National Team. Perspectives from Max Nowry (55 kg, Army/WCAP), Nolan Baker (67 kg, NYAC), and Mango were published to reflect their experiences.
55 kg
GOLD: Zurab Macharashvili
SILVER: Akaki Osiashvili
BRONZE: Guram Abramishvili
BRONZE: Ramaz Silagava
60 kg
GOLD: Amiran Shavadze
SILVER: Gizo Meladze
BRONZE: Dato Chkhartishvili
BRONZE: Irakli Dzimistarishvili
63 kg
GOLD: Leri Abuladze
SILVER: Carey Machalikashvili
BRONZE: David Bakuradze
BRONZE: Luka Ochigava
67 kg
GOLD: Ramaz Zoidze
SILVER: George Shotadze
BRONZE: Levan Kavzharadze
BRONZE: Irakli Nakashi
72 kg
GOLD: Yuri Lomadze
SILVER: Shmagi Bolkvadze
BRONZE: Nikoloz Chikaidze
BRONZE: Otar Abuladze
77 kg
GOLD: Beka Mamukashvili
SILVER: Giorgi Potskhverashvili
BRONZE: David Sologashvili
BRONZE: Demur Kavtaradze
82 kg
GOLD: Ivengo Rikadze
SILVER: Gela Bolkvadze
BRONZE: Vakhtang Khalvashi
BRONZE: Goga Afriamashvili
87 kg
GOLD: Robert Kobliashvili
SILVER: Lasha Gobadze
BRONZE: Tornike Dzamashvili
BRONZE: Shalva Khachidze
97 kg
GOLD: Revaz Nadareishvili
SILVER: Mate Sofadze
BRONZE: Valerian Murvanidze
BRONZE: Sergo Gogisvanidze
130 kg
GOLD: Levan Arabuli
SILVER: Giorgi Barbakadze
BRONZE: Beka Makaridze
BRONZE: Sulkhan Buidze
Questions? Concerns? Feel like reaching out? Do so on Twitter, Facebook, and Instagram!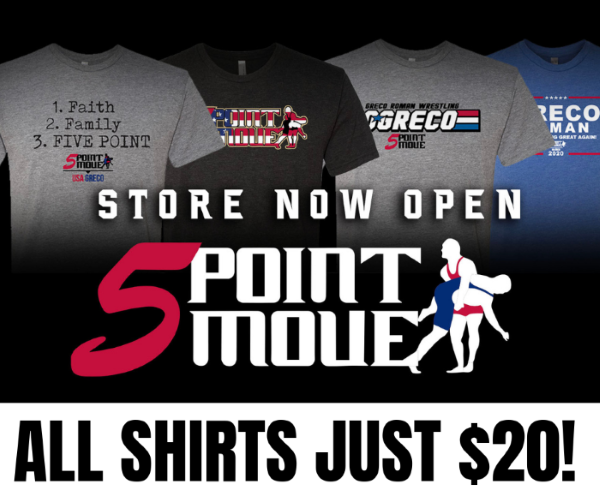 Listen to "5PM31: Happy Thanksgiving with Dennis Hall" on Spreaker.
SUBSCRIBE TO THE FIVE POINT MOVE PODCAST
iTunes | Stitcher | Spreaker | Google Play Music | RSS
Notice
: Trying to get property 'term_id' of non-object in
/home/fivepointwp/webapps/fivepointwp/wp-content/themes/flex-mag/functions.php
on line
999