To the delight of most in the US and around the world, 2020 is fast-approaching its conclusion and giving way to the hope that 2021 will return the "normal wrestling life" to which we are by and large accustomed.
But before that (potentially) happens, there are other concerns requiring our attention: selecting the recipients for Five Point Move's annual end-of-year awards.
Unfortunately, there is a difference this time around. The award for Impact Performer will not be contested. Impact Performer (one of two 5PM honors decided entirely by fan vote along with Outstanding Individual Performance) recognizes athletes whose international results were too impressive to ignore. As most are aware, United States Senior athletes were unable to compete in international events once the COVID-19 pandemic and its associated restrictions became responsible for shutting down the season (including the Tokyo Olympics). Through March, US Senior athletes had only participated in, at most, five international or overseas tournaments. Given that the number of candidates for Impact Performer this year yields an exceptionally-low sample size, the decision has been made to not hold a vote, thereby canceling the award for 2020.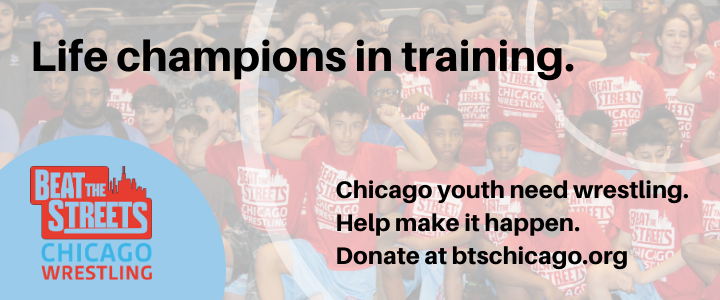 On a brighter note, both Athlete of the Year and Outstanding Individual Performance are still in the picture. Remember: AOTY is a two-step process that begins with a fan vote to determine the final candidates; said candidates are then presented to the 5PM AOTY committee and a winner is reached upon consensus. Outstanding Individual Performance, as mentioned, is chosen by fan vote and nothing else. A more formal release to this effect will be made available this week.
Rau Is Not In America; Event Schedule?
Two-time World Team member Joe Rau (87 kg, TMWC/IRTC, world #7, 5PM #2) is training in France this week with designs on staying in Europe through early-January. Rau — one of a select number of US athletes who has managed to remain active despite the pandemic — plans on hitting Sweden once his time in France comes to an end. After that, there is talk of a stop in Croatia, which is where things might get even more interesting.
The US program has reportedly engaged in discussions with several prominent athletes regarding a potential trip to Croatia for the next Grand Prix Zagreb Open and its associated training camp (Yes — there was a Zagreb GP just one month ago) — and naturally, Rau would meet the delegation in-country. Those plans, for Rau and everyone else, hinge on various COVID-protocol-related factors and, thus far, are not confirmed.
Wrestlers have also voiced a desire to travel to Rome for the Matteo Pellicone "Ranking Series" event next month (January 14-17) but that trip does not appear likely (Please see update below). Another added wrinkle to all of this is that France, which has had its own COVID-lockdown issues recently, is apparently going to attempt holding the Paris International/Henri Deglane tournament the same weekend as Pellicone. Zagreb arrives on the calendar on those dates, as well.
If overseas travel were not encumbered by restrictions and international competition was, lack of a better term, "stabilized", US athletes would have themselves three tournaments from which to choose in January, though Rome would have likely served as the premier landing spot under different circumstances due to the event's "Ranking Series" designation.
14-17 — Matteo Pellicone (RS) — Rome, ITA
UPDATE: on December 22, United World Wrestling announced that thee Matteo Pellicone Memorial "Ranking Series" tournament in Rome, Italy has been moved to March 4-7. 
15-17 — Paris International — Nice, FRA
16-17 — Grand Prix Zagreb Open — Zagreb, CRO
News on Sweden
Late last week, Sweden's government re-tightened restrictions, declaring that "all activities run by the state, regions and municipalities and 'not necessary' should be closed immediately until 24 January." The heightened guidelines are not expected to hinder professional athletes, which is what their National/Olympic-level wrestlers are considered.
On a separate note, '15 World bronze and current Swedish Federation Sports Manager Zakarias Tallroth set forth the pathway athletes will observe leading to the European Olympic Qualifier in March, and beyond. Tallroth explained that Sweden has run a series of in-house matches to determine their representatives for the European Championships in February, though they do intend to send athletes to Zagreb as a warm-up event. Those who compete at the European Championships will then regroup and prepare for the qualifier that takes place five weeks later in Warsaw.
Sweden has had to pivot with regard to their selection process due to COVID guidelines. Their National championship was set to unfold next month until becoming postponed until May. That tournament will now function as a Trials for the 2021 World Championships scheduled for October in Oslo, Norway.
Emperor's Cup Results (JPN)
This past week (stretching through the weekend), Japan was able to engineer a successful running of the annual "Emperor's Cup" in Tokyo. Two-time World Champion Kenichiro Fumita (60 kg, world #1) did not have a skin in the game due to having already secured his place on the Olympic Team after winning gold at Nur-Sultan '19. Nevertheless, Fumita indeed suited up and earned the title by edging Aya Suzuki 2-1.
"From the time I heard that the Cup was going to be held, I always planned to enter this tournament," Fumita said (transcript converted to English via translation software). "I was able to face the competition from a different angle." Fumita is the only Japanese Greco-Roman combatant thus far to have qualified his weight category thus far. By doing so in '19, he automatically earned his spot in the Olympics thanks to a selection process stipulation instituted by Japan just prior to the Nur-Sultan Worlds.
Shogo Takahashi emerged victorious at 72 kilograms — although he is slated to enter the Asian Olympic Games Qualifier at 67, where Tsuchika Shimoyama prevailed on Thursday. Multi-time World Team representative Yuta Nara was cut down in the 97 kg semifinal by eventual silver Masaaki Shikiya. The 5-1 decision loss ruined Nara's quest for a fifth-straight title.
55 kg
GOLD: Daimu Katagiri
SILVER: Yu Shioya
BRONZE: Hoshino Ko
60 kg
GOLD: Kenichiro Fumita
SILVER: Aya Suzuki
BRONZE: Kaito Inaba
63 kg
GOLD: Kensuke Shimizu
SILVER: Yoshiki Yamada
BRONZE: Koehi Yoshikawa
67 kg
GOLD: Tsuchika Shimoyamada
SILVER: Katsuaki Endo
BRONZE: Kyotaro Sogabe
72 kg
GOLD: Shogo Takahashi
SILVER: Toshi Horie
BRONZE: Keio Shimabukuro
77 kg
GOLD: Shohei Yabiku
SILVER: Naoki Koji
BRONZE: Kodai Sakuraba
82 kg
GOLD: Satoki Mukai
SILVER: Hiroshi Kawamura
BRONZE: Tatsuya Fuji
87 kg
GOLD: So Sakabe
SILVER: Masato Sumi
BRONZE: Shundai Tsuruta
97 kg
GOLD: Masayuki Amano
SILVER: Masaaki Shikiya
BRONZE: Yuta Nara
130 kg
GOLD: Shin Sonoda
SILVER: Sota Okumura
BRONZE: Ryuta Kono
News on Ota
It would seem that '16 Olympic silver/'19 World Champion Shinobu Ota (63 kg, JPN, world #1) will be taking a breather from Greco competition for a little while (though that had already been the case for nearly a year).
Ota has agreed to participate in Japanese MMA promotion RIZIN's New Year's Eve card against 43-year-old Hideo Tokoro. "He is a fighter I have been watching since I was little, so I am apprehensive [about facing] a fighter who I really like," admitted Ota. "But when the fight starts, it's a different story. I will prepare so that I can score a decisive victory."
There may be more MMA ventures to come for the star grappler. Currently, no pathway exists for Ota to make a bid for the Olympic Team. That shot fell short when he was defeated in the Emperor's Cup last year, this after declaring for 67 kilograms due to Fumita's stranglehold on the lowest weight category. Meaningful, selection-process competition is off a ways in the distance; and Ota, 26, doesn't appear to desire sitting idly by. Instead, he is interested in getting this initial fight out of the way and discovering where it takes him next. "I have a little trepidation, but I have no intention of losing," Ota said. "I want this to lead to bigger things."
On an aside, Ota was also recently named by United World Wrestling as their Asian Athlete of the Year.


Listen to "5PM42: A Dennis Hall Thanksgiving" on Spreaker.
SUBSCRIBE TO THE FIVE POINT MOVE PODCAST
iTunes | Stitcher | Spreaker | Google Play Music
Notice
: Trying to get property 'term_id' of non-object in
/home/fivepointwp/webapps/fivepointwp/wp-content/themes/flex-mag/functions.php
on line
999