The 2021 Cadet World Championships for Greco-Roman begin this Friday in Budapest, Hungary and will stream live in the United States on FLOWrestling. As had been reported following their selection tournament in the spring, this year's US Cadet World Team is mostly comprised of new faces.
The only holdover from 2019's squad is Cory Land (55 kg, Ironclad), who officially finished 8th in his first try at a World event. Even though Land is the lone returning Cadet Team member, there are two athletes who had experienced success on the U15 level the same year: Aiden Valencia (48 kg, EAP) and Jadon Skellenger (65 kg, Suples). Both Valencia and Skellenger earned golds at the inaugural World Combat Games (which were also held in Budapest). In addition, the pair of young uber-prospects are mainly focused on the classical style and have had the benefit of training in full-time Greco environments.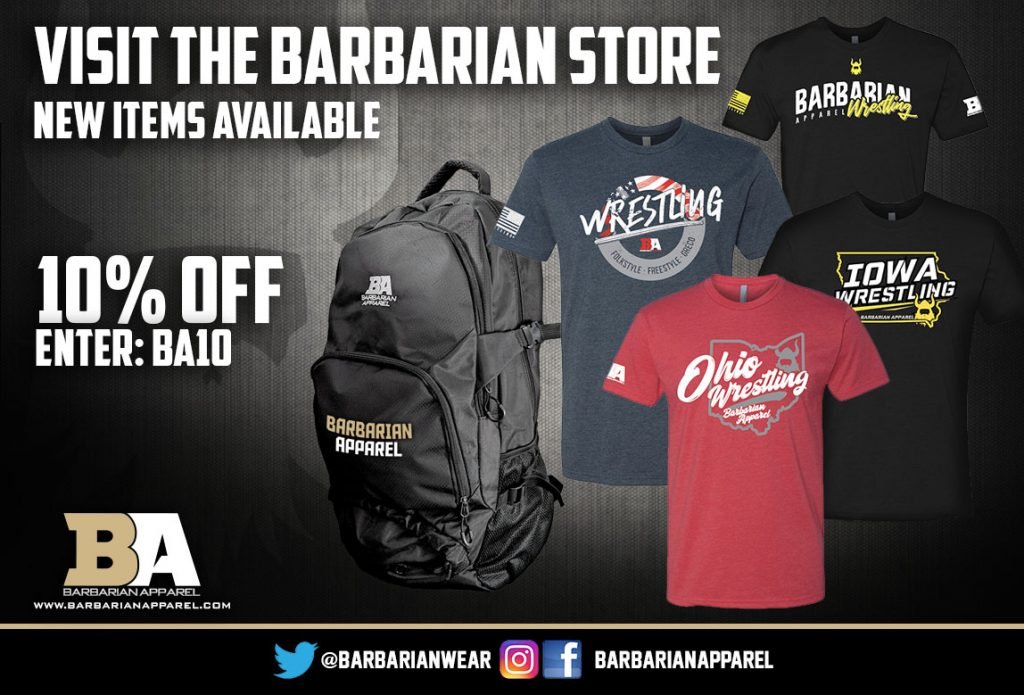 A pair of the roster's competitors are also involved with legs. Jim Mullen (100 kg, NJ) has advanced to the finals in freestyle (Tuesday), while Bo Bassett (45 kg, Young Guns) takes the mat for the qualification round in the morning.
2021 CADET WORLD CHAMPIONSHIPS
July 23-25 — Budapest, HUN
(All times +6 hours ET)
Friday, July 23
11:30am-3:30pm — Qualification rounds (48, 55, 65, 80, & 110 kg)
4:45pm-5:45pm — Semifinals
Saturday, July 24
11:30am-3:30pm — Qualification rounds (45, 51, 60, 71, & 92 kg)
11:30am-3:30pm — Repechage rounds (48, 55, 65, 80, & 110 kg)
4:45pm-5:45pm — Semifinals (45, 51, 60, 71, & 92 kg)
6:00pm-8:00pm — Finals (48, 55, 65, 80, & 110 kg)
Sunday, July 25
3:00pm-4:45pm — Repechage rounds (45, 51, 60, 71, & 92 kg)
5:00pm-7:00pm — Finals (45, 51, 60, 71, & 92 kg)
Fargo Week
"Fargo Greco" — which is the noun used to describe the annual age-group monstrosity as well as the style of Greco displayed by the athletes (and presided over by officials) — kicks off with "USA Wrestling Cadets", or 16U, on Wednesday morning (live on FLO) with the finals slated for Thursday afternoon — and the Juniors follow suit by first taking the mat Thursday and finishing up on Friday.
There are plenty of interesting entrants in both age divisions with several states bringing extremely potent lineups they hope will challenge traditional powerhouses Illinois, Minnesota, and Wisconsin (like Ohio, Iowa, and Pennsylvania). Our version of a preview highlighting the USAW Juniors will publish on FLO this week with recaps to follow right here.
2021 Fargo Nationals Schedule
*All times -1 hour EST
U16
Wednesday, July 21
Round 1 — 9:00am-1:00pm
Round 2 — 5:00pm-9:00pm
Thursday, July 22
Round 3 — 9:00am-12:00pm
Finals — 2:00pm-4:00pm
JR
Thursday, July 22
Round 1 — 9:00am-1:00pm
Round 2 — 4:30pm-8:30pm
Friday, July 23
Round 3 — 9:00am-12:30pm
Finals — 2:00pm-4:00pm
Lopez Prepares for #4
Mijain Lopez (130 kg, CUB) will have the chance to reach rarified air early next month when he attempts to collect his fourth Olympic title. The Cuban heavyweight — who also holds five World titles — is far-and-away the sport's most decorated active wrestler, but it is not just his resume that is so striking. Throughout his spectacular career, Lopez has operated with equal parts efficiency and unusual body awareness for an athlete of his size, which has helped him stand apart. Not one to waste motion, Lopez — when healthy — is adept at creating relevant scoring chances on the feet by compelling opponents to remain committed to their own plodding positions before he pounces thanks to an array of setups. On the mat, he is especially deadly. A big man for whom par terre lifts have been a viable option, Lopez has enjoyed the capability to haul match-changing scores provided the opportunity makes sense. If it doesn't, basic textbook gutwrenches often work just fine.
With a ledger like his, there have been many comparisons drawn between Lopez and Alexander Karelin, who was searching for his fourth Olympic crown in 2000 when American Rulon Gardner stunned the globe with a career-defining victory that is still recognized as one of the biggest upsets in wrestling history (despite Gardner's proceeding successes which include a World title the very next year).
Currently, Lopez is overseas training alongside the Bulgarian National Team. The 38-year-old recently appeared on satellite network TV+ for an interview where he commented on Karelin, his training, and primary rival Riza Kayaalp (TUR).
On how he views Karelin's legacy
"Alexander Karelin was a real monster on the mat. And he received admiration from around the world for his success and performance. I admire him. However, he made his own way in the sport, and now I am following my own path and I have not yet said my last word."
On who would win between him and Karelin
"In this case we are talking about different eras. He had great achievements in his time, so have I, but we are already in a new century. Karelin was a wrestling giant during another time, and now I'm at the top of the Olympics. In general, I think we have both done a lot for the sport."
On which of his three Olympic titles is his favorite
"In all three cases, things turned out the way I wanted them to. I think it was the hardest for me in 2012, because I had to lose a lot of weight to be in the right shape. And if we talk about the happiest, it is at the Olympics in Rio. Then I quickly won the final, tied Karelin in titles, and I am very, very happy with that victory."
On his history with Kayaalp
"We should never talk about hatred in sports, just about rivalry. He is younger than me and when he entered the Senior level, he had a big desire to beat me and he did it twice in 2011 and 2015. Those were two very contested championships and they helped me concentrate and move forward with even more ambition. Both of my losses (to Kayaalp) were in the years before the Olympics and they really helped me reach the Olympic titles a year later. Our rivalry is only on the mat. Outside of it, things are different. That's how we compete."




Listen to "5PM50: Mr. Fantastic Benji Peak" on Spreaker.
Listen to "5PM49: Robby Smith on coaching, fatherhood and mentors" on Spreaker.
Listen to "5PM48: Austin Morrow and Gary Mayabb" on Spreaker.
SUBSCRIBE TO THE FIVE POINT MOVE PODCAST
iTunes | Stitcher | Spreaker | Google Play Music
Notice
: Trying to get property 'term_id' of non-object in
/home/fivepointwp/webapps/fivepointwp/wp-content/themes/flex-mag/functions.php
on line
999