As indicated in last week's Roundup, today marks the first day of "January Camp 2020" at the US Olympic and Paralympic Training Center in Colorado Springs. Tomorrow will see the release of the latest Coach Lindland's Report, and in it, US National Team head coach Matt Lindland discusses some of the camp particulars at length, including the list of New Year's resolutions he is imparting on the athletes in attendance.
USA Overseas Rosters
Next week is when the Olympic season really begins to hit its stride. First up is the Matteo Pellicone Memorial in Rome, Italy, which is the opener as far as United World Wrestling "Ranking Series" events are concerned. Right on the heels of Matteo Pellicone is Thor Masters in Nykobing Falster, Denmark. Two big, important Senior tournaments in the same week — and featuring a generous number of top-flight US Greco-Roman athletes.
Rome
For the 'Ranking Series" event in Rome, the US roster consists of eight 2019 World Team members, five current National Team members, another established star, and an up-and-comer who recently made a lot of noise in Texas.


Max Nowry (Army/WCAP, world #5), who last week — along with G'Angelo Hancock (97 kg, Sunkist, world #2) — was recognized as one of 5PM's co-Athletes of the Year, is entering Pellicone at 55 kilograms, not 60. Nowry does not cut weight for 60 kilos, so his choosing to compete at 55 this time of year (and he likely will again next month at Armed Forces) does not come as a surprise.
The only two '19 World Teamers missing out on the ranking tournament are Ryan Mango (63 kg, Army/WCAP, world #6) and Ellis Coleman (67 kg, Army/WCAP, world #14). Everyone else from the Nur-Sultan squad is on board. Also in the mix are '18 World Team member RaVaughn Perkins (77 kg, NYAC), who took third at the US Nationals last month, and Calvin Germinaro (67 kg, Minnesota Storm), who put forth an electrifying performance that ended with silver.
MATTEO PELLICONE MEMORIAL
January 15-16 — Rome, Italy
All times +6 hours ET
Wednesday, January 15
10:30am-3:00pm — Qualification rounds through repechage (55, 60, 63, 67, 87, 97, & 130 kg)
6:00pm-8:30pm — Finals/bronze rounds (55, 60, 63, 67, 87, 97, & 130 kg)
Thursday, January 16
10:30am-3:00pm — Qualification rounds through repechage (72 kg, 77 kg, & 82 kg)
6:00pm-8:30pm — Finals/bronze rounds (72 kg, 77 kg, & 82 kg)
TEAM USA ROSTER
*2019 US World Team
55 kg
*Max Nowry (Army/WCAP, world #5)
60 kg
*Ildar Hafizov (Army/WCAP)
67 kg
Jamel Johnson (Marines)
Xavier Johnson (Marines)
Calvin Germinaro (Minnesota Storm)
72 kg
*Ray Bunker (Marines)
77 kg
Kamal Bey (Sunkist)
RaVaughn Perkins (NYAC)
*Patrick Smith (Minnesota Storm)
82 kg
*John Stefanowicz (Marines)
87 kg
Patrick Martinez (NYAC/FLWC)
*Joe Rau (TMWC/Chicago RTC)
97 kg
*G'Angelo Hancock (Sunkist)
Daniel Miller (Marines)
130 kg
*Adam Coon (NYAC/Cliff Keen)
Denmark
Due to the compressed nature of the Senior international schedule in '20, Thor Masters was forced to move to an earlier part of the winter. And because the US had always planned on participating in the January ranking event, it was originally thought that might mean a diminished number of US entrants for Denmark.
Not so fast.
Thor Masters will once again welcome in a substantial US delegation. 14 Greco-Roman athletes — including seven Olympic Trials qualifiers, six National Team members, and a host of other wrestlers who have garnered attention recently — are entering the massive Nordic-system tournament that never disappoints when it comes to competitive matches.
2017 Cadet World Champion/two-time Junior World medalist Cohlton Schultz (130 kg, Sunkist) is currently training in Belarus after competing in a Junior event this past weekend, and is set to log some more miles in the sky. Schultz, who won the US Nationals two weeks ago, made his Senior debut at the '18 Thor Masters and will return to Denmark for another run against top Scandinavian heavyweights.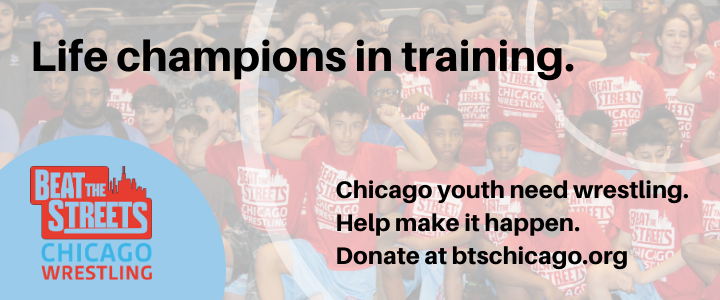 Schultz is also not the only '19 US National champ (from December) flying over to Nykobing. Mike Fuenffinger (60 kg, Army/WCAP, and who also won the Open in April) and Alex Sancho (Army/WCAP) are coming, as well. Sancho took 4th at Thor Masters in '17, the week before earning gold in Zagreb. Lucas Sheridan (97 kg, Army/WCAP) placed second at the National qualifier, but is working with some momentum. In November, Sheridan earned bronze at Haparanda by wallop-headlocking his way through the tournament.
Most prominent is the youth factor. '18 Junior World silver Andrew Berreyesa (NYAC/NLWC), '19 U23 World Teamer Lenny Merkin (67 kg, NYAC/NJRTC), and '18 Junior/'19 U23 World Team member Brady Koontz (55 kg, TMWC/Ohio RTC) are going. So is Carter Nielsen (Minnesota Storm/NMU), who was one of the most talked-about athletes coming out of the Nationals and figures to be in the conversation at 87 kilos in Denmark following his strong first try there a year ago. Spencer Woods (77 kg, NYAC/NMU) caught fire at the '19 US Open and qualified for the Trials in November, and like Nielsen, is one of Marquette's most promising young studs this Olympic Year.
When Thor Masters ends, more fun begins. The vast majority of US athletes who wrestle in Denmark will stay put and joining them will be those who competed in Italy. That is because the proceeding week is the well-known joint international training camp that follows each Thor Masters event.
THOR MASTERS INVITATIONAL
January 17-18
All times +6 hours ET
Friday, January 17
4:00pm-8:00pm — Preliminary rounds
Saturday, January 18
10:30am-3:30pm — Preliminary rounds
3:30pm-4:00pm — Bronze rounds
4:30pm-6:00pm — Finals
TEAM USA ROSTER
*Current US National Team
55 kg
*Brady Koontz (TMWC/Ohio RTC)
60 kg
*Mike Fuenffinger (Army/WCAP)
67 kg
Lenny Merkin (NYAC/NJRTC)
Alex Sancho (Army/WCAP)
77 kg
Tommy Brackett (NMU)
Alex Mossing (Air Force)
Spencer Woods (NYAC/NMU)
87 kg
Carter Nielsen (Minnesota Storm/NMU)
97 kg
*Lucas Sheridan (Army/WCAP)
130 kg
*Cohlton Schultz (Sunkist)
2020 Herman Kare Entries
This coming weekend in Kouvola, Finland is the first Senior event of 2020, the annual Herman Kare International. Thus far, the brackets are mainly stuffed with Finnish athletes, as you might suspect, but there are several from Estonia and Russia who have also registered. Herman Kare is a often a mid-tier tournament, and looks to be again this time around, though participation is likely reduced with Matteo Pellicone and Thor Masters occuring the following week.
Herman Kare International
January 11 — Kouvola, Finland
60 kg
Juho Lamberg (FIN)
Mattias Poutanen  (FIN)
Juuso Latvala (FIN)
Lauri Karjalainen (FIN)
Lauri Mähönen (FIN)
Helary Maegisalu (EST)
Eemeli Rautanen (FIN)
Dinislam Bammatov (RUS)
Karen Nersisian (RUS)
Snorre Harsem Lund (NOR)
67 kg
Beknazar Kerimbekov (KGZ)
Vilho Laukkarinen (FIN)
Riku Suhonen (FIN)
Leevi Ukkola (FIN)
Kasperi Kauhanen (FIN)
Kasperi Lehtonen (FIN)
Elmer Mattila (FIN)
Denis Bolunov (EST)
Ott Saar (EST)
Andreas Vetsch (SUI)
Victor Koshelev (RUS)
Shamil Mualliev (RUS)
Mathias Næss (NOR)
72 kg
Iiro Piippo (FIN)
Elias Salmela (FIN)
Akseli Yli-Hannuksela (FIN)
Mikko Peltokangas (FIN)
Joni Komppa Seinäjoen (FIN)
Artjom Shapovalov (FIN)
Edvin Kin (EST)
Arkadi Kirakosian (RUS)
Samet Cetin (NOR)
Sebastian Aak (NOR)
77 kg
Jonni Sarkkinen (FIN)
Petteri Kukkola (FIN)
Niko Erkkola (FIN)
Vili Sillanpää (FIN)
Tero Halmesmäki (FIN)
Sakke Purolainen (FIN)
Roni Purolainen (FIN)
Ranet Kaljola (EST)
Nicolas Christen (SUI)
Kirill Babichuk (RUS)
Artjom Gerasimenko (RUS)
Matias Lipasti (FIN)
82 kg
Otto Ketonen (FIN)
Markus Sihtola (FIN)
Jarno Ålander (FIN)
Marc Weber (SUI)
Daniil Guchin (RUS)
Exauce Mukubu (NOR)
87 kg
Vili Ropponen (FIN)
Arttu-Petteri Klami (FIN)
Riku Liikkanen (FIN)
Toni Metsomäki (FIN)
Erik Int (EST)
Andreas Vaelis (EST)
Ramon Betschart (SUI)
Danil Bogdanov (RUS)
Ruben Elias Been (NOR)
97 kg
Damian Von Euw (SUI)
Aleksandr Badanin (RUS)
130 kg
Akylbek Dzhentaev (KGZ)
Nikola Milatovic (NOR)
Questions? Concerns? Feel like reaching out? Do so on Twitter, Facebook, and Instagram!


Listen to "5PM32: Previewing Senior Nationals with Dennis Hall" on Spreaker.
SUBSCRIBE TO THE FIVE POINT MOVE PODCAST
iTunes | Stitcher | Spreaker | Google Play Music | RSS
Notice
: Trying to get property 'term_id' of non-object in
/home/fivepointwp/webapps/fivepointwp/wp-content/themes/flex-mag/functions.php
on line
999