Day 1 of the 2020 European Championships in Rome, Italy is in the books and several prior Senior World Champions (three from '17 alone) are no longer in the running.
At 87 kilos, a pair of World champs from '17 were ousted prior to the semifinal round. Maksim Manukyan (ARM), who won his title at 82 kilos three seasons ago, was clipped by Tornike Dzamashvili (GEO) 3-1 in the round-of-16; and Metehan Basar (TUR), a two-time winner, was on the wrong end of a 7-2 decision against two-time U23 World gold Semyon Novikov of Ukraine. Ukraine was not included on our list of deepest rosters at the '20 Euros, and the Eastern European power already boasts one finalist and two in tomorrow's repechage.
'17 World Champion Viktor Nemes (SRB) was cut down in the 77-kilo quarters by the dynamic Karapet Chalyan (ARM). Riza Kayaalp (TUR), the heavyweight star who is among the most decorated active athletes in the sport, was felled by Nikolai Kuchmiy (UKR) 5-1 in quarterfinal action.


55 kilograms saw '18 World titlist Eldaniz Azizli (AZE) shocked by Edmond Nazaryan (BUL) in a thrilling match via fall in that bracket's semis, and Nugzari Tsurtsumia (GEO) turned back by Vitali Kabaloev (RUS). Nazaryan, the son of two-time Olympic champ Armen, earned his second World bronze at Cadet this past summer. He and Novikov are the only two athletes who defeated previous World Champions to advance to the finals (thus far).
The European Championships can be viewed live in the US on Trackwrestling.
2020 European Championships Greco Finals
Tuesday, February 11
55 kg: Edmond Nazaryan (AZE) vs. Vitali Kabaoloev (RUS)
63 kg: Ibragim Labazonov (RUS) vs. Maksim Nehoda (BLR)
77 kg: Zoltan Levai (HUN) vs. Sanan Suleymanov (AZE)
87 kg: Semyon Novikov (UKR) vs. Viktor Lorincz (HUN)
130 kg: Alin Alexuc-Ciurarriu (ROU) vs. Levan Arabuli (GEO)
Repechage Matchups
55 kg
Winner of Dogus Ayazci (TUR) vs. Florin Tita (ROU) faces Nugzari Tsurtsumia (GEO)
Winner of Snorre Lund (NOR) vs. Giovanni Freni (ITA) faces Eldaniz Azizli (AZE)
63 kg
Winner of Lenur Temirov (UKR) vs. Dawid Karecinski (POL) faces Stig Andre-Berge (NOR)
Winner of Taleh Mammadov (AZE) vs. Erik Torba (HUN) faces Mihai Mihut (ROU)
77 kg
Winner of Alex Kessidis (SWE) vs. Denis Horvath (SVK) faces Islam Opiev (RUS)
Winner of Aik Mnatsakanian (BUL) vs. Matteo Maffezzoli (ITA) faces Gregarious Pevolarakis (GRE)
Winner of Kessidis/Horvath vs. Opiev faces Vladmir Yakovlev (UKR)
Winner of Mnatsakanian/Maffezzoli faces Karapet Chalyan (ARM)
87 kg
Winner of Mirco Minguzzi (ITA) vs. Eividas Stankevicius (LTU) faces Islam Abbasov (AZE)
Winner of Jesus Gasca Fresneda (ESP) vs. Metehan Basar (TUR) faces Aleksander Komarov (RUS)
130 kg
Winner of El Mahdi Roccaro (ITA) vs. Jello Krahmer (GER) faces Arvi Savolainen (FIN)
Winner of Zurabi Gedekhauri (RUS) vs. Sabah Shariati (AZE) faces Nikolai Kuchmiy (UKR)
Granma Cup
After reaching out to the Cuban Federation regarding a potential live stream and/or real time results from the Granma Cup, which begins tomorrow morning in Havana, the response sent back to 5PM simply said "Lamentablemente no es posible" — translation: "Unfortunately, it is not possible." We are coordinating with various US figures who will be present at the tournament and still hope to have results available, though we do expect delays in disseminating that information.
The Granma Cup is slated to begin tomorrow morning (Tuesday) at 11:30am ET.
Lopez To Peace Out After Tokyo
Three-time Olympic/five-time World Champion Mijain Lopez (CUB) told the Pan American Sports Organization last week that he plans to retire following the conclusion of the '20 Tokyo Olympic Games. In the piece, which was also covered by Reuters and the New York Times, Lopez pointed to his age as the (obvious) catalyst for such a decision.
"I want to rest and it's time to give the opportunity to new generations," Lopez explained. "I want to say goodbye of course by winning my fourth Olympic gold medal. I am preparing myself for this and I am sure that I will achieve it."
Should Lopez, 37, prove successful, he will leapfrog Russian legend and fellow heavyweight Alexander Karelin's glittering Olympic resume of three Olympic golds. With a fourth wrestling title, Lopez would also join women's freestyle wrestler Kaori Icho. In terms of more mainstream Olympic sports, the company is extremely significant. Carl Lewis (track) and Michael Phelps (swimming) are among a short list of athletes who have earned golds at four consecutive Olympiads.
Following the Rio Games, Lopez has competed sparingly. He returned to action in July of '18 — nearly two years after winning his third Olympic gold — to stomp through the Central American and Caribbean Games. Last summer, he emerged victorious at the Pan American Games for a fifth time.
Behind Lopez on Cuba's depth chart is Oscar Pino Hinds, who earned bronze and silver at the '17 and '19 World Championships, respectively (and despite a momentary flirtation with freestyle last season).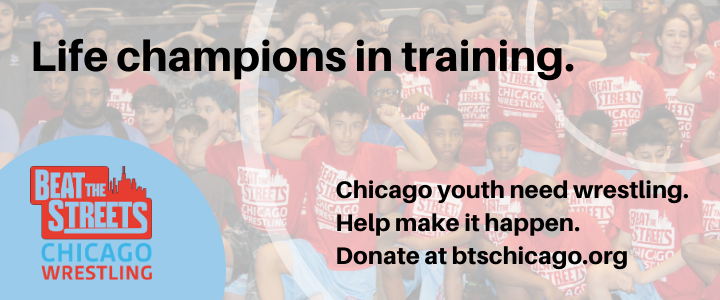 Japan's Asian Championships Roster
The 2020 Asian Championships get underway on February 18 from New Delhi, India. The thing about the Asian Championships compared to the higher-profile Euros is action. The European Championships presents a lengthier list of notable, accomplished athletes, which serves as the main reason for the event's prestige. But the Asian Championships tends to be a little more eye-catching when it comes to technique and scoring.
Rosters are beginning to trickle out from that region of the planet but Japan is ahead of the game by releasing theirs. As you can see, no real surprises given the fallout from their national tournament late last year.
55 kg: Hiromu Katagiri — 2019 Asian Championships silver
60 kg: Kenichiro Fumita — Two-time World Champion, 2017 Asian Championships gold
63 kg: Yoshiki Yamada 
67 kg: Tsuchika Shimoyamada — 2018 Asian Championships silver
72 kg: Nao Kusaka
77 kg: Kodai Sakuraba — 2019 U23 World silver
82 kg: Satoki Mukai 
87 kg: Takahiro Tsuruda
97 kg: Yuta Nara 
130 kg: Arata Sonoda
2020 Austria Open
A sizable delegation of United States age-groupers will be traveling to Götzis, Austria towards the end of the month for the Austrian Junior Open. Each year, this tournament (competed in a pooled format) offers American Greco athletes the chance to test themselves against a variety of skilled foreigners. And when they're done with that, a full-scale training camp immediately follows.
The US has been very successful at the Austrian Open in recent years. Team titles were earned in 2017 and '18, and last year the squad finished second. Since '17, there have also been 11 champs and 25 total medalists. The 2020 Austrian Open roster is expected to be released imminently.


Listen to "5PM33: The Marine Corps' Jamel Johnson" on Spreaker.
SUBSCRIBE TO THE FIVE POINT MOVE PODCAST
iTunes | Stitcher | Spreaker | Google Play Music | RSS
Notice
: Trying to get property 'term_id' of non-object in
/home/fivepointwp/webapps/fivepointwp/wp-content/themes/flex-mag/functions.php
on line
999