Last week throughout the sport of wrestling in the United States, positive vibes were hard to miss. Wisconsinites were preparing for a big youth tournament, a group of USA Greco Seniors had just finished training camp in Oklahoma, and just about everyone was looking forward to Rumble on the Rooftop, which went off without a hitch last night in Chicago.
But bubbling beneath the surface was new speculation that Greco-Roman — the most participated style of wrestling on the planet — could be removed from the Olympic curriculum for Paris 2024.


To be clear, the circumstances being discussed were not considered at more than face value. There was never a time last week, or even previously throughout the past three years, when it felt appropriate to hit an imaginary panic button. Still, the admittedly weak rumor of Greco getting canned from '24 immediately built enough momentum behind the scenes worthy of further investigation — which actually wound up not even becoming necessary.
Let's go through the chain of events from this platform's perspective that way the whole thing can be put to bed:
Monday, June 22 — A foreign athlete contacted 5PM and had sent over two articles links from two overseas media outlets that are less-than-reputable (hence why they are not being shared in this space). However, both articles contained quote(s) from United World Wrestling bureau member Namig Aliyev (AZE), who suggested that Greco could be axed in favor of beach wrestling. Aliyev's quote is included below. (Please note that his words originally appeared in Russian and machine-translation was used to convert them to English, which is not a 100% accurate process.)
"In 2022, the Youth Olympic Games will be held in Dakar, the program of which removed the competition in Greco-Roman wrestling. Instead, they added beach wrestling. The International Olympic Committee has its own principles, they are trying to make the fight spectacular. Most likely, the Greco-Roman style will come out of program of the 2024 Olympics. We (AZE) have been preparing our athletes to compete in beach wrestling for several years. Last year we won two medals at the World Championships. Oyan Nazariani became the World champion. From now on, we will strengthen this type of martial art."
The origin of Aliyev's soundbite is unknown. Reportedly, it took place on a call with various other UWW and NGB (national governing body) administrators but that is not confirmed. His quote could have also come directly from a Q&A with one of the reporters for either of the two platforms in question. In either case, nothing he said would or should pass as definitive, authoritative word — especially since it sounded more like he was touting beach wrestling for Azerbaijan's own purposes.
Tuesday, June 23 — An attempt (as in, one) was made by this platform to contact those presumably in a position of influence at UWW to confirm or refute Aliyev's claim. This single, solitary attempt was unsuccessful and another was not made — not because it wasn't a priority, but because it is always better to wait it out just a little bit to see if more information is made available organically. Particularly pertaining to matters of extreme importance. If Greco was to be cut, the thinking was that it would be a big-enough deal to where UWW, or someone of undeniable repute from somewhere else, would make that known. Since there wasn't any other noise outside of two dodgy wrestling websites (that appear equally devoted to slinging sneakers and apparel as they are publishing innuendo), taking a pause for a minute was the move to make.
It wound up being the right call.
Wednesday, June 24 —  On Wednesday morning of last week, Mat Talk Online's Daily Wrestling News email (note: Mat Talk Online is the distributor of the Five Point Move Podcast) featured an article link from — of all places — the Azerbaijani State News Agency with this headline: "UWW: Greco-Roman wrestling will not be excluded from Paris 2024 Olympics". The article had been published the day before but went unnoticed everywhere else until the next morning.
This glorious article is short enough to buck our rule against publishing duplicate content and is available in full below.
"There are no concerns about the exclusion of Greco-Roman wrestling from the competition program of the Olympic Games in 2024 in Paris, the press service of the United World Wrestling (UWW) reported.
"President of UWW Nenad Lalovic said that Greco-Roman wrestling has always been in the plans of Paris in 2024 and will remain in the Olympic program for many years to come."
That's all it really took, one statement that amounts to a blurb. Since the brief swirling storm of chaos last week, other national federations have picked up Lalovic's words and shuffled them out to their own audiences.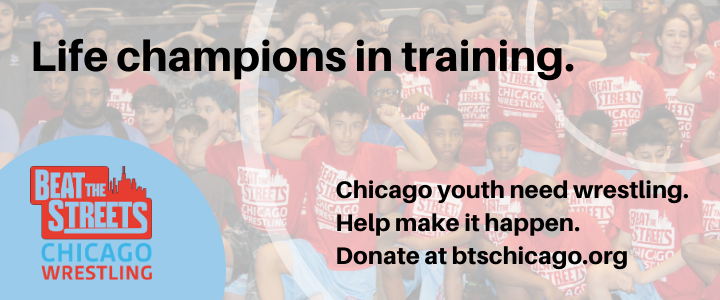 It ended up being a "nothingburger", but that doesn't mean the phantom breadcrumbs were ignored. If anything, some in this little biosphere (including this author) expressed a decent initial allotment of anxiety, even if it all seemed far-fetched. But, it happened. There was a rumor, a not-fantastic one, and it was taken extremely seriously and approached in a painstakingly judicious manner.
It also serves as a very important reminder for all of us: stay vigilant, and stay committed. Wrestling was not too long ago perilously close to removal from the Olympics. Wrestling was spared thanks in large part to a massive community rallying together, but it is still a sport whose existence always appears tenuous, especially after what we've witnessed recently on the collegiate level in the US.
Always be prepared to fight for what matters, and never take something valuable and life-changing for granted. Complacency is the quickest route to disappointment and cannot be allowed to happen.
On a Brighter Note
Sweden is getting set to roll out its National Team camp early next month. As has been covered repeatedly here, Sweden has moved a little slower than a few other Scandinavian countries in terms of loosening restrictions and re-opening organized training activities. But they are rearing to go in July for a brief four-day camp and we've got the roster. '19 World silver Alex Kessidis (77 kg, world #2) is the only Swedish wrestler to have qualified his weight for the Tokyo Olympics thus far.
Sweden National Team Camp
Varberg — July 9-12
60 kg
Niklas Öhlen
Ardit Fazlija
Alexander Bica
67 kg
Babar Ali
Danielo Di Feola
Daniel Soini
72 kg
Simon Erlandsson
Erik Persson
Didrik Silverin
77 kg
Lukas Ahlgren
Alex Kessidis (world #2)
Albin Olofsson
82 kg
Bogdan Kourinnoi
87 kg
Zakarias Berg
Emil Sandahl
Aleksandar Stjepanetic
97 kg
Jacob Logård
Pontus Lund
Carl Persson


Listen to "5PM37: The wildman Sammy Jones" on Spreaker.
SUBSCRIBE TO THE FIVE POINT MOVE PODCAST
iTunes | Stitcher | Spreaker | Google Play Music