The fourth and final "Ranking Series" event of 2019 gets underway this coming Friday from Minsk, Belarus with the Oleg Karavaev Memorial. This is a major tournament and there will be a lot going on to watch out for at Karavaev.
Several athletes who either already hold a high ranking or are right on the outside looking in can improve their standings with big performances. Remember: a top-four slot (or rank) in any weight class means, of course, a top-four seed at the World Championships in September. There are also team selection concerns. A handful of nations are sending multiple athletes per weight category. Although three international Greco events remain on the schedule following Karavaev prior to the Worlds, it is a safe assumption that in some cases, what happens in Belarus will play a vital role in cementing team placement for some wrestles, if not deciding their fates outright.


Interested parties can watch the action live on FLO (and serious fans should be interested — Ed.). Our full preview and post-Oleg Karavaev Memorial recap can be found on FLO, as well, so please look out for that.
Cadets Lead the Way
We are fast approaching the 2019 Cadet Greco-Roman World Championships, slated to begin on August 2nd in Sofia, Bulgaria. Members of the USA Cadet squad were in Colorado Springs right as the Seniors were getting squared away for Pan American Games camp. The Cadet Worlds is the first of two in the month of August, since the Juniors are scheduled to touch down in Estonia just days after Greco in Bulgaria wraps up.
Robert Perez III (65 kg) of California just won his second straight Fargo Cadet title last week, while Tate Picklo (80 kg, Matrix) finished runner-up to Gavin Nelson (MN) a short time later in what was a tight and tense final. Mason Gehloff (45 kg, Sebolt), Parker Decker (60 kg, Spartan), and Braxton Mikesell (110 kg, INWTC) all won inside the Fargodome in 2018 and have been terrific competitors at age group for a while. None of the three entered the fray this time around, choosing instead to harden up for the Worlds. The same is true of Conor Knopick (55 kg, MWC). Knopick took second in '18 and has also compiled some overseas experience to further boost his stock.
2019 US Cadet Greco-Roman World Team
45 kg: Mason Gehloff (Sebolt)
48 kg: Corey Land (Ironclad)
51 kg: Jeff Strickenberger (SOT)
55 kg: Conor Knopick (MWC)
60 kg: Parker Decker (Spartan)
65 kg: Robert Perez III (Sunkist Monster Garage)
71 kg: Daniel Segura (Team Miron)
80 kg: Tate Picklo (Matrix)
92 kg: Kyle Hass (Maize)
110 kg: Braxton Mikesell (INWTC)
The Juniors
Thanks to World Team coach Nate Engel, everyone has been able to keep abreast of what the Junior World Teamers were up to in Finland over the past week. Instead of returning home, the delegation that was out in Scandinavia flew straight to Colorado Springs where everyone will participate in a full week-long camp. When that's over, then the Juniors will head to their respective home states just before flying to Estonia, as alluded to above.
Rio Silver Ota Officially Up at 63 kilos
United World Wrestling reported last week that 2016 Olympic silver Shinobu Ota was forced into entering Japan's non-Olympic weight wrestle-offs due to his falling short to 2017 World Champion Kenichiro Fumita at 60 kilograms in both national events. To make matters a little worse for Ota, the Japanese federation recently declared that any of its wrestlers who manage to win medals in an Olympic category in Kazakhstan will automatically find themselves on the country's Olympic team, a hard-to-miss piece of info given that Tokyo is hosting the 2020 Games.
Ota's only recourse was to pull up the straps for the 63-kilo spot, which he did yesterday en-route to defeating Yoshiki Yamada via 11-0 tech (they only wrestled one match). Ota has experienced a fair degree of success up a weight. This season, the 25-year-old won the Hungarian Grand Prix and earned a silver from the Petrov at 63. Last year, he earned a bronze in the Petrov at 63, though the majority of his appearances took place at 60, including at the Budapest Worlds where he finished 9th.
Fumita first usurped Ota following the Rio Games, wresting control of 59 kilograms ahead of his magical run in Paris. Ota returned the favor last season while Fumita went on to grab the next best thing — gold at the U23 Worlds. Now, in order for Ota to have a shot at making the Olympic Team, he has to hope that Fumita qualifies the weight class — but doesn't medal. On a side note, both athletes are expected to enter the Oleg Karavaev Memorial this weekend.
Questions? Concerns? Feel like reaching out? Do so on Twitter, Facebook, and Instagram!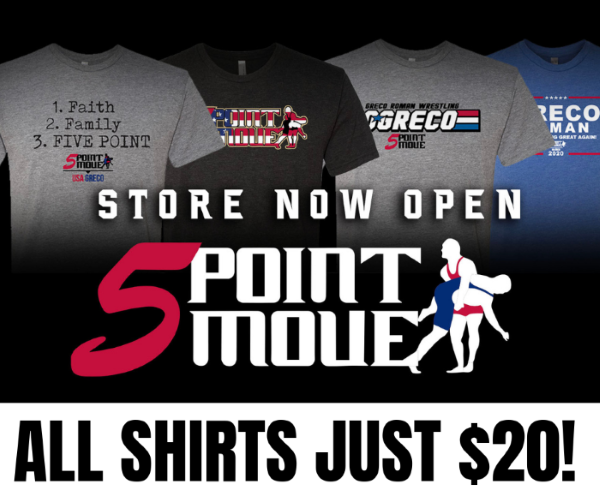 Listen to "5PM26: Princeton's Lenny Merkin and new USOTPC Greco-Roman athlete Nolan Baker" on Spreaker.
SUBSCRIBE TO THE FIVE POINT MOVE PODCAST
iTunes | Stitcher | Spreaker | Google Play Music | RSS
Notice
: Trying to get property 'term_id' of non-object in
/home/fivepointwp/webapps/fivepointwp/wp-content/themes/flex-mag/functions.php
on line
999